I love weaving rag rugs. Maybe you do, too. Or, maybe you are just beginning to explore the idea of weaving rag rugs.
Here are a few thoughts and practices that have helped me at the loom. Hopefully, you'll find something here that helps you, too.
(ATTENTION: The draft for the  Swedish Rosepath Rag Rug from March/April 2017 Handwoven is written for a sinking shed loom. Therefore, for a jack loom, you must tie up the "white" empty squares instead of the numbered squares for the pattern to show right side up as you weave.)
Weaving Rag Rugs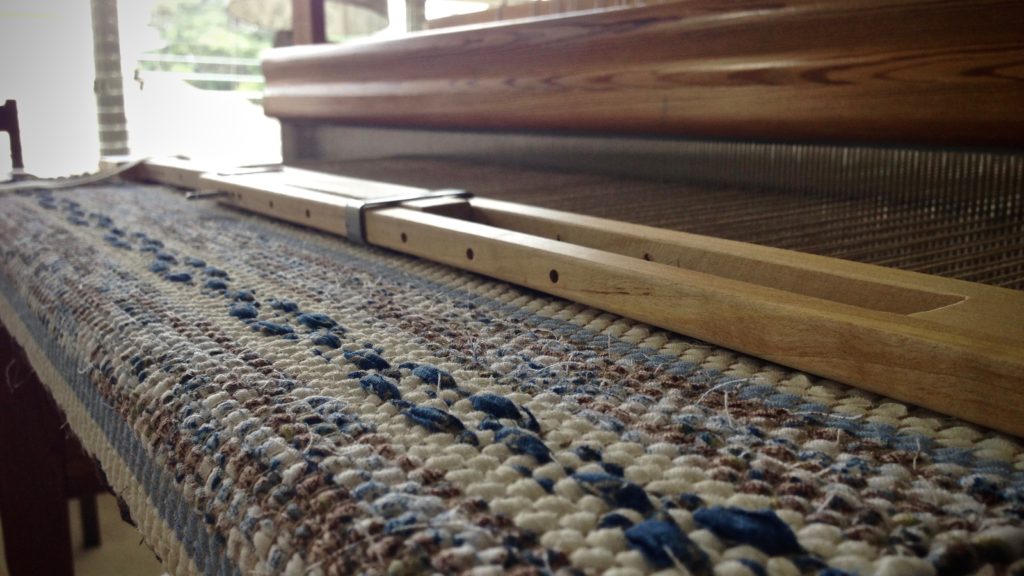 Tight warp tension is best for weaving a sturdy, tightly packed rag rug.
Use a strong warp yarn, with a tight twist, such as Bockens 12/6 cotton, that will withstand tight warp tension and rag rug wear and tear.

Use a temple to keep the weaving width of the rug at the fell line equal to the width in the reed. Advancing the temple frequently will help keep draw-in to a minimum, and make it easier to get a firm beat with the beater.

If the fabric has an unprinted side or a lighter side, either straighten the fabric in the shed to show the preferred side, or allow the fabric to fall as it may to give a mottled look. Some variation in the weft can be a desirable design element.
Turn the fabric strip under twice at the selvedge. For consistency, turn it the same direction each time.
Pull the weft snug at the selvedge. (A tight warp tension helps with this.) Loose turns at the selvedge will gradually produce slack warp ends at the selvedges.
To weave more than one rug, include 8-10" of warp between rugs. Fill the space with scrap weft and/or warping slats.
Weaving Rosepath Rag Rugs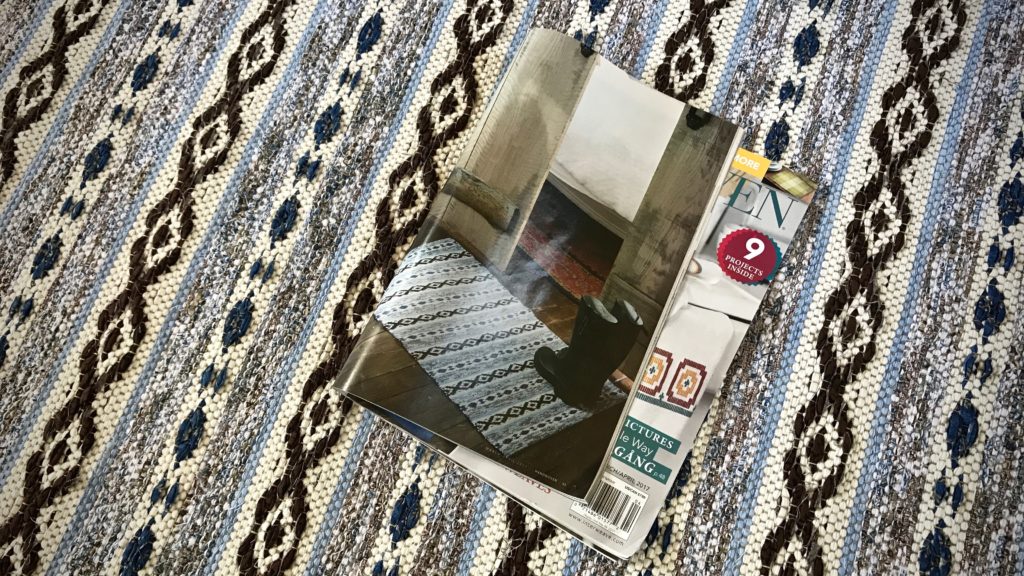 Sometimes the rosepath pattern weft will not go all the way to the selvedge. Make sure the weft going into the shed catches the outermost warp end. If needed, push the outermost warp end up or down, for the shuttle to pass through, to make this happen.

When using two shuttles, be sure to catch the "idle" weft at the selvedge by crossing over or under the idle weft with the "working" weft. (If the idle weft goes over the selvedge ends, send the working weft over it. If the idle weft goes under the selvedge ends, send the working weft under it.)
Video Tutorials
Rag Rugs video collection
Blog Posts
Very Happy Weaving to you,
Karen