I recently returned to Vävstuga for More Swedish Classics, with high hopes for a week of excellent weaving instruction. I was not disappointed! Come with me behind the scenes for a visit with Becky Ashenden, the personable instructor who finds pleasure in sharing her wealth of experience and knowledge. Sitting in her New England country home, we had another meaningful conversation. Picture Becky smiling, chuckling, pausing for emphasis, and even gazing off as she dreams big. (Here is last year's Conversation with Becky Ashenden, Part 1, and Part 2.)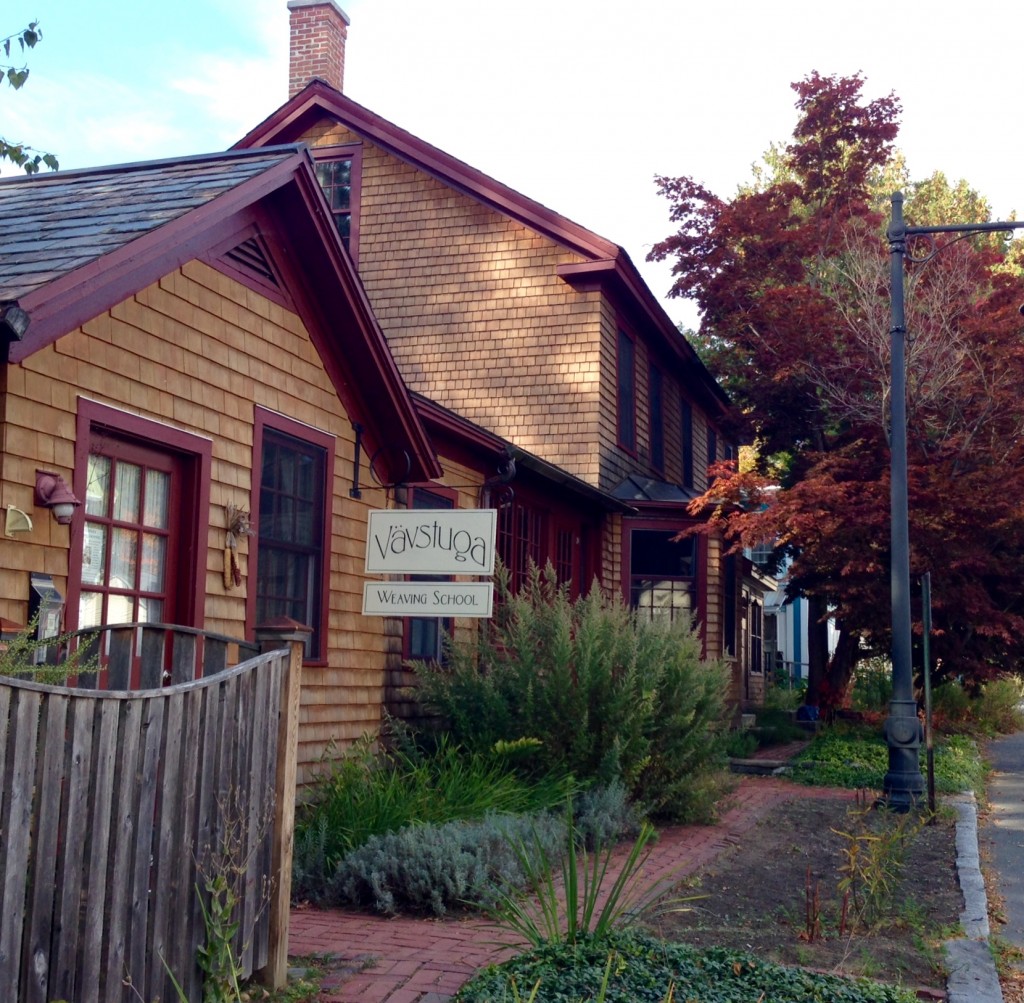 In this first part of the conversation, Becky and I talk about weaving for pleasure, and how to relate to students. We also did some dreaming about a big future project. In the second part, coming later this week, I ask Becky what part of the weaving process she enjoys the most. Her answer may surprise you! You will also get the inside scoop on Vävstuga Basics.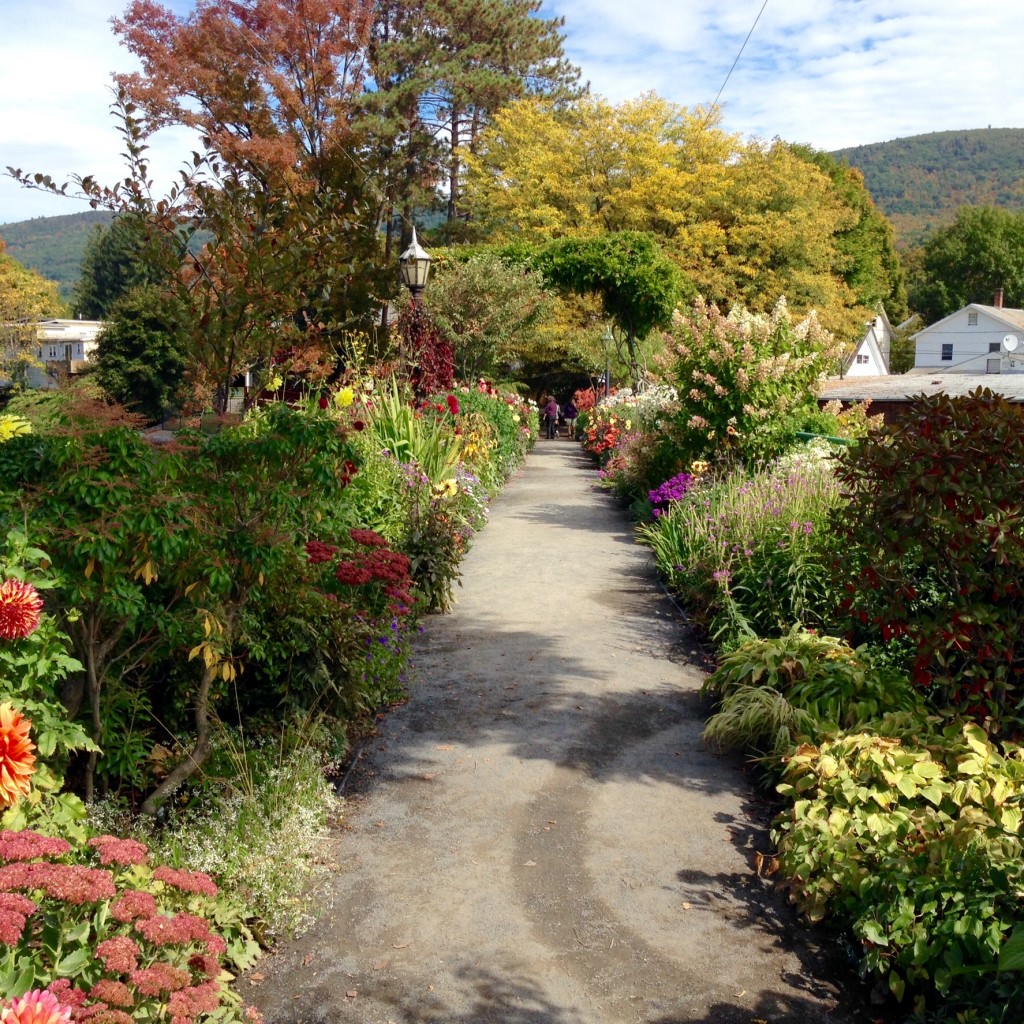 Do you get to weave for personal enjoyment?
I always seem to weave under some kind of pressure. I wove for production in my past; and then, as I started teaching, I always needed to be prepared for the next class. Going through my mind is, "What's going to sell, or what class is going to sell, what are people interested in?"
Recently, I did a runner in halvkrabba. It's a pick-up technique that I wasn't sure I would like. But then, I really did enjoy doing it. It was riveting! The patterns are different every time.
Since that was preparation for a class, it sounds like you enjoy weaving, even when it is under deadline pressure. You do get to cover a variety of weaving techniques that way.
When I was younger, the physical labor of throwing the shuttle fast and repetitively was a pleasure; and it still is, actually. If you are in the right frame of mind, weaving plain weave yardage is a sheer physical pleasure. But, if you are a little bored, it helps to weave something that keeps your brain engaged. A pattern that is different every row, even a little different across every row, is so engaging. For some of the pick-up projects that I've woven, I have never had time go by faster, and it really has surprised me!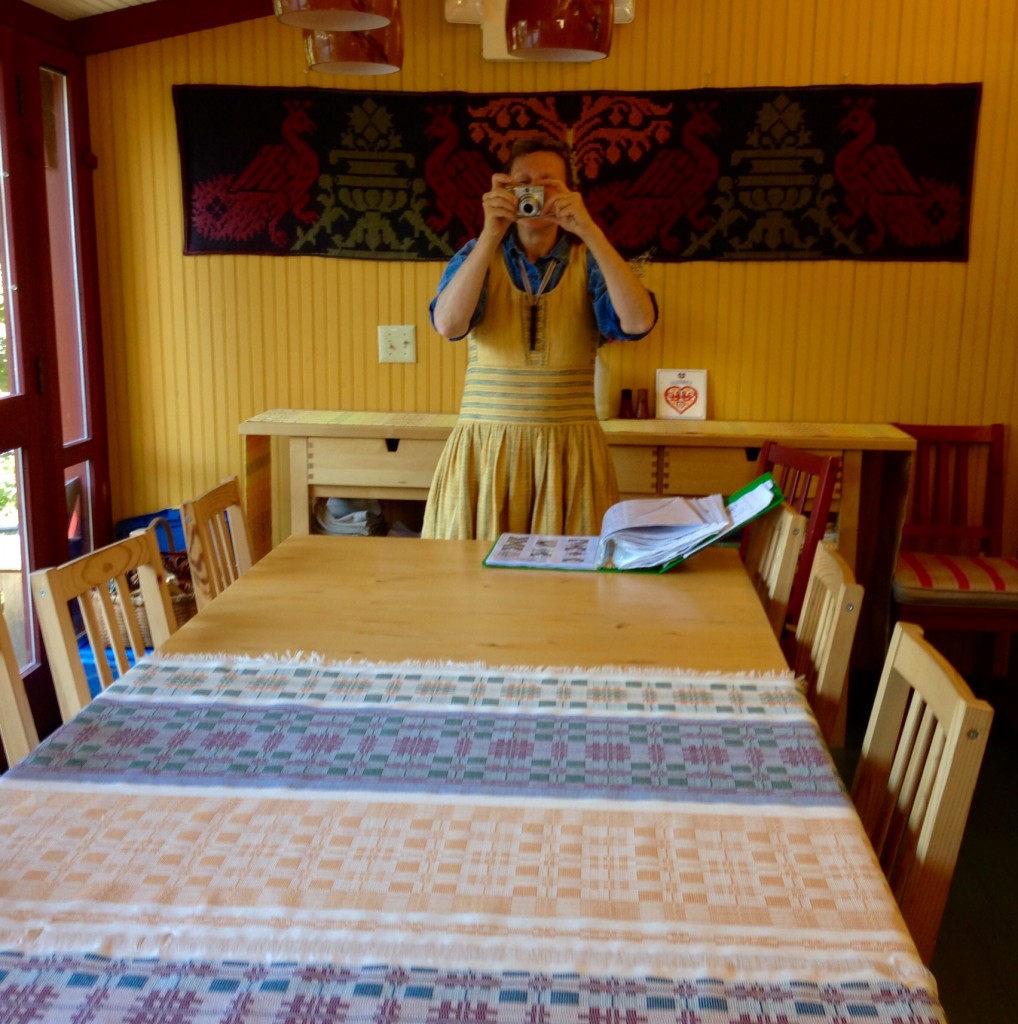 Fortunately, those who come to Vävstuga benefit from what you learn, because you like to share what you know!
Some of our projects for Vävstuga Treasures, like krabba and halvkrabba, and the monks belt pick-up, are so much fun!
Does all of the planning come easy for you?
Often, the most stressful part of a project for me is when I'm starting to weave something before I really know what it is going to look like. I don't know what the colors are. I have to choose a pattern; I have to decide what to do about the details. And then, I weave a little bit, and I think, "Just go for it." But, the uncertainty is still there.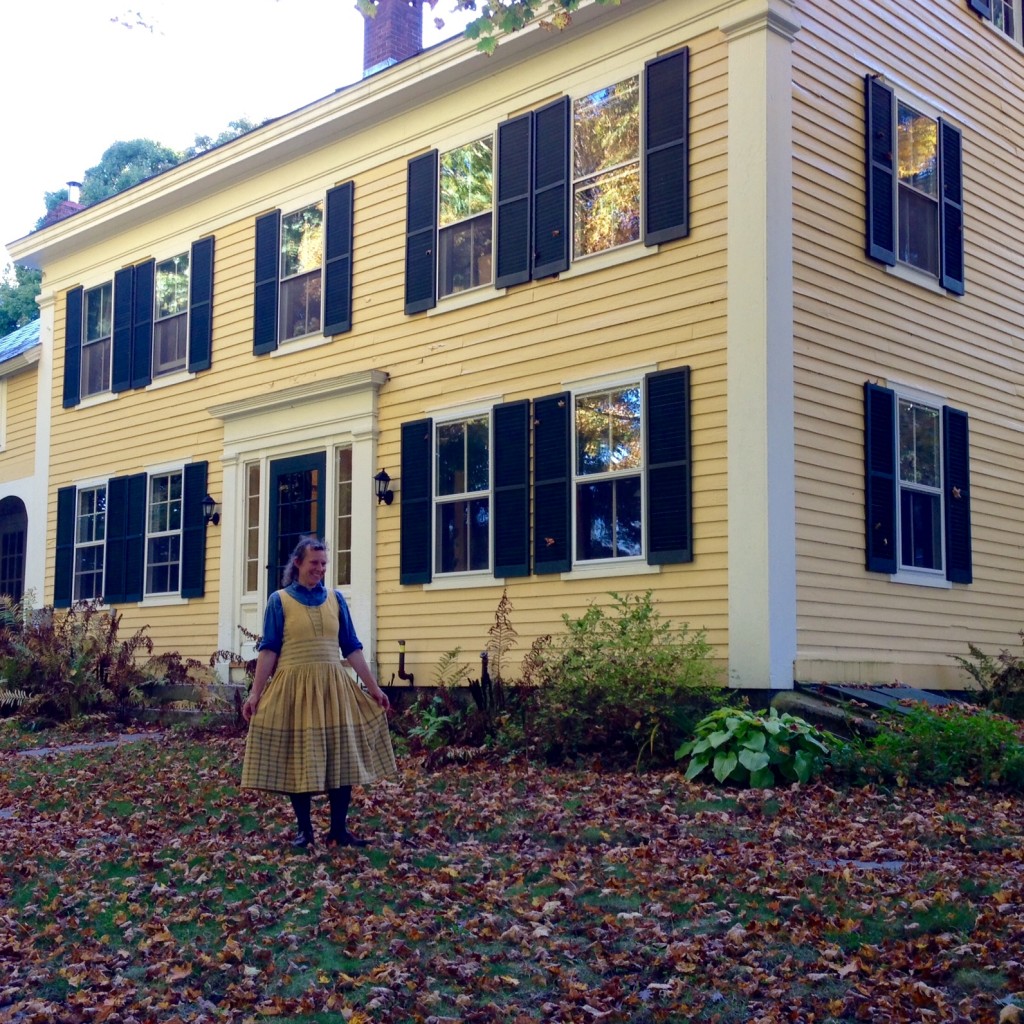 Becky, if you had a week or two to weave for your own pleasure, what would we find you working on?
I've never had that opportunity, so it is hard to say. What would I want to do just for myself?
Yes, just for yourself.
I would like to sit down and take the time to look at all those beautiful old Swedish books that I have, and see what strikes my fancy. I see things fleeting by, and say to myself, "Oh, I'd love to do that!" I need to go back and pull out those books, and look through them.
I suppose things I would do for myself are things that I have not done yet. There are heaps of them! There are other techniques I would like to try.
Can you think of anything in particular that you want to try?
One thing I know I do want to make is a big coverlet with big rya knots. I have seen pictures of these. There might be a pattern in the rya, or maybe it would be all white, pretending to be a sheep fleece. The ground that I would weave it on would be some kind of bound rosepath, with the patterns. You're weaving the patterned cloth the same time you are putting the fluff on. That is one thing that I want to do.
I look forward to seeing that interesting coverlet!
You appear to enjoy teaching as much as you enjoy weaving. How are you able to find a connection with each student, despite diverse experience levels in your classes?
I love to share anything that increases the enjoyment of the student. What is going to make this person enjoy their hobby more? What is going to make this other person into a better production weaver, so that they can earn more money with it, if that's their goal? I ask myself, "What is their goal? Why are they doing this?"
I have observed that you understand the power of an encouraging word.
I'll share whatever bit of knowledge I have. In some cases, it is how to hold your body better, or, how to hold the shuttle better. In other cases, it is finding a way to relieve their stress. They may be stressing out about what colors to put together. I may not know what colors to put together, either. But, I can give an encouraging word, saying, "Those two colors are good." It makes them relax. And, if they relax a little bit, they can be more creative.
Your drafting sessions are an important part of the classes I have attended here. I always leave knowing more than when I came.
I try to give as much little bits of information as possible, knowing that some of it is going to go over the tops of their heads. But, one little piece of information is going to sink in for somebody. I throw some things in because I know some of the students are advanced, and they might be bored by the simpler things. Other people in the class may not get it, but that one advanced person is going to appreciate it.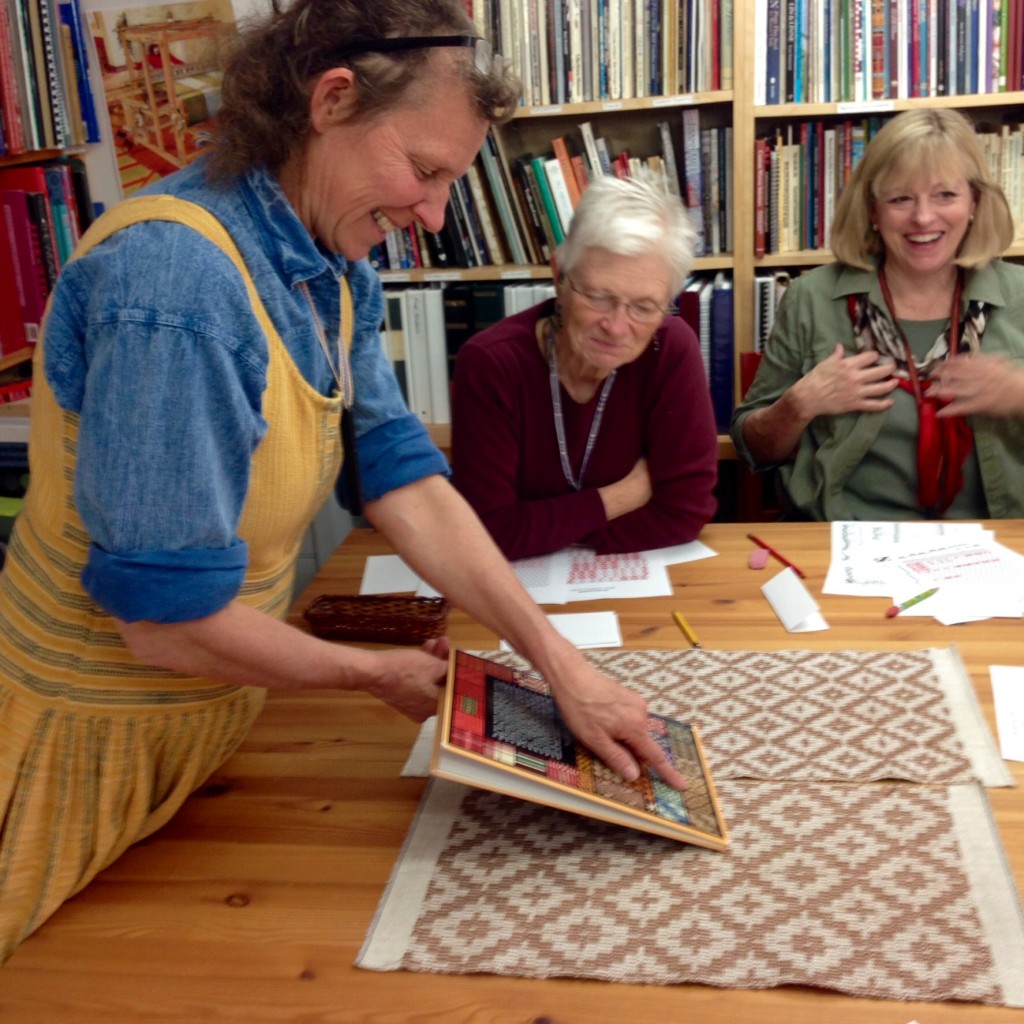 Maybe you should write a book.
Because of the many students I have taught, I feel like my eyes are open to what might be of interest to people. I would love to write a book sometime.
What area of expertise would you like to write about?
Over these years of developing curriculum, I feel like, well, that is the book right there. I have been working on it; it is a lifetime work. I have a lot of the ideas and the teaching materials. I have the curriculum.
I think you could write your own weaving course. Your book could be an updated resource for current day weavers.
I would like to. I hope I live long enough. I would really have to focus on it, and not be responsible for a whole school at the same time.
I know you do have a full plate of responsibilities right now.
But, I am working on the book ideas in the meantime. All of my students are an inspiration to me. What do they want to learn? That is going to determine what else gets put in this book. It is going to push me to learn new things. I would love to see it all compiled in a book. It would be a blast to do that!!
Stay tuned for more to come in Part 2…
(Click HERE and HERE to see a few more pictures from my week at Vävstuga More Swedish Classics.)
May you dream big dreams.
More Happy Weaving,
Karen