This is a stash-busting rug, using leftover cut strips from previous rugs. Like my other rag rugs, I start with a plan. Then, I get out my fabric and make my color selections. It's plain rosepath, without tabby picks in between, perfect for a stash buster. Snip, snip, snip. Fabric snippets are taped to my idea sheet. These are my blueprints–weaving draft, treadling order, and idea sheet with fabric snippets. I am weaving!
I can, and do, make adjustments at the loom. But I keep one question in mind. Will my choices along the way fit with the overall design of the rug? My idea sheet serves as a guiding compass. It's a reminder of the big picture that forms a cohesive design.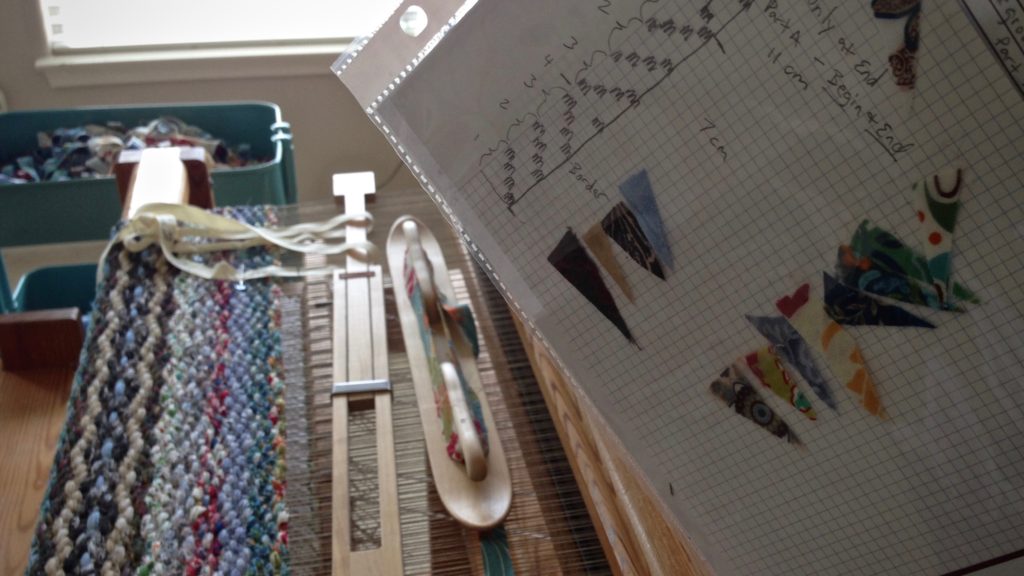 Guiding principles shape our lives and enable us to make wise decisions. A compass sets the course. Use a true compass. Live in a way that pleases God. This is a valid compass for all choices and decisions. The Grand Weaver has the comprehensive design. Amazingly, He weaves our leftover fabric strips into his design, and uses them to make something useful and beautiful.
May you see your part in the overall design.
Happy weaving,
Karen