A closer sett (30 epi instead of 24 epi) would have produced a firmer fabric, more suitable for bag-making. But, as Steve would say,
It is what it is.
I did make one very pretty bag, lined with blue satin. But because of the airy weave, I was not enthused about making three more bags. The fabric itself is stunning; it's just not bag fabric. When things do not turn out the way we envision, it feels confusing and unsettling.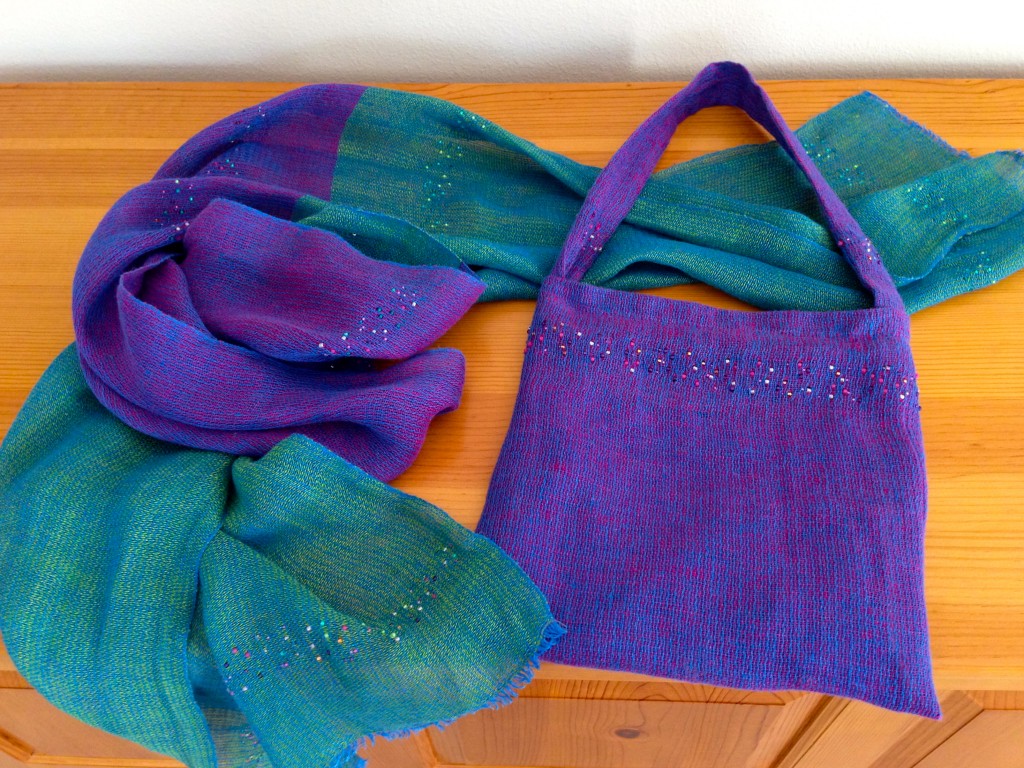 I invested much time, attention, and resources into this unique iridescent cloth that has little glass beads woven into it (click HERE to see it on the loom)… Now what? In my unsettled thoughts I struggled to find a good solution.
And then…In a playful moment, I threw the cloth over my shoulders and looked in the mirror. Ahhh, pretty! Then I wrapped it around my neck like a scarf. Ohhh, nice! Being 100% linen, it is a little stiff, but putting it through the gentle cycle of the washer has softened it. Wearing it will soften it even more.
In times of uncertainty, we may think we missed the creator's plan. Be on the lookout, though, for his nearness. The part of the plan that we do not see until we are smack dab in the middle of it is the part where his nearness is revealed.
May you find solutions to your biggest challenges.
Creatively speaking,
Karen