This towel project has 896 warp ends! 24/2 cotton is pretty fine (as in thin) for towels. These lightweight towels will have textural character from the M's and O's weave structure. The warp is unbleached cotton, except for some color near the borders. The weft, 20/1 half-bleached linen, is also finer threads.
I don't often use the computer to design weaving projects. But this time simply writing out the draft on paper wasn't enough. Fiberworks enabled me to work out a design I'm excited to put on the loom! That still wasn't enough, though. I needed to keep at it to settle on the colors. Examining color combinations through color wrapping was a tremendous help in finalizing my design.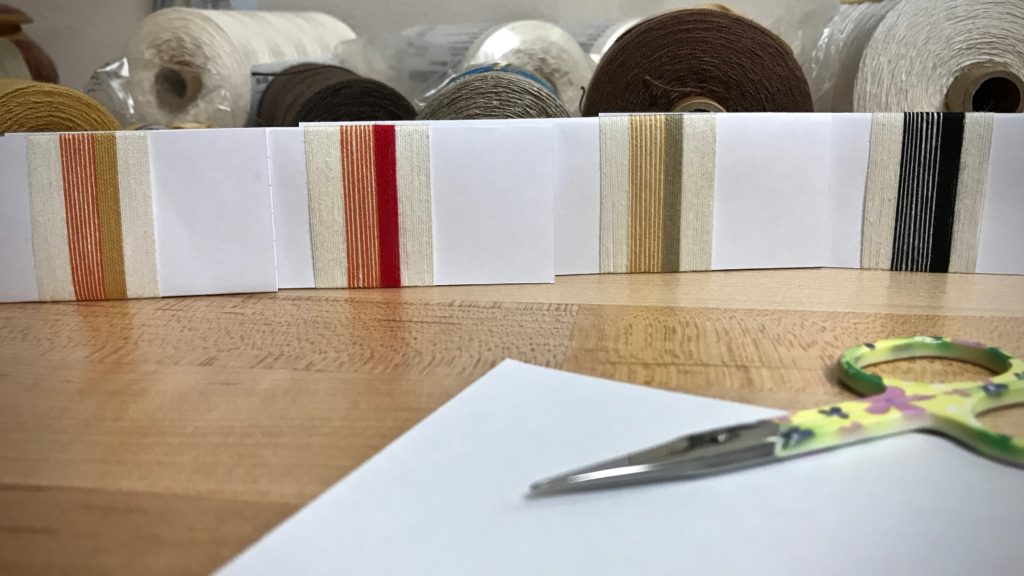 In things that matter, it makes sense to keep pressing for answers. Take the extra steps to make sure you are on track. Search for answers. What you look for, you find. Is it possible that God shows Himself to those who want to find Him? It's an honest quest. God, if You are there, let me find You. It's worth the extra push. The fine threads, the design, the colors. The pretty fine threads do fall into place.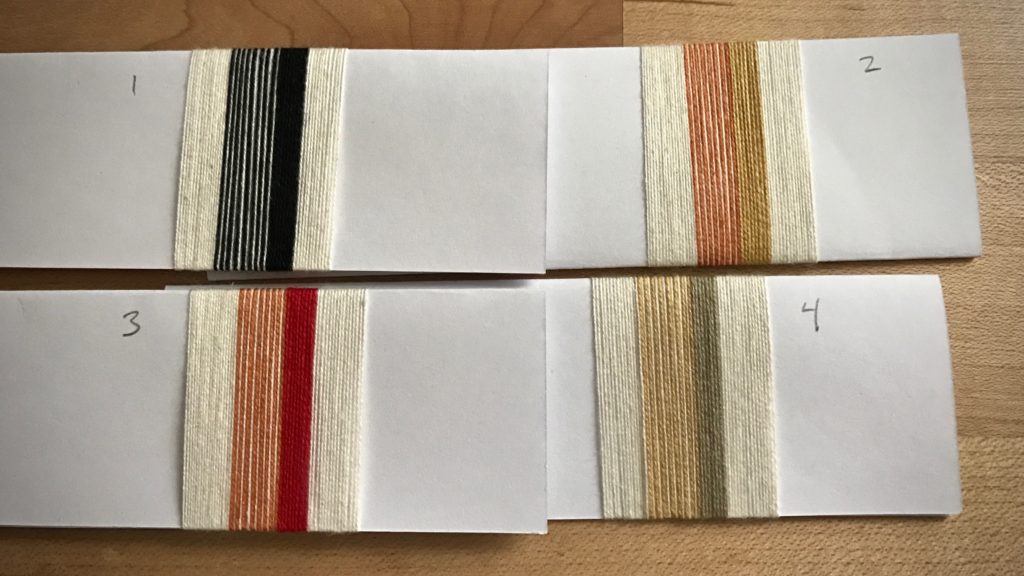 I'm curious–which color wrapping combo would you select? Share your thoughts in the comments. You will see my choice when I warp the loom!
May you find your heart's desire.
Happy weaving,
Karen
~UPDATE~ Towel Kits ~
The response for the towel kits last week was amazing! The kits sold out in a few minutes. I'm sorry if you were disappointed and were not able to snatch a kit.
Five more towel kits are ready! The River Stripe Towel Set, Pre-Wound Warp and Instructional Kit, for $150 per kit, will be listed in the Warped for Good Etsy Shop today, Tuesday, April 4, 2017, about 3:00 p.m. (CT).
If these kits sell out I will make some more!
If you are not already on the Towel Kit notification list, and would like to be notified when the next round of towel kits are ready, please send me a message HERE.
Thank you!
Your weaving friend