My intention is to weave fabric for a couple of cushy throw pillows. But after just one pattern repeat, I realize that this cloth on my brand new Glimåkra Julia is something I would like to wear! No pillows this time. Instead, here is my new autumn/winter shoulder wrap, embellished with frisky swinging fringes. Miss Julia has proven her worth on four-shaft Jämtlandsdräll (crackle) in 6/2 Tuna wool. Her next adventure will be something that explores all eight shafts. (See My New Glimåkra Julia Loom.)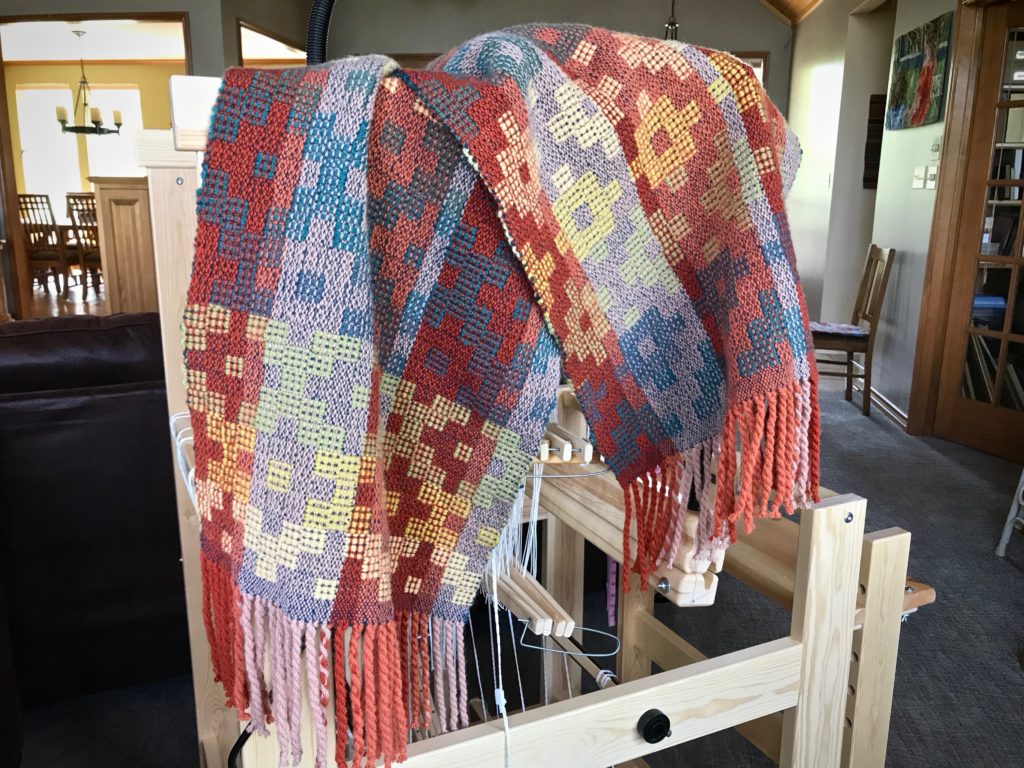 This project starts with the draft for the Jämtlandsdräll Blanket on p.59 of Simple Weaves, by Birgitta Bengtsson Björk and Tina Ignell. Tuna yarn samples, along with Fiberworks Silver for Mac, help me jazz up the color. I settle on three colors for the warp, with burnt orange as the anchor. Six different colors are used for the pattern weft, plus dark teal for the tabby.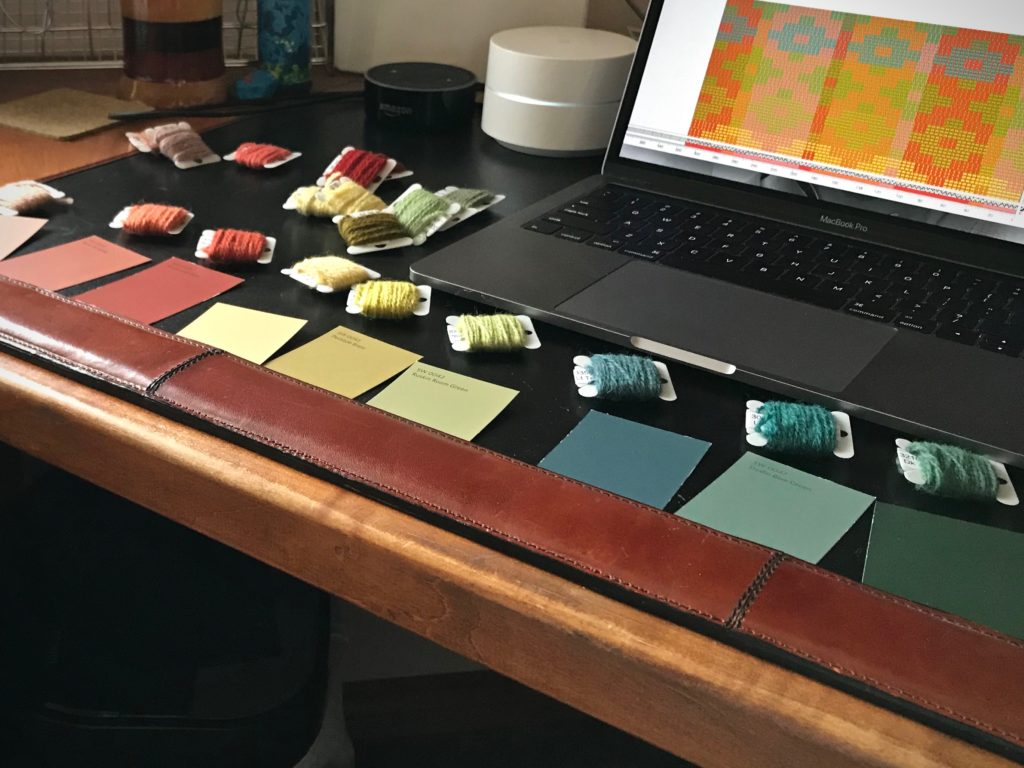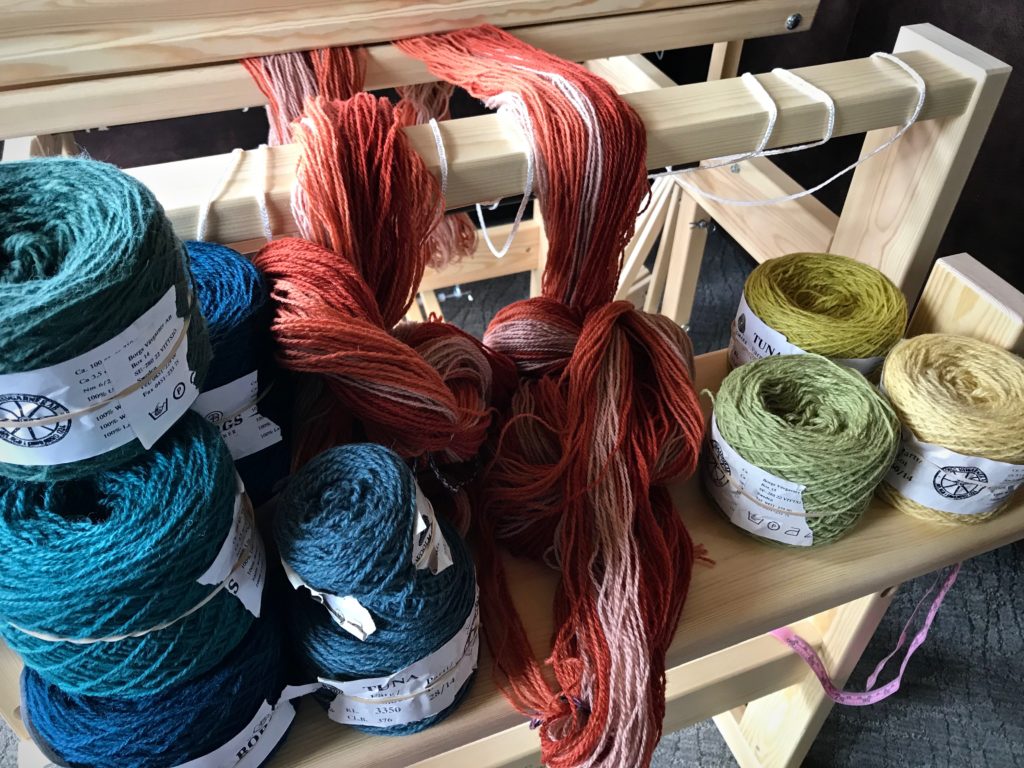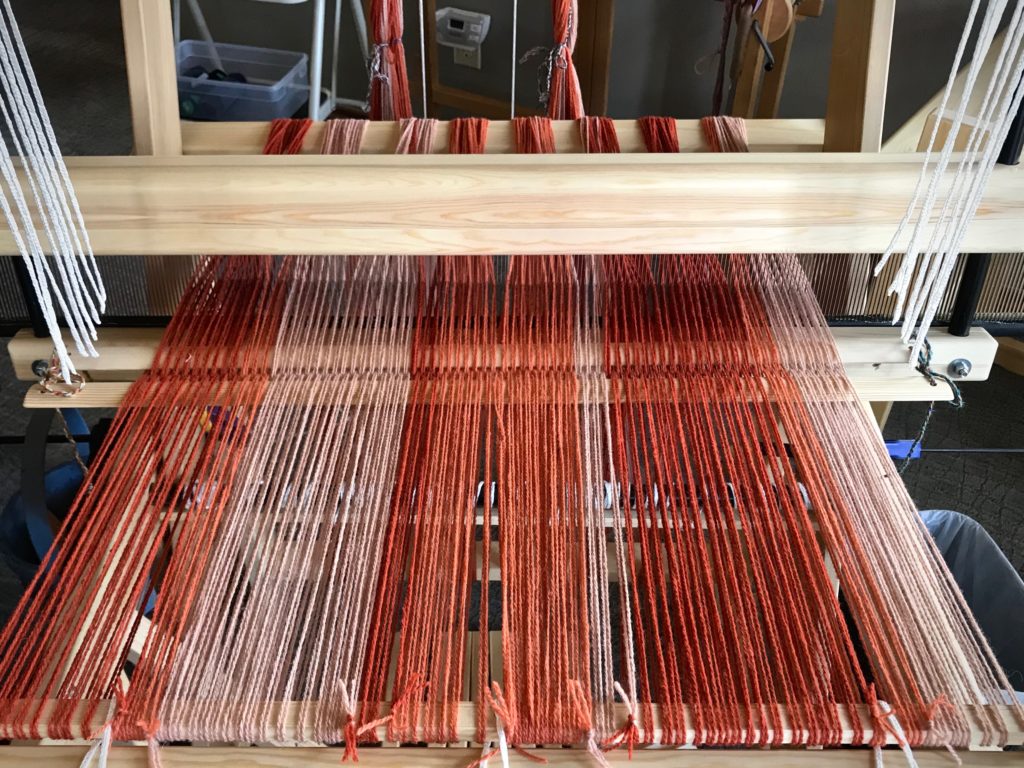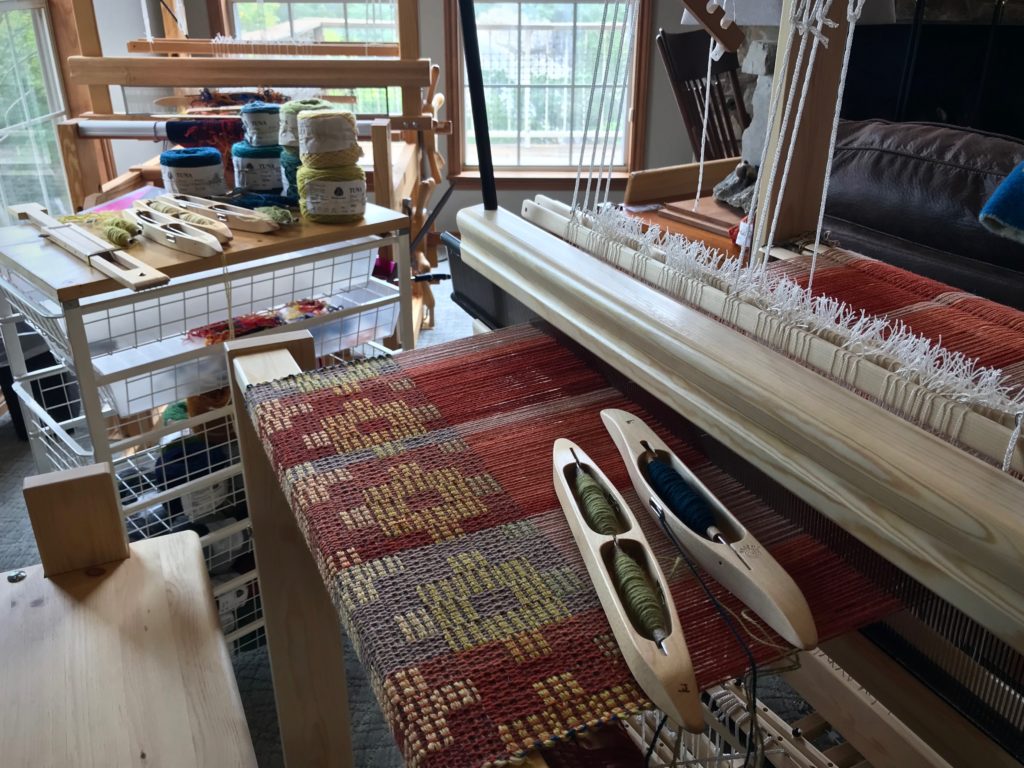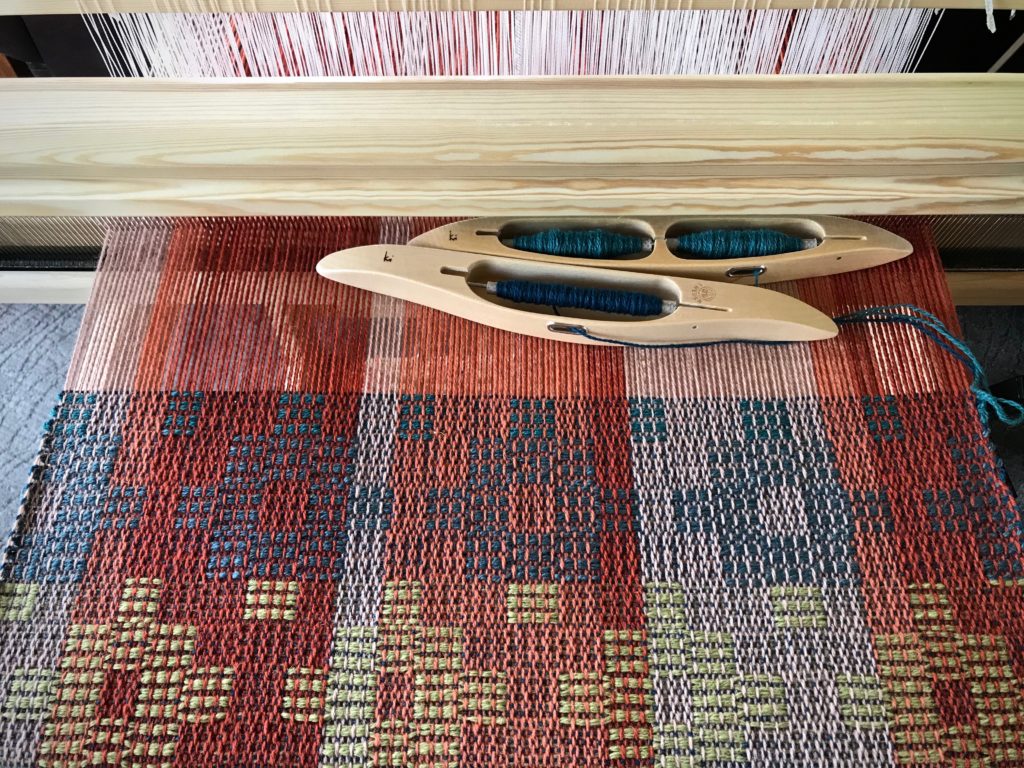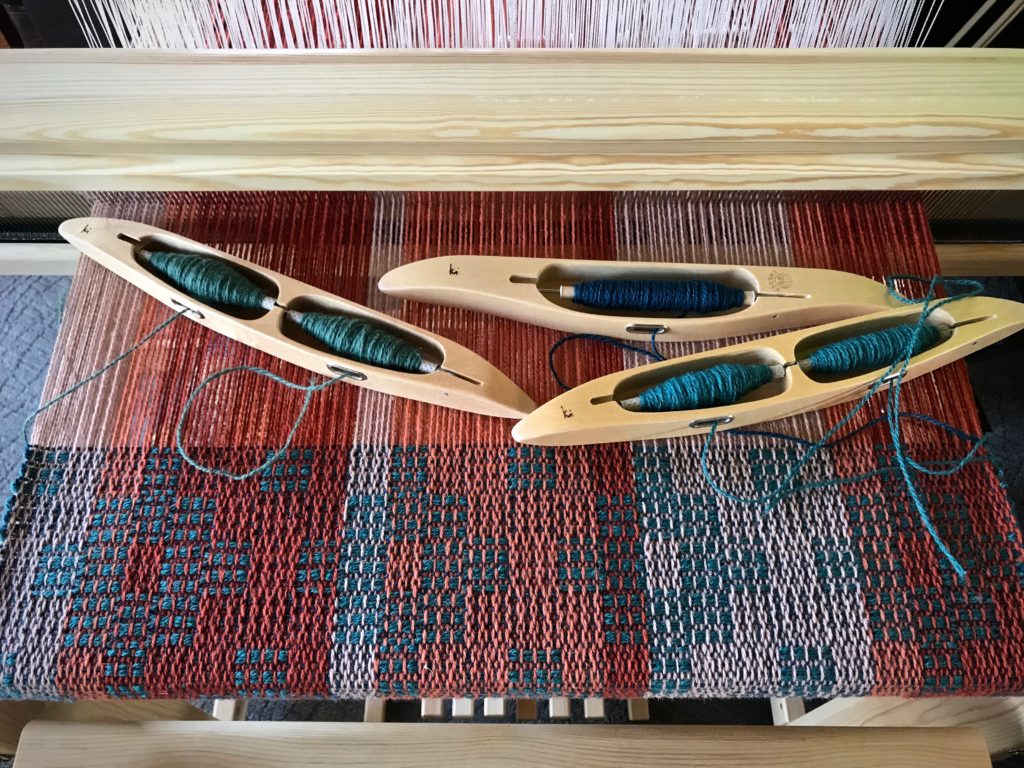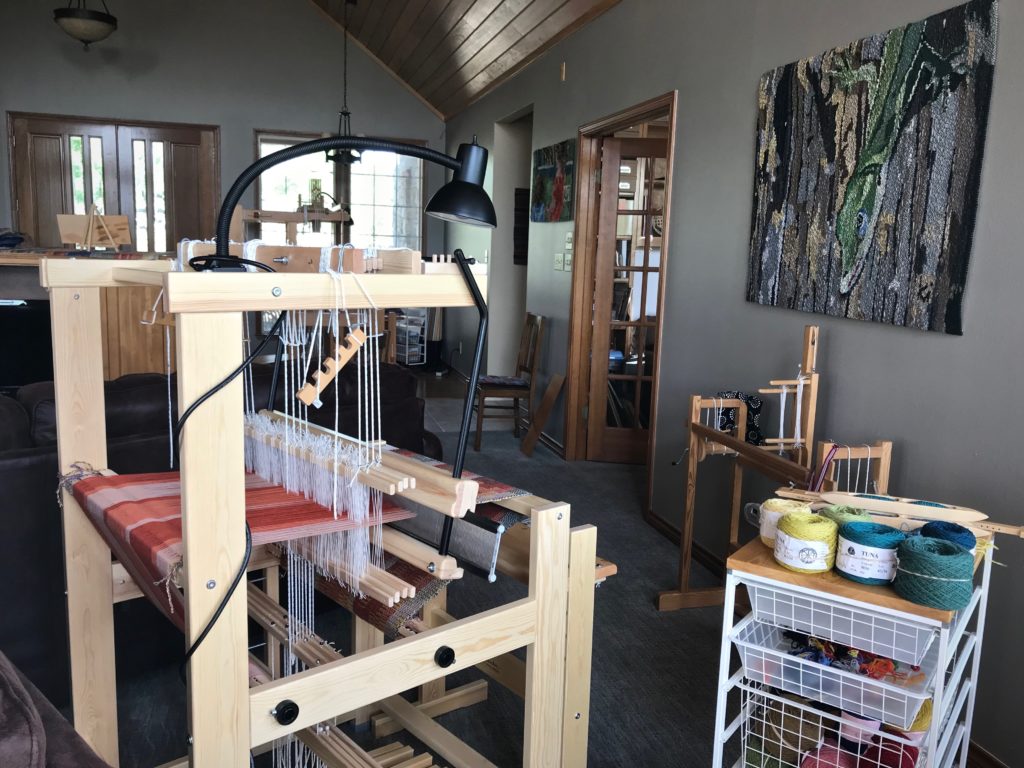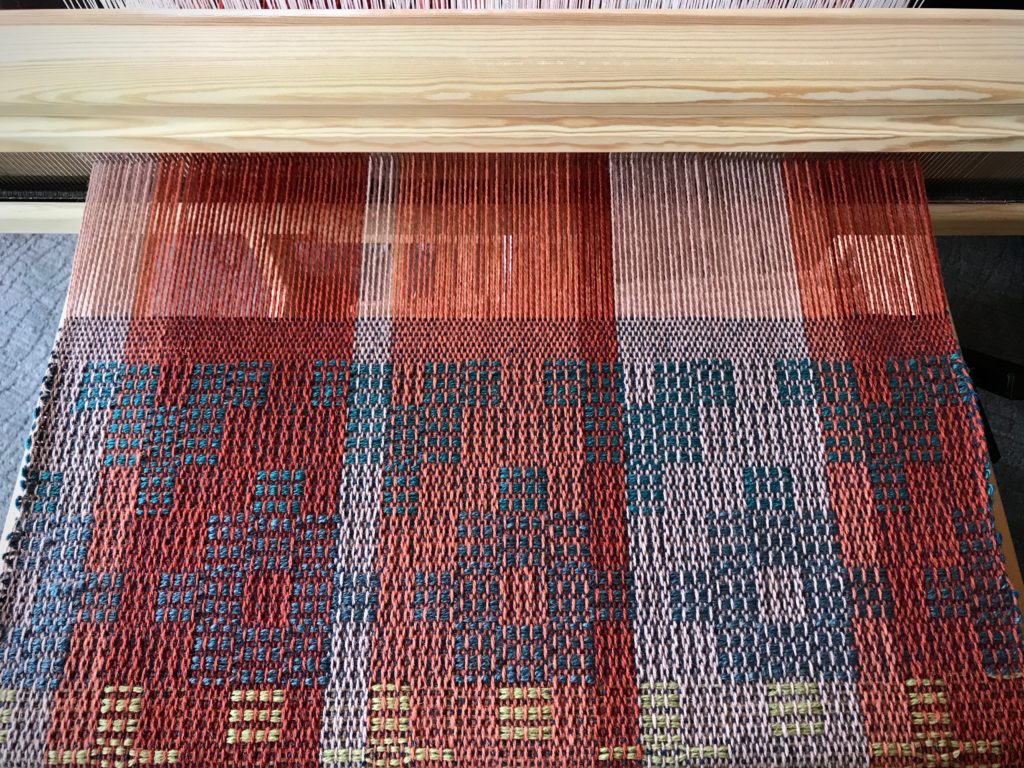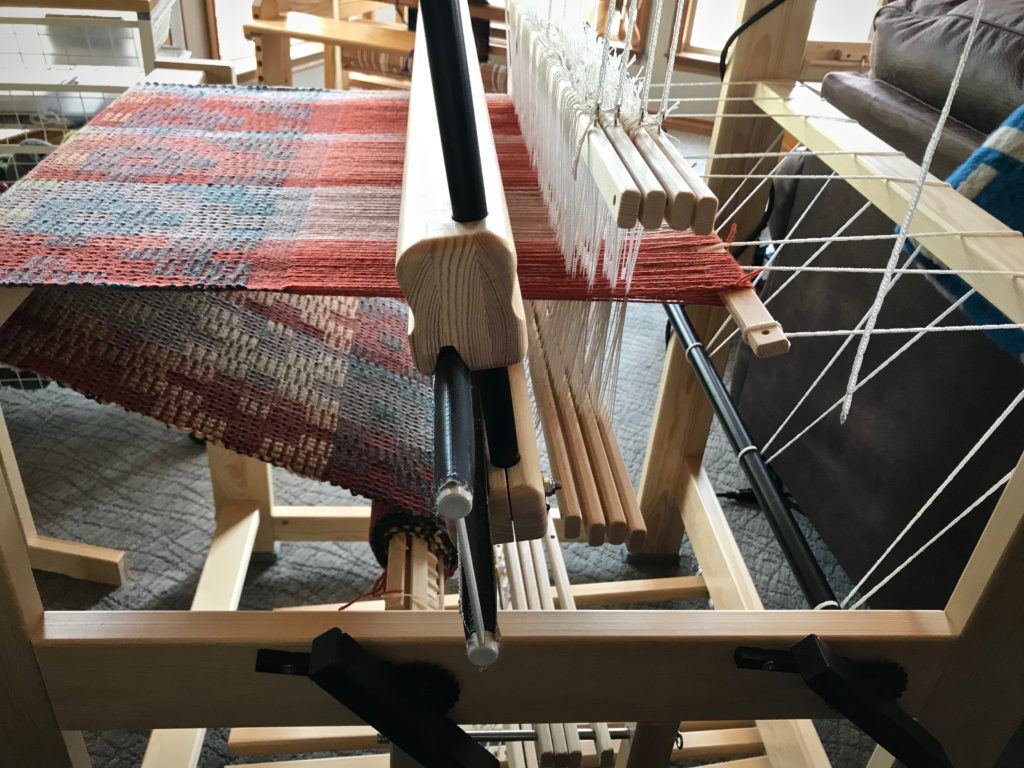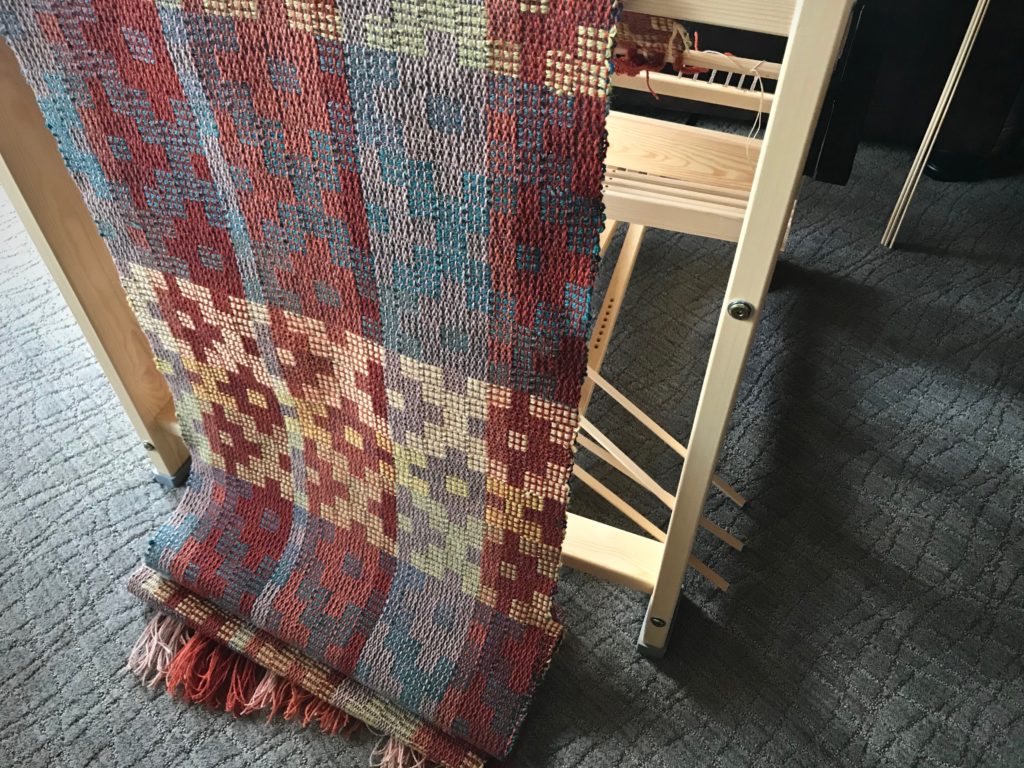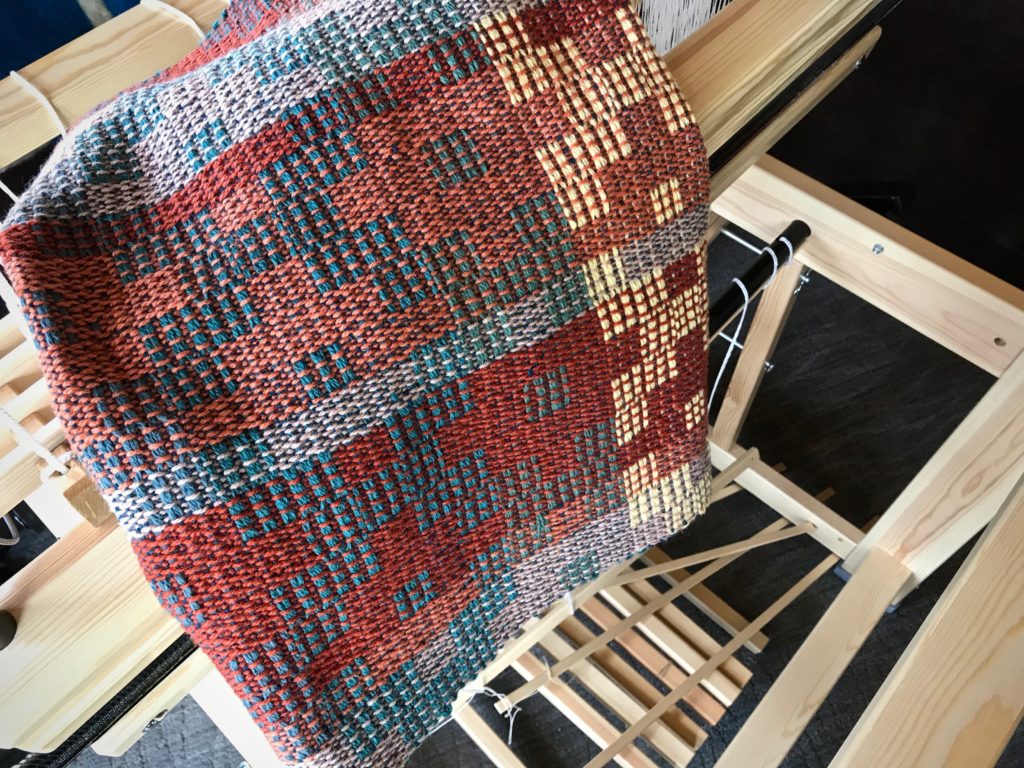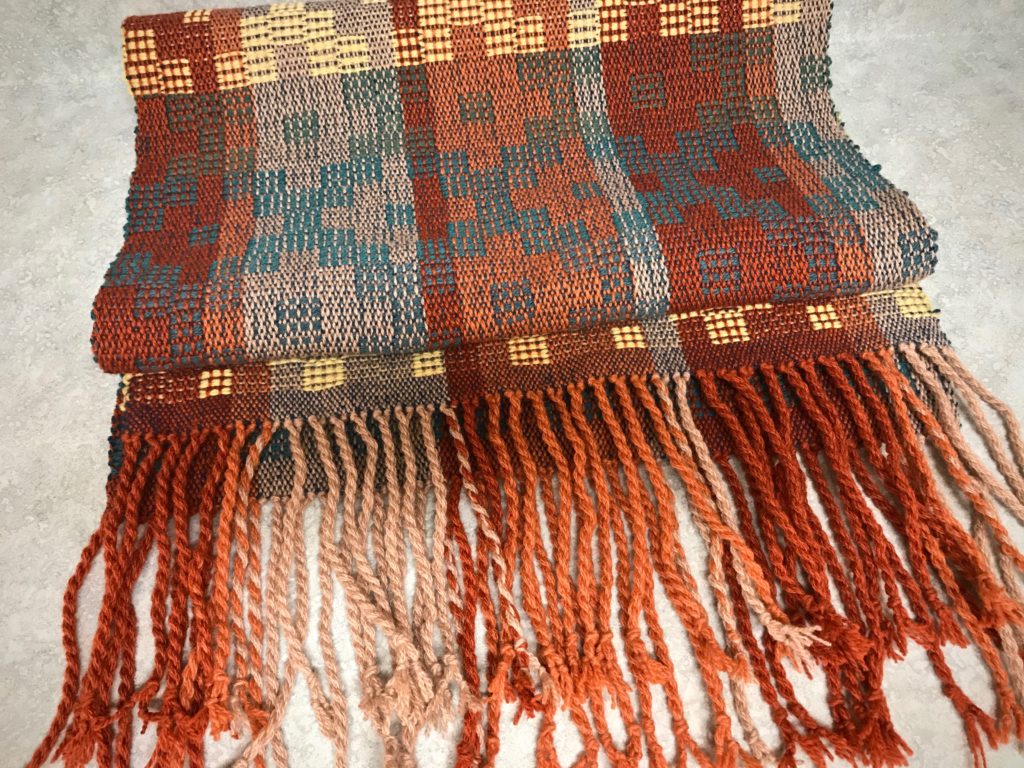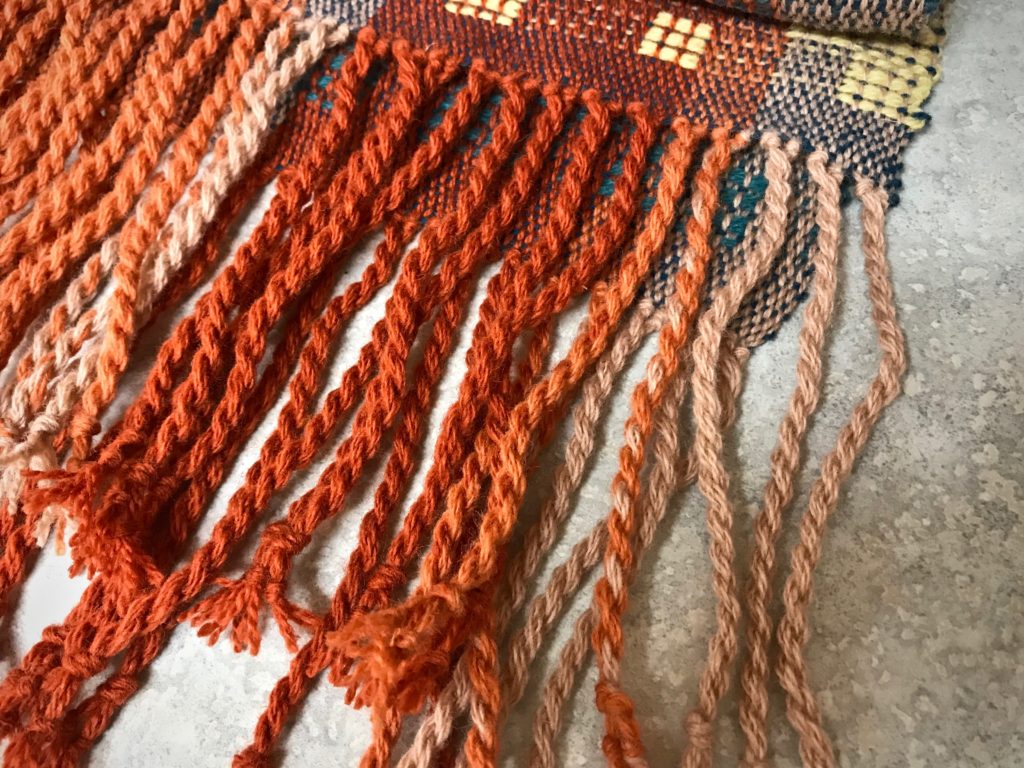 This is one of those times when the weaving is so satisfying that I truly don't want the warp to come to an end. (…except that I'm excited to start on Julia's second adventure!)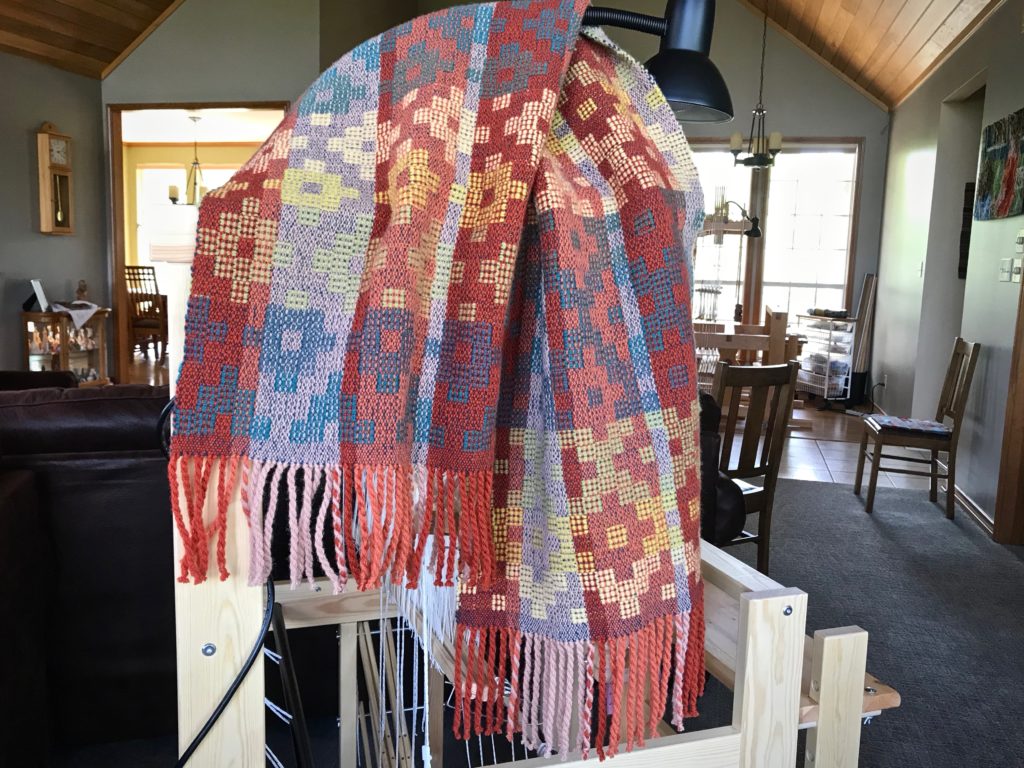 May your adventures never cease.
Happy Weaving,
Karen
---
Nothing about the original draft is incorrect, but when I wrote it in pencil on my planning sheet, I transposed one. little. thing. The threading key. "X = plum; black square = other colors." Exact opposite of what is written in the draft from The Big Book of Weaving, by Laila Lundell. (See When You Misread the Threading Draft, where I discover my dilemma.)
Thanks to Fiberworks weaving software I am working out a solution. I adjusted the tie-up, so the treadle tie-ups on the first, third, fifth, and seventh shafts trade places with the tie-ups on the second, fourth, sixth, and eighth shafts. It works. And now, the one little threading error that is clearly visible seems like a breeze to correct!
There are times when my whole perspective needs an adjustment. It's time for love. Love adjusts our view. At the heart level, love brings about changes in us. It re-sets our attention and motivations. Because God loved us, we can love, too. We don't see, understand, or know everything now, which shows how incomplete we humans are. But the love that heaven knows is something we get to participate in here and now. Our cloth is far from perfected, but our love adjustments give us a glimpse of cloth from another realm.
May you make necessary adjustments.
Love,
Karen
---
This towel project has 896 warp ends! 24/2 cotton is pretty fine (as in thin) for towels. These lightweight towels will have textural character from the M's and O's weave structure. The warp is unbleached cotton, except for some color near the borders. The weft, 20/1 half-bleached linen, is also finer threads.
I don't often use the computer to design weaving projects. But this time simply writing out the draft on paper wasn't enough. Fiberworks enabled me to work out a design I'm excited to put on the loom! That still wasn't enough, though. I needed to keep at it to settle on the colors. Examining color combinations through color wrapping was a tremendous help in finalizing my design.
In things that matter, it makes sense to keep pressing for answers. Take the extra steps to make sure you are on track. Search for answers. What you look for, you find. Is it possible that God shows Himself to those who want to find Him? It's an honest quest. God, if You are there, let me find You. It's worth the extra push. The fine threads, the design, the colors. The pretty fine threads do fall into place.
I'm curious–which color wrapping combo would you select? Share your thoughts in the comments. You will see my choice when I warp the loom!
May you find your heart's desire.
Happy weaving,
Karen
~UPDATE~ Towel Kits ~
The response for the towel kits last week was amazing! The kits sold out in a few minutes. I'm sorry if you were disappointed and were not able to snatch a kit.
Five more towel kits are ready! The River Stripe Towel Set, Pre-Wound Warp and Instructional Kit, for $150 per kit, will be listed in the Warped for Good Etsy Shop today, Tuesday, April 4, 2017, about 3:00 p.m. (CT).
If these kits sell out I will make some more!
If you are not already on the Towel Kit notification list, and would like to be notified when the next round of towel kits are ready, please send me a message HERE.
Thank you!
Your weaving friend
---