Remember Joanne Hall's Swedish Art Weaves workshop that I took a few months ago? With the warp that was left, I explored some of the art weaves in more depth.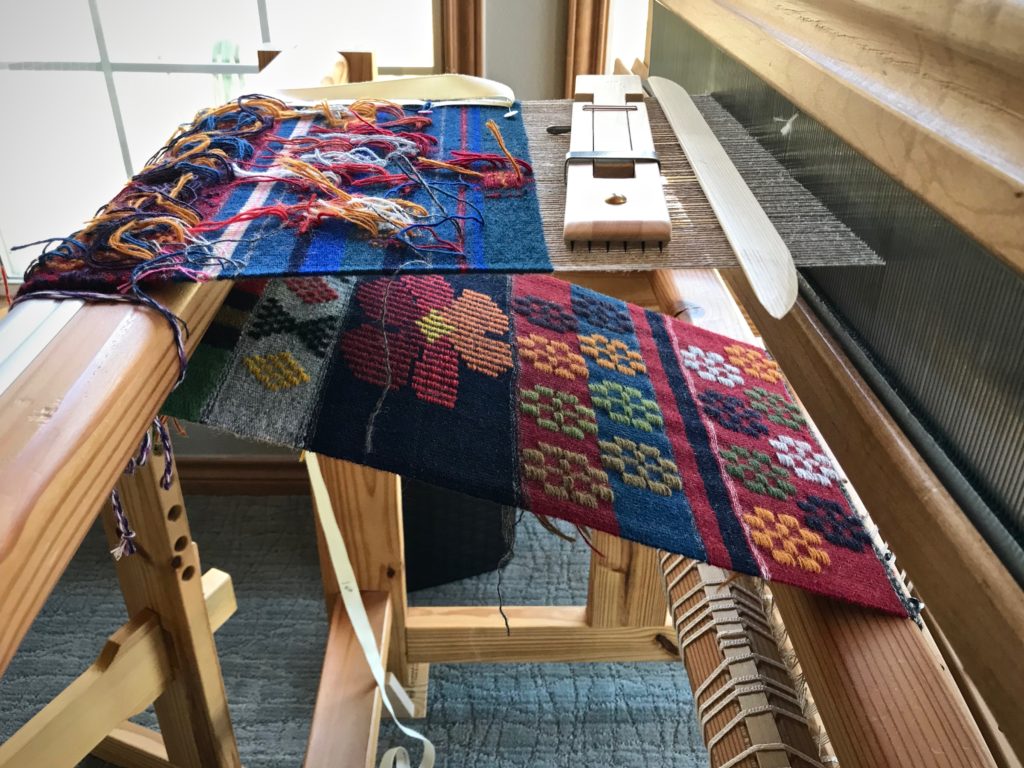 I finished off the linen warp by making a front and back panel for a small shoulder bag. A monksbelt pattern is scattered like flowers on the front. The back has various stripe patterns in weft-faced plain weave. I wove a shoulder strap on my band loom using 6/2 Tuna wool for warp and 12/6 cotton for weft.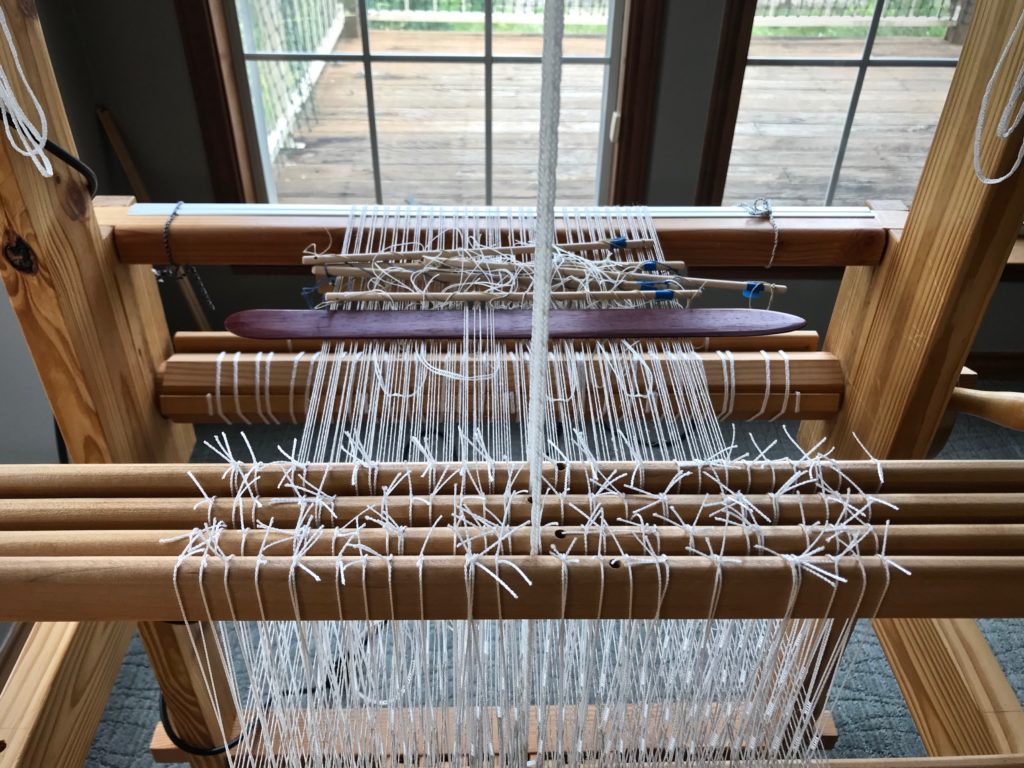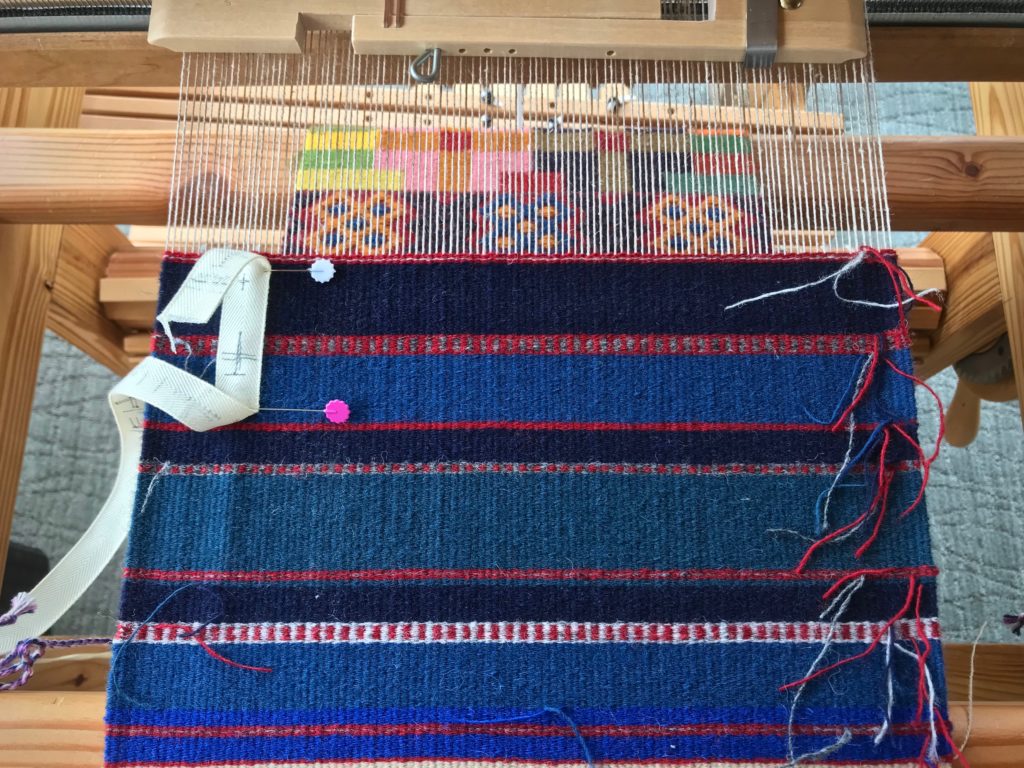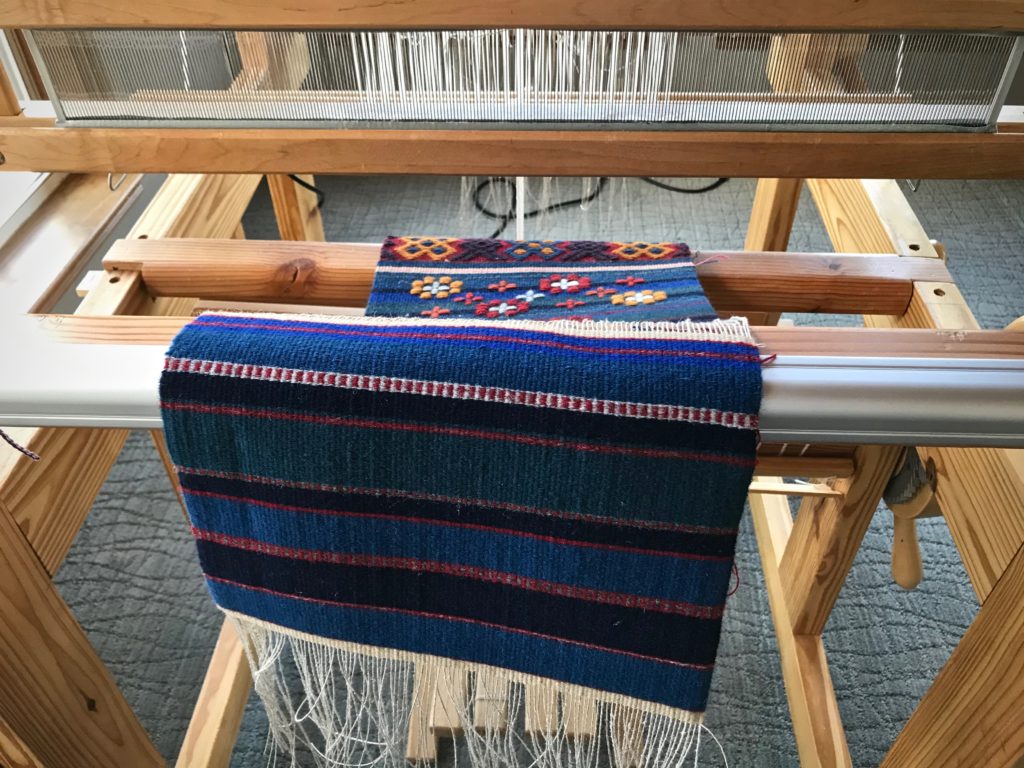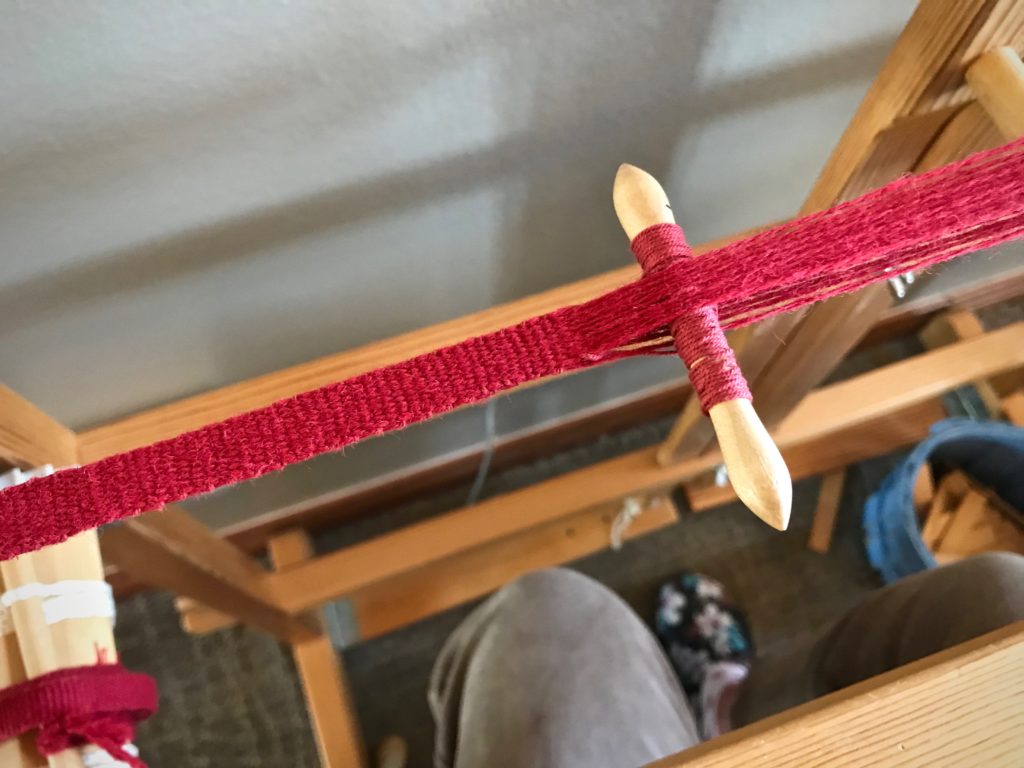 The bag has simple construction, mostly hand-stitched. In one of my remnant bins I found a piece of wool fabric that I wove several years ago. It's perfect for the sides and bottom of the bag. The lining uses pieces from fabric that went into my latest rag rugs, and has pockets, of course.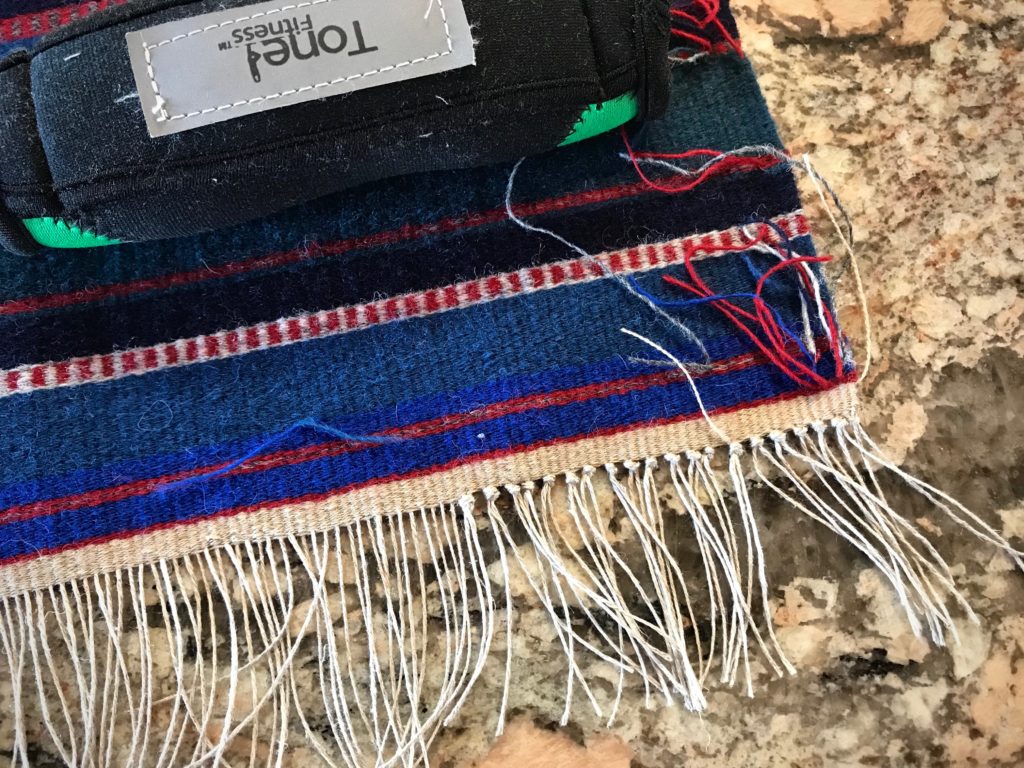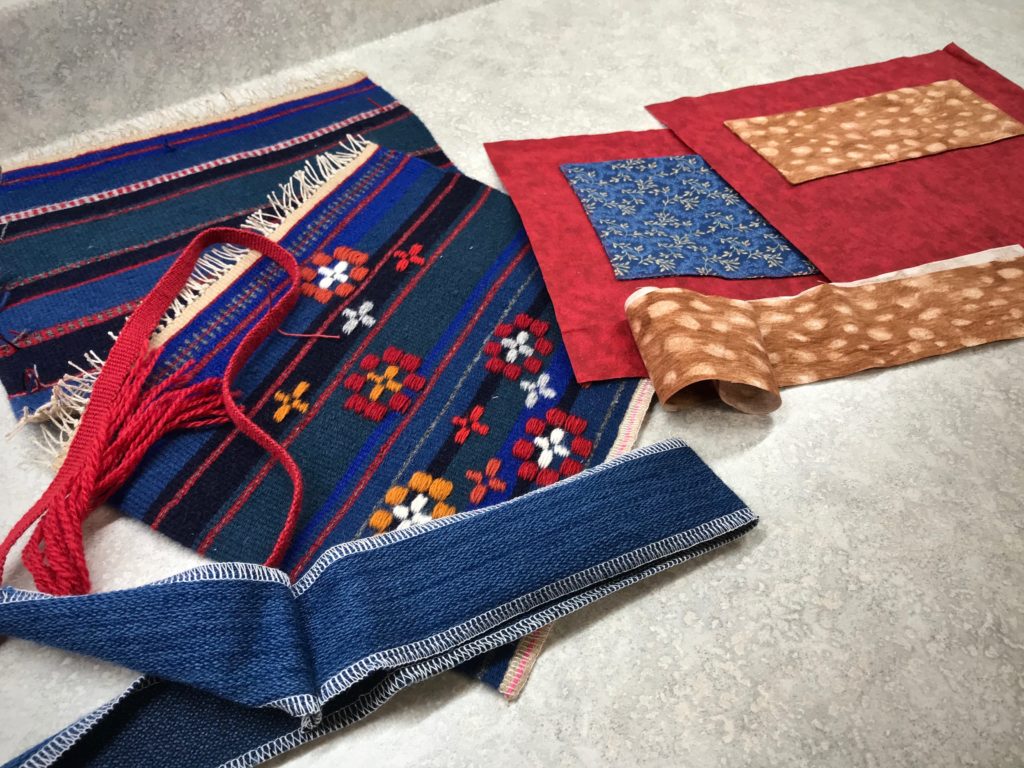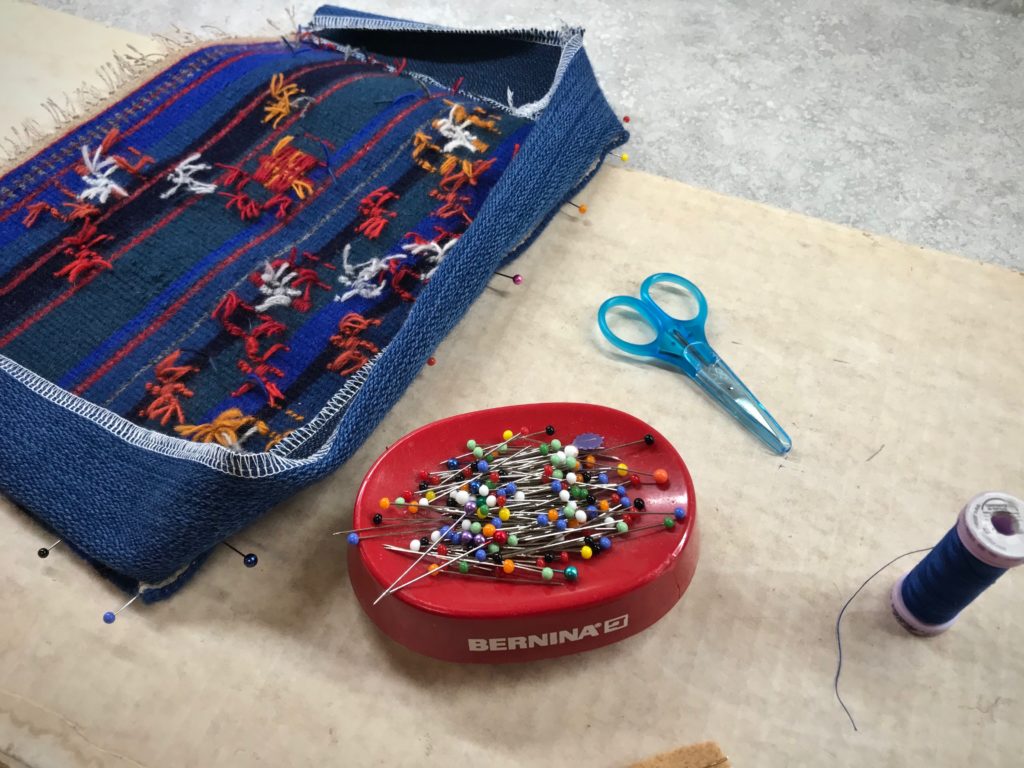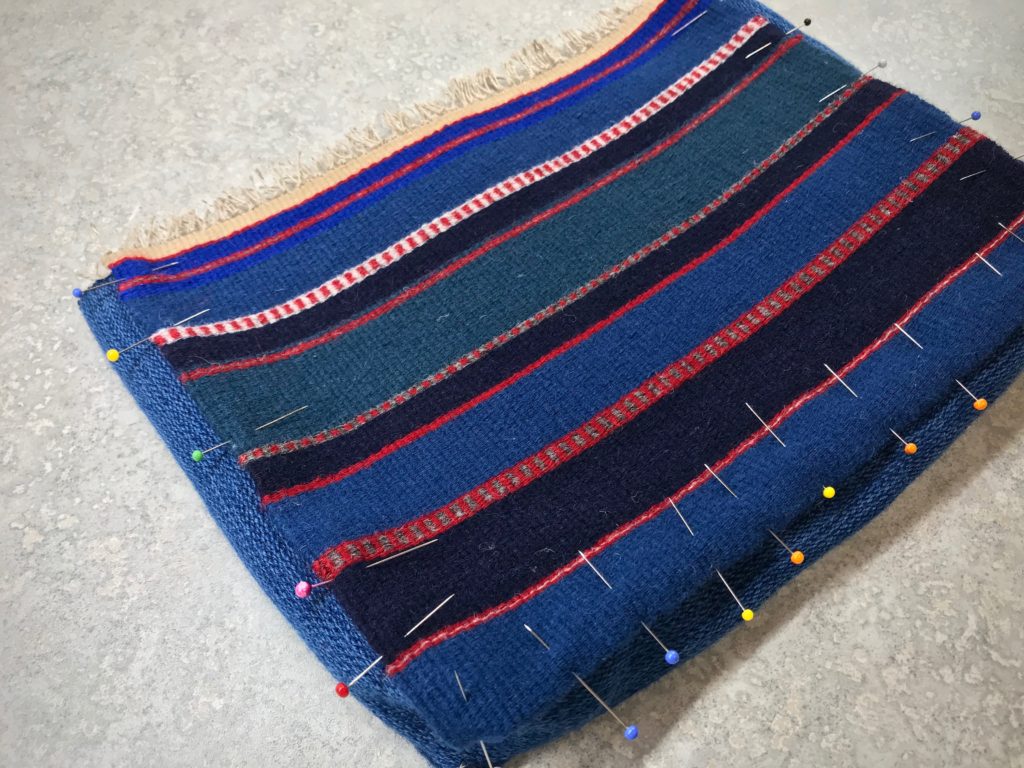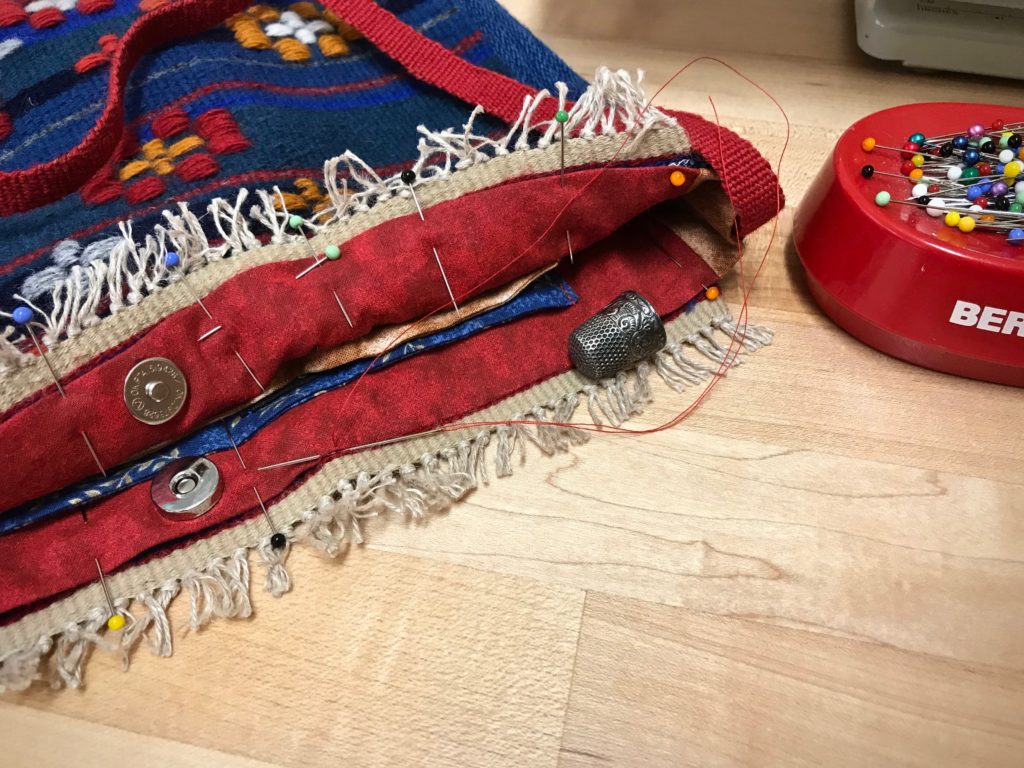 This bag with Monksbelt Flowers is for carrying sweet memories, happy moments, and heavenly dreams.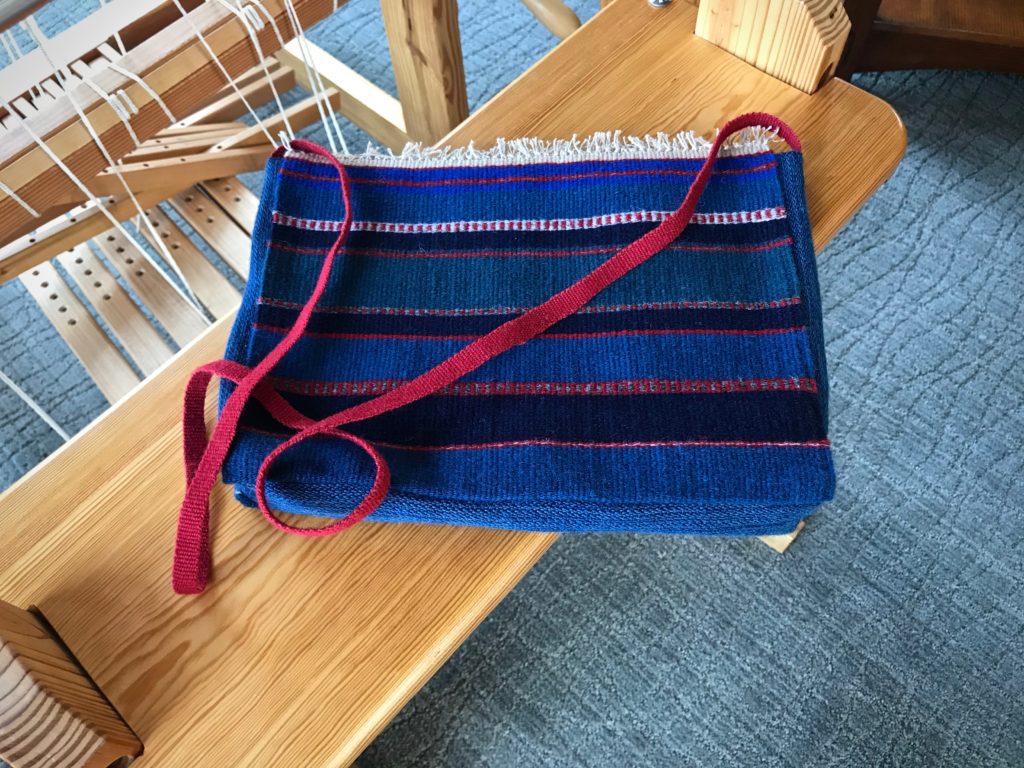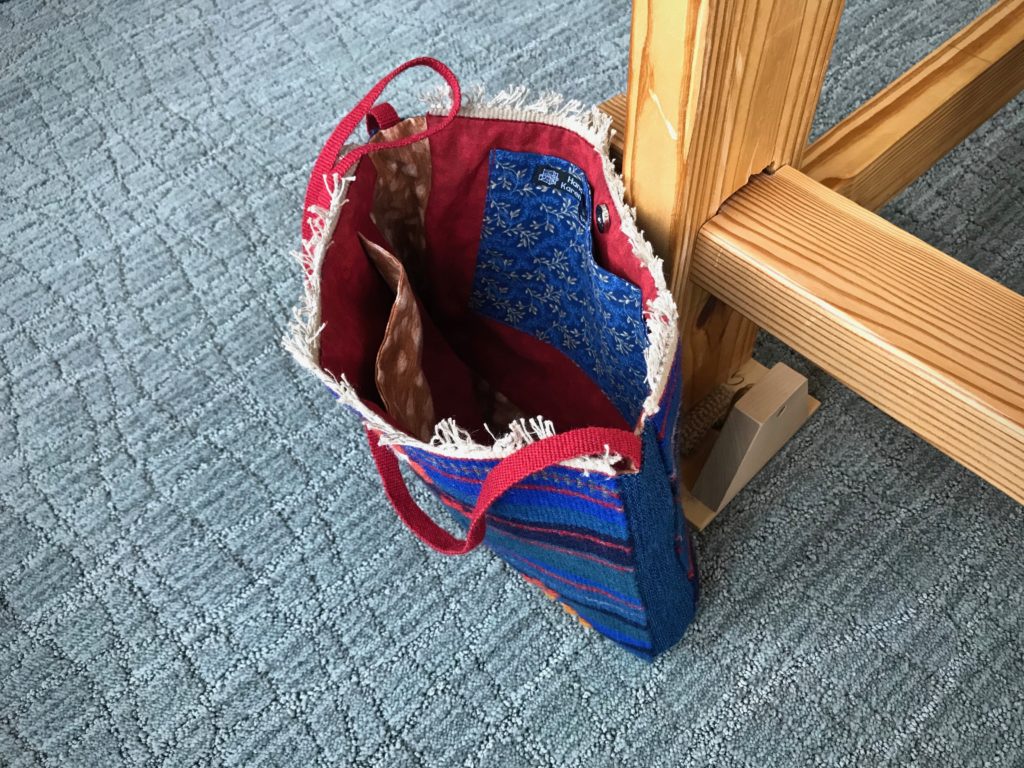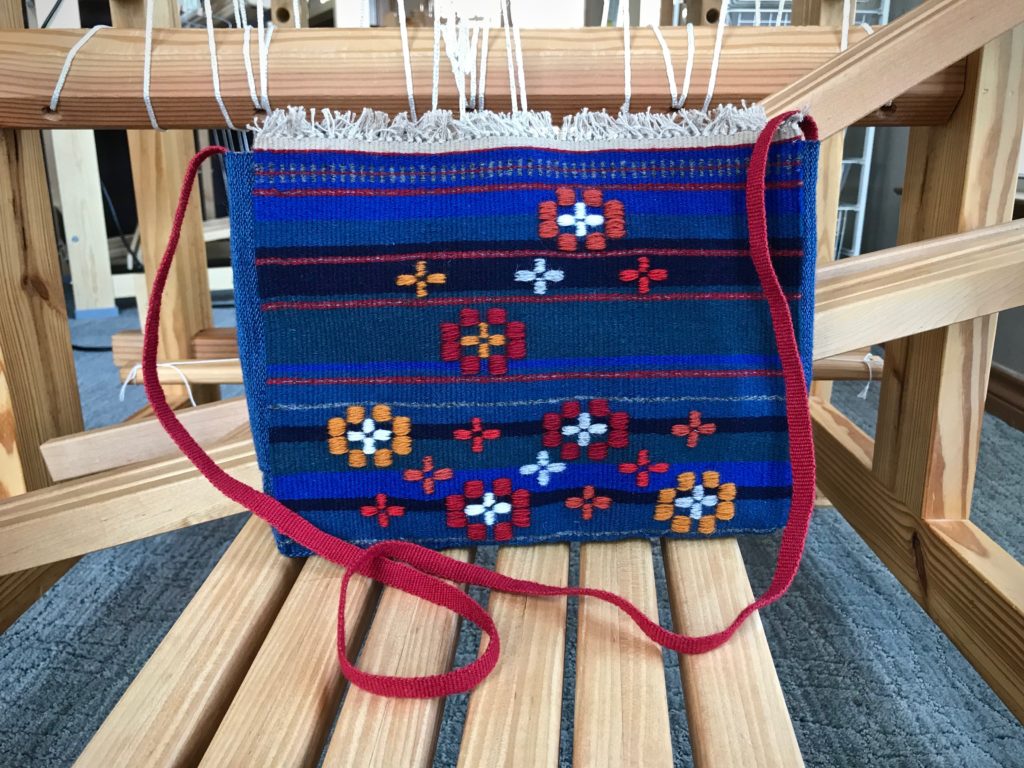 Resources: Swedish Art Weaves workshop with Joanne Hall; Heirlooms of Skåne Weaving Techniques, by Gunvor Johansson; Väv Scandinavian Weaving Magazine, 2/2013.
This is the time for my annual pause for the month of July. I appreciate you joining me in this weaving journey!
I look forward to being back with you again Tuesday, August 4. In the meantime, joyfully draw living water from the source, Jesus Christ.
May you carry no more than necessary.
With love,
Karen
---
My intention is to weave fabric for a couple of cushy throw pillows. But after just one pattern repeat, I realize that this cloth on my brand new Glimåkra Julia is something I would like to wear! No pillows this time. Instead, here is my new autumn/winter shoulder wrap, embellished with frisky swinging fringes. Miss Julia has proven her worth on four-shaft Jämtlandsdräll (crackle) in 6/2 Tuna wool. Her next adventure will be something that explores all eight shafts. (See My New Glimåkra Julia Loom.)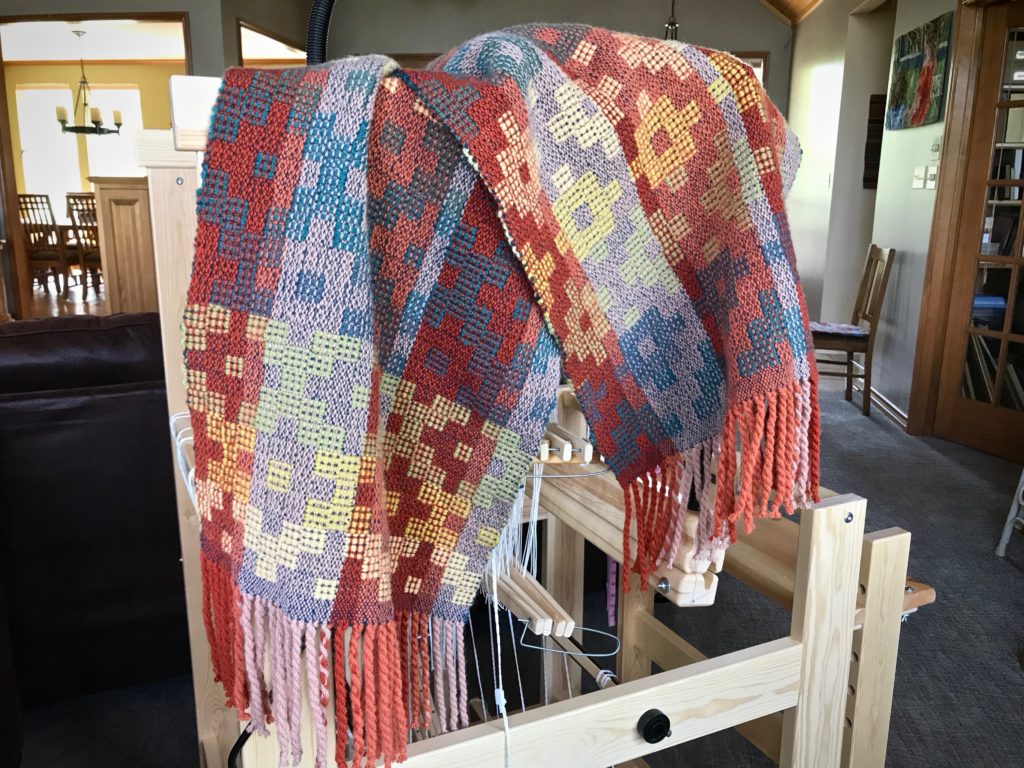 This project starts with the draft for the Jämtlandsdräll Blanket on p.59 of Simple Weaves, by Birgitta Bengtsson Björk and Tina Ignell. Tuna yarn samples, along with Fiberworks Silver for Mac, help me jazz up the color. I settle on three colors for the warp, with burnt orange as the anchor. Six different colors are used for the pattern weft, plus dark teal for the tabby.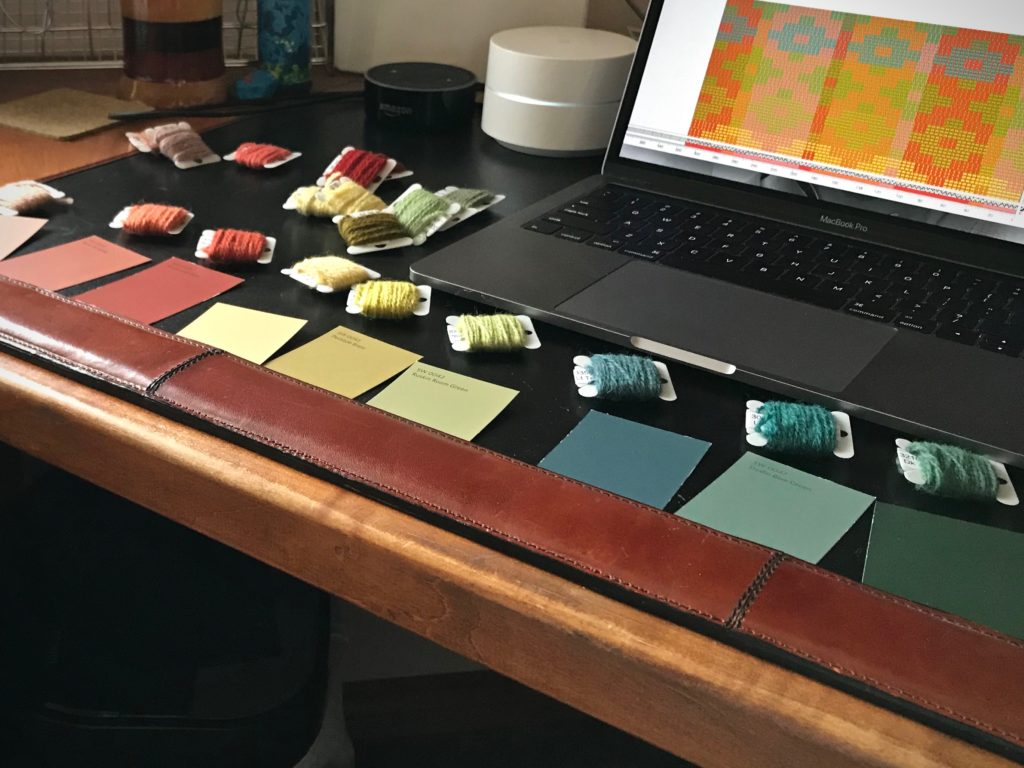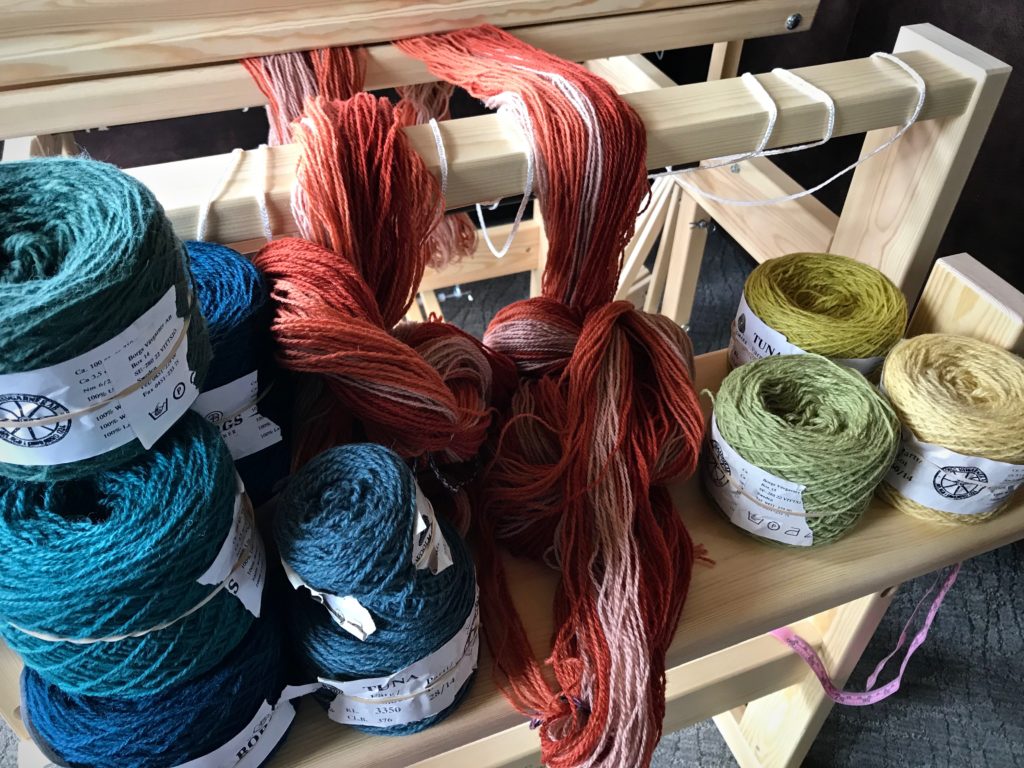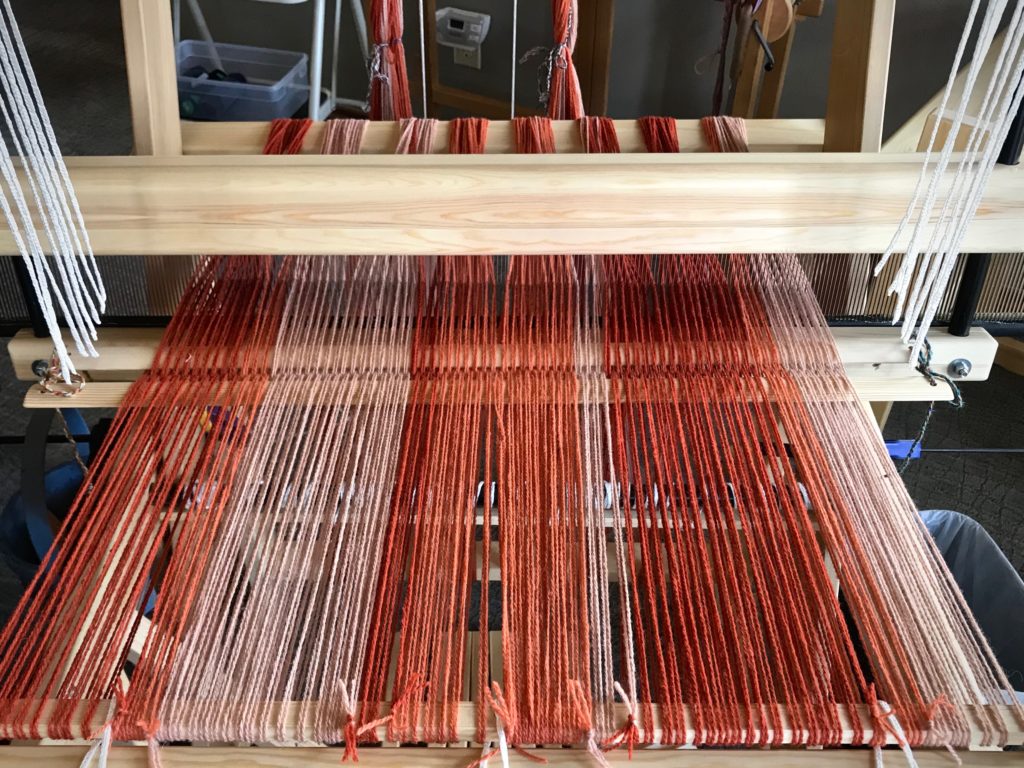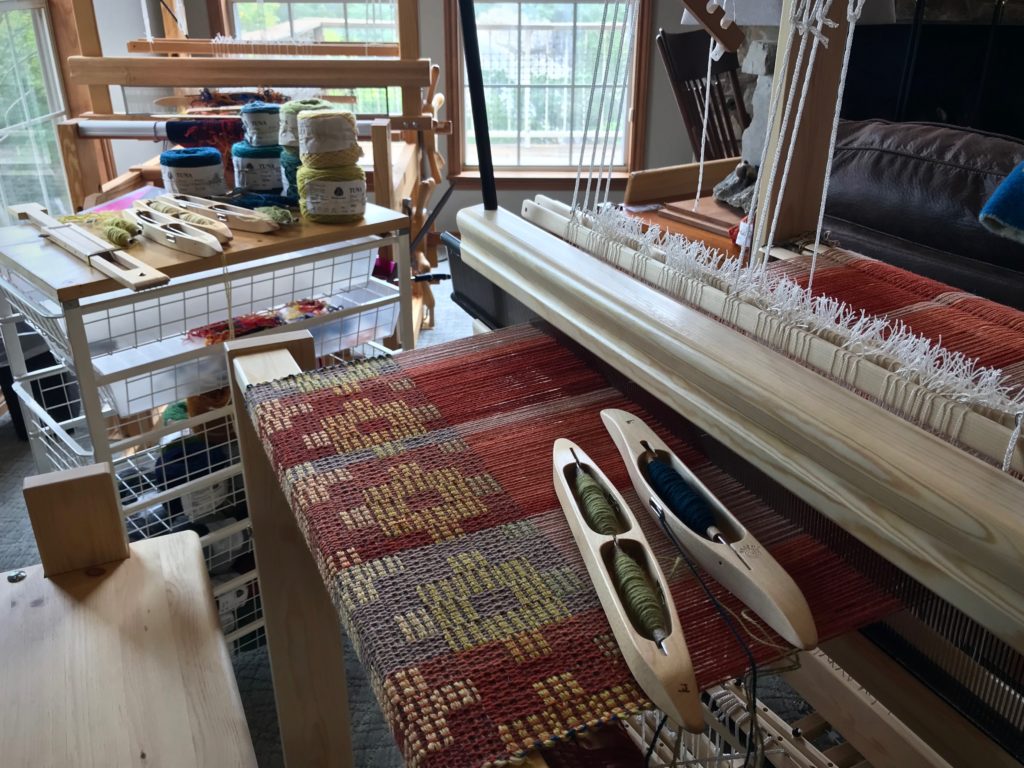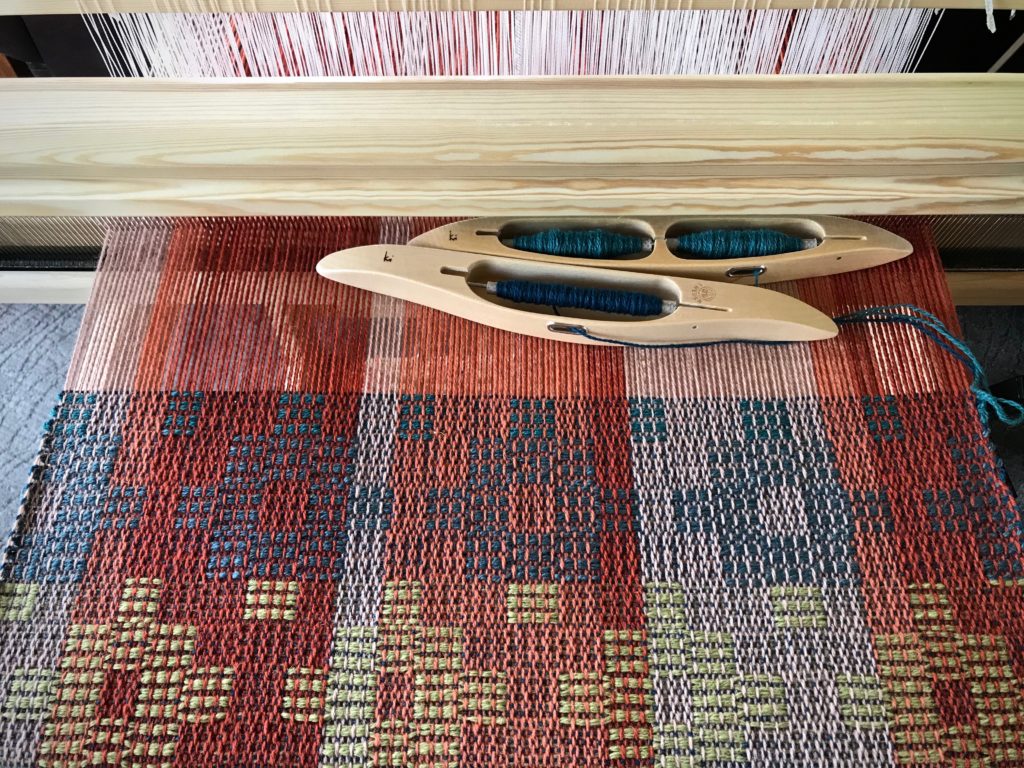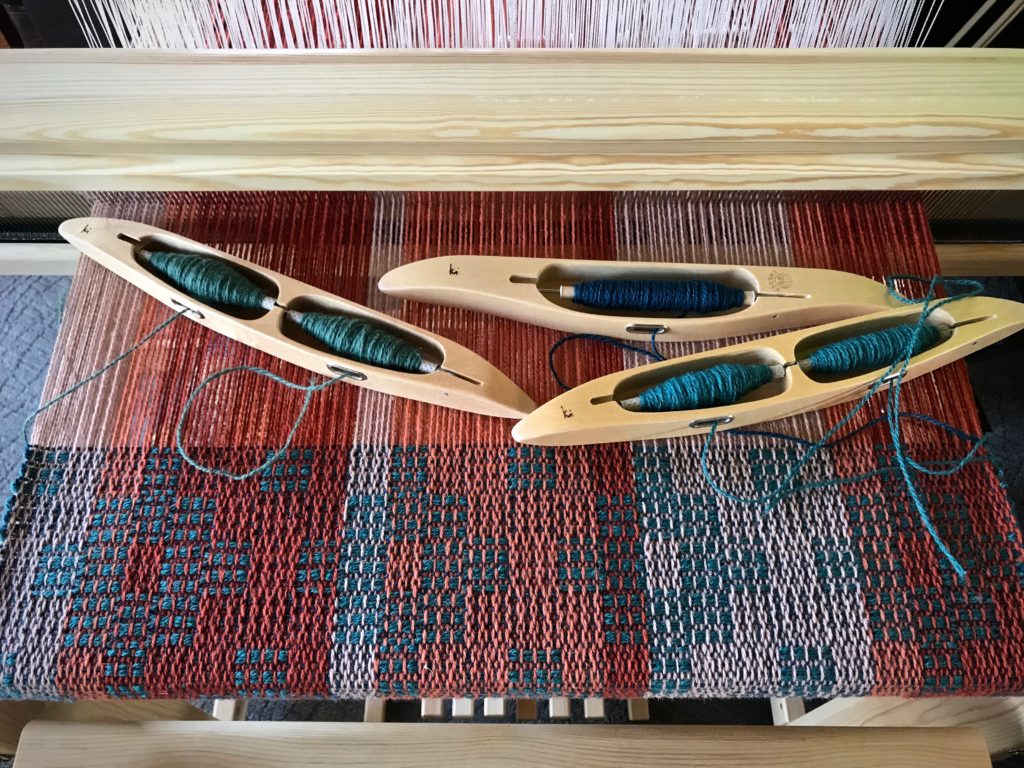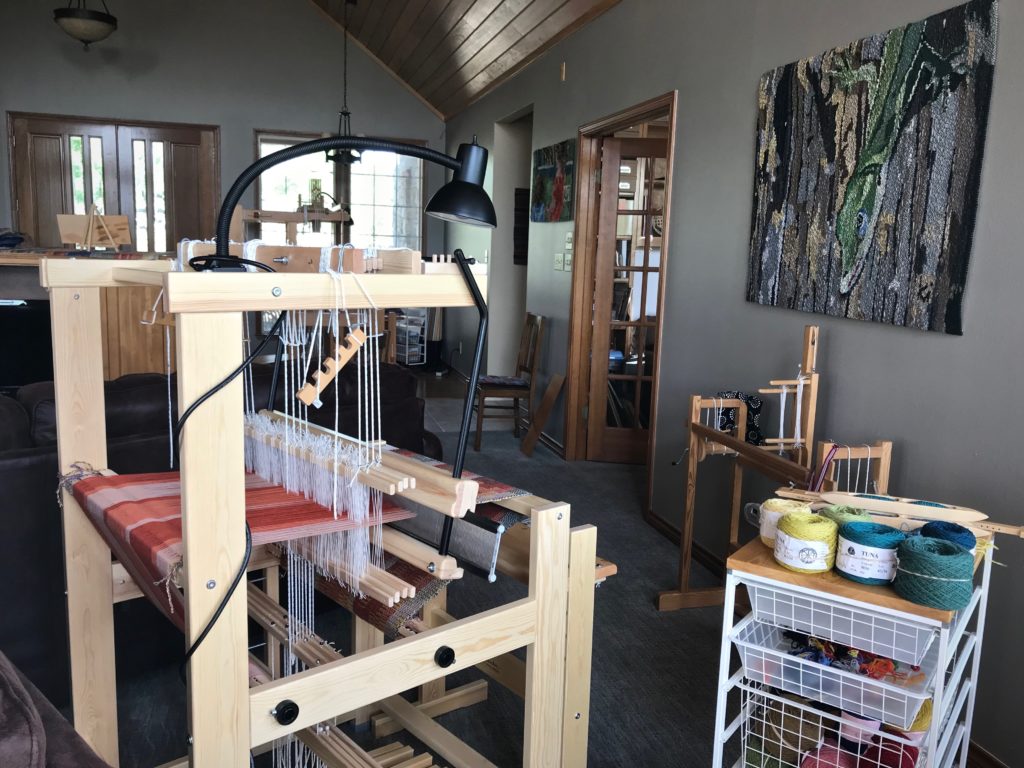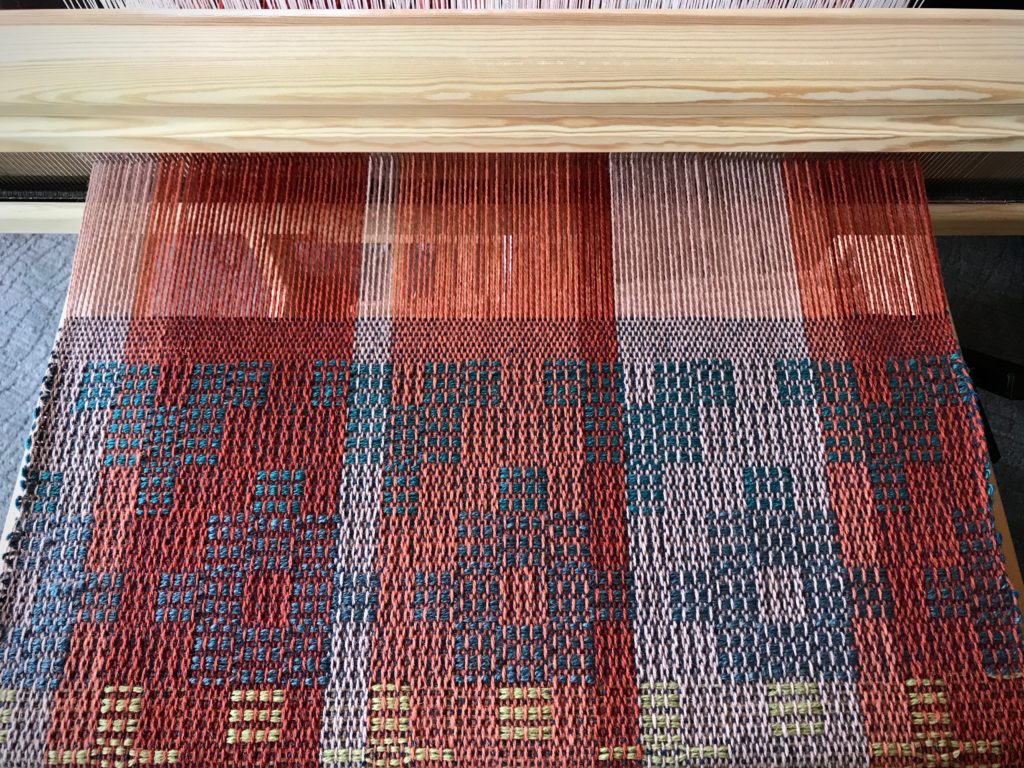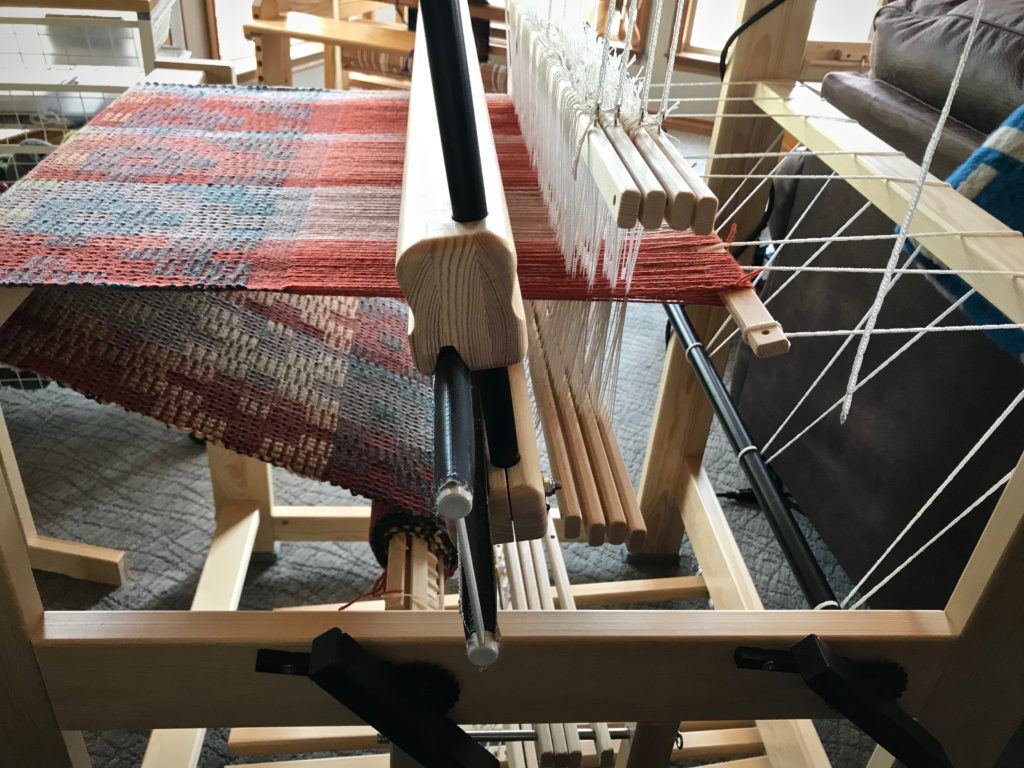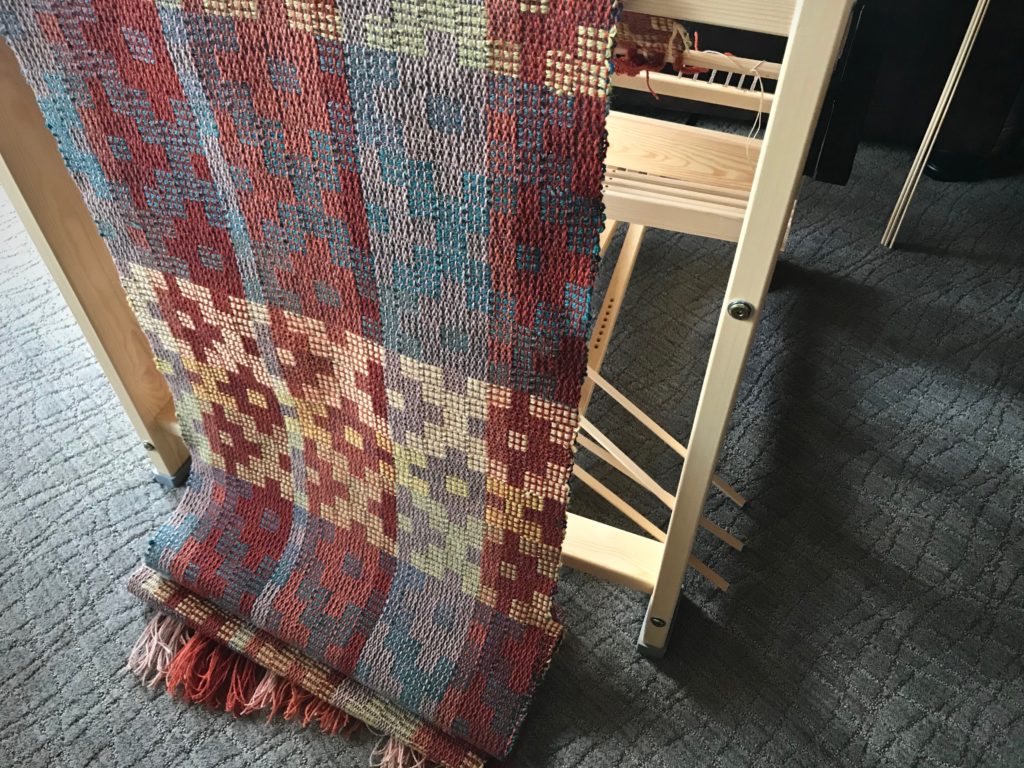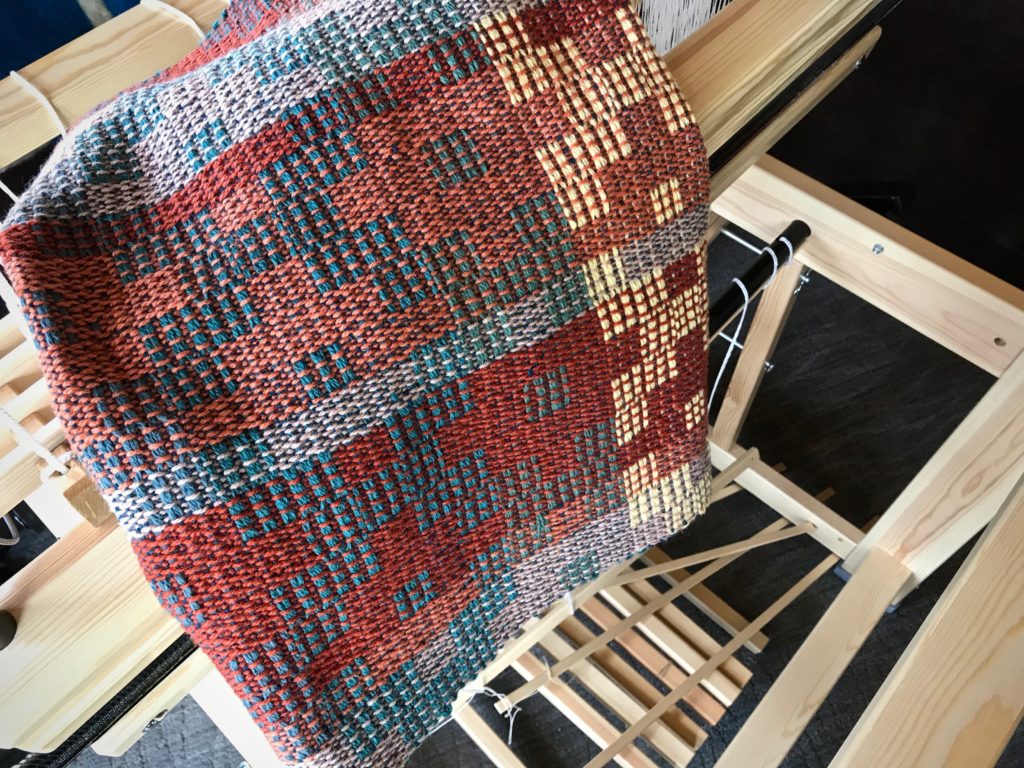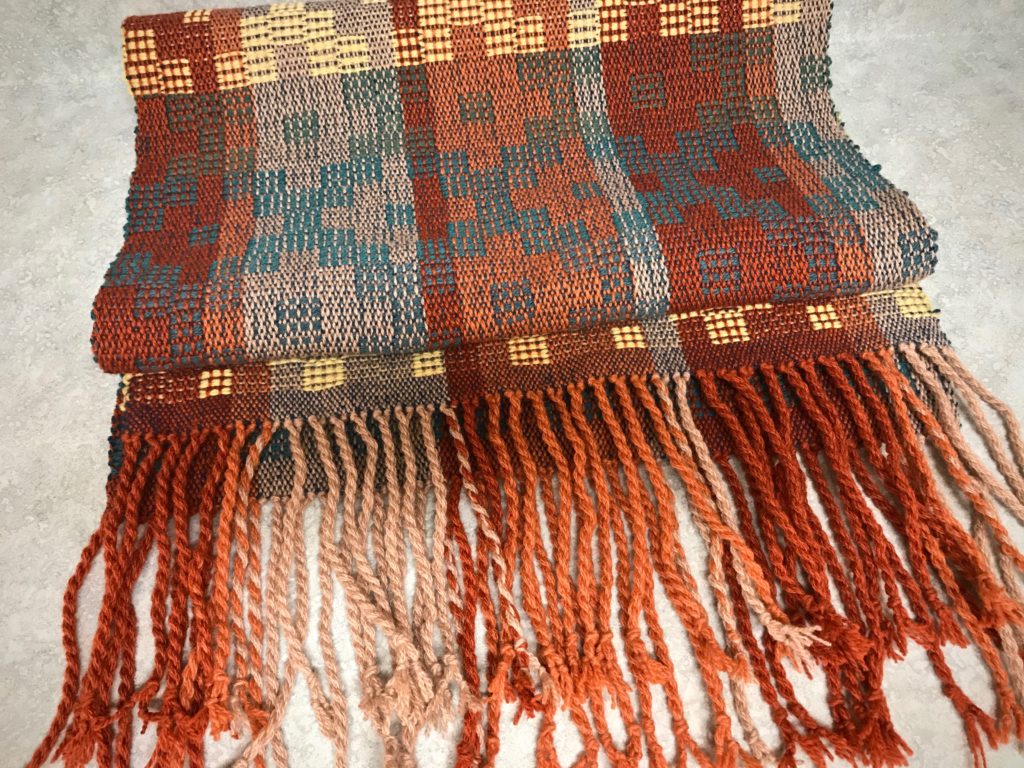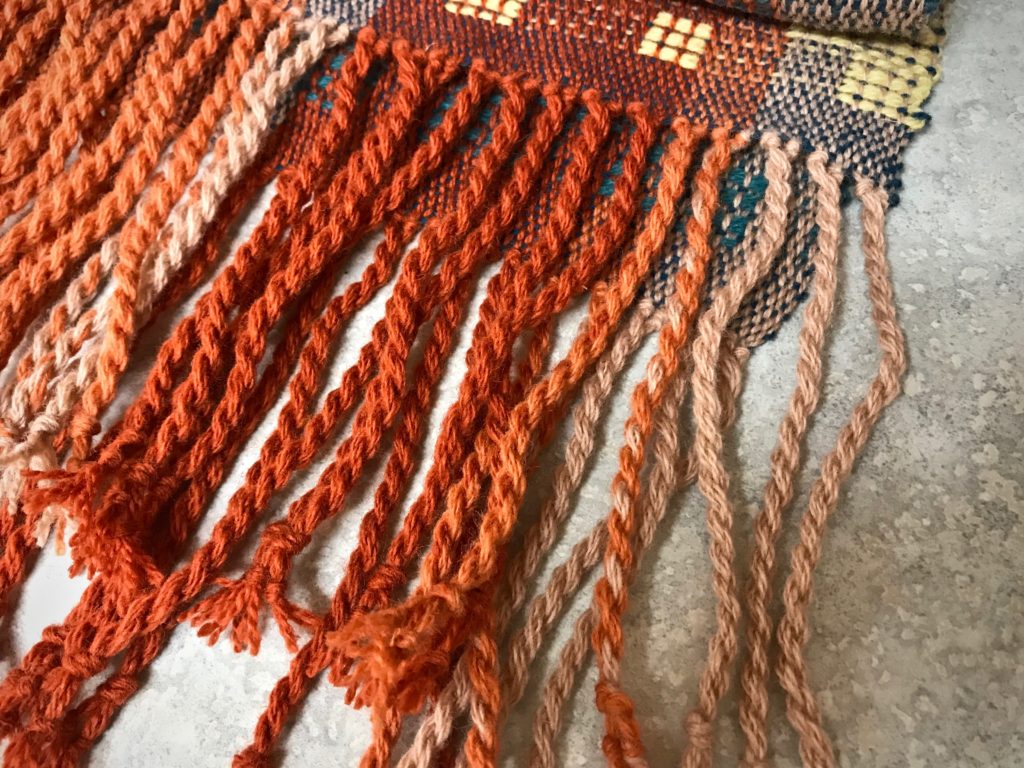 This is one of those times when the weaving is so satisfying that I truly don't want the warp to come to an end. (…except that I'm excited to start on Julia's second adventure!)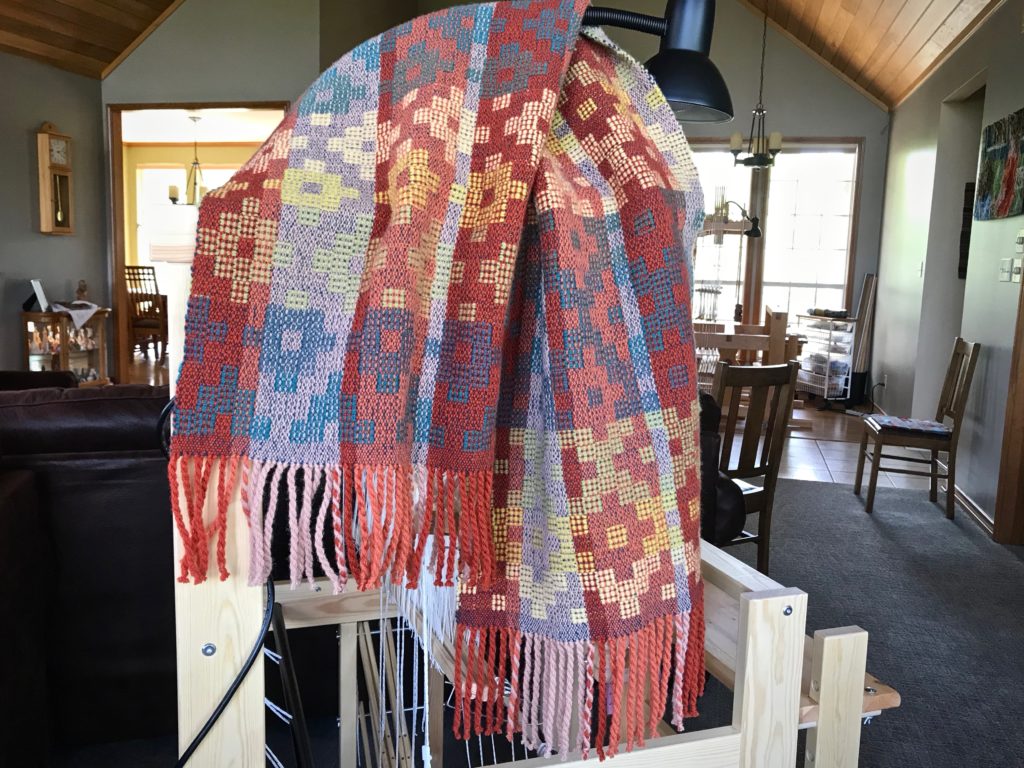 May your adventures never cease.
Happy Weaving,
Karen
---
Every time you cut off a warp there is more to do before the woven material is ready for its end purpose. Do you enjoy tying knots? And, hemming rugs by hand? I don't mind completing these final steps. It's part of the whole weaving process. Three of the six rosepath rag rugs are now finished. Truly finished.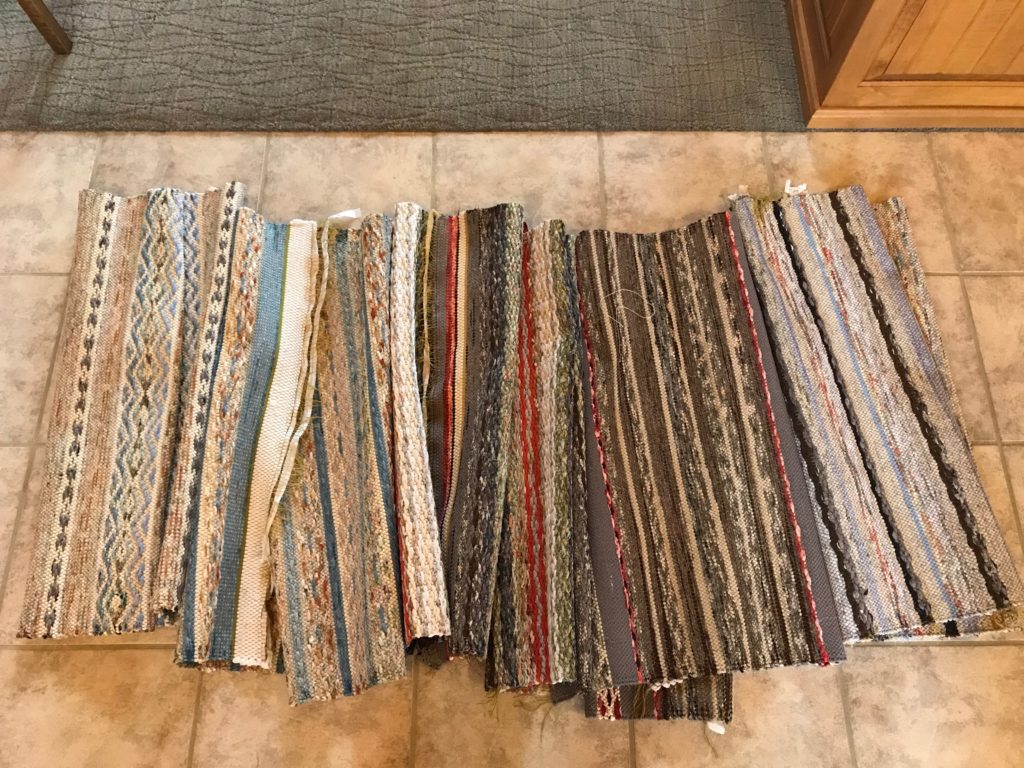 Tying the warp ends in overhand knots permanently secures the weft. These knots won't work loose. I turn the hem, concealing the knots; and stitch the hem down. After I sew on my label, the work is complete.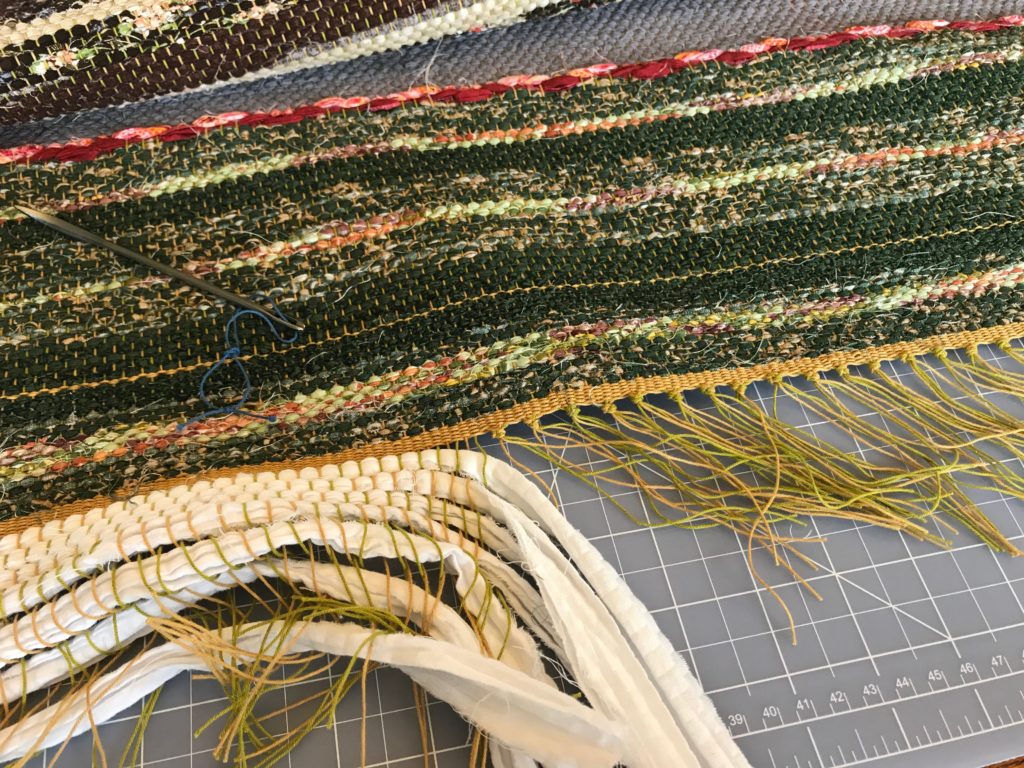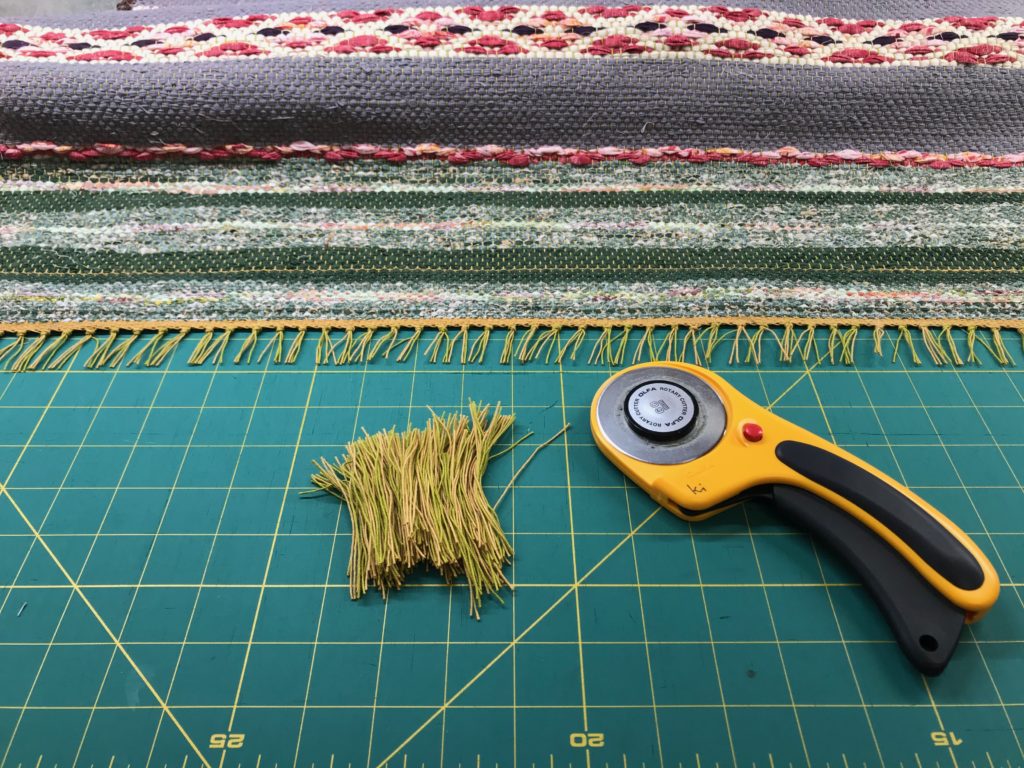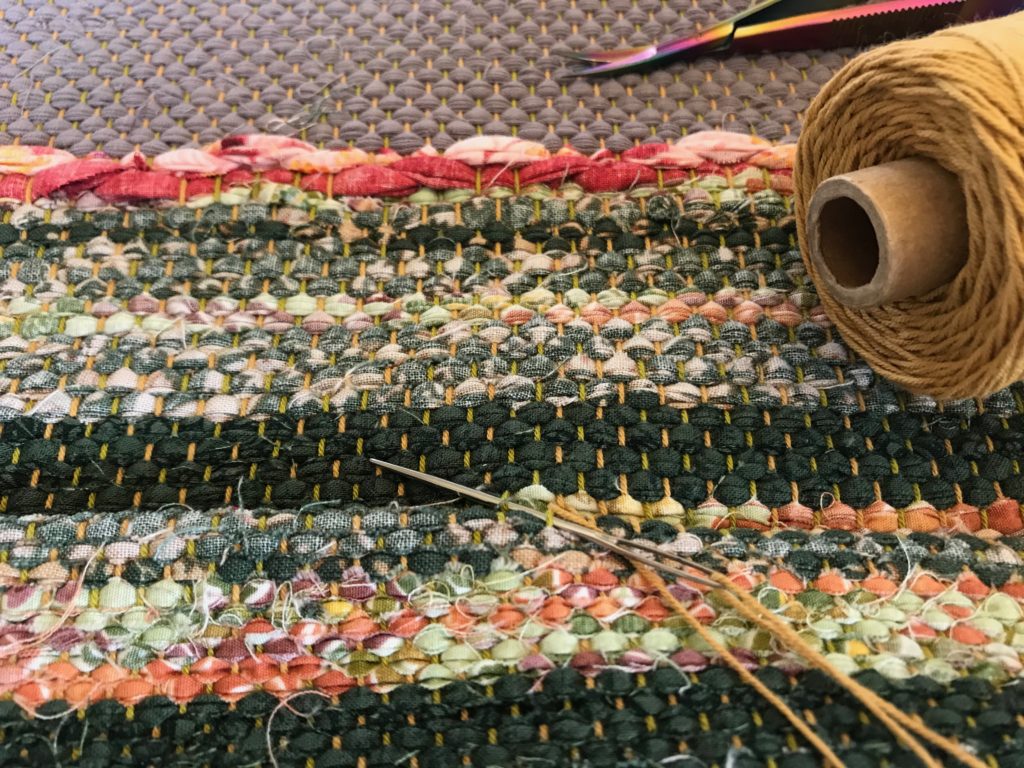 Jesus famously said, "It is finished," when he was on the cross. His completed good work replaces our work of trying to be good enough, trying to fix everything, trying to control our lives. Our knots won't hold. We can trust that his finished work will never be undone. God loves you. Trusting him is loving him back.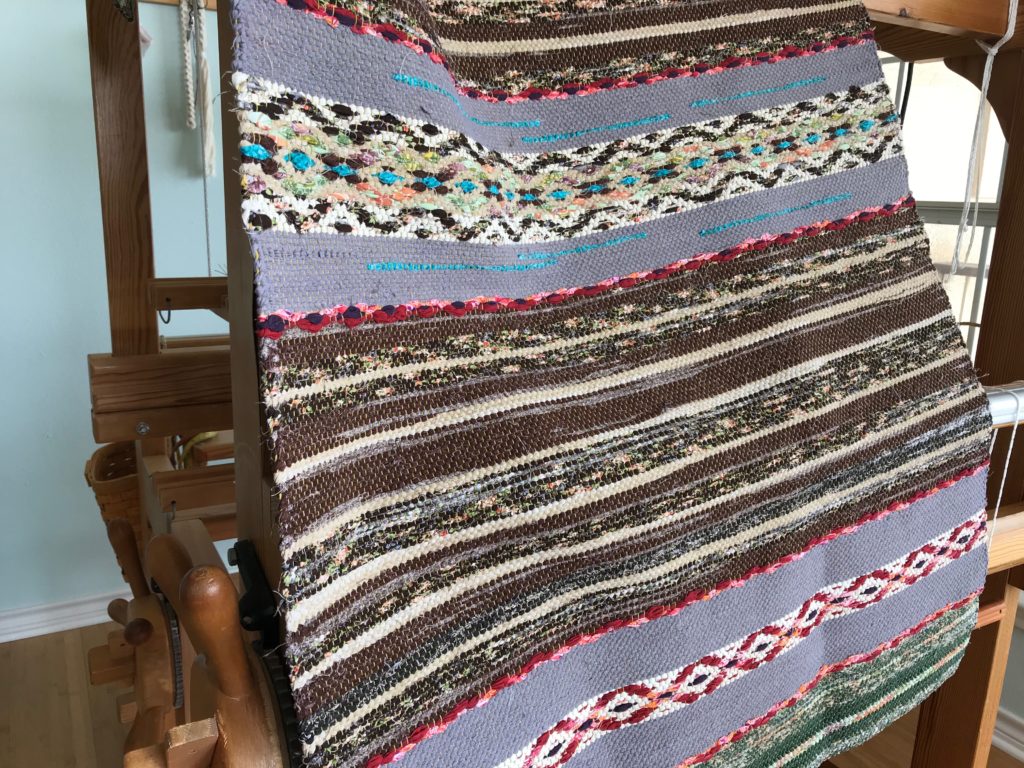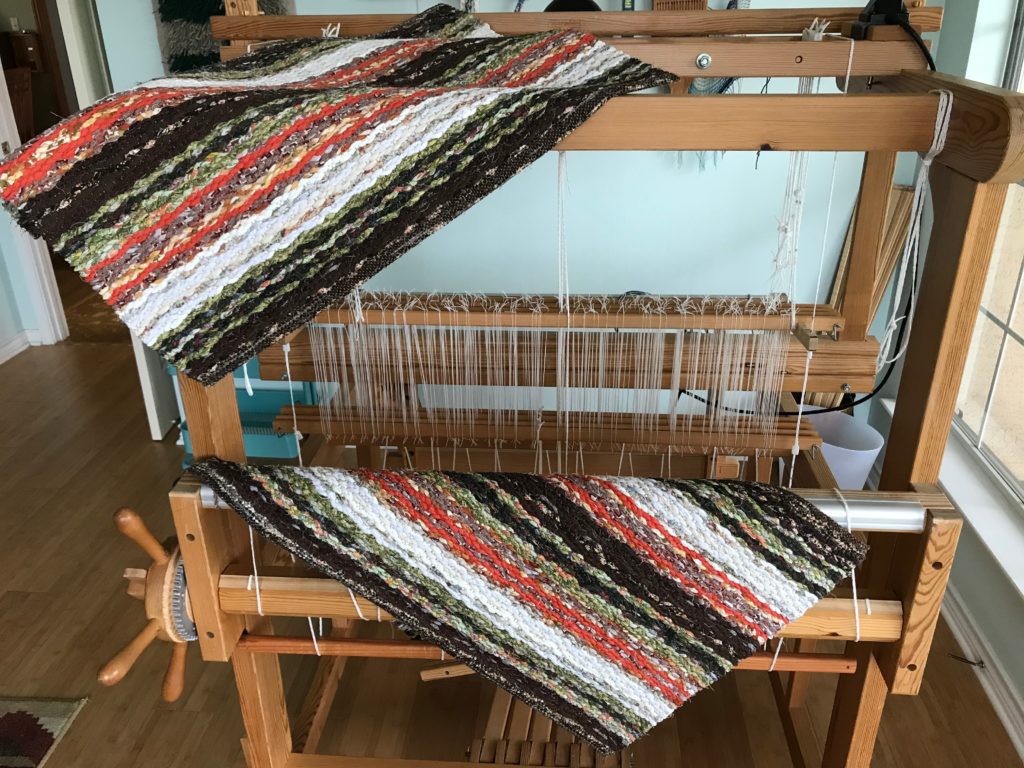 May love securely hold you.
Trusting,
Karen
---