Every good bag deserves a good lining, with pockets inside and a zipper on top. This handwoven rag rug bag is no exception. The lining fabric is some of the same fabric that is woven in the bag. The polka dot pocket fabric is a cheery piece from a visit to The Philippines. The completed zippered tote is a perfect fit for my small tapestry frame, and goes with me when I travel. Quiet Friday: Weave a Bag with Handles shows how I made the bag.
How to Add a Custom Zippered Lining to a Bag
Tools
Sewing machine
Zipper foot
Walking foot (recommended, but not required)
Steam iron
Straight pins
Tool for pushing out corners
Needle and sewing thread
Disappearing ink fabric marker
Fabric scissors
Supplies
Fabric for lining. Lay bag on top of folded lining fabric, with bottom of bag aligned with the fold of the lining fabric. Cut the folded fabric a generous 1 1/2″ wider and 1 1/2″ taller than the bag.
Fabric for pocket. Mark two pieces of fabric (or use a folded piece of fabric) the desired pocket size. Add 1/4″ seam allowance. Cut along the marked lines. Stitch, right sides together, leaving an opening for turning. Turn right side out, pushing out corners. Press. Topstitch all four sides.
Fabric for zipper insert pieces. Cut two pieces of fabric 4 1/2″ wide by the length of the zipper plus 1″.
Tabs for ends of zipper tape. Cut from handwoven band or piece of fabric with sides folded under.
Zipper. Regular, non-separating zipper, as long as, or longer than, bag opening
Steps
Give your new bag a special purpose.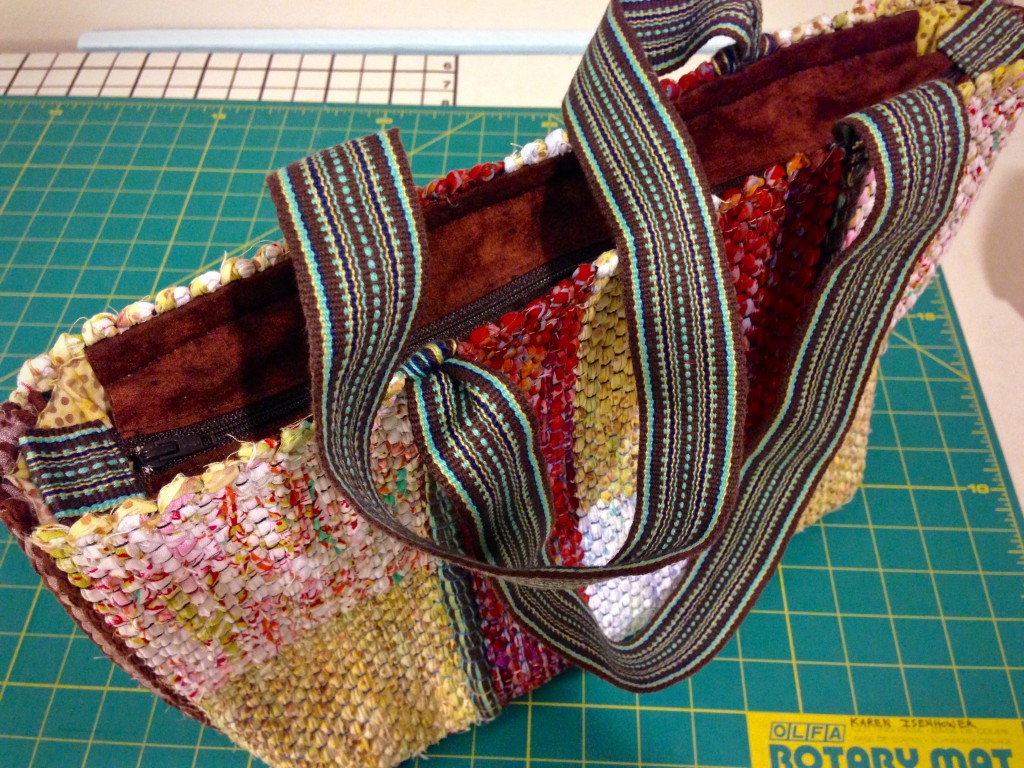 May your lining on the inside be as attractive as your handbag on the outside.
Happy Creating,
Karen