After back surgery, I wondered how-in-the-world I would be able to tie up my countermarch looms. After a four-week ban on bending over, I was eager to weave, but not eager to do anything that might strain or injure my back.
Two simple maneuvers made it possible for me to tie up the lamms and the treadles on both of my Glimäkra countermarch looms:
Remove the lamms. Treadle cords are added while sitting in a comfortable position.
Detach the treadles. Bring treadles closer to the front of the loom for attaching treadle cords.
And two important practices kept me from over-reaching and overdoing it:
Sit on a low stool instead of the back of the loom or the floor.
Take frequent breaks to stand up, stretch, and walk around.
Tools:
Low stool for sitting
Rolling cart (IKEA cart) or small table
Plank of wood, longer than the loom is wide (one plank of warping trapeze, 1″ x 5″)
Treadle cords, Texsolv pins, other tie-up supplies
The 120 cm (47″) Standard loom has open space in the loom, making it easy to get within arm's reach of most things; but the challenge increases with the number of shafts–eight for this tie up.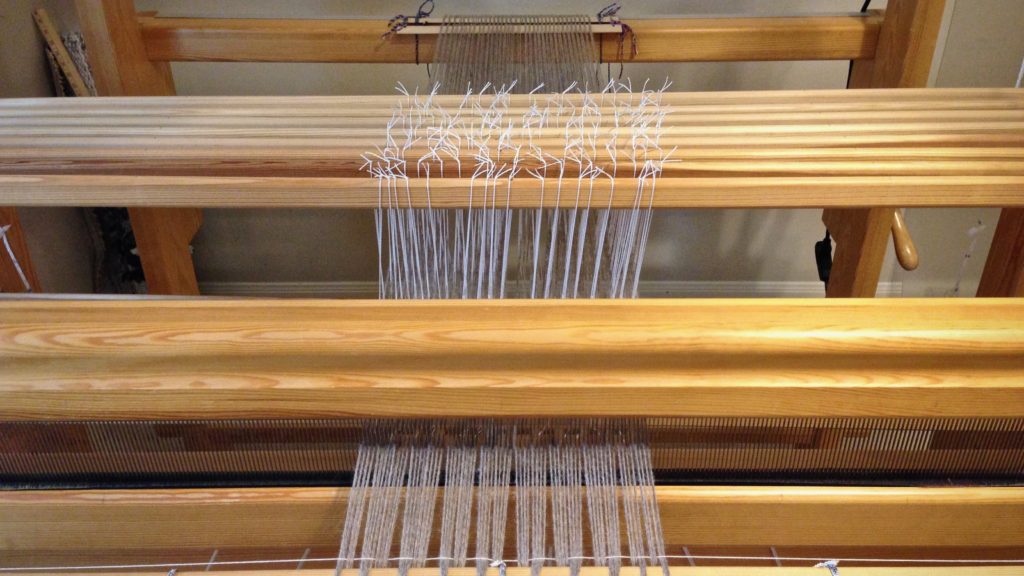 Lamms are removed, 2 at a time, and placed on the cart to add the treadle cords, all the while sitting on a comfortable stool.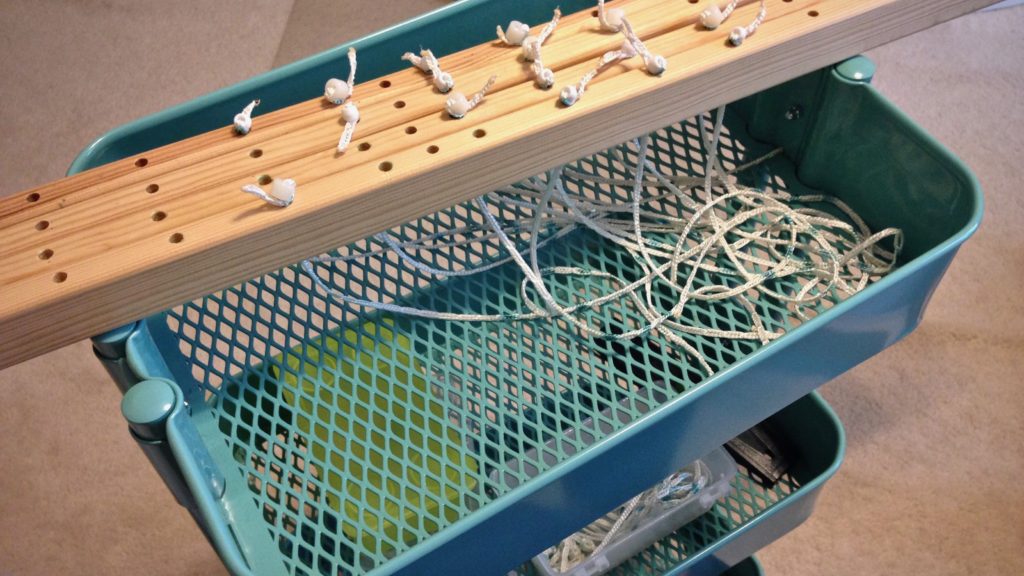 After all 8 lower lamms have the treadle cords added, the lamms are reinserted in the loom, 2 at a time.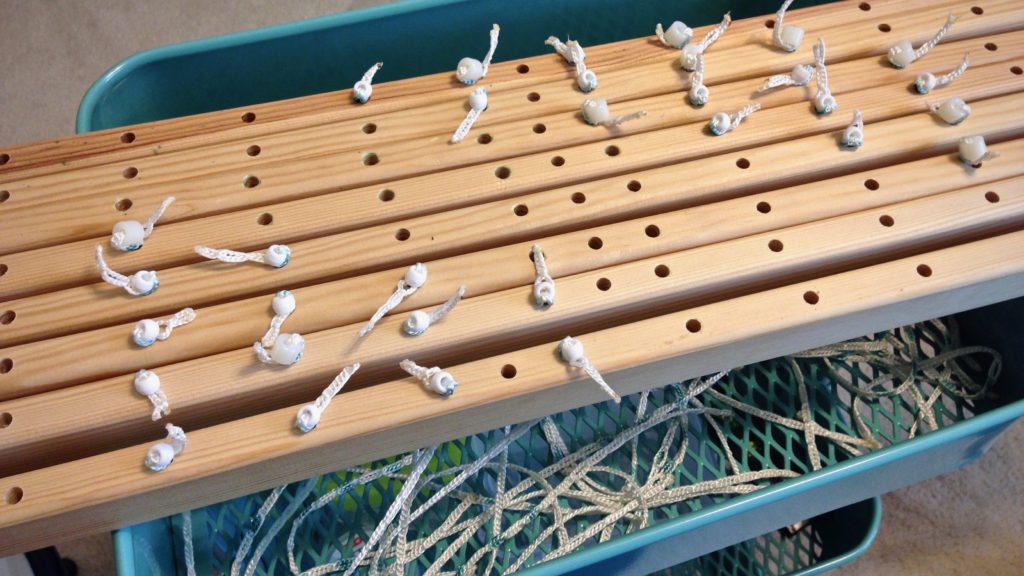 Treadle rod is removed to detach the treadles. Wood plank keeps the treadles from sliding back while treadle cords are attached at the front of the loom.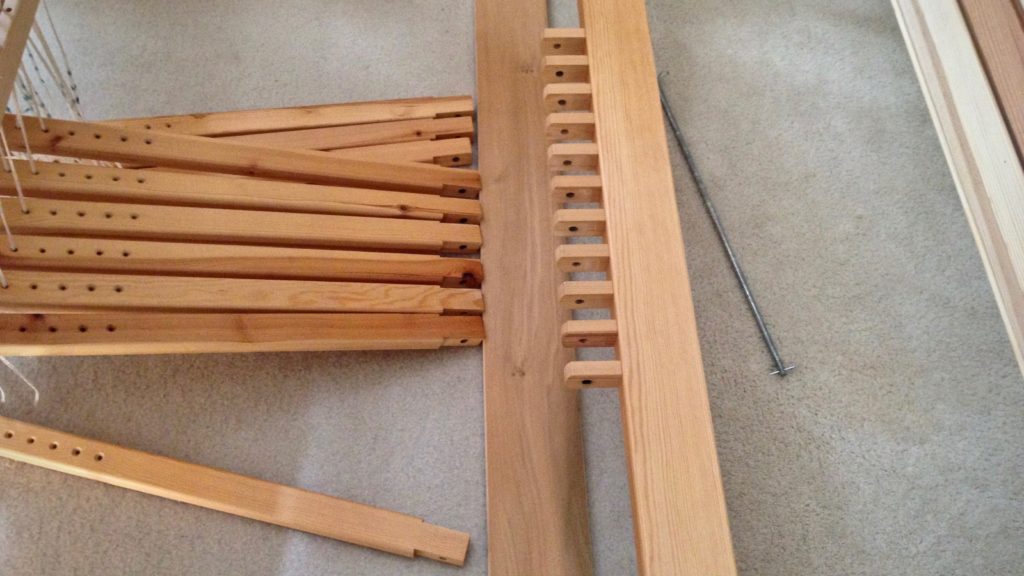 Cord acts as a sling to hold the treadle up to a comfortable height.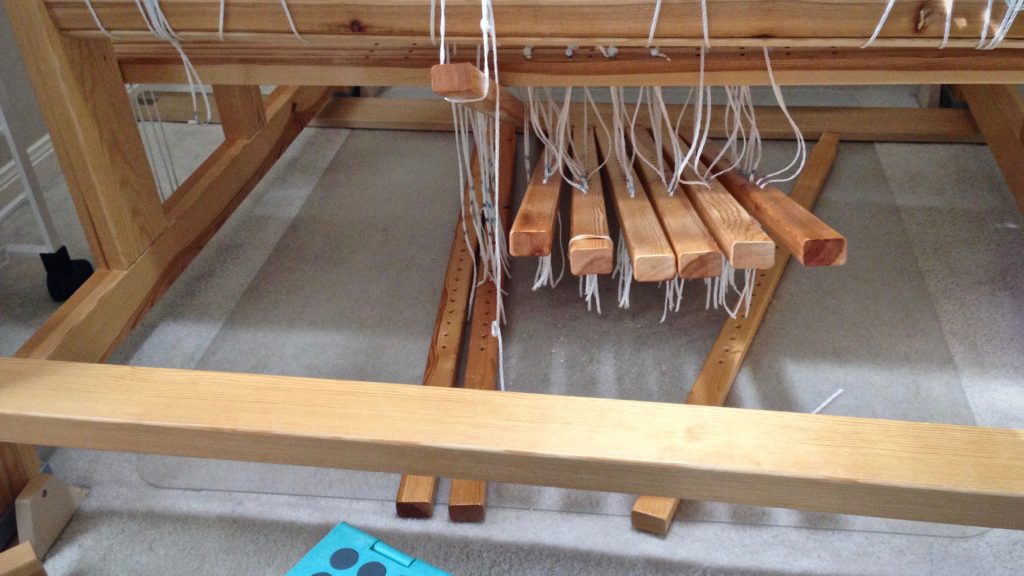 The raised treadle helps with visibility, and enables the use of both hands, especially helpful for the "Vavstuga method" of tying up treadles with knitting needles (I use sharpened dowels). After treadles are tied up, re-attach the treadles at the back of the loom.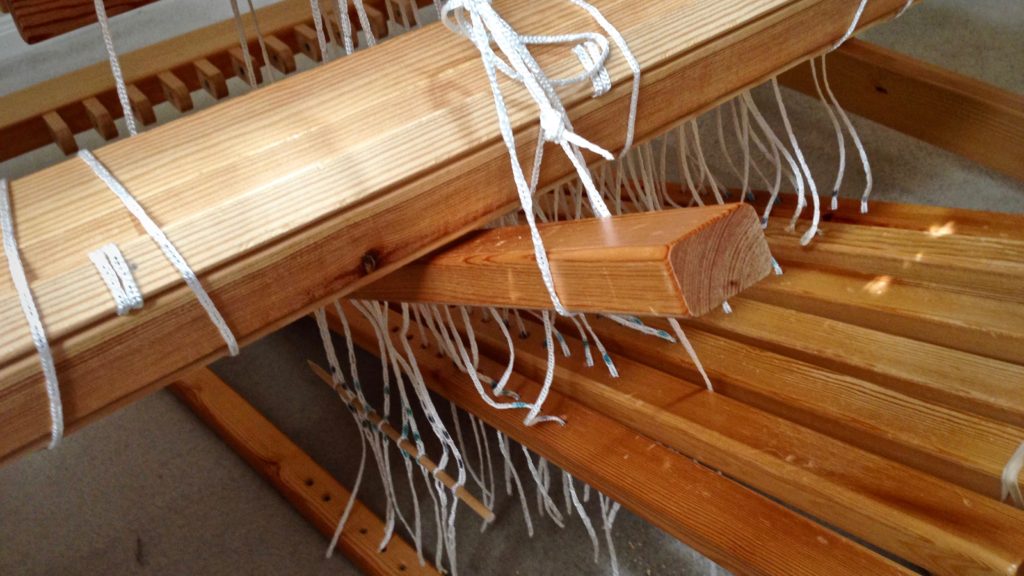 The 100 cm (39″) Ideal loom requires more reaching. Tying lamms to the shafts is a challenge for short arms, like mine. With four shafts, and only three treadles for this tie up, the rest of the process isn't difficult.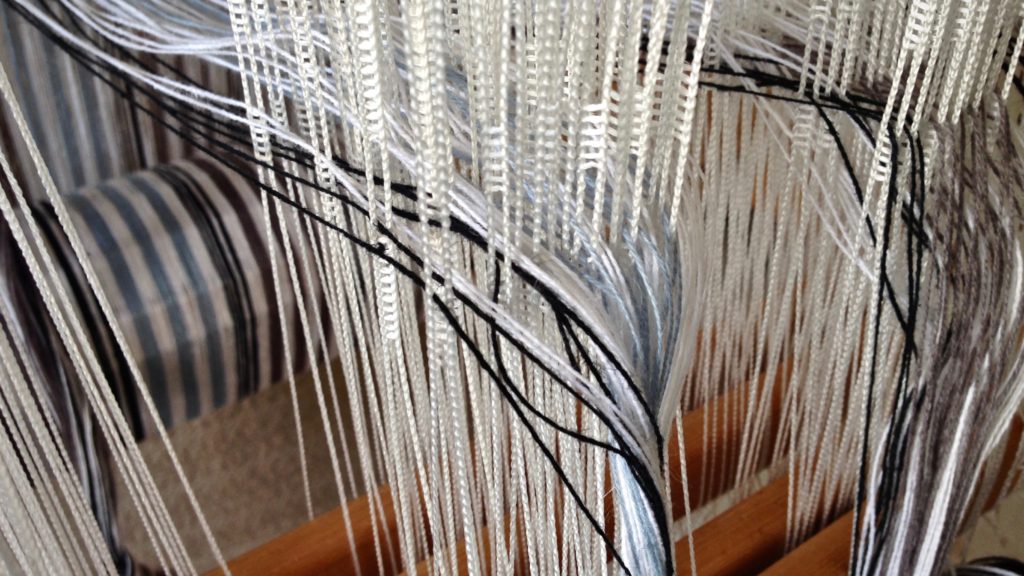 Upper lamms are placed on the cart. I hold the weaving draft in my lap as I add the treadle cords to the lamms.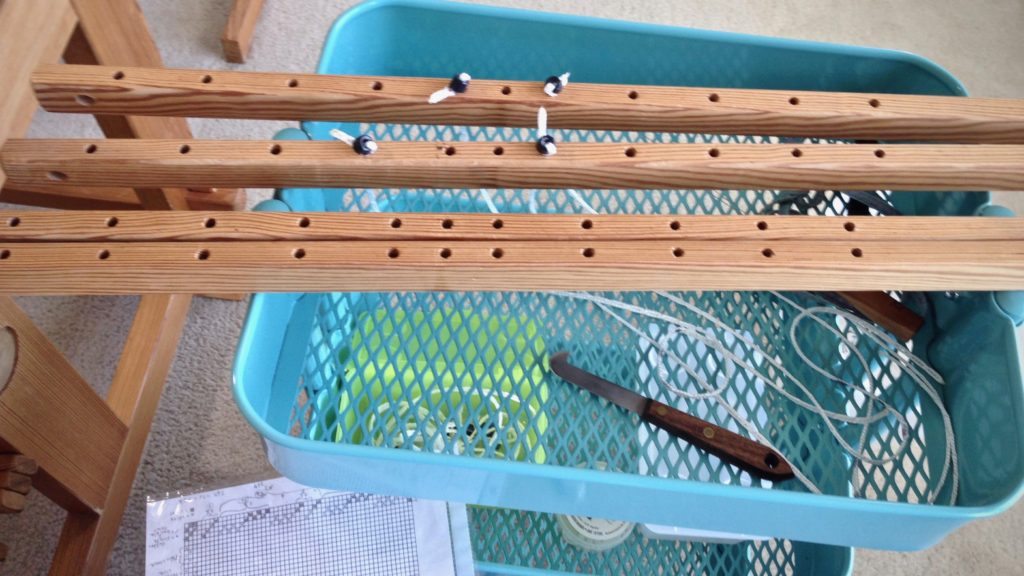 Lower lamms are removed as the pin is pulled out. After the treadle cords are added, the lamms are reinserted.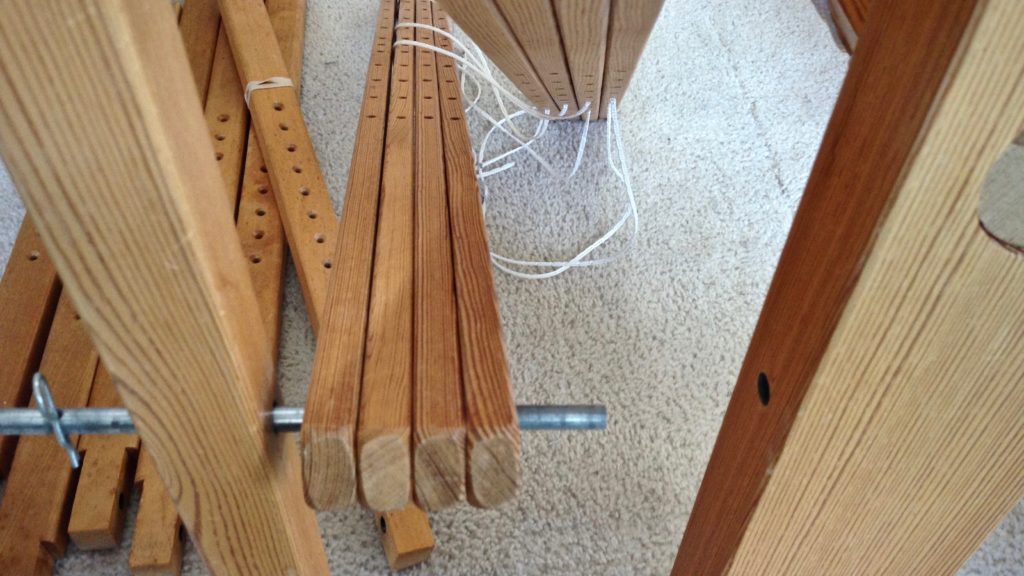 Detached treadles lay on the floor. They easily pivot up at the front of the loom for attaching treadle cords.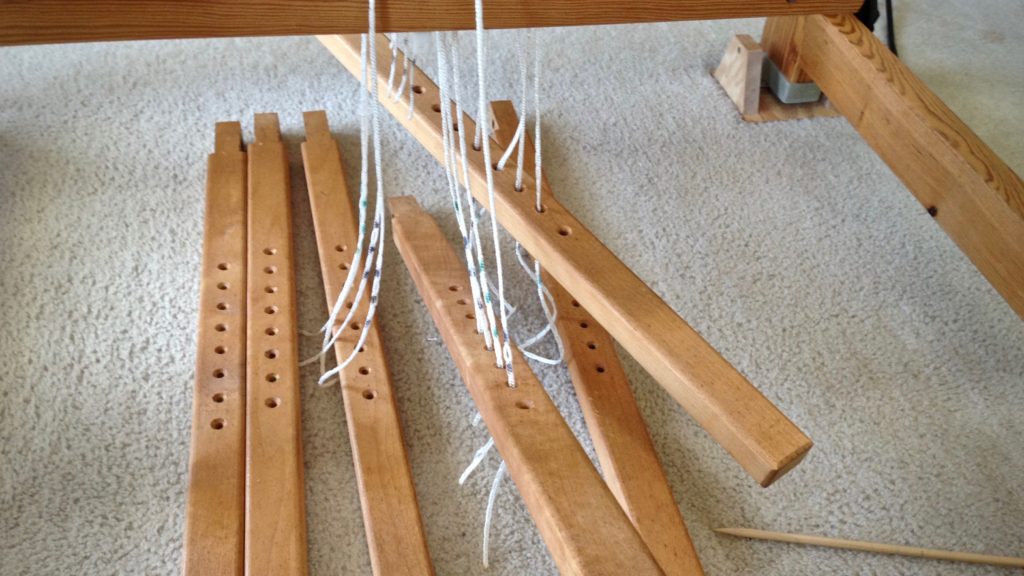 Everything is tied up and ready to weave!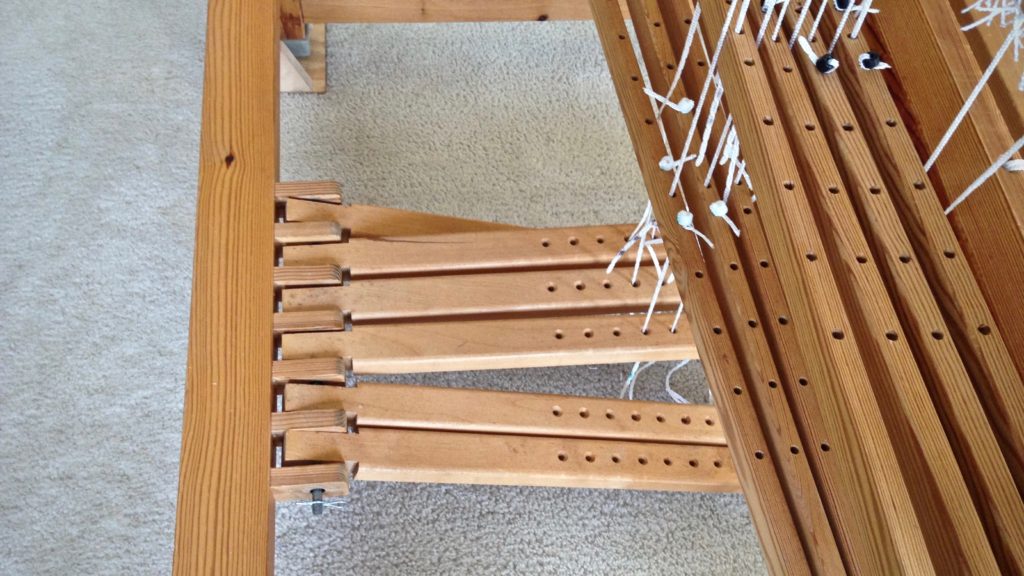 May you stay healthy to live long and weave.
Happy Weaving,
Karen