Sometimes I really don't know what I am doing! It's uncomfortable. I make a guess and hope for the best. I almost skipped this section of the tapestry/inlay sampler because I don't understand the instructions for crabba in The Big Book of Weaving. I've heard of crabba, and have seen pictures, but I have no experience with it.
Consequently, I am attempting to weave something that resembles the crabba motif, with  "rhomboid pattern shapes and stairstep contours." My first little diamond all but disappeared. Pattern weft needs to be thicker. My second attempt flattened into a flying saucer. Aha! I need at least two pattern picks of each row. Finally, I wove three more diamond motifs. Crabba, or not, they are now a part of this inlay sampler.
We can't know everything. But we can keep learning, even when we don't understand the instructions. Instead of quitting, step up and make an attempt. Raise your hopes. Stir up your faith to hope for the impossible. Your brave steps today set you up for greater progress next time you face a hurdle. Place your faith in the Lord, the instruction-giver. Sometimes He lets you learn by doing.
May you hope for the best.
~~Houston update: After diverting to Texas hill country because of the Hurricane Harvey flooding last week, Steve and I finally returned home to Houston this weekend. We are very thankful to come home to a dry house, untouched by the flooding that has devastated so many in our city. Relief efforts will continue in Houston for some time. Thank you for your prayers.~~
Hopefully,
Karen
---
I see a treadling error about 24 picks back. Don't you hate it when that happens? Backing up is not hard, but it does take some guts if you do it the way I propose. (I first observed it done this way by Becky Ashenden at Vavstuga, though I don't claim to enjoy it nearly as much as she does.) It is time for some undoing.
Disclaimer: Try at your own risk. Do not attempt the following if you do not know how to repair a broken (or cut) warp end. And do have fun! (I have not cut any warp ends with this method… yet, but it could happen.)
1. Notice the error as soon as possible. Stop weaving. Loosen the warp tension enough to make it easy to spread the warp ends apart.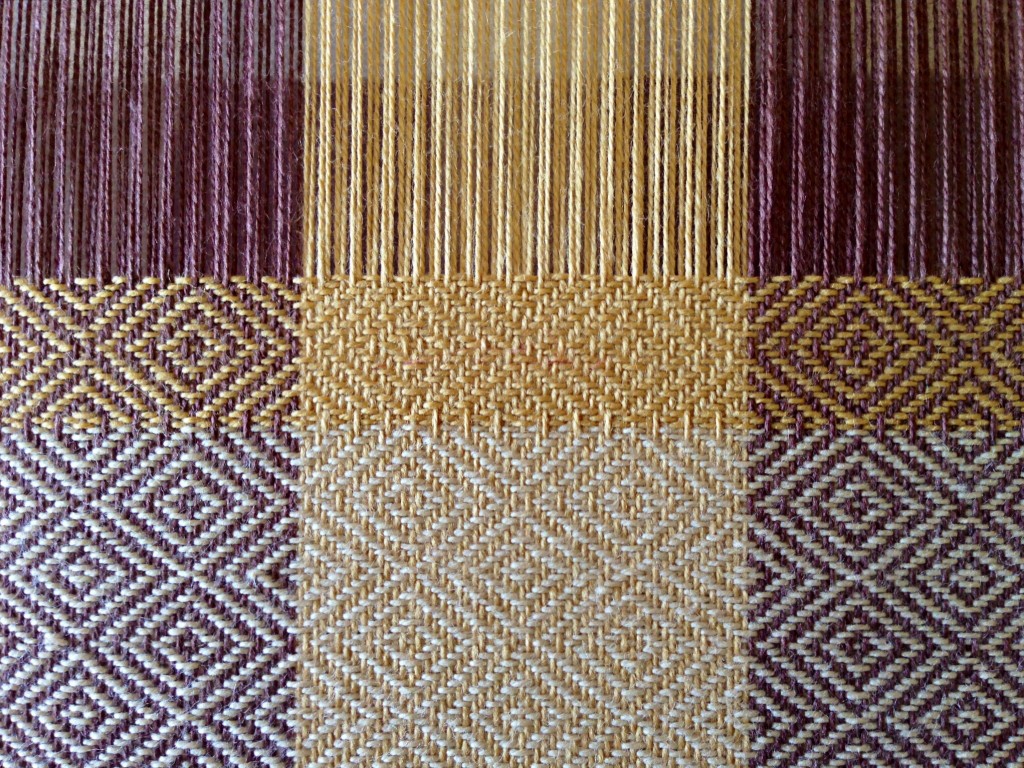 2. With one hand, spread the warp ends apart at the center of the warp's width. With your other hand, begin clipping the weft threads between the spread warp ends. Do not try to do this without good lighting. And if you must have coffee first, no more than one cup.
4. Continue carefully clipping the weft threads. Only clip as far as you can easily insert the point of the clippers.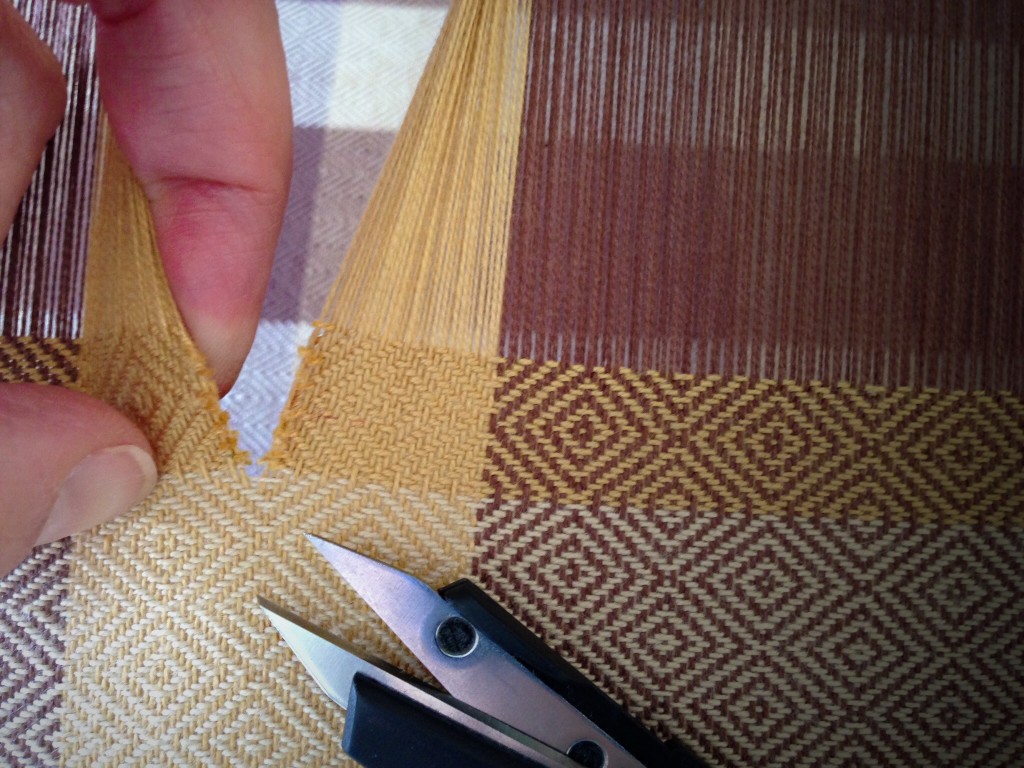 5. Treadle as for the last pick woven, and pull out the top weft thread on each side of the cut. Treadle the pattern in reverse, and with each step on the treadle pull out the top thread on each side.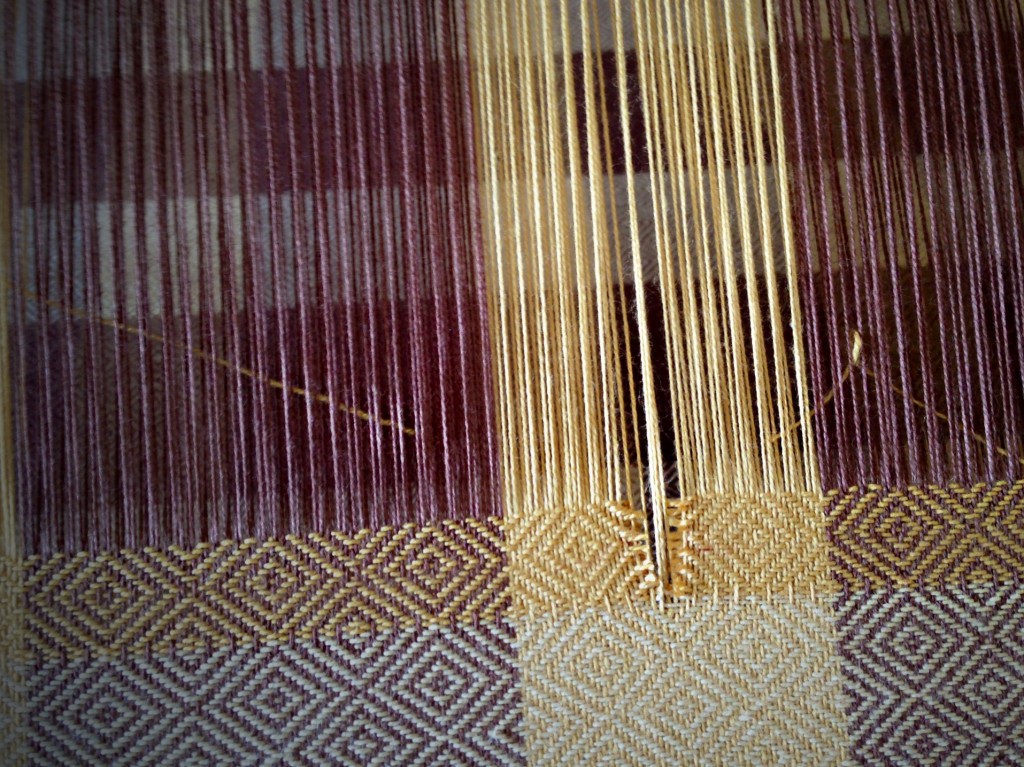 6. Continue treadling in reverse and pulling out the top thread on each side. Repeat steps 2 through 6 until you have removed the weft error.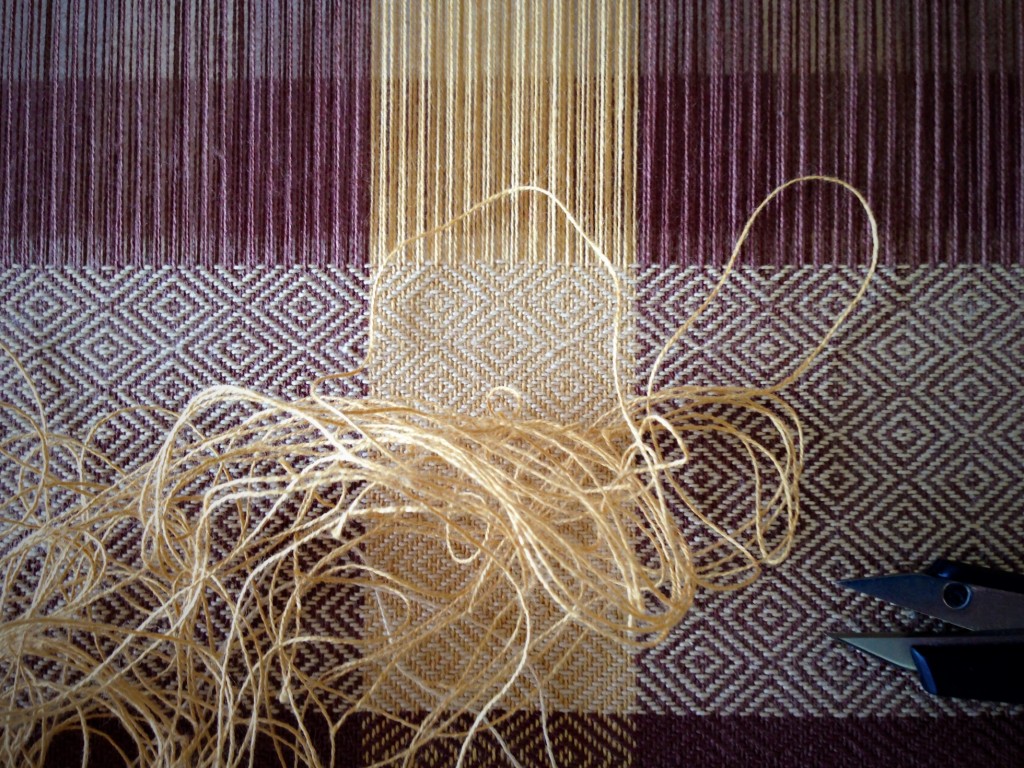 7. Tighten the warp tension for weaving. Weave as if nothing ever happened. Except, pay attention this time!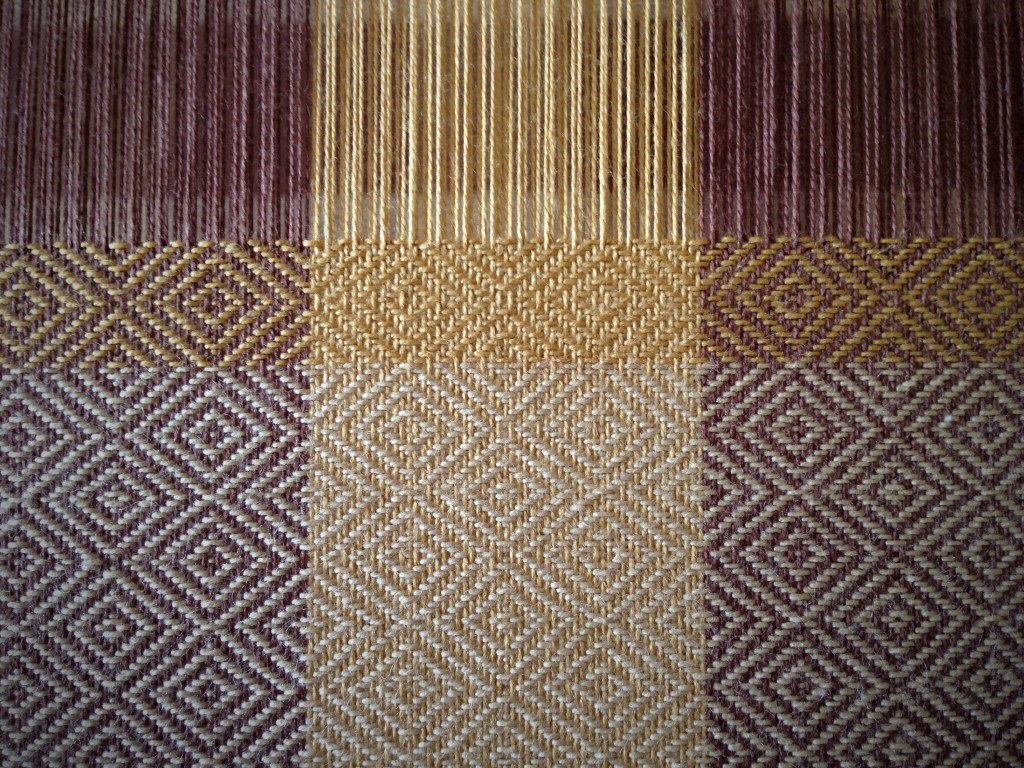 May you have all the do-overs you ever need.
(Please visit my updated About Page to find a special coupon code to use in the Warped for Good Etsy Shop.)
Happy Weaving,
Karen
---
The weaving width of my Glimåkra Standard loom is 47 inches (120 cm). This alpaca/Tencel throw is 45 inches (114 cm) wide in the reed. I am using my loom's width to its full capacity! That's exciting and frightening at the same time. This big reach is a stellar accomplishment for a 5′ 1″ (155 cm) gal like me. In more substantial matters, I would rather play it safe than face something too big to handle. You, too?
It is easy to fail when throwing a shuttle across a wide warp. The shuttle stops short, takes a nosedive in the middle, or flies to the floor on the other side. But persistence wins in the end. Have you seen how an offense creates a gap between people? Forgiveness bridges that gap. The widest gaps are the hardest ones to face, but forgiveness is still the bridge. It is worth the risk, and it is worth the failed attempts. Your hand must let go of the shuttle–therein is the risk and the reward.
Forgiveness, widely extended, enables us to live at our full capacity. Be brave and face something bigger than yourself. With perseverance, you'll see the shuttle make it all the way across.
May you forgive as one who has been forgiven.
Going deeper and wider,
Karen
---