Come, look over my shoulder as I weave a windmill and taildragger image on the drawloom. The central design is woven using 103 single-unit draw cords. I have a simple motif for the borders that uses only three pattern shafts. In the video below, watch as the three draw handles for those pattern shafts appear and disappear throughout the weaving.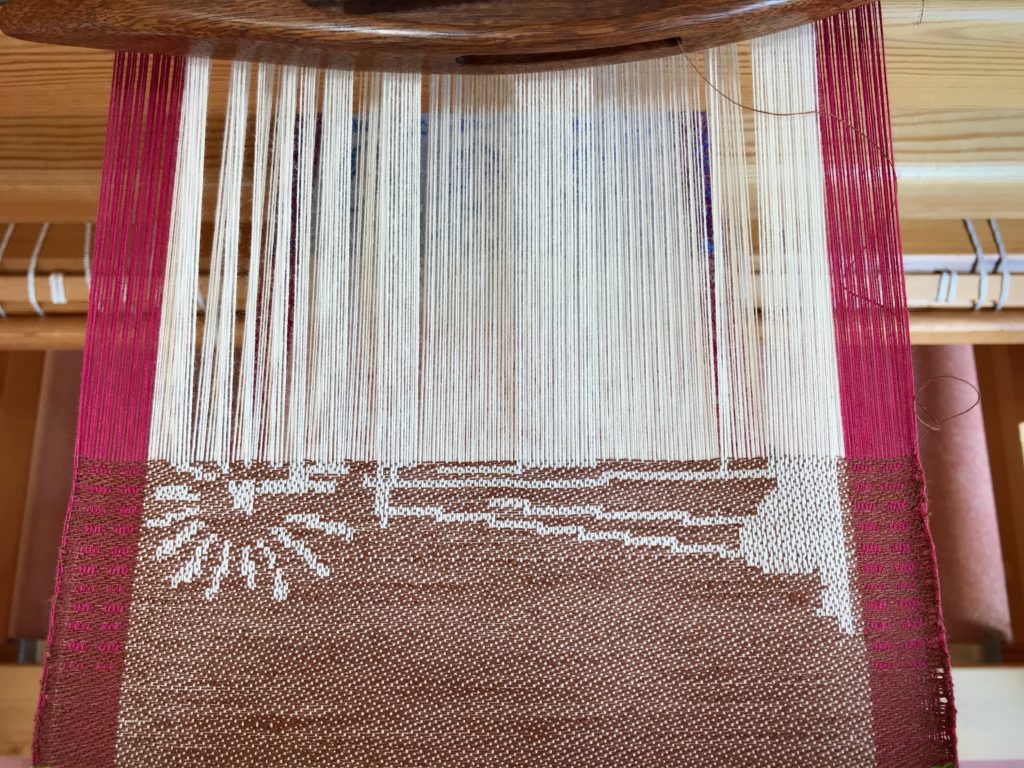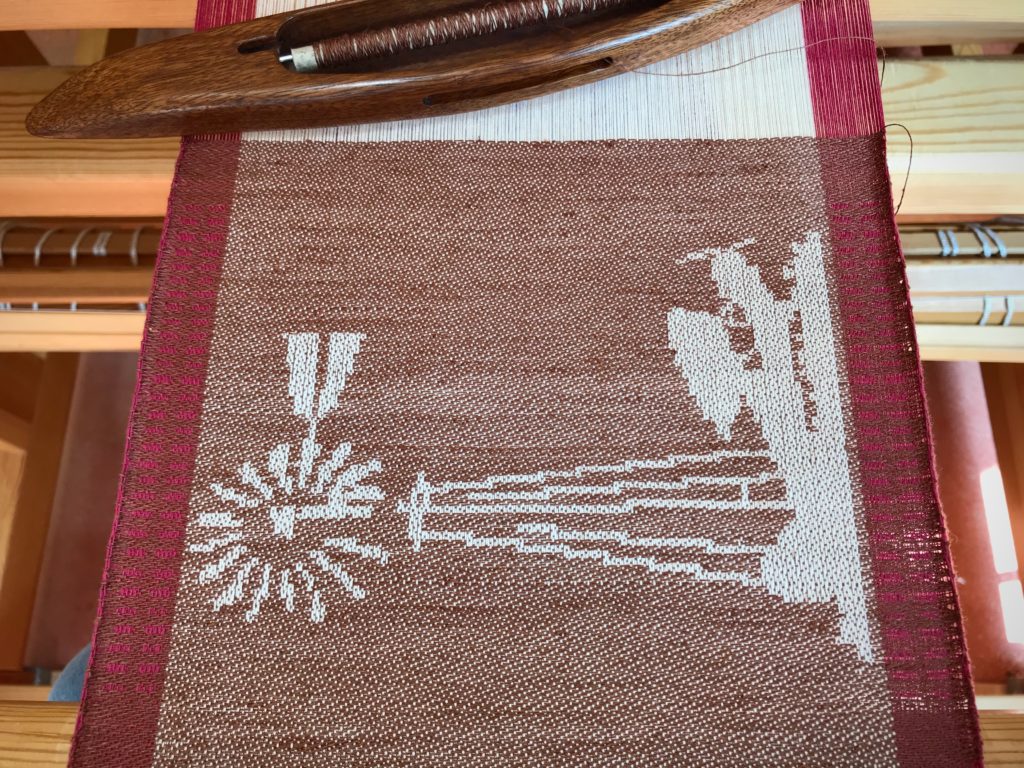 I recorded my weaving in time-lapse form so you can watch three hours of effort compressed into three-and-a-half minutes. In the video you will see my hand pulling the draw cords, and then touching all the pulled cords from right to left to double check my work. That double checking saved me from dreaded do-overs.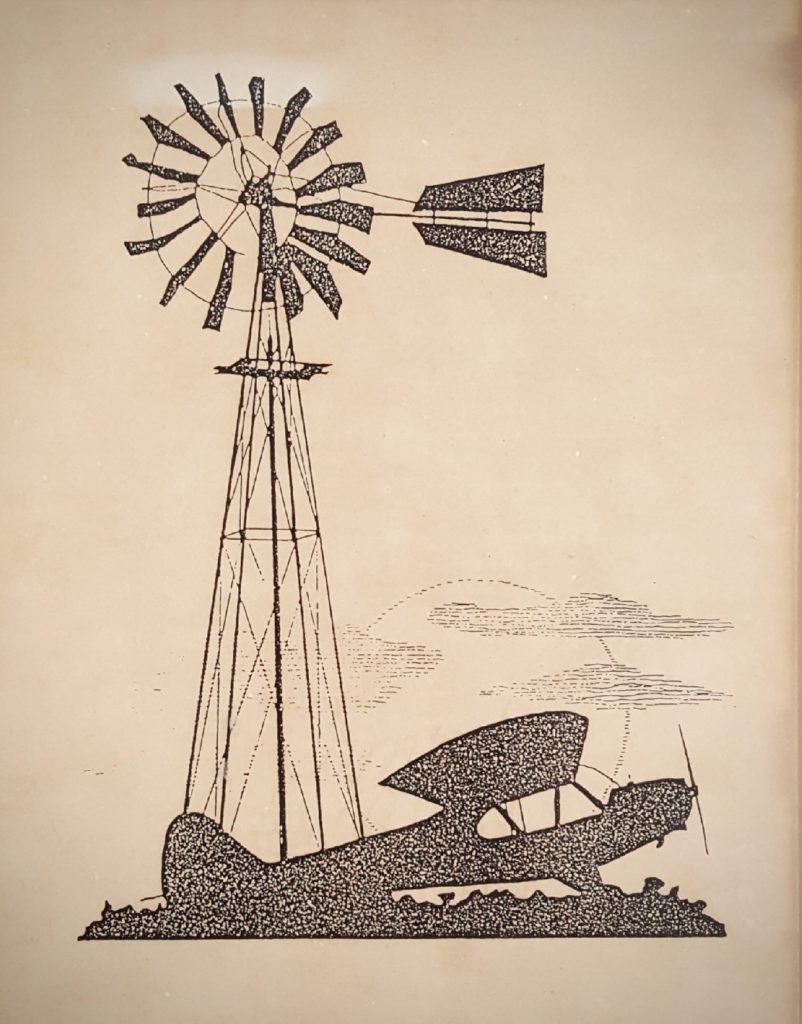 When our good friends, Jerry and Jan, saw my drawloom they brought this picture to my attention. — Forty years ago Jerry discovered the silhouetted windmill and airplane tucked away on a back page in an old issue of Flying magazine. Because of his affinity for airplanes and windmills he cut out the tiny picture and saved it. Years later, Jan found the picture and had it enlarged and framed. — After learning about my loom's pictorial capability, Jerry and Jan wondered aloud if this special image could be woven on a drawloom…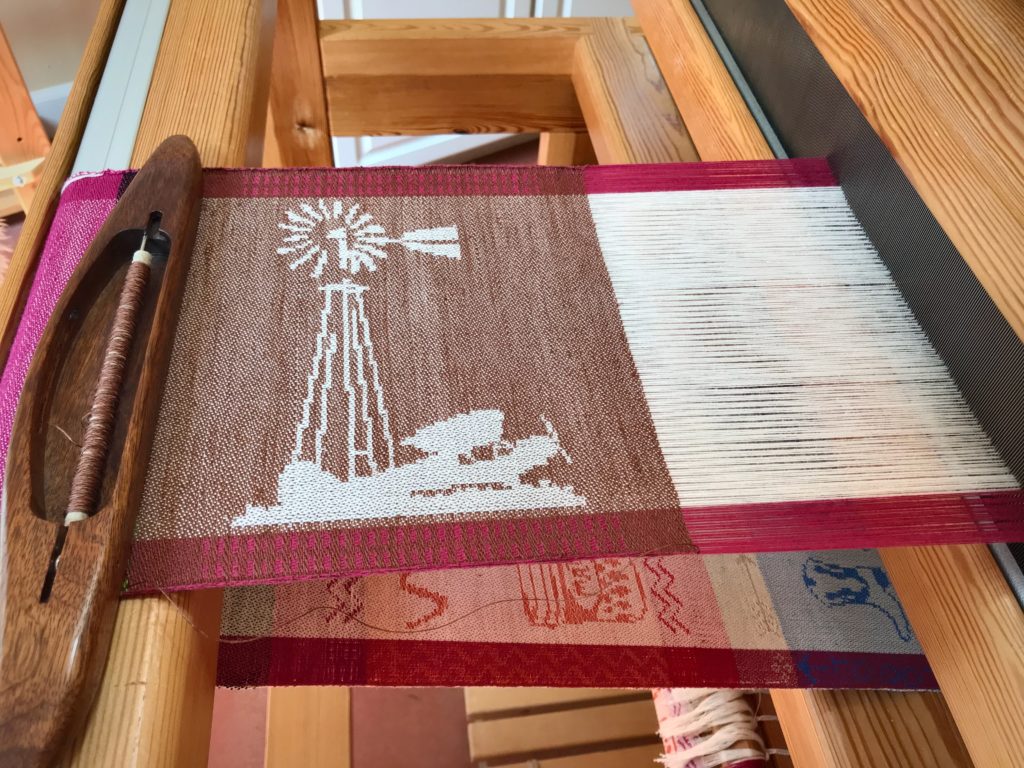 Enjoy the video, and hold on to your hat!
May you ride the wind.
Happy Weaving,
Karen
---
If you are a weaver, you know this thrill. I weave the very last pick, and then I hold my breath as the finished cloth is unrolled from the cloth beam. All ten meters / eleven yards of it! I don't usually have an audience for the unrolling, but this time I want to share the experience with you, my friends.
If you stay to the end, you will see the cap I made from the sample pieces at the beginning and end of the warp.
And, one more thing, I added a little 3 1/2-minute time-lapse video at the very end. I hope it makes you smile.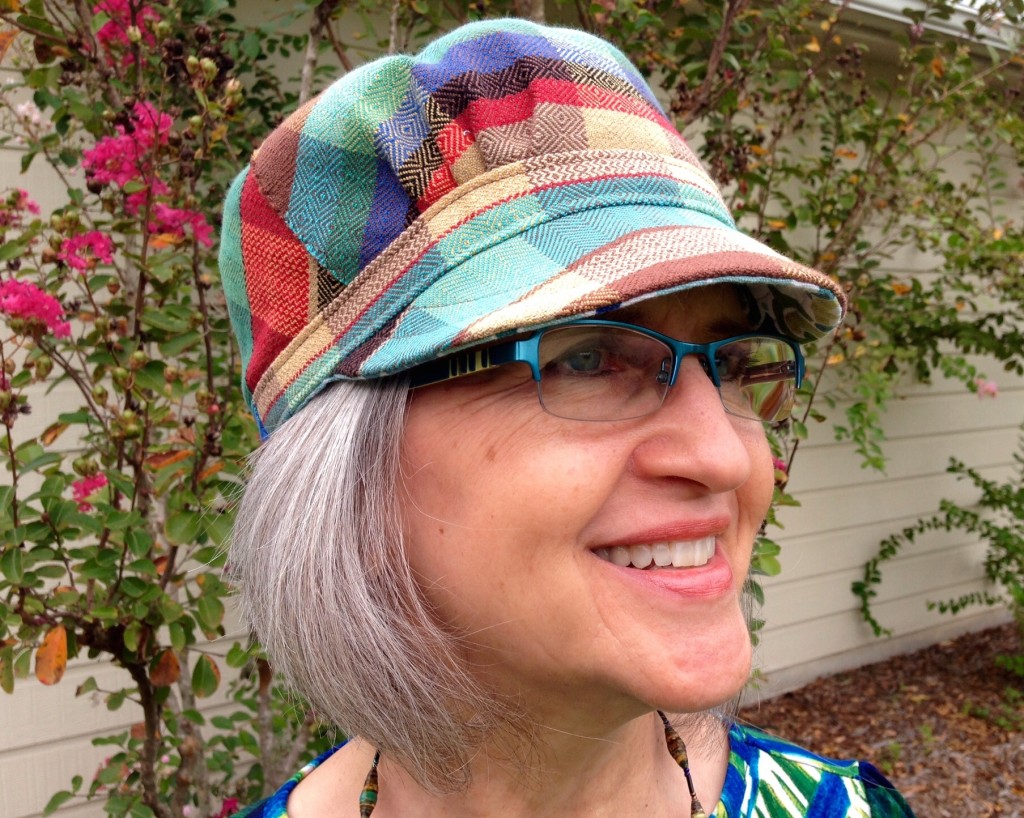 And now I invite you to join me as I weave the Nine Color Towel. Remember that this is time lapse–I really do not weave this fast.
May you be filled with joy.
Very Happy Weaving,
Karen
---
When I was a girl I dreamed of being a flying trapeze artist. No fooling! I practiced stunts on our backyard swingset, including hanging from my toes. I grew out of that. My new stunt now, is with a different kind of trapeze. A warping trapeze. (Some people call it a warping valet, but let's call it a trapeze, okay?)
The warping trapeze is used for beaming the warp. The warp comes over the breast beam, under the foot beam, and then over the cross bar of the trapeze. I use two-pound walking weights and S-hooks to weight the warp bouts, since the warp needs to be under sufficient tension as it is wound onto the warp beam. The warping trapeze makes it easy to single-handedly beam a warp with even tension.
(Did you notice Becky Ashenden's flippy book, Dress Your Loom the Vävstuga Way: A Bench-Side Photo Guide on my cart? I still like to follow her step-by-step instructions to make sure I'm not missing anything.)
Enjoy this little time-lapse video I created of myself dressing the loom using the warping trapeze. (You will not see me hanging from my toes.)
I fly through the air with the greatest of ease, my threads all in place with the warping trapeze…
Thank you to Becky Ashenden for introducing me to a warping trapeze at Vävstuga Weaving School.
Many thanks to my talented husband for creating my very own warping trapeze. He's the best!
May you come up with fantastic new stunts.
Happy Weaving,
Karen
---