What if you start weaving a project and realize your smallest temple is too big? And that your smallest temple is the smallest one they make. I am aware that most people do not use a temple for something this narrow, 16.7 cm/6.5 in. width in the reed, but this is a rag rug. A miniature rosepath rag rug. And draw-in is inevitable, which leads to weaving headaches like broken selvedge warp ends. A temple helps prevent all that.
I have seen makeshift temples that I could try, but my genius husband has a better idea. Why not cut down my little temple to the size I need? So he takes the tiny temple out to his workshop in the garage and turns it into a teeny tiny temple! (He does this knowing full well that I will need to replace the temple being cut.)
Perfect! It works! And holes for the locking pin line up, too!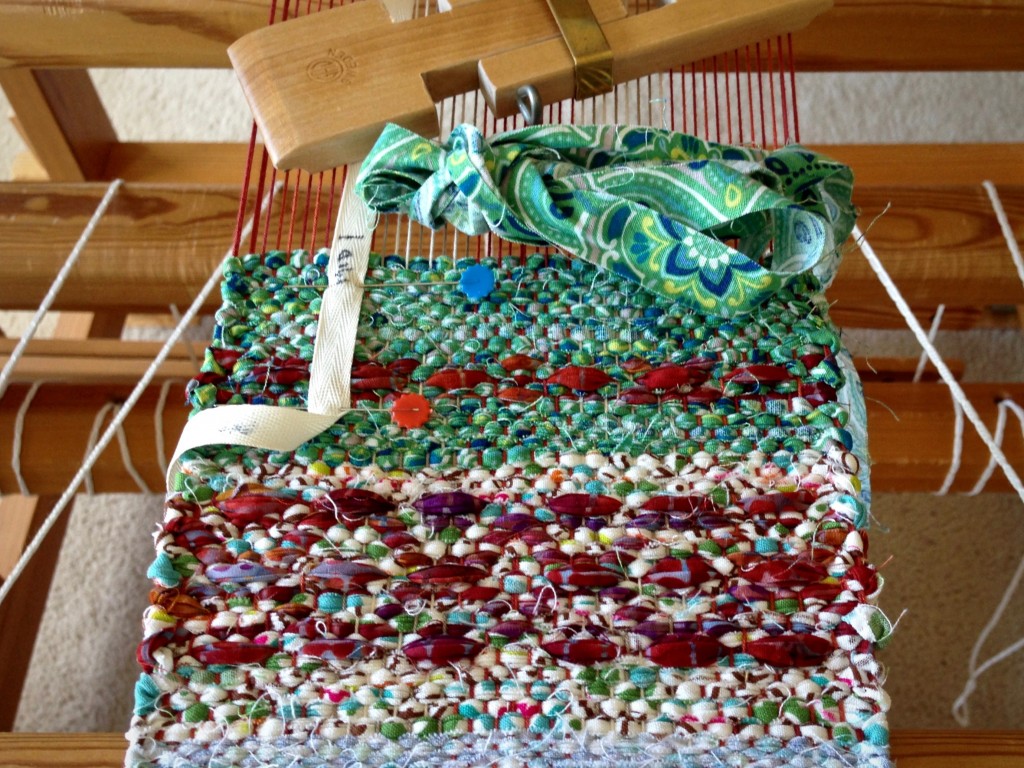 May you cut your problems down to size.
A little weaving,
Karen
---
I have never re-sleyed a warp after weaving the sample. Until now. It's a drastic measure; but it's better than fighting with the warp the whole way. I'm doing inlay on a rag rug, with rya knots and other techniques. It didn't take long to see that the ends needed to be spaced further apart. But this is why we sample, right?
It was not an easy decision to re-sley. I had anticipated an enjoyable day of rag rug weaving. Instead, I spent the day cutting off, pulling the ends out of the reed, switching reeds, re-sleying, dealing with extra warp width, tying back on, and beginning a new sample. Is this called learning the hard way? Nope. This is simply called learning.
Weaving, relationships, and purposeful living. Learning takes time–a lifetime. I want the Lord to teach me how to live. Even when it means messy beginnings and do-overs that use up my day. We have a lot to learn. Lord, teach me, and lead me on your path. More than a prayer in crisis, this is a lifetime prayer for a lifetime of learning.
May you know when to start a do-over.
Still learning,
Karen
---
I enjoy threading the loom, but who wants to thread the same thing four times? The first time, I thought the selvedge threading confused me, leaving me with extra ends. I took it all out and started over. It still didn't come out right. I counted all the threads at the lease sticks. 404. And counted again to make sure. There must be a threading error, right? I started over again, vowing to be more careful this time…
I depend on my planning sheet. That sheet of paper has all the pertinent details. Besides the draft, it has the sett, width in reed, number of warp ends… Oops! I found the mistake. I miscalculated the number of warp ends. But I threaded the loom three times before I traced the problem back to this calculation error! I was working from a faulty planning sheet. Fortunately, I can adjust the selvedge threading to accommodate the extra threads, and thread the loom successfully. Finally!
Human promises can fail, like my faulty planning sheet. The Lord's promises never fail. A weaving draft and project sheet are proven true as the loom is dressed and fabric is woven on the loom. The Lord's promises are proven true as we live our lives by his directions. We can depend on that.
May you need to thread only once.
Truly yours,
Karen
---