My family of looms just welcomed a new little sister—Julia! This 8-shaft countermarch is Glimåkra's smallest floor loom. I dressed the loom right away in 6/2 Tuna wool for 4-shaft Jämtlandsdräll to try out the loom. So far, so good. An 8-shaft project using 20/2 Mora wool is up next. Would you believe this is my new portable loom? Surprisingly, the Julia fits in the back of our vehicle, without disassembling. This is the loom you can expect to see with me at future workshops.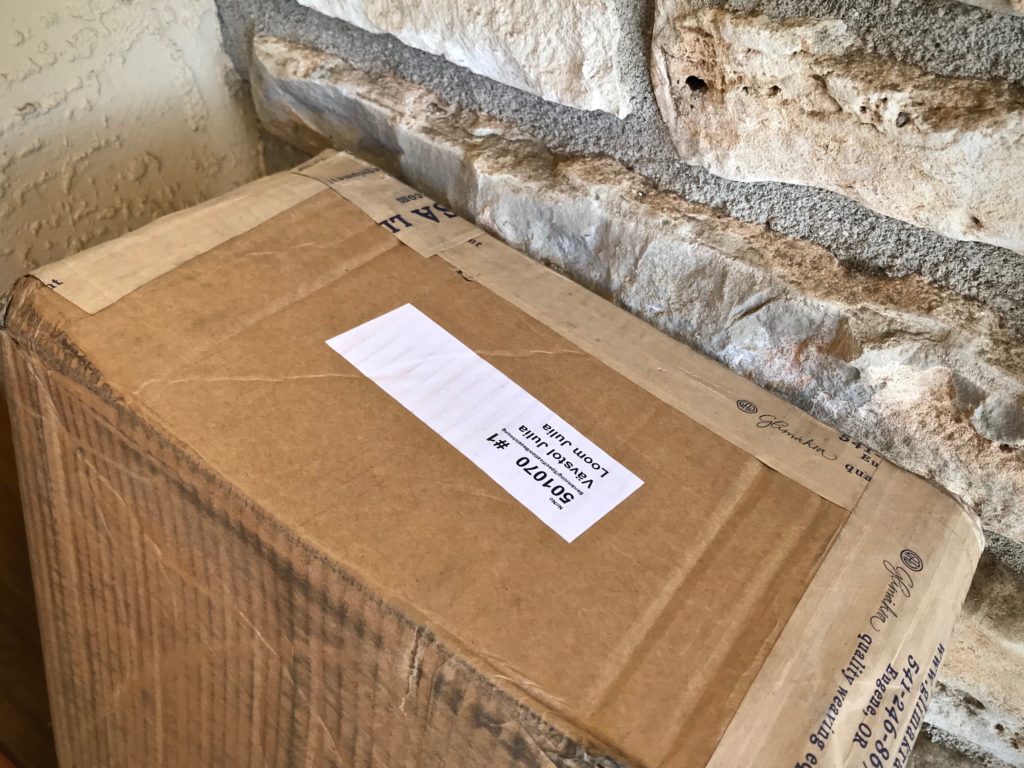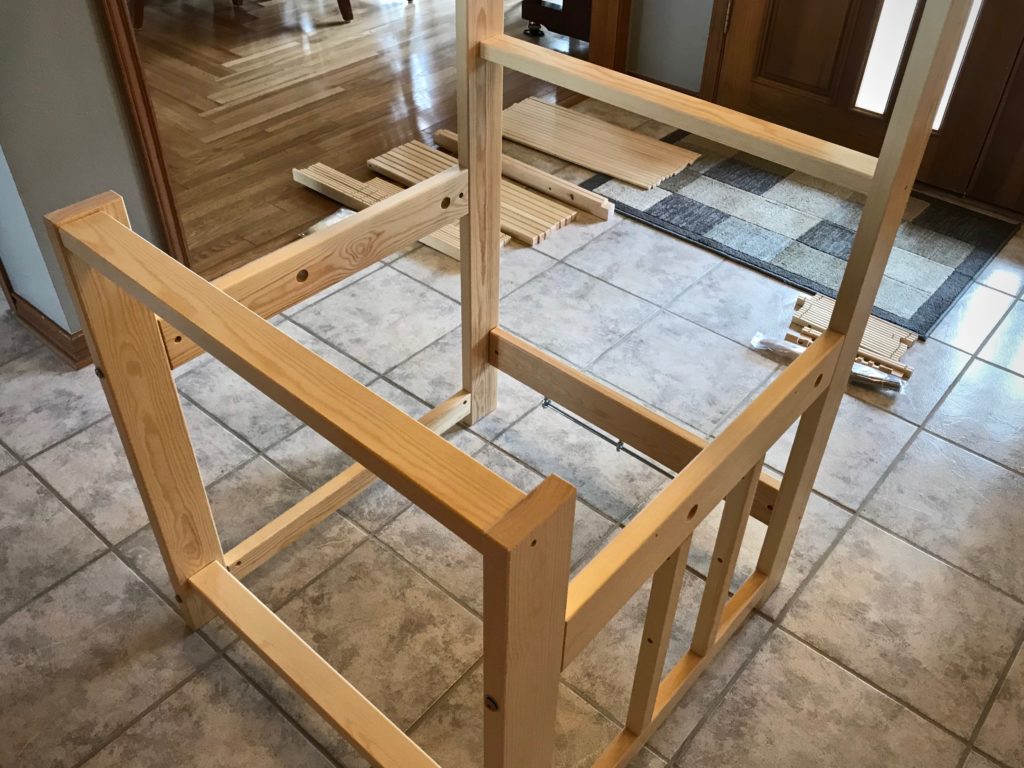 My Julia Observations:
It goes together like you'd expect from a Glimåkra. Instructions are minimal, and quality is high. It's a well-designed puzzle.
The assembled loom is easy to move around to gain space needed for warping, or simply to change location for any reason.
The breast beam is not removable like it is on my other Glimåkra looms, which makes it a stretch to thread the heddles from the front. However, by hanging the shaft bars from the beater cradle at the very front I can thread the heddles without back strain. (Or, if you are petite and don't mind climbing over the side, you can put the bench in the loom for threading.)
Tying up lamms and treadles is not much different than it is for my Ideal. Everything is well within reach from the front. It helps to take the lamms off the loom to put in the treadle cords, and then put the lamms back on the loom. With one extra person available, it is entirely feasible to elevate the loom on paint cans, upside-down buckets, or a small table to make tie-ups easier, but I didn't find it necessary to do that.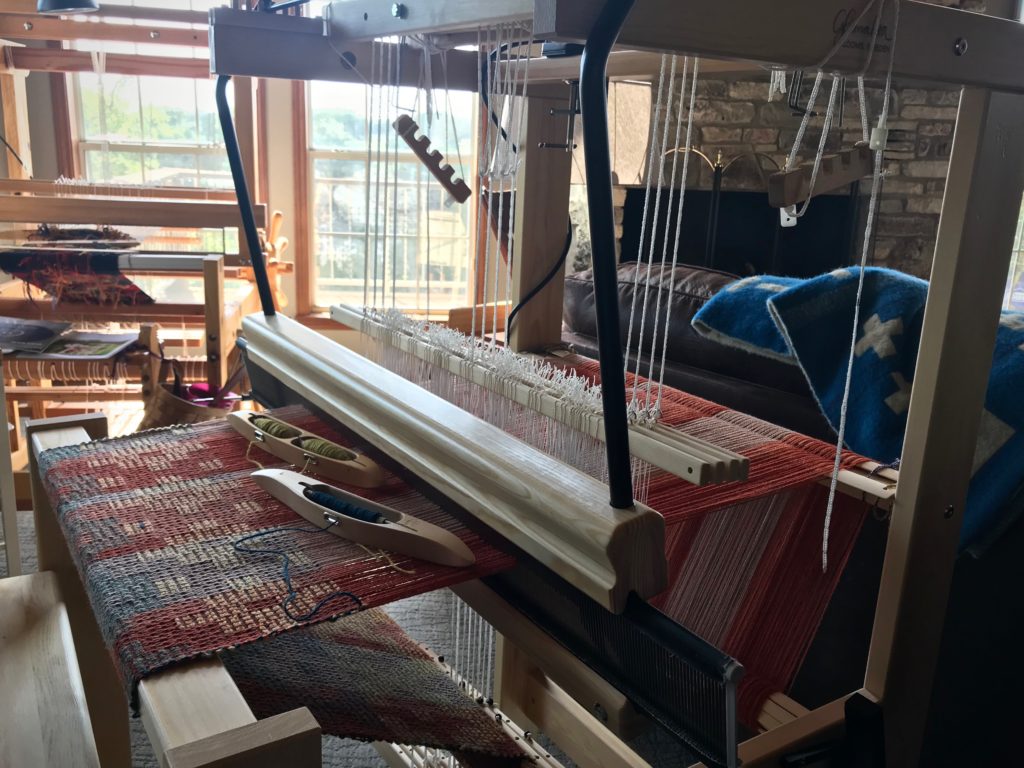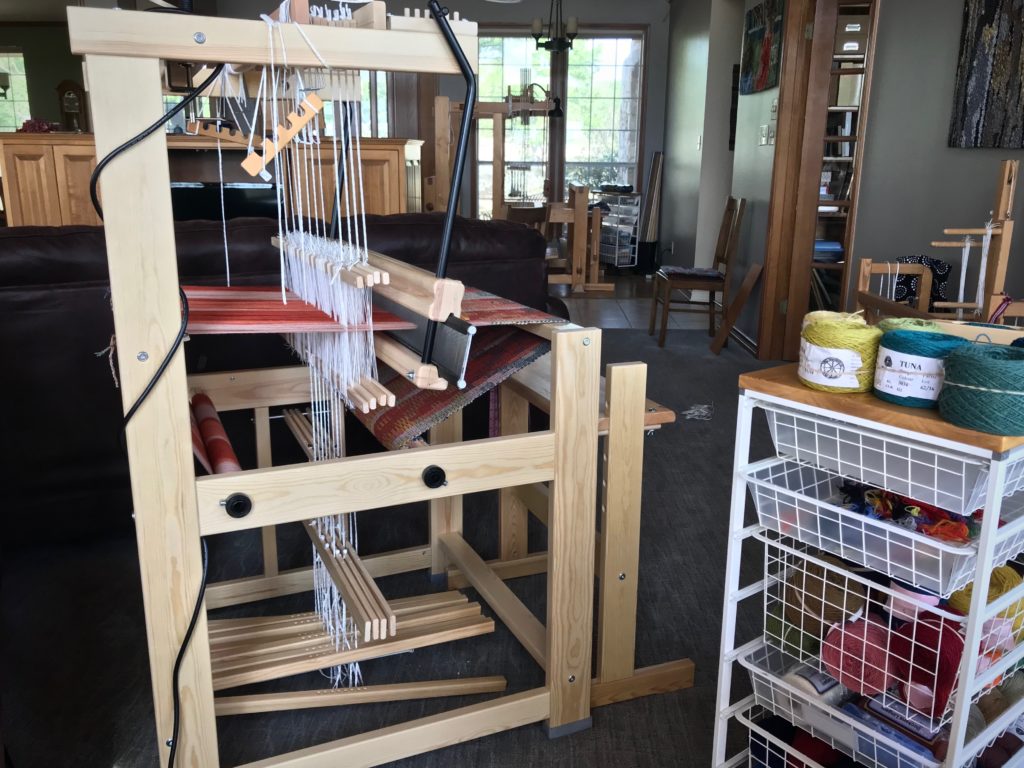 Weaving on the Julia is a delight, as it is with my other countermarch looms. Everything works. With four shafts, the sheds are impeccable.
The bench adjusts to the right height.
The hanging beater is well balanced, sturdy, and has a good solid feel. I can move the beater back several times before needing to advance the warp.
I thought the narrower treadles might prove annoying, but I've been able to adjust quickly. After weaving a short while, I forget about the treadle size.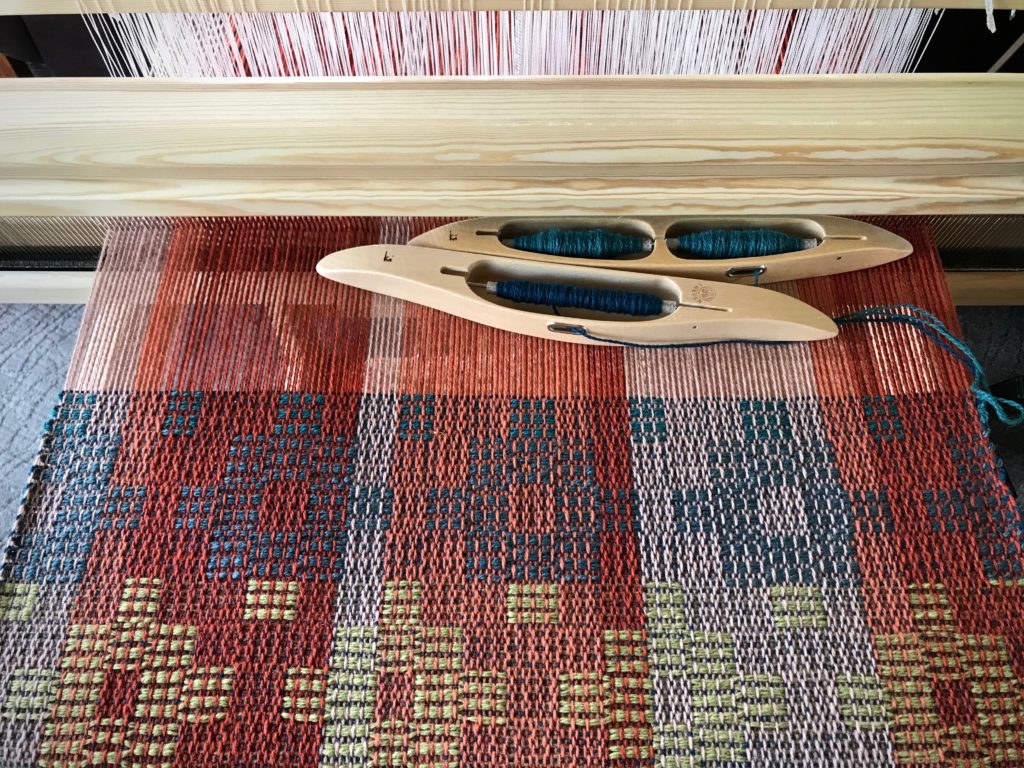 Steve is the loom assembler in our family. I stand by and give a hand when needed. I hope you can feel our excitement as you watch this short video of us discovering what's in the boxes and figuring out how it all goes together.
May you enjoy the puzzles that come to your doorstep.
Happy Weaving,
Karen
---
Rag rug weaving on the drawloom! I can only imagine the delight. In the meantime, the drawloom is getting dressed. It takes time to group the pattern heddles into units, add lingos, thread pattern shafts, thread eight ground shafts, sley the reed, move the ground shafts and pattern shafts to their positions, and tie on. After I finish all that I can think about adding all the single-unit draw cords and finish tying up. Whew!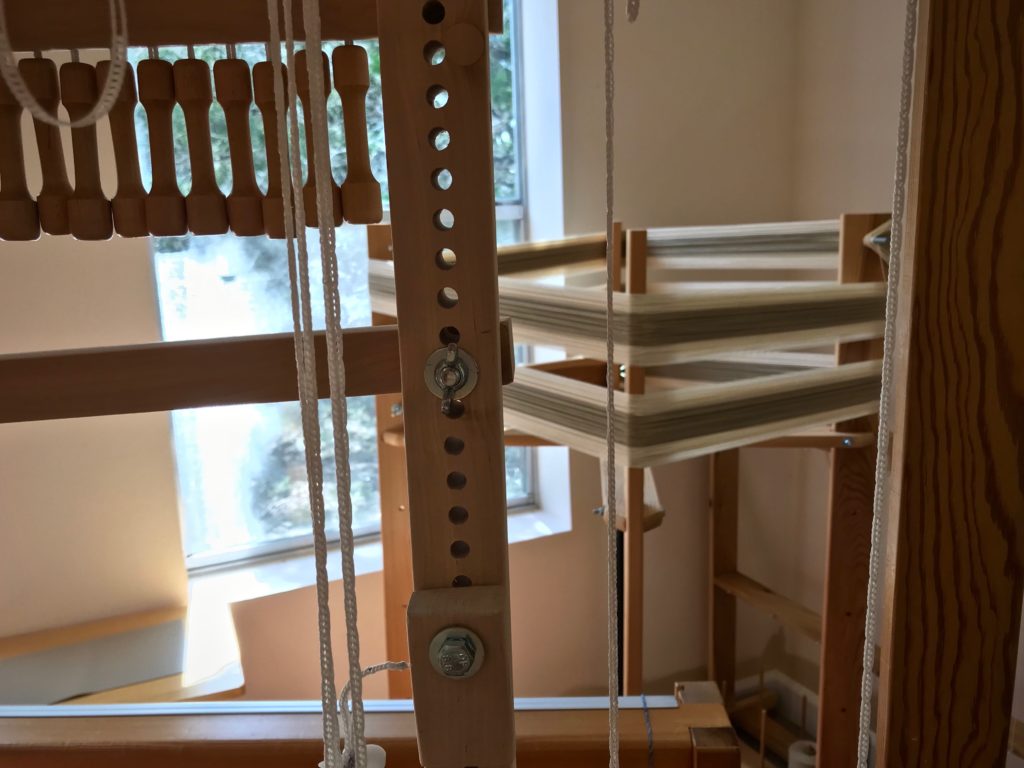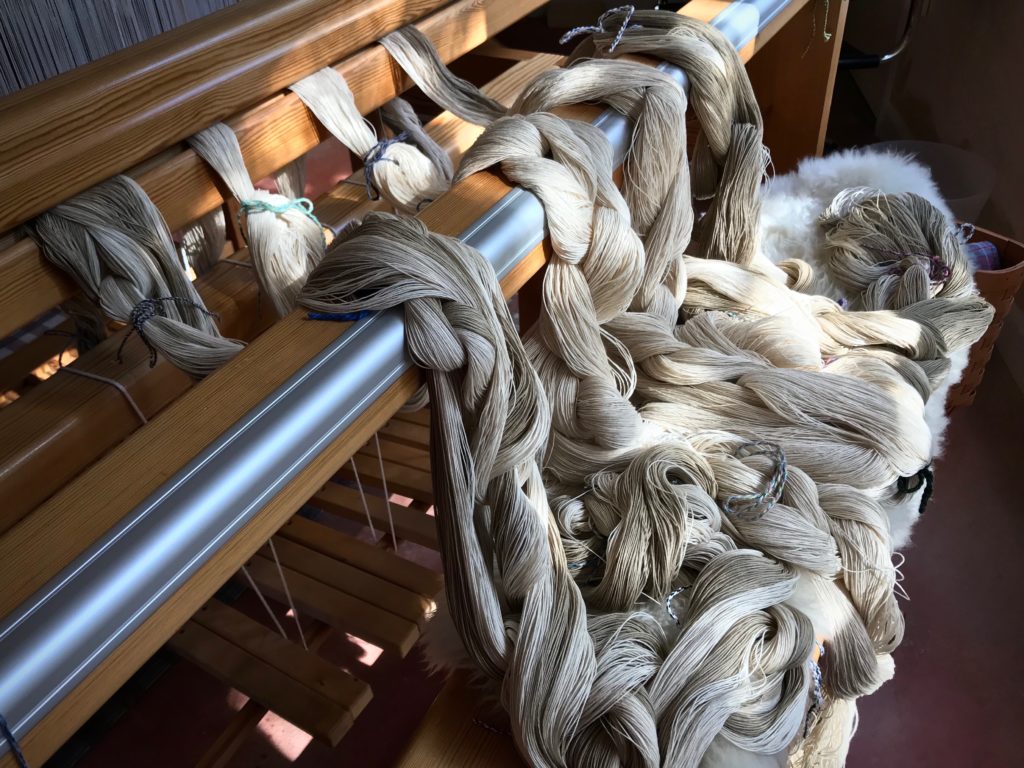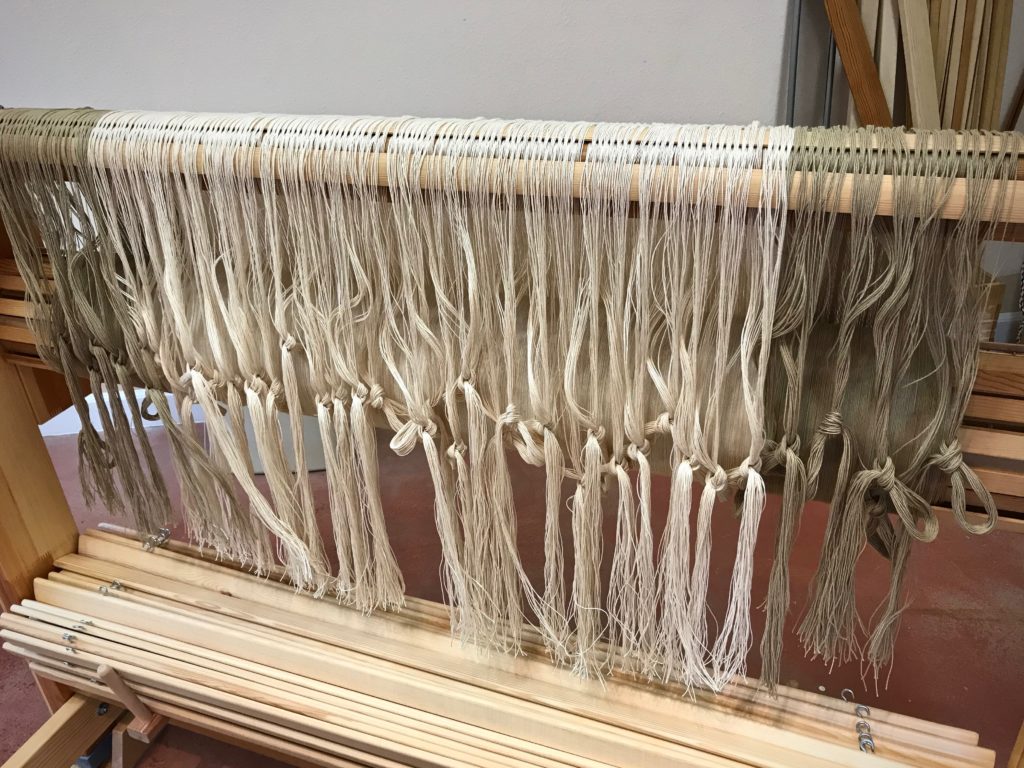 I became acquainted with the single-unit drawloom at Joanne Hall's studio (see Drawlooms in Montana), but this is my first go at it on the drawloom in my studio. Because of the reward that awaits, I will gladly tackle all the tasks of dressing this loom. Weaving rag rugs on a drawloom will be phenomenal!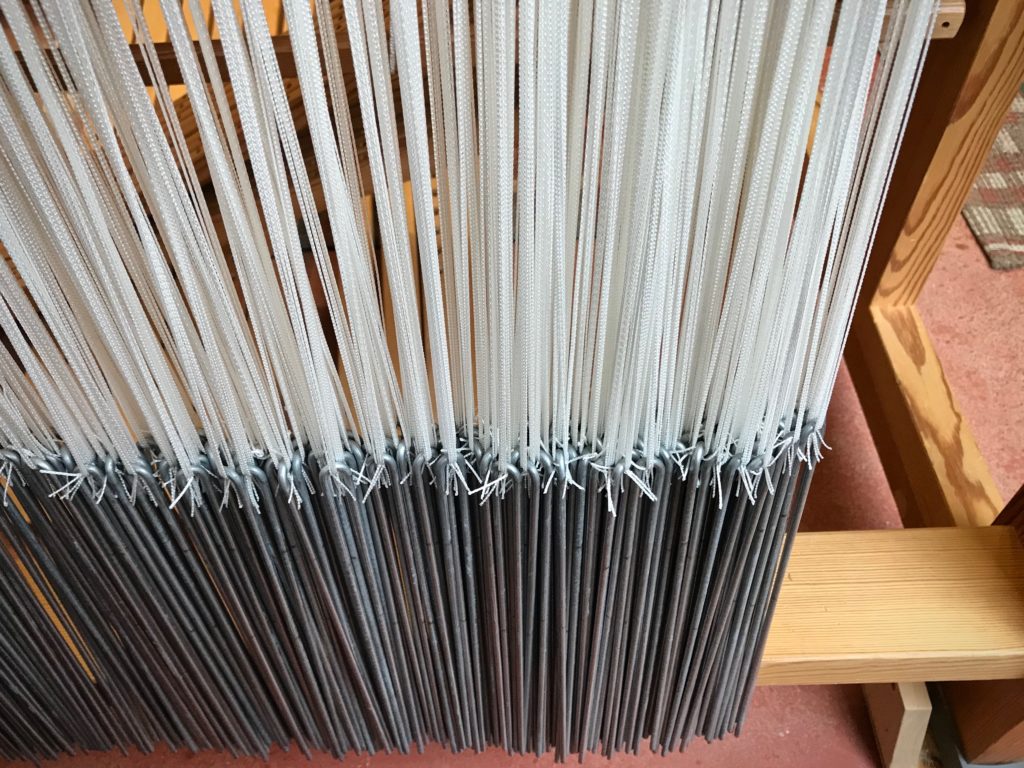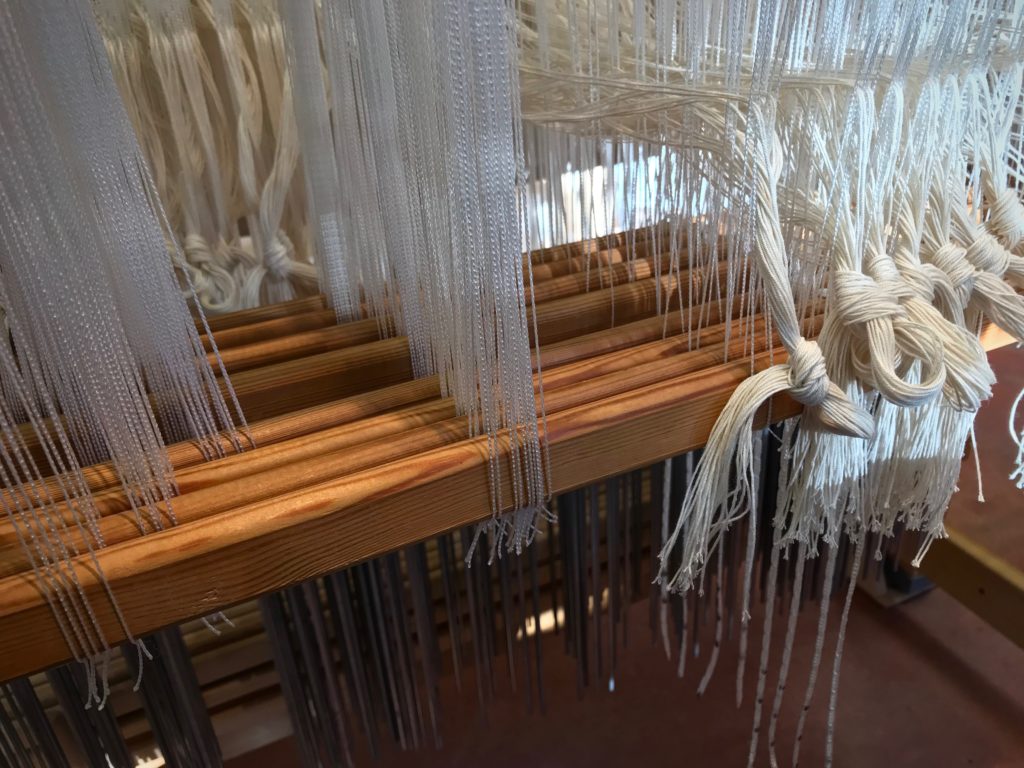 Joy sees hidden treasure. We go to great lengths to unearth high-value treasure. Jesus did this, seeing us as the reward. That's what Christmas celebrates. Jesus left his splendor in heaven to come to earth as a baby. He entered this world and endured the worst because of the joy set before him. He did it all for the joy of having us in fellowship with God. We come to him and find that we are the Grand Weaver's reward.
May your joy be full.
Joy to you,
Karen
---
These waffle-weave washcloths are made out of my linen leftovers. For years, I've been saving linen scraps: the small amount left on the tube, quills that weren't used up, thrums that I couldn't bear to discard, and skinny warp chains from the times I accidentally wound a few extra warp ends.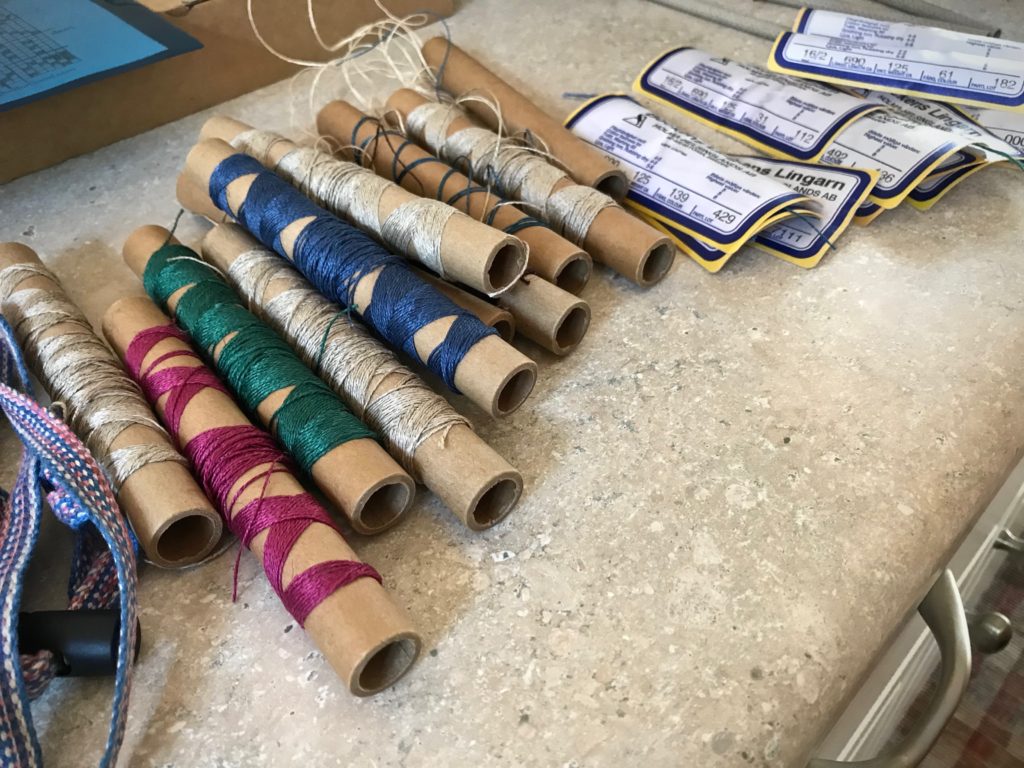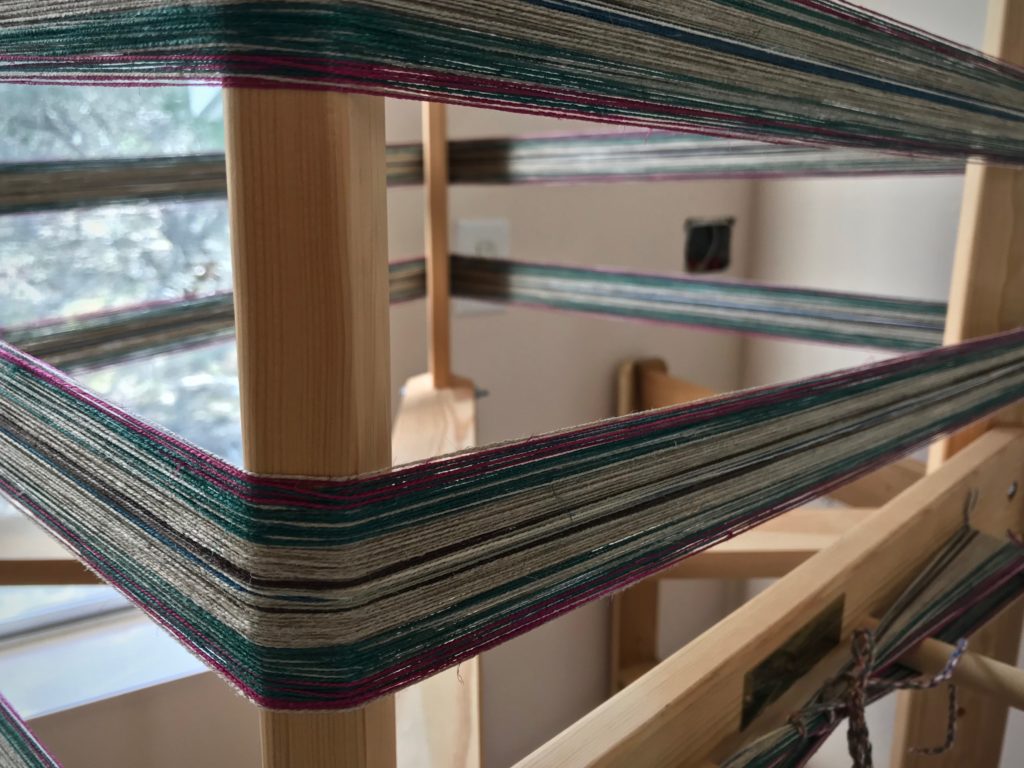 The warp is 16/2 linen. I alternated two colors at a time in the warp, so there are interesting color-and-weave effects that outline the "waffles" in the weave.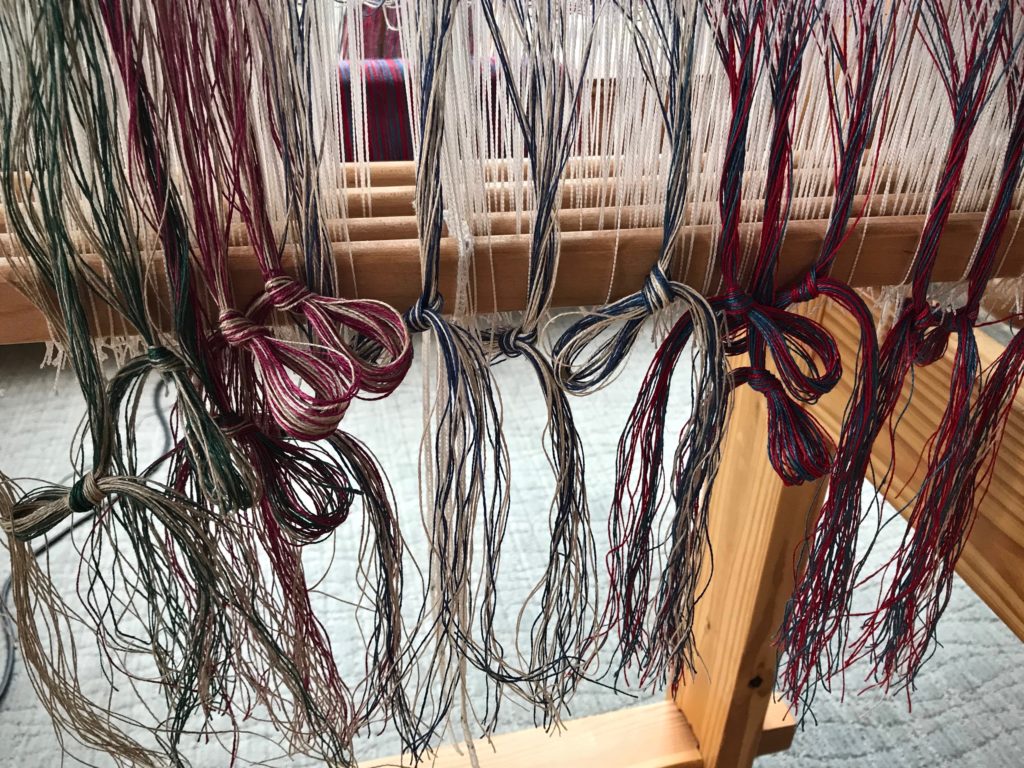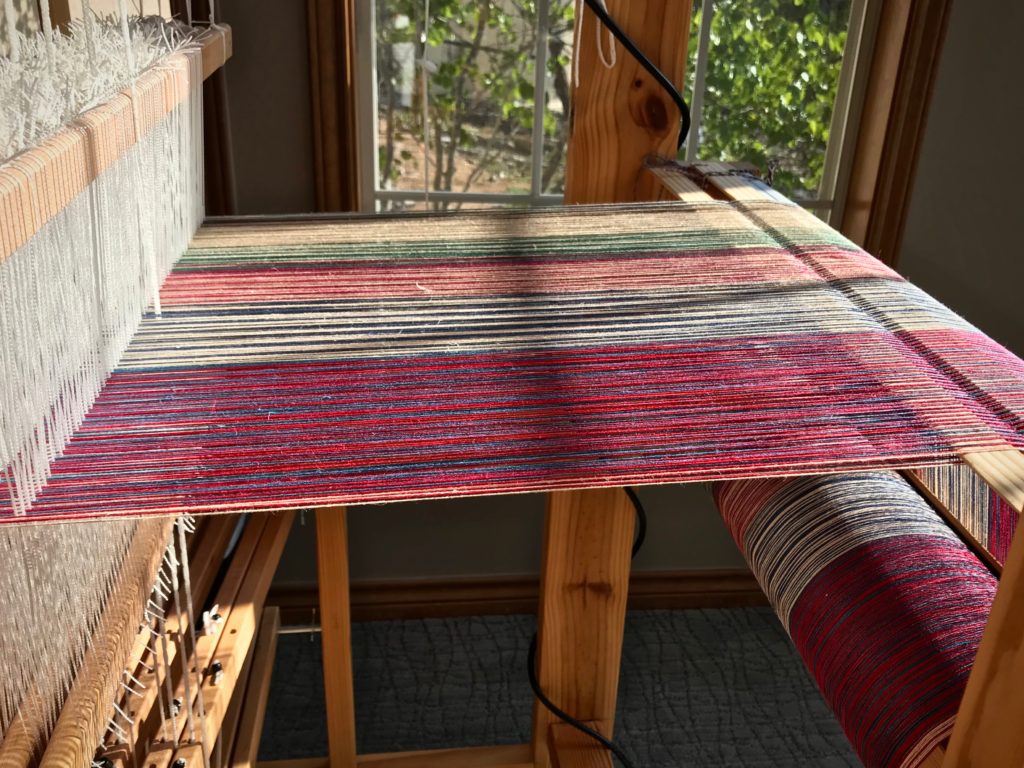 The linen for the weft is everything from fine 16/1 line linen to coarse 8/1 tow linen. I am purposely leaving weft tails exposed. I expect significant shrinkage, so I will trim the tails shorter after wet finishing.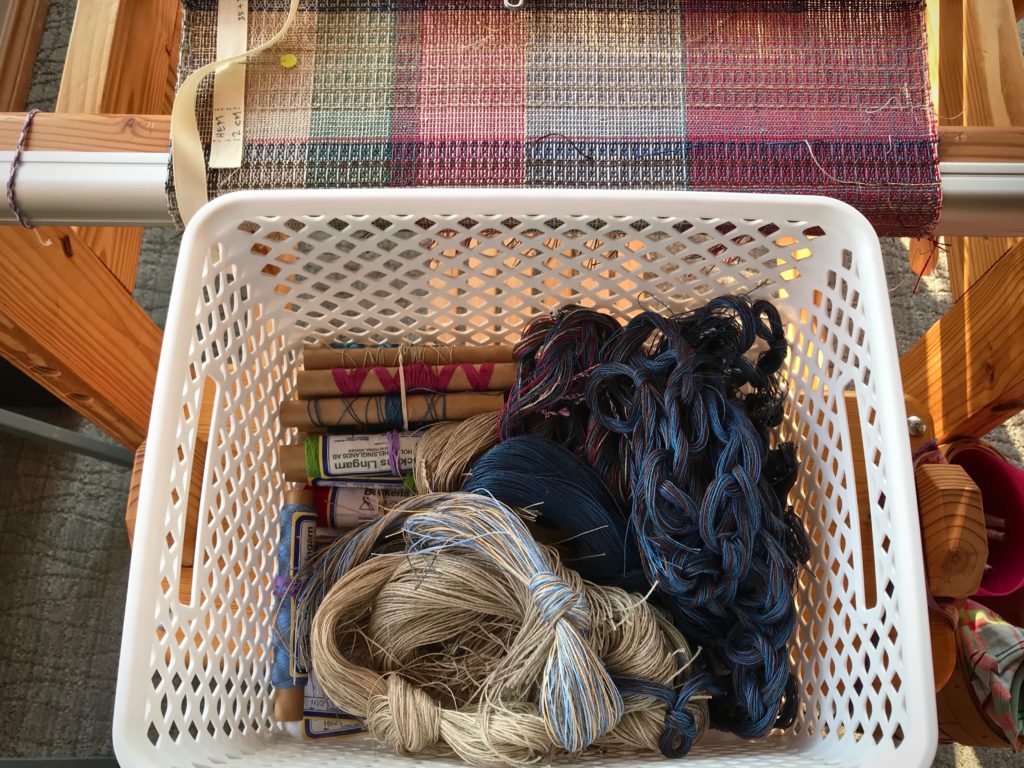 Ideas for this project originated with Clean with Linen, by Sanna Ignell in Väv 2016 No.2, p.6, and Handtowels made of linen, by Elisabet Jansson in Happy Weaving from Vävmagasinet, p.31.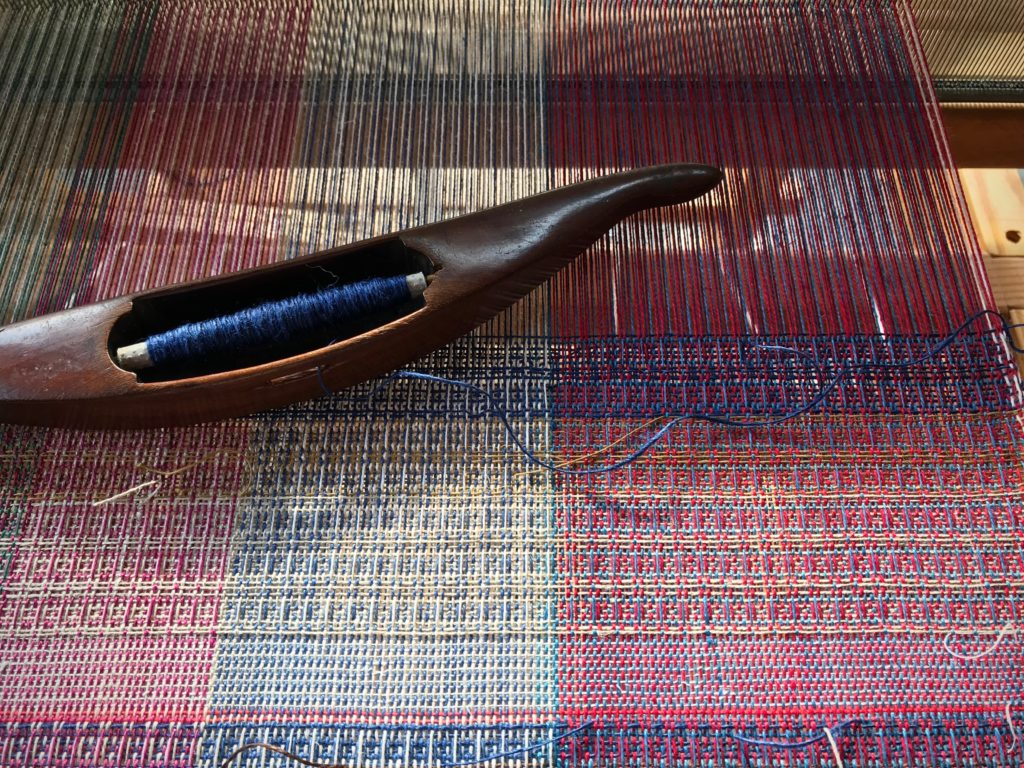 Do you have precious leftovers you've saved from your journey through life? Memories we don't want to lose. And memories we wish we could forget. All these leftover threads serve as reminders that we are meant for more than what we can produce on our own. Here's the good news. Love invites us to hand over our collection of scraps. Listen to Love. His name is Jesus. He takes our linen discards, and, with nothing wasted, weaves his beautiful story of redemption in us.
May your leftovers be given new life.
Love,
Karen
---
---
---