The reel spins 'round, 'round, 'round one way, and then 'round, 'round, 'round back the other way. Rhythmic, mesmerizing, and strangely soothing. Counting, as I wind two ends at a time, I find myself whispering "2, 4, 6, 8, 10, 12, …." The warping reel is one of my favorite pieces of equipment. This warp has seven colors of 22/2 Cottolin for bath towels which are to accompany the hand towels I recently made. I am winding this in four bouts, and there are different color changes in each bout.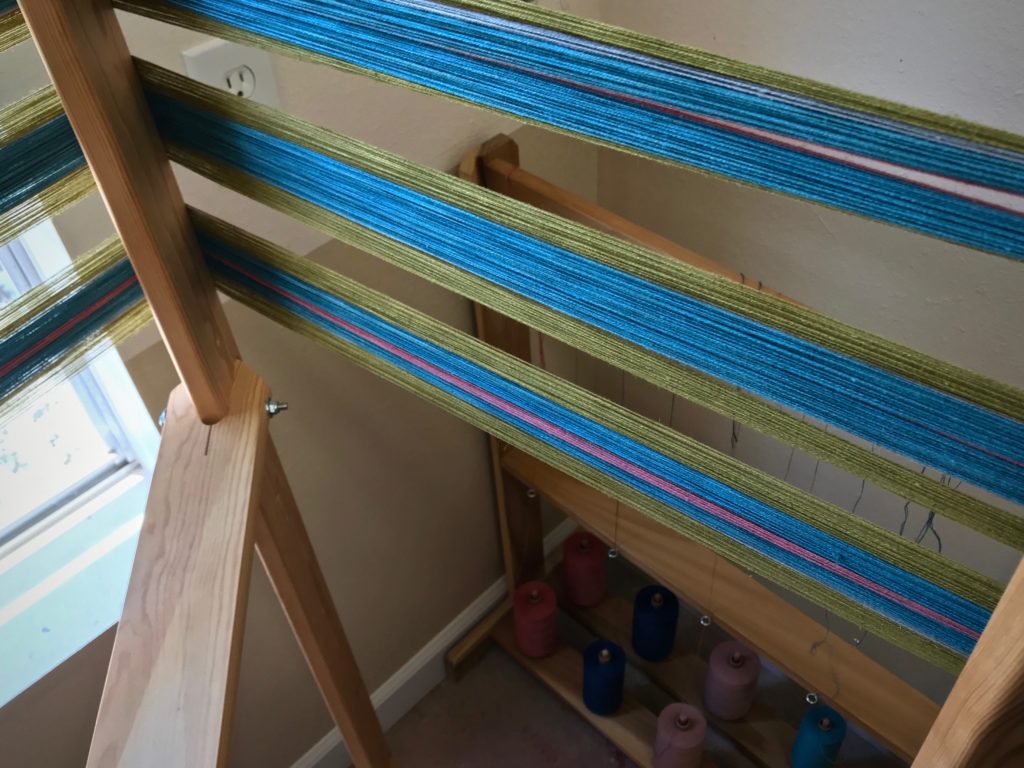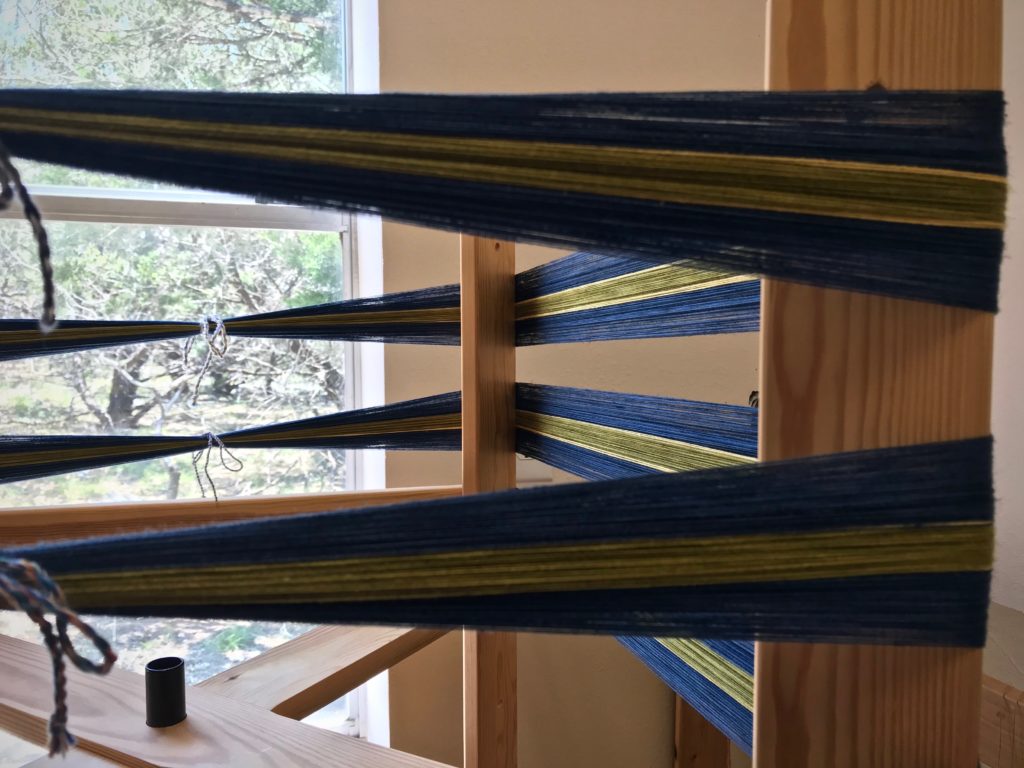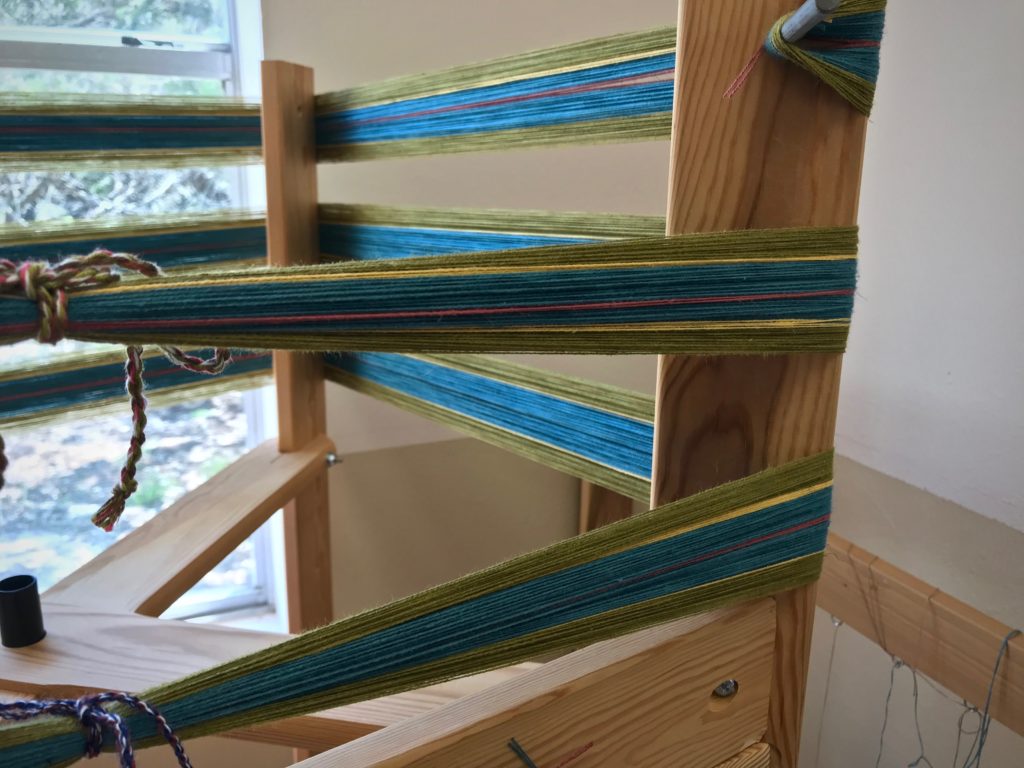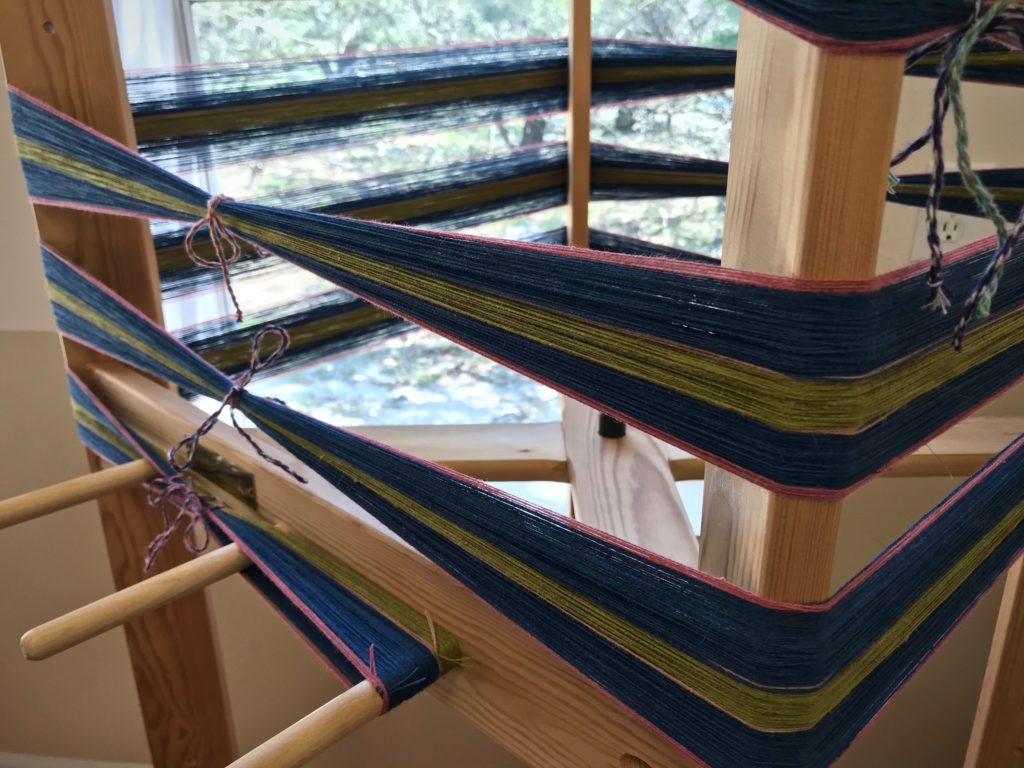 I marvel at the combination of thread colors as I chain each bout off the reel. The warp chains look beautiful. They always do. Warp chains are dreams in the making, where anything is possible. Haven't you dreamt of handwoven bath towels?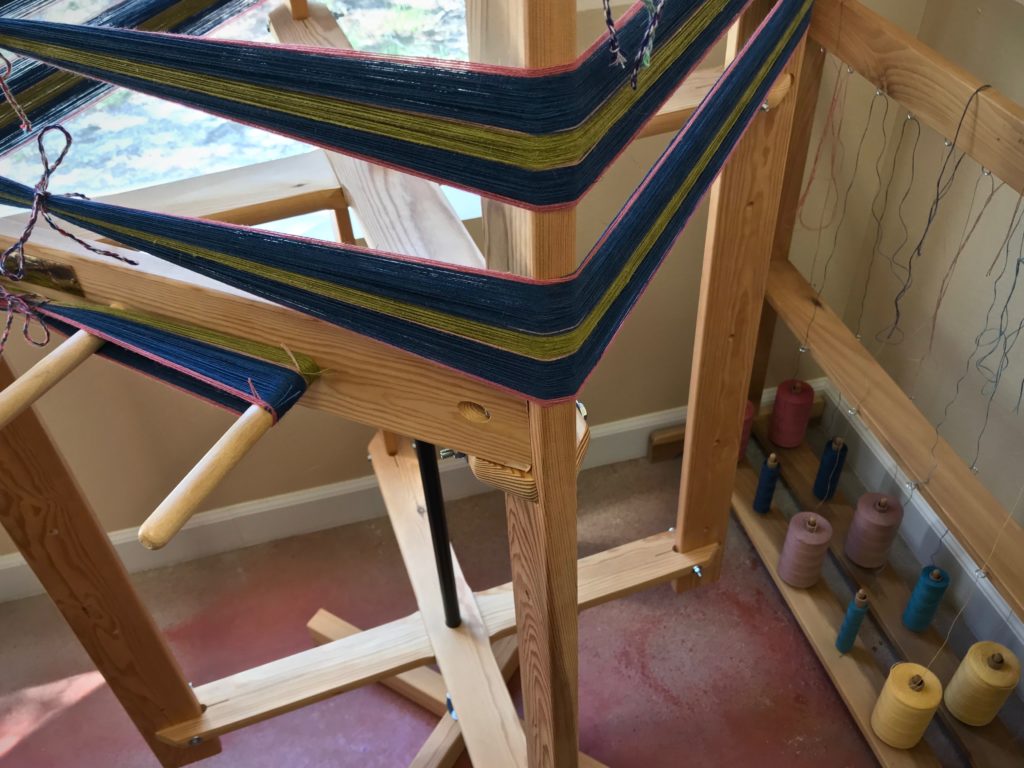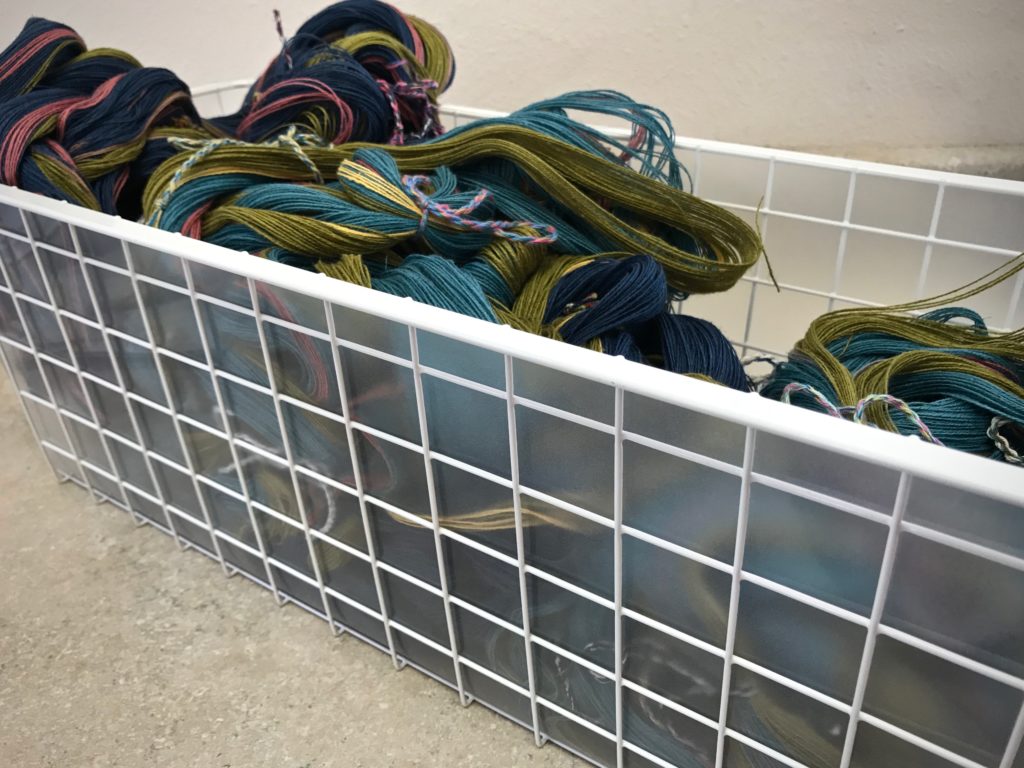 When we listen closely, we can hear the inaudible. Our hearts can hear the softest whisper. "2, 4, 6, 8, 10, 12, …" Even the hairs on our head are numbered by the Grand Weaver who planned our existence. Our days are numbered, as well. And when our heart is listening, we can hear the quiet whisper of the Lord Jesus, "Are you weary and burdened? Come to me, and I will give you rest."
May you listen for the softest whisper.
Gently,
Karen
---
---
---
Drive up to this storybook cottage, and you can tell there is something special about it. It's the home of Ed and Joanne Hall. When I arrive, Joanne greets me and takes me down the hand-crafted pine stairs to her delightful weaving studio dotted with floor looms.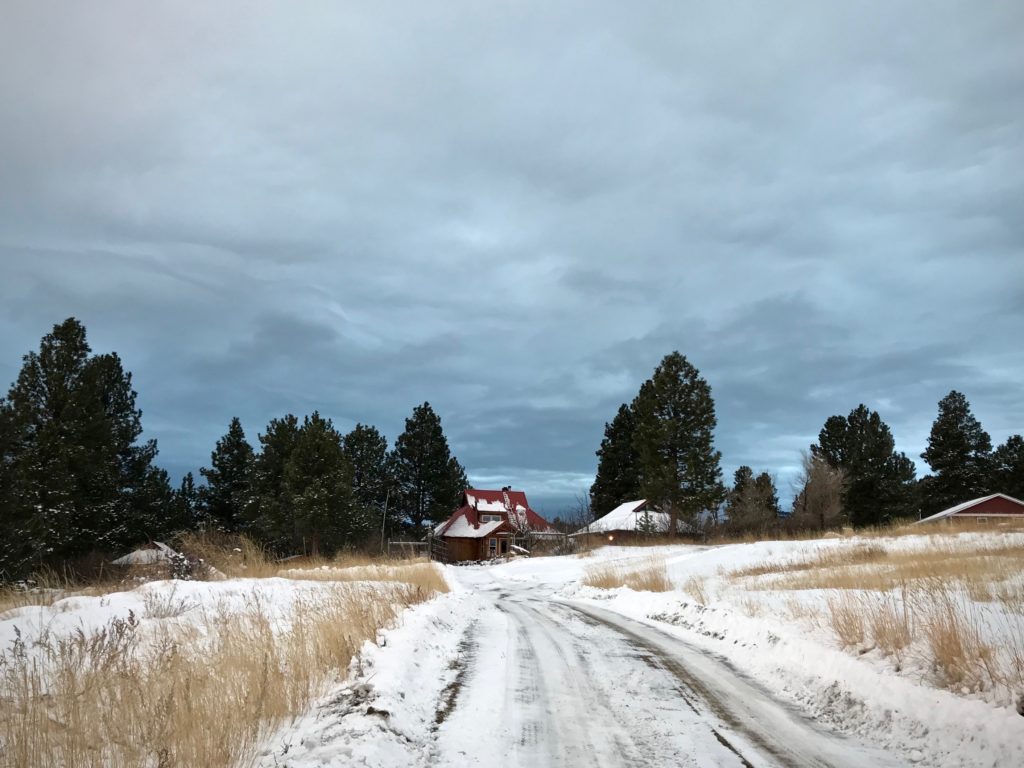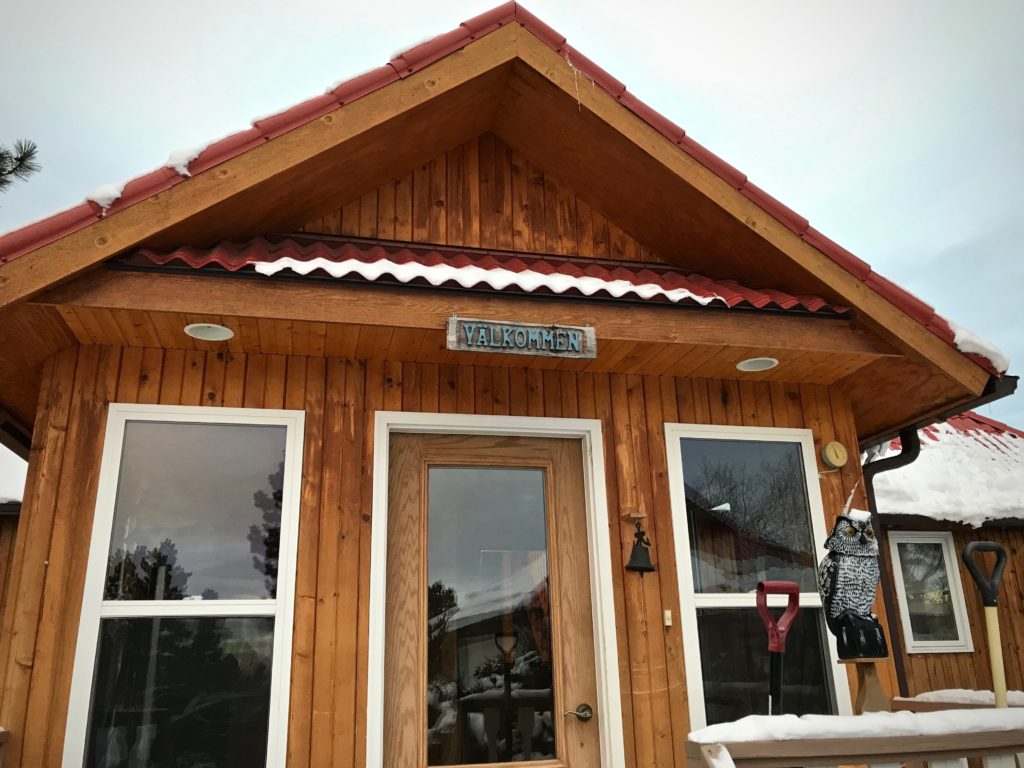 I recently had the joy of learning the ins and outs of drawloom weaving in this storybook studio in Montana. After the class ended, Joanne and I sat at her kitchen table to share some thoughts about weaving.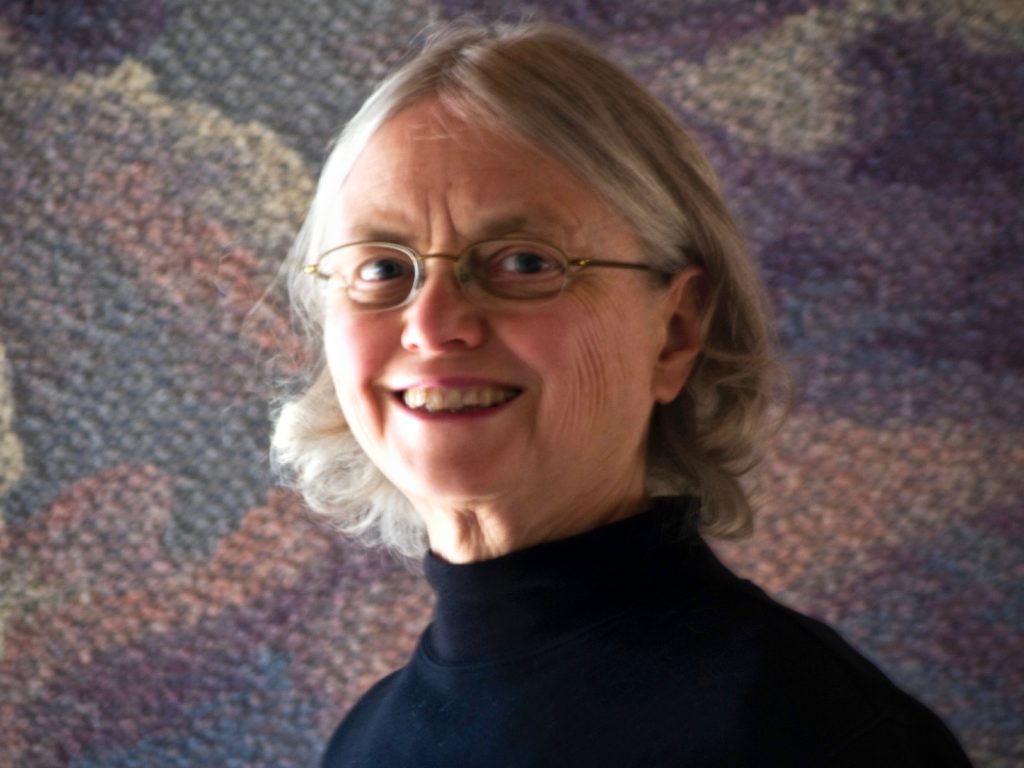 Come join us, and sit in on our conversation…
If you could keep only one loom, what would it be?
The 59" Glimåkra Standard. That would be my loom, with a drawloom. A big loom is easier to set up, easier to warp because I can step inside it, and easier to weave on than a little loom. As you get older you need every advantage you can get.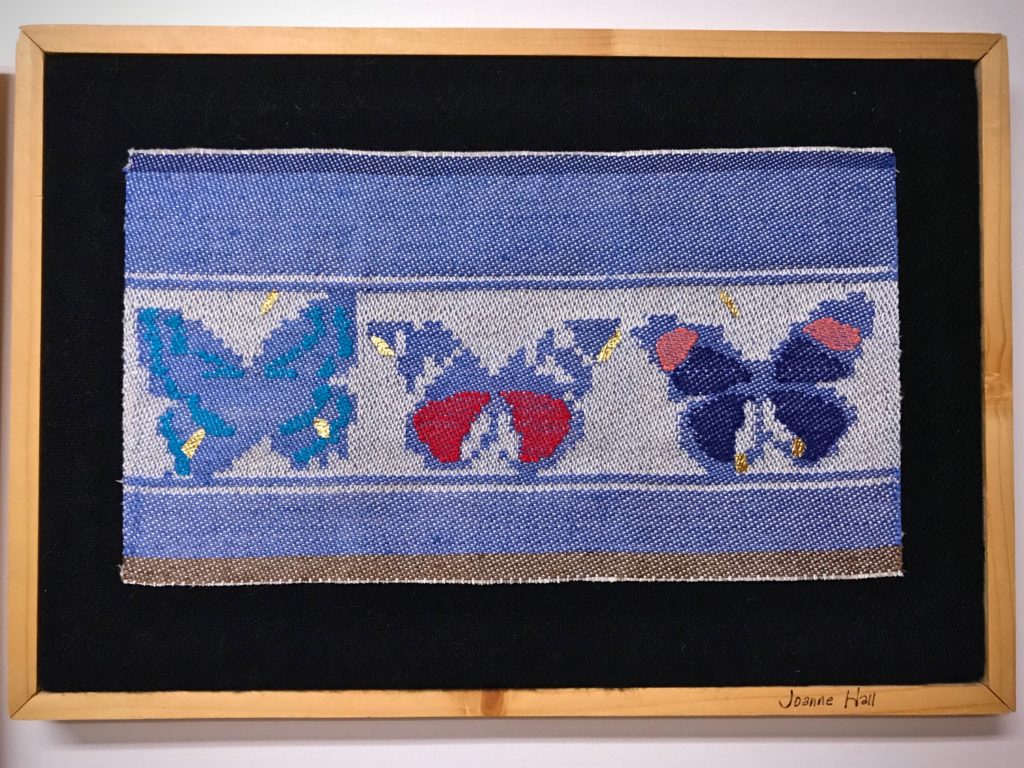 What would you weave on that loom?
I would mostly make narrow warps. I could weave some blankets or larger things, as well, because it's easy on that loom. It is easy to beat and so easy to treadle. I could also weave tapestry on it.
Describe the drawloom you would use.
With the Myrehed combination, I would have both the shaft drawloom and the single unit drawloom. I do like images, like tapestry weaving, so I would enjoy weaving with the single unit drawloom.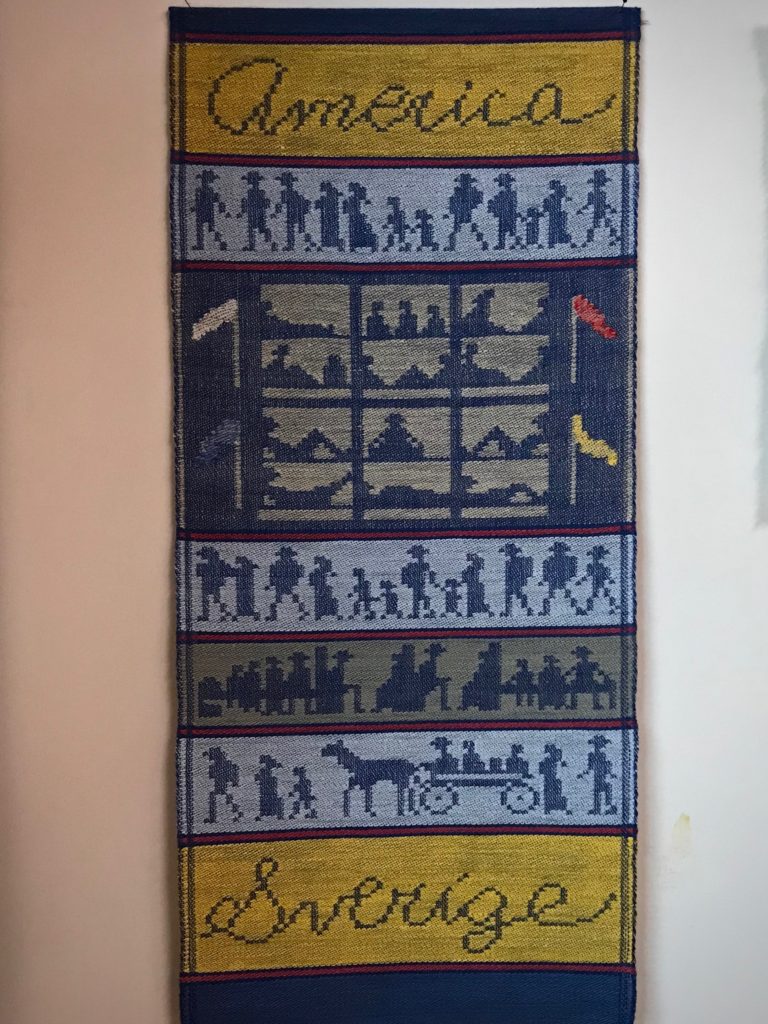 Are there any weaving secrets you'd like to share?
One important thing to know is to wind a warp with more than one thread, especially a long warp. It is easier to beam and you will prevent problems when you wind with two or more threads. And doing so may also have a positive effect on weaving that warp.
Another thing to consider is that once you start weaving, plan to invest in good equipment. Some weavers start out buying the smallest, least expensive equipment. That's okay for getting started, but don't spend too much time with inferior equipment. Once you start warping looms, get a big vertical warping reel that is more than two yards around. You can wind a warp in half an hour, an hour at the most. And the warp will be more even and accurate than one wound on smaller equipment.
If someone wants to learn more about weaving, what is a good way to start?
Go someplace where you can take a class weaving on floor looms, even if you have never woven before. Keep in mind that researching online can be more confusing than helpful. In a class you will learn much faster and you will probably get better information.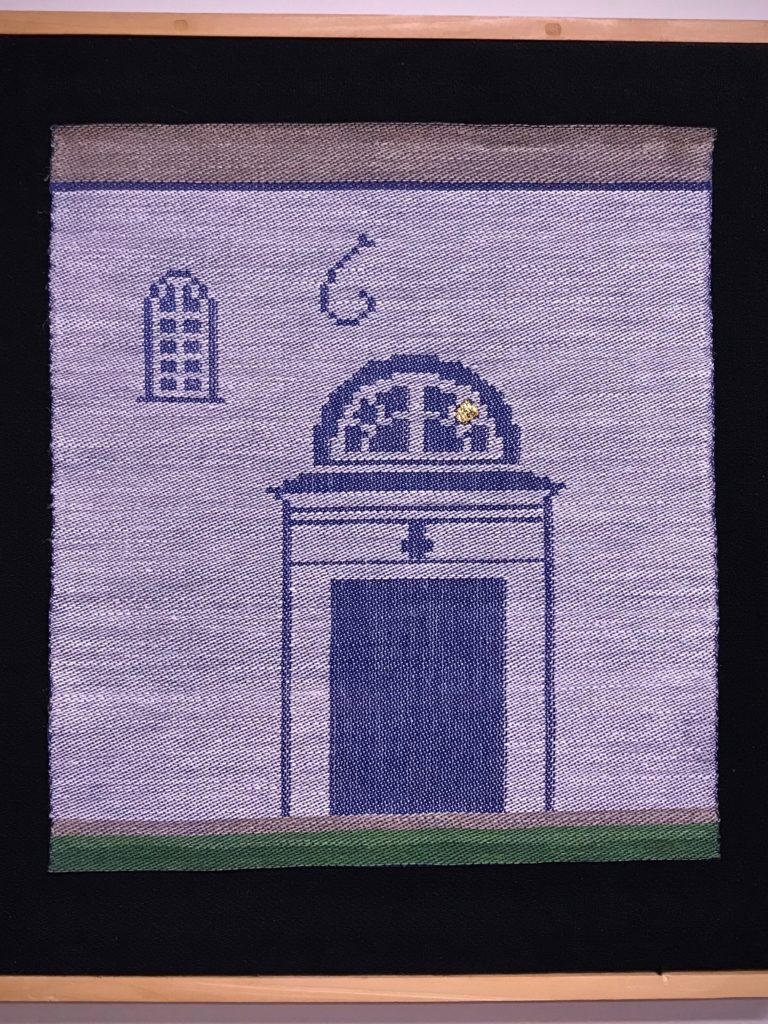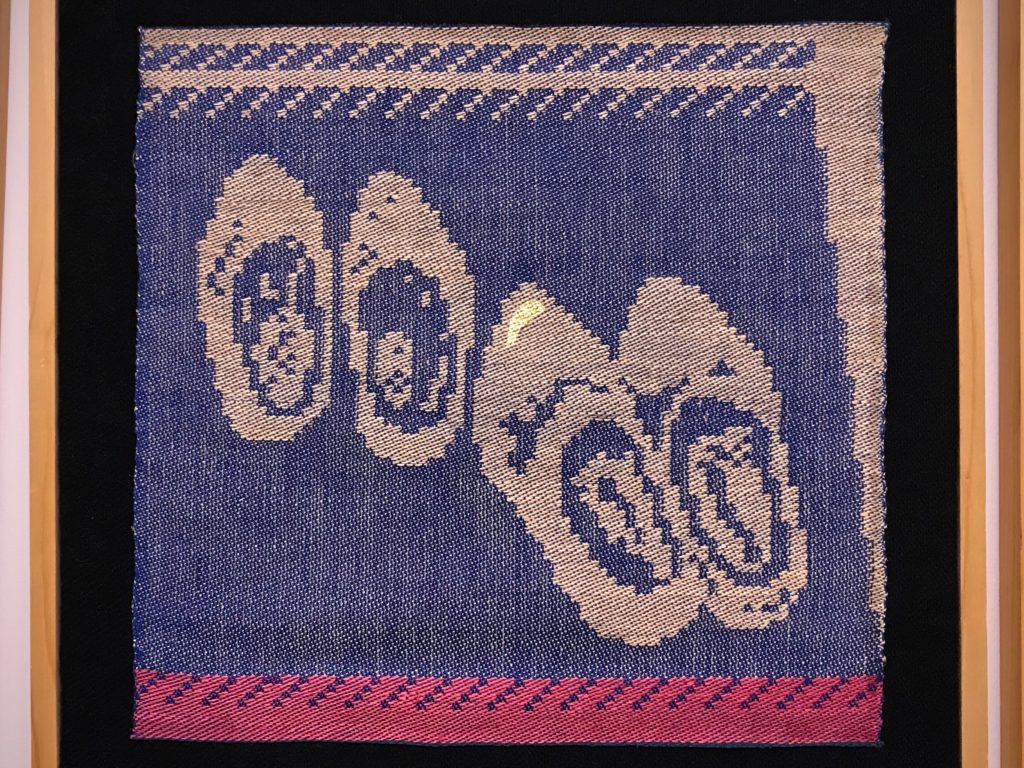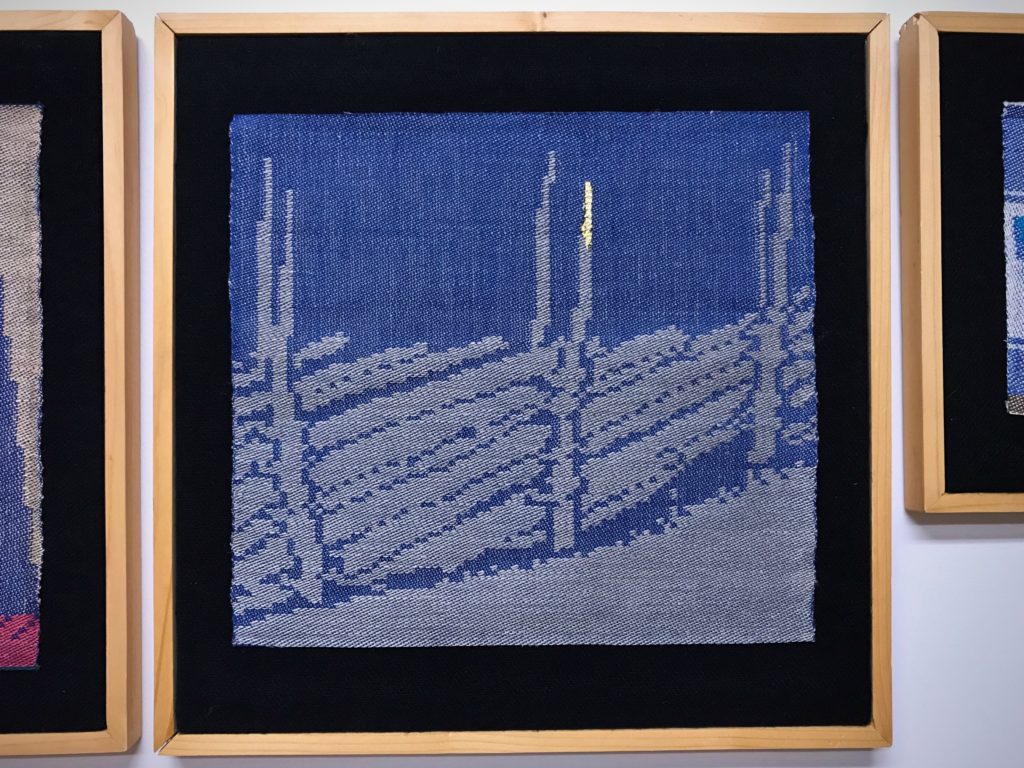 Any final thoughts?
In Sweden, weavers guilds are different than they are here in the US. Most everyone in Sweden can join a guild, called a vävstuga, which in Sweden is a place with looms—floor looms, big floor looms. You meet there as often as you want, and you can weave on floor looms in the company of other weavers, who are very helpful. If we had that, it would be wonderful.
That would be wonderful, indeed! I think I got a little taste of that, right here in your Montana studio. Thank you!
Happy Weaving,
Karen and Joanne
---
It is almost effortless to make a short warp for the band loom. All you need is a peg at the beginning and a peg at the end. You can use a spoke of the warp beam wheel, for instance, at one end, and the leg of an upside-down stool at the other. I normally use my warping reel, though, for even a simple warp, because the reel is so handy. However, I don't have my warping reel here at the apartment, so I am turning my band loom into a handy warping board for this band loom project.
How to Use the Band Loom as a Warping Board
Tools and supplies:
Glimåkra band loom
Thread for weaving a narrow band
Basket and/or spool holder(s)
Scissors
For a warp of approximately two meters:
Put the warp thread on the floor below—quills in a basket, and/or thread tubes on spool holders.
Using two or more ends, tie the ends together with an overhand knot. (I used three ends together for this warp.)
Bring the warp ends up around the warp beam and over the back beam.
Loop the knot on the starting peg.
Draw the ends from the starting peg to the ending peg, around the band loom, following this path:
Starting peg–upper heddle peg nearest back beam
Lower heddle peg nearest back beam
Back beam
Warp beam
Front beam
Lower heddle peg nearest front beam
Ending peg–upper heddle peg nearest front beam
Follow the winding path in reverse order back to the starting peg.
Continue winding until you have reached the desired number of ends.
Cut the ends and tie off at the starting peg or the ending peg.
Tie one or two choke ties, if needed. (I didn't need them for this short warp.)
Carefully remove the warp and dress the band loom as usual. (For a tutorial on dressing the band loom, click here: Quiet Friday: Band Loom Warping and Weaving.)
Weave to your heart's content.
May you find tools you didn't know you had.
Happy band weaving,
Karen
---