I am getting ready for Christmas. When I was a little girl, my Aunt Helen made a Christmas tree skirt for our family. It was a simple white felt skirt, with added colorful felt silhouettes depicting Christ's Nativity. I want to reproduce that Christmas tree skirt using handwoven fabric. This fabric on the Ideal loom will be the base of the skirt. I will use some of my myriad handwoven fabric remnants for the colorful Nativity appliqué.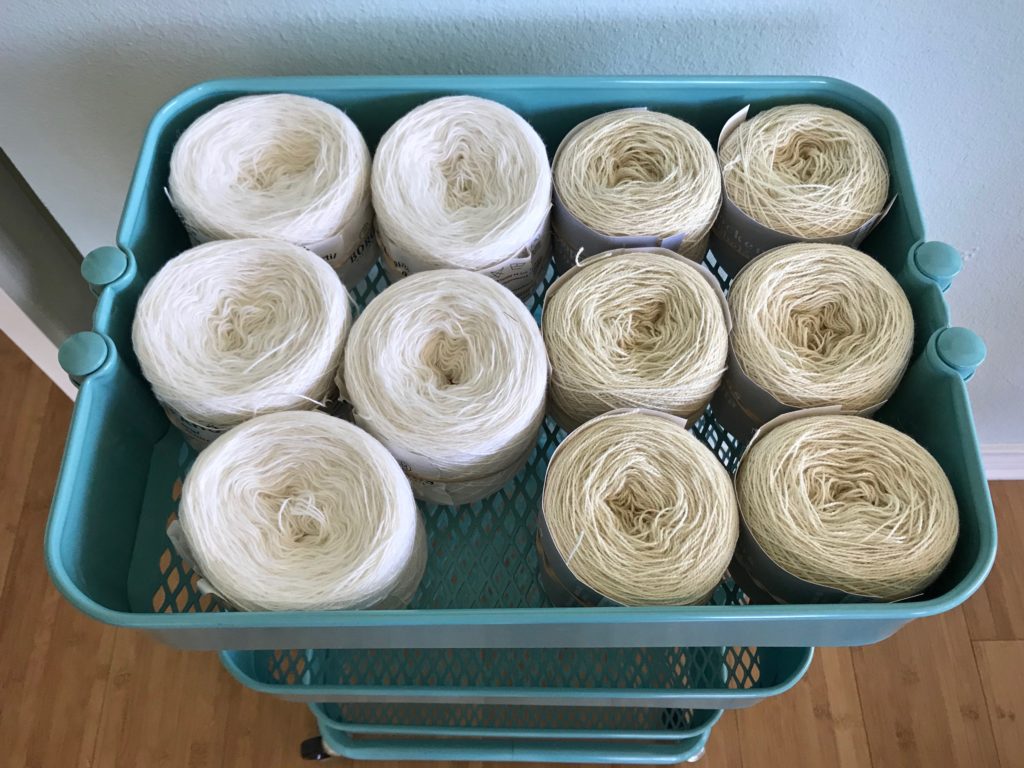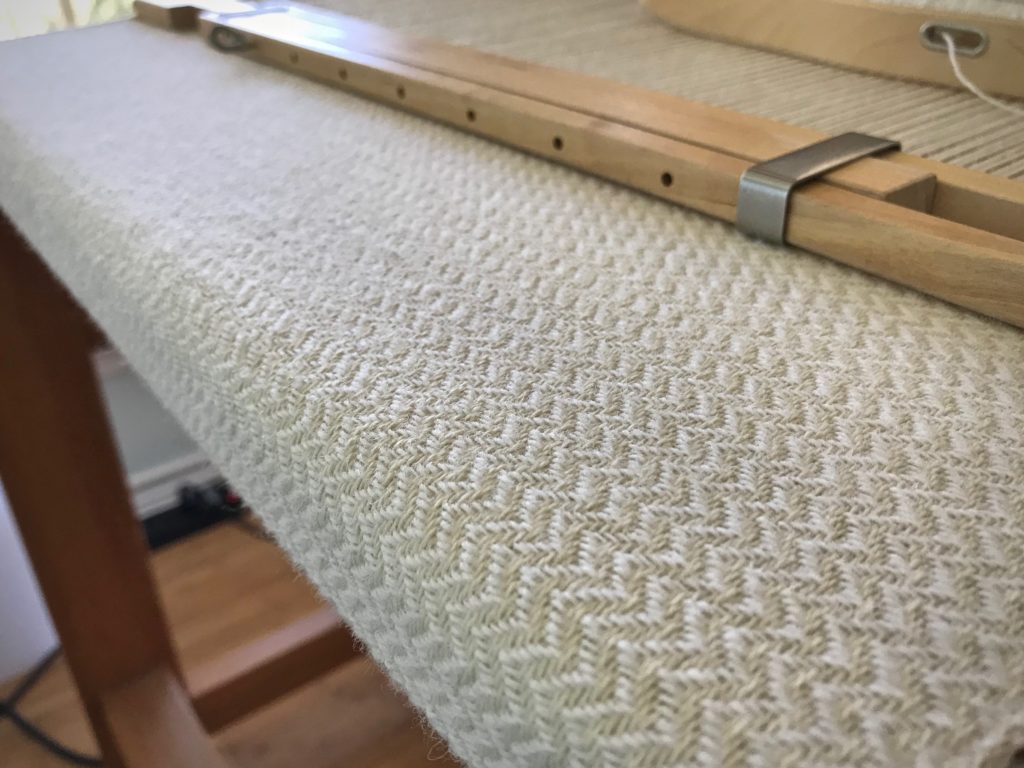 The warp is unbleached 8/2 Möbelåtta wool. The weft is bleached 6/1 Fårö wool. The 6-shaft point twill fabric is delightful. Perfect for what I have in mind. It is peaceful, soothing, restful, and calm. You can see that everything is going to be all white.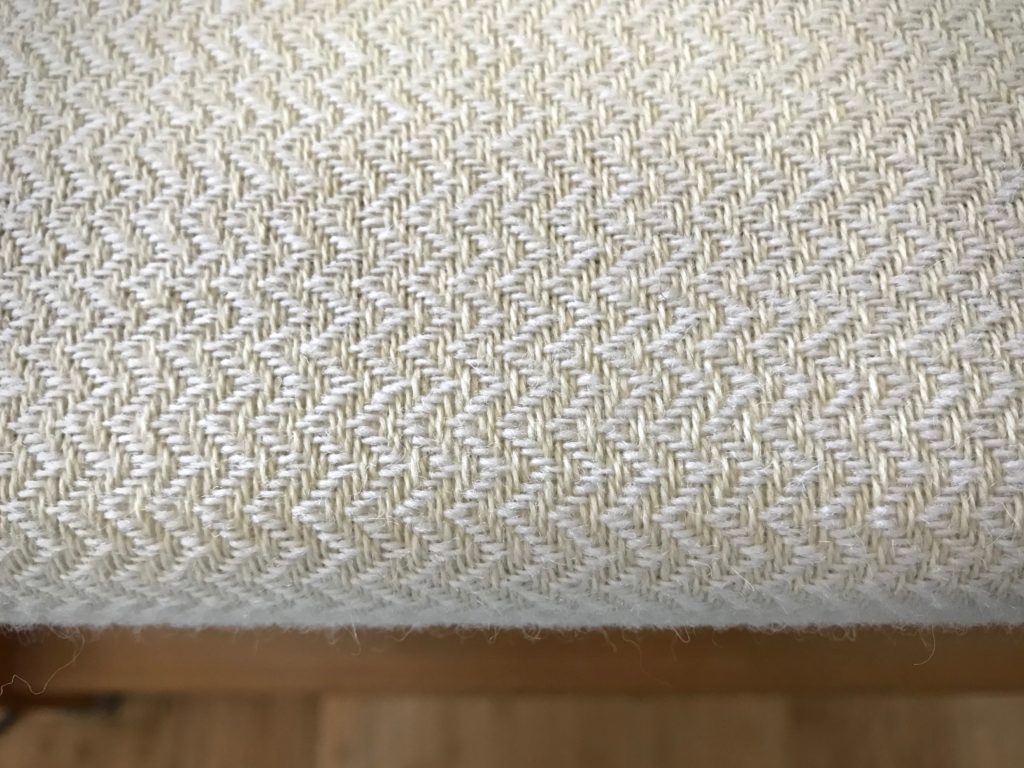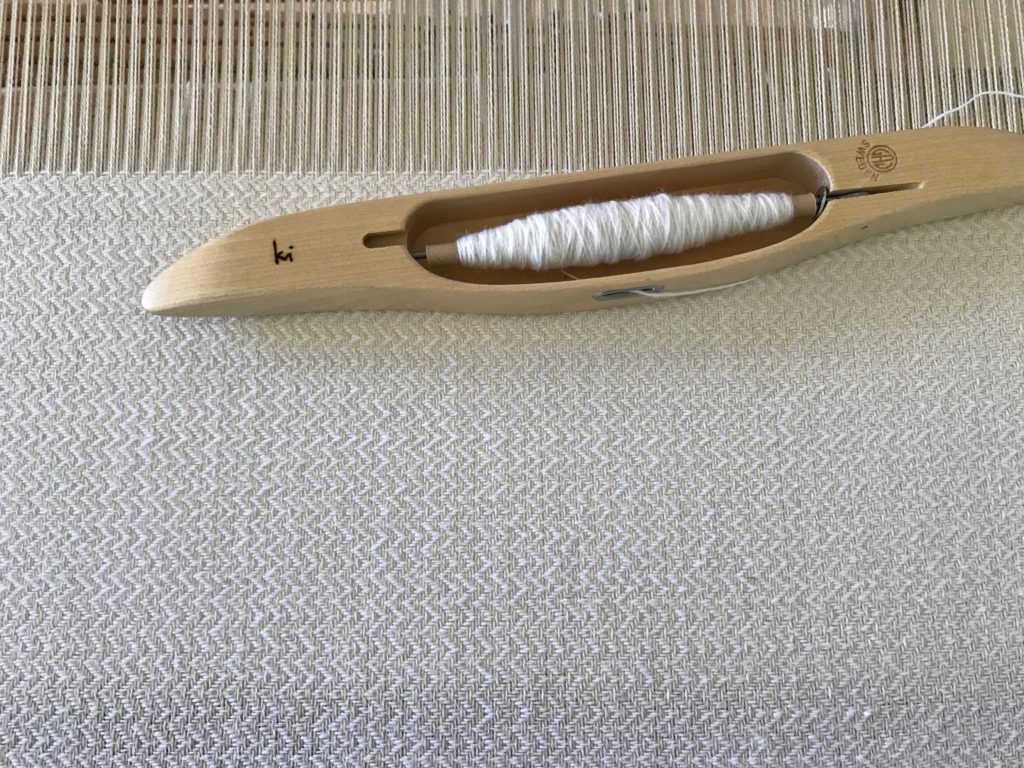 There is a time for color, action, and noise. But we also need a time for serenity, stillness, and quiet reflection. Going alone to sit in the Lord's presence gives us just that. It is there that we can pour out our heart in prayer. The Lord meets us where we are when we pray. And He tells the trusting heart that everything is going to be all right.
May your heart be at rest.
With you,
Karen
PS Floating Selvedges. Last week I asked if you could tell which one of these four towels was woven without floating selvedges. (1 – 4, with the towel on top as #1.) See Process Review: Jubilation Hand Towels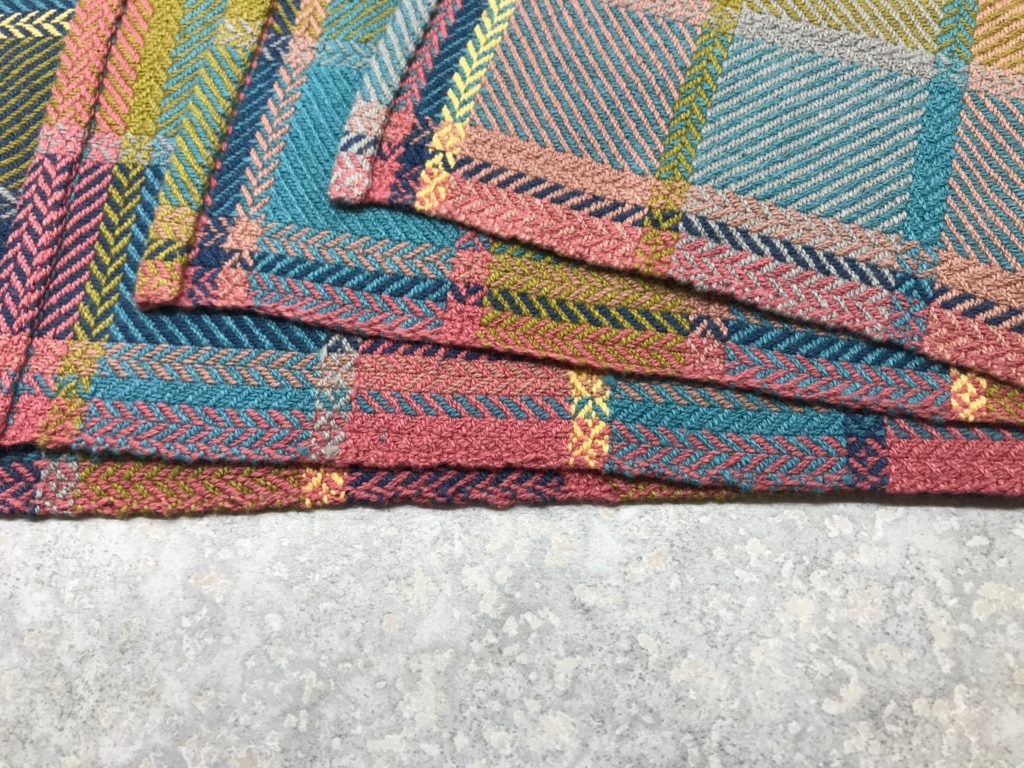 The towel that was woven without floating selvedges is the same towel that received the most votes. Towel #2!
It seems counterintuitive that weaving twill structures without floating selvedges could produce a pleasing edge. But most of the time the small floats that appear at the edge are inconsequential, especially after wet finishing. (By the way, I am weaving the white point twill mentioned above without floating selvedges, as well.)
Thank you for your wonderful participation!
---
Lay the groundwork; add a row of rya knots. Because of the coarser sett, and the thickness of this doubled linen weft, this rya weaving is progressing faster than the previous one. Tying all 36 knots across the warp is still the slowest part. But I can see progress. I like to see something happening, don't you?
I weave about an inch / 2.5 cm of point twill linen background first. It provides a framework to hold the mixed wool and linen rya knots. This means throwing the shuttle at a good pace for a short distance, and then stopping to add another row of rya. Through this moving – stopping – moving – stopping, progress is made. A little green and beige garden is growing on the surface of the linen structure. It is during the slow part that the "growing" happens.
Are you troubled about anything today? Don't lose hope. If progress seems slow, you may be in a growing season. The Lord rebuilds ruined places and replants desolate fields. It feels slow now, but in time, you will look back and see a garden covering what once was ruins. Keep going, you're going to make it.
May your garden grow.
(I did finish the previous slow rya project and turned it into three fun pillows. You can find two of them in the Warped for Good Etsy Shop!)
Making progress,
Karen
---
Slow and deliberate, rya knot tying is a satisfying exercise of patience. This background cloth feels like coarse canvas. You can imagine how robust the fabric is, with a hefty 8/2 linen warp, and the same, doubled, for weft. Threaded in a point twill, the cloth is simple, but texturally vibrant. The yarn pile, called rya, is made with combined threads of thick Åsborya wool, fine Mora wool, and fine 16/1 linen. (You can see my previous rya project in the post, Are You in a Pretty Mess? And if you want to see exactly how to make rya knots, check out this post –  Quiet Friday: Making Rya Knots.)
I simply step on the "pile" treadle, which raises only shaft four, and tie rya knots around pairs of the raised ends. This process works because the fabric was planned and designed to have rya knots inserted on its surface. In a similar fashion, people are designed to receive God's helping hand.
God wants to give us the ability to flourish in life. That's his grace. We are made for that, and it happens when we offer "humble" threads. We must wear the cloth of humility as we interact with each other, revealing our coarse, simple, honest self. This is where God inserts his grace. In this process of his, he patiently makes us his work of art.
May you flourish in the things that matter.
Respectfully yours,
Karen
---