How do you come up with a design for standout hand towels? Sometimes it's nice to start with someone else's ideas. There is a gorgeous wool throw, designed by Anna Svenstedt, in Favorite Scandinavian Projects To Weave: 45 Stylish Designs for the Modern Home, by Tina Ignell. This Colorful Throw—Reverse Twill makes a perfect template for designing eye-catching hand towels.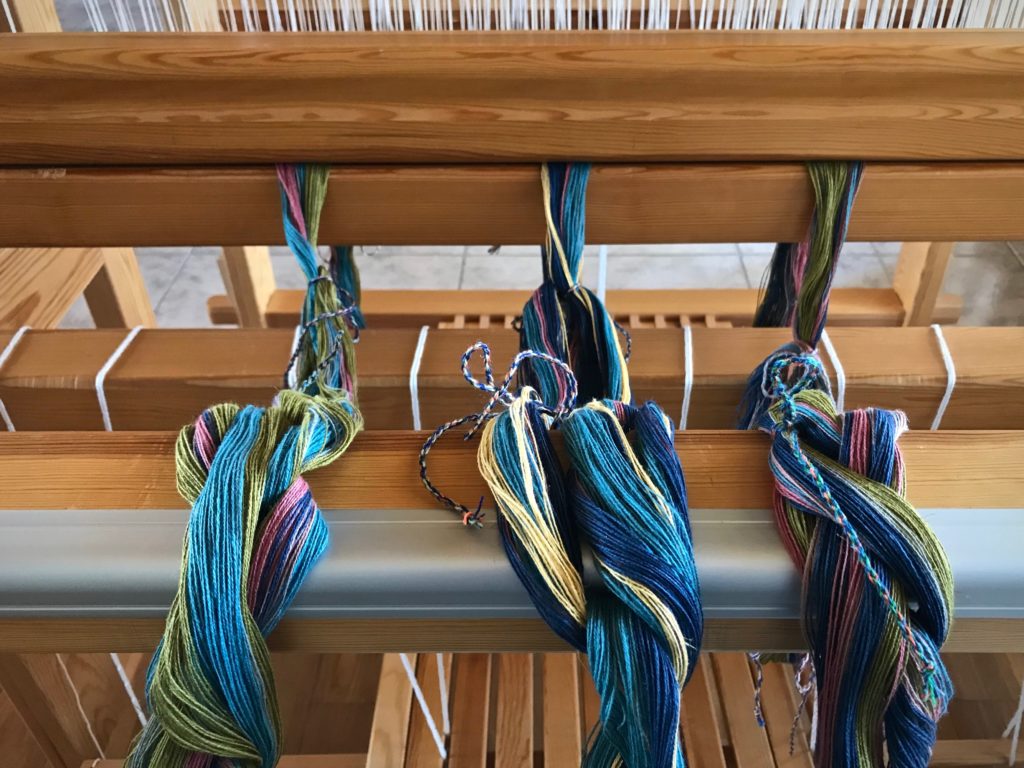 Decisions:
Fiber – 22/2 cottolin for warp and weft
Finished size of towel – 39.5 cm x 63 cm (15.5" x 24.5")
Number of towels – 2 pairs of towels = 4 total
Spacing of warp stripes – add two more narrow stripes at each selvedge to balance the pattern
These decisions enable me to prepare a project plan, make calculations, and write a new weaving draft.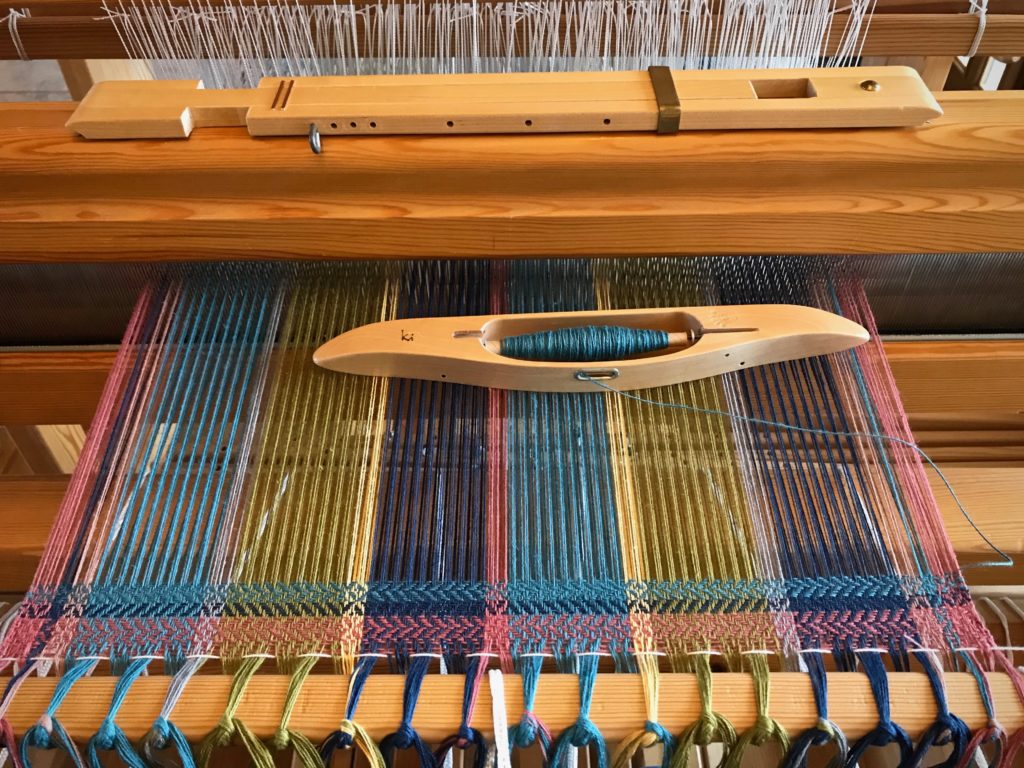 When the loom is dressed, the design process continues as I begin weaving a sample section. This is where I decide what weft colors to use, the spacing of weft stripes, and specific treadling patterns. I add these notes to my project sheet, which I keep at the loom as my weaving roadmap.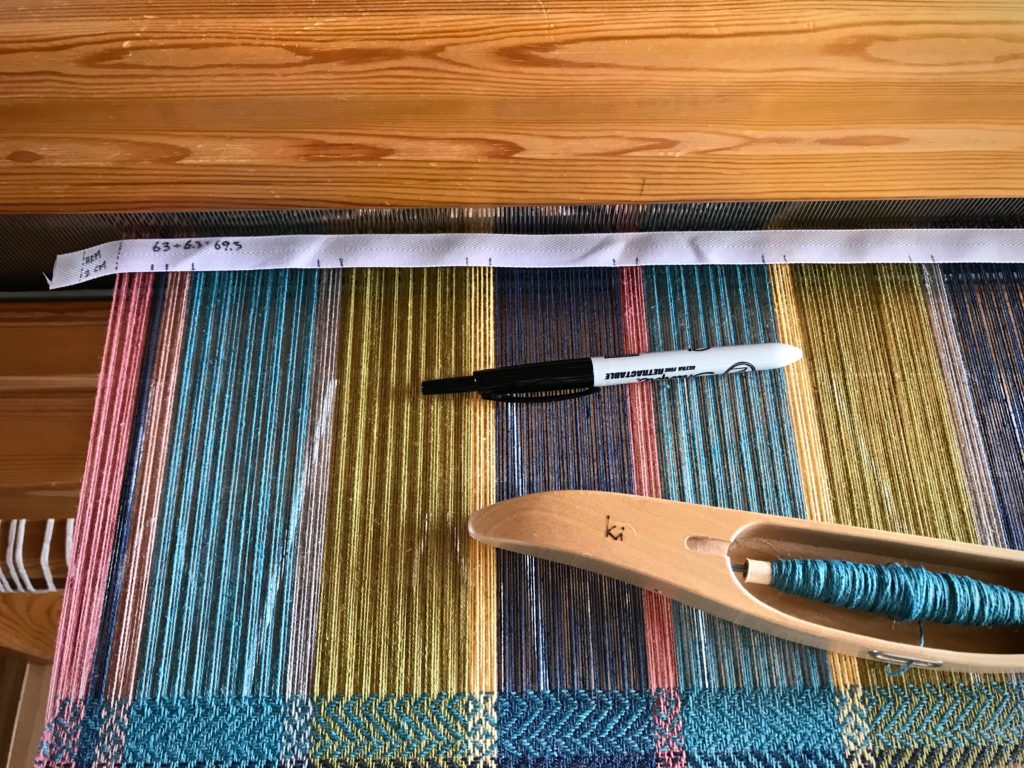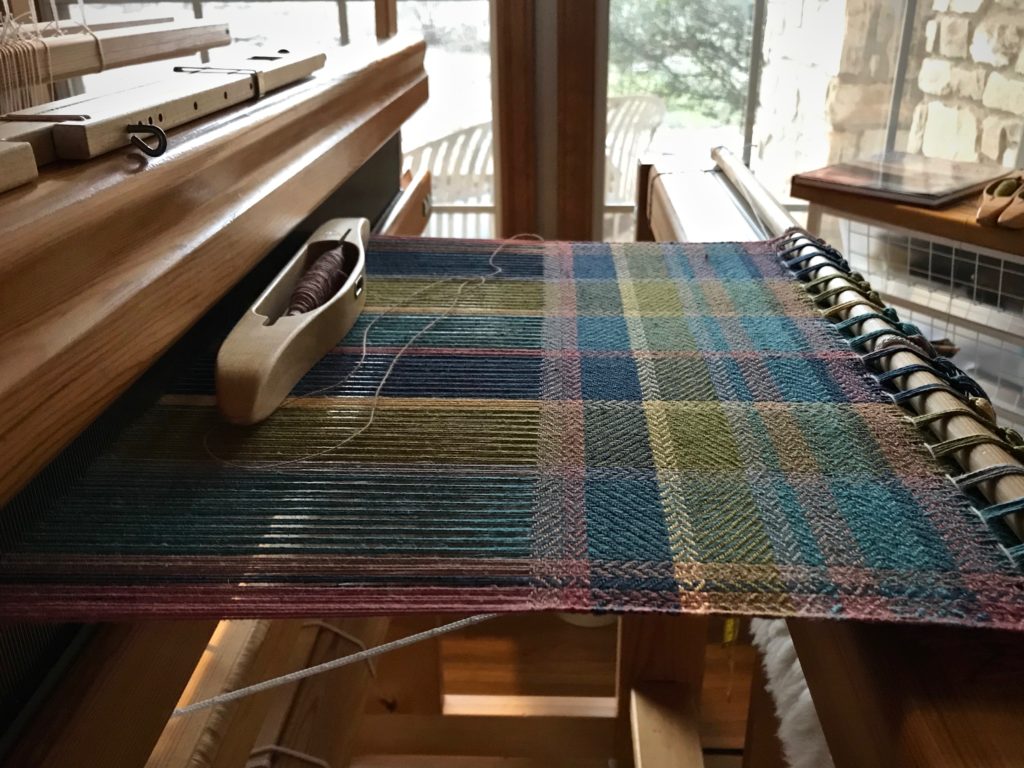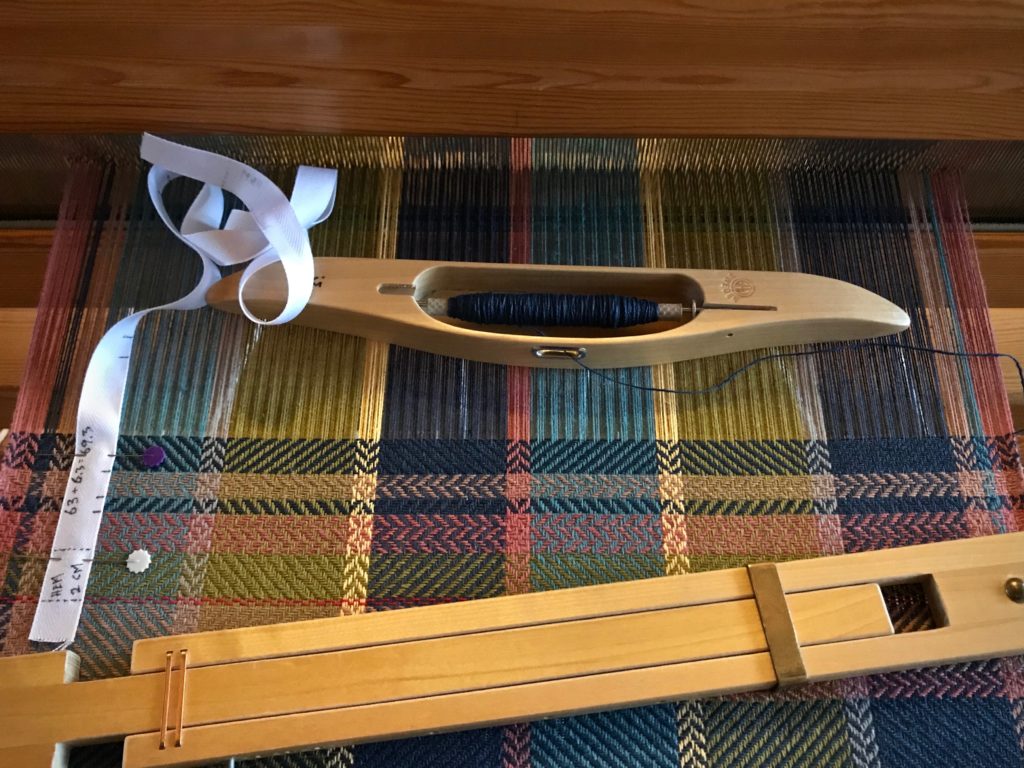 These hand towels are a preview. If they turn out as hoped, I may have to make some bath towels to match.
May your designs stand out.
Happy Weaving,
Karen
---
I faced a dead end with this six-shaft weave. The draft requires seven treadles in order to include true plain weave. And I do want plain weave for the hems. That is a problem. This loom has only six treadles. So these double binding twill rag rugs were put on hold while I thought about it.
And then I had an idea. What if… I tie the sixth treadle as if it were the seventh treadle, enabling me to weave the plain weave hem. And then, undo the treadle and re-tie it as the sixth treadle for weaving the body of the rug? It works! Essentially, I created seven treadles out of six. What seemed like a dead end became the point of discovering something new.
Can you imagine the dead end the friends and family of Jesus felt when they saw his body go limp on the cross? ……………………………………………………………………………………
Easter is about the excitement of knowing Someone who died and came back to life. In the Easter story, the angel tells the women who arrive at the tomb, "I know you seek Jesus, the Crucified. He is now Jesus, the Risen." For these women, this moment changed everything. What had seemed like a dreadful dead end became the point of discovering new life. Indeed, even now, a dead end is often the starting point of finding new life in the Risen one.
May you discover something new.
Blessings,
Karen
---