Would you like to keep track of every type of thread and yarn you use? You need something you can refer back to for fiber content, color numbers, sett information, and where you purchased the yarn. I have a simple yarn record system that accomplishes that. Because it is easy to do, I update the records every time I start a new tube of thread or skein of yarn that is not already represented. I call it my Yarn Record Book.
How to Create a Yarn Record Book
1. Gather supplies:
Three-ring binder
8 1/2 x 11″ white cardstock
Paper cutter or scissors
Three-ring hole punch or single-hole punch
Small color wheel and other color tools
Black fine point Sharpee
Pocket pages
New spectacular yarn and thread in colors and sizes you have never tried before!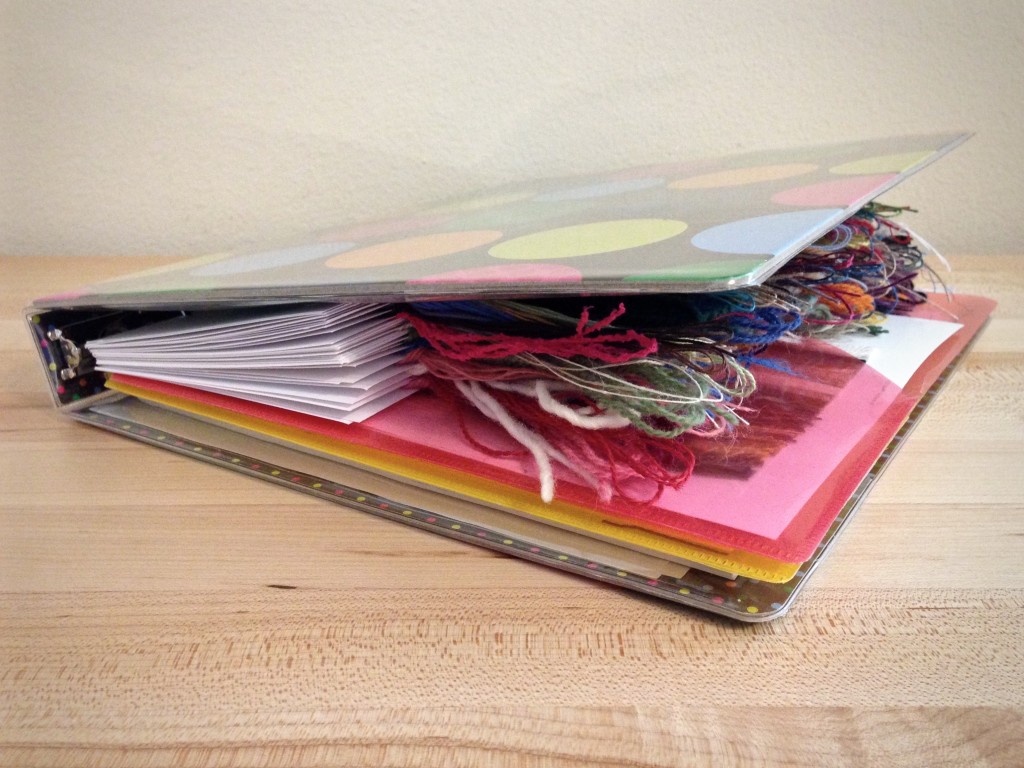 2. Cut cardstock. Cut a sheet of white cardstock lengthwise in half.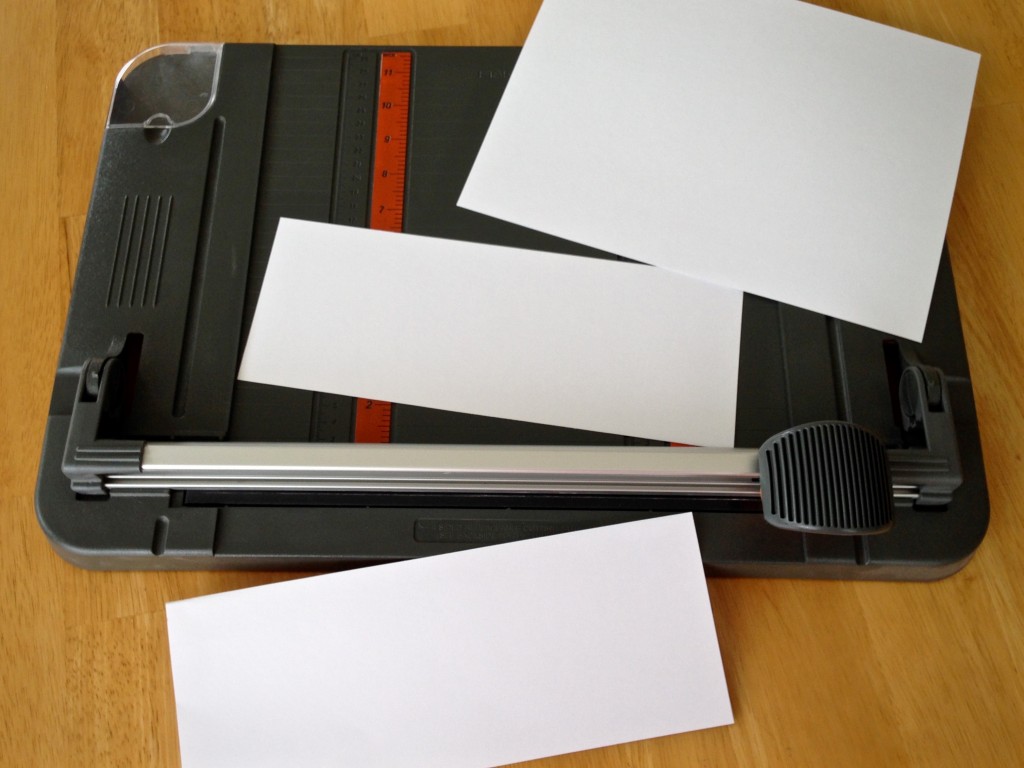 3. Punch holes. Punch three holes on one long side of the cut cardstock to coincide with three-ring binder, and punch five holes on the opposite side.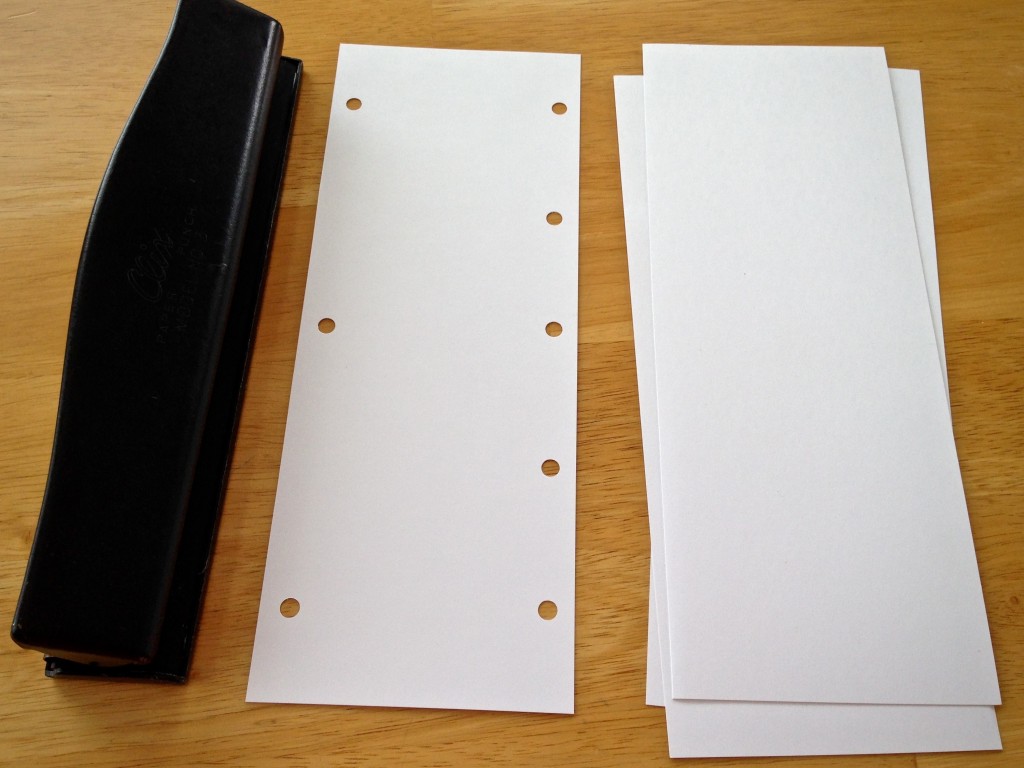 4. Insert color tools. Place color wheel and other color tools in front inside pocket.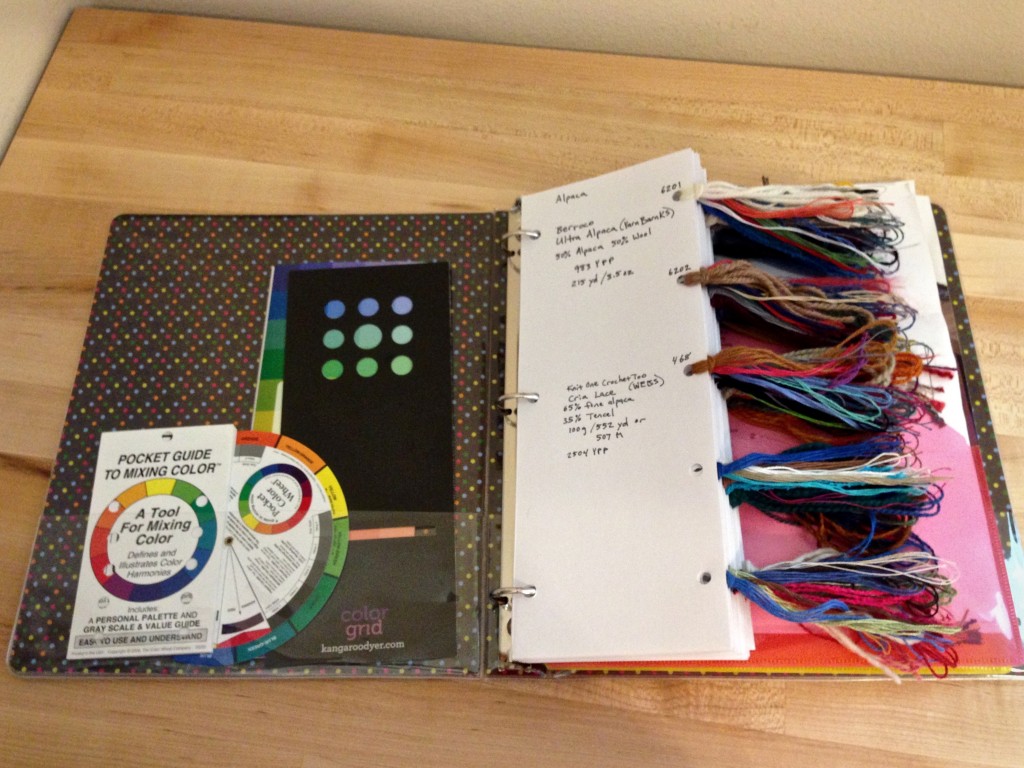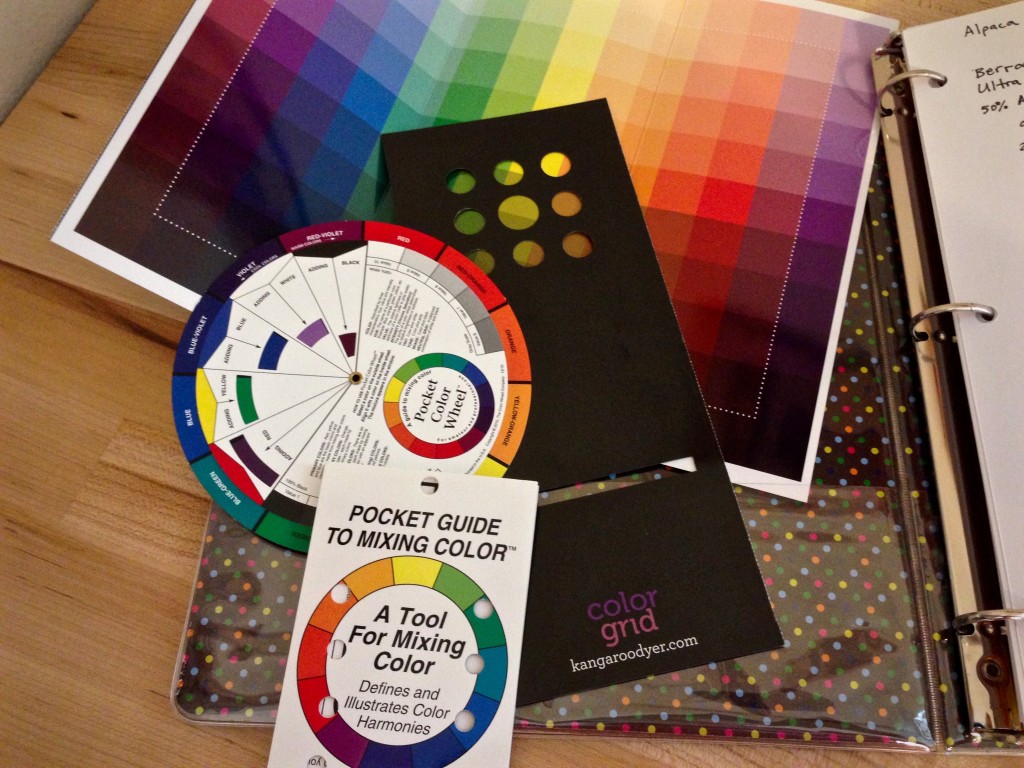 5. Add yarn label information. Write information on front of prepared card:
Fiber type and size/plies; e.g., Cotton 8/2
Brand name
Fiber content
Where purchased
Length and weight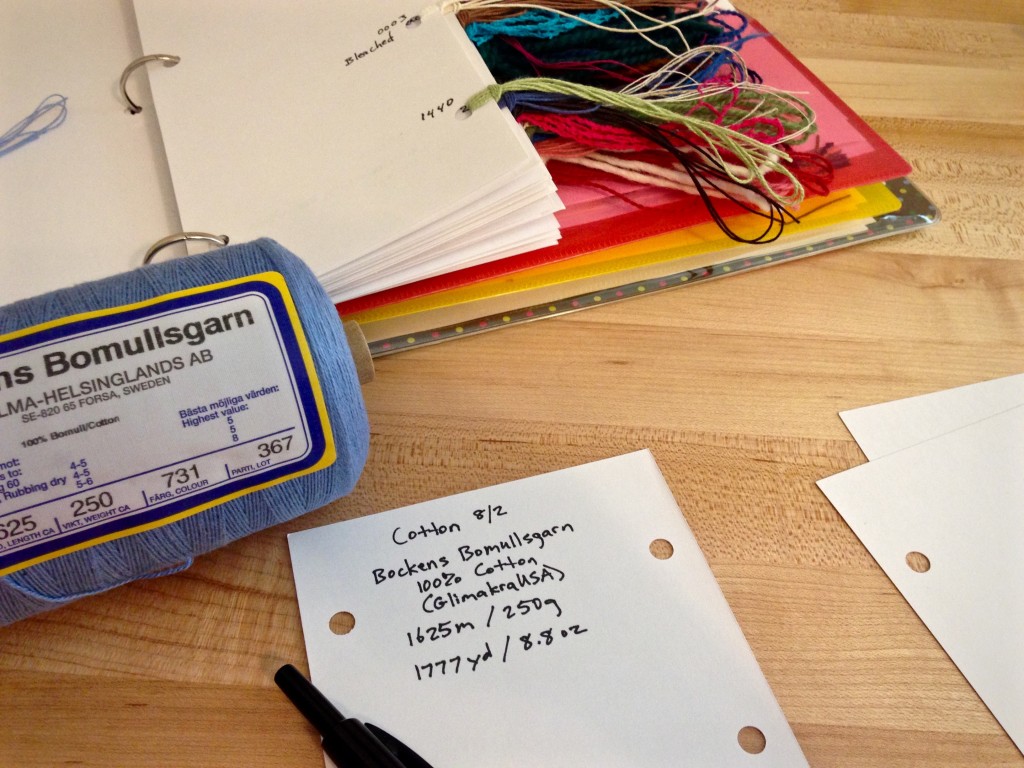 6. Add yarn sample. Cut one meter of the new thread or yarn. (My loom bench, conveniently a meter in width, is my quick measuring guide.) Fold the length in half, in half again, and in half one more time. Push the loop at the fold of the yarn through a hole on the five-hole side of the card and pull the other end of the yarn through. Write the color number above the hole.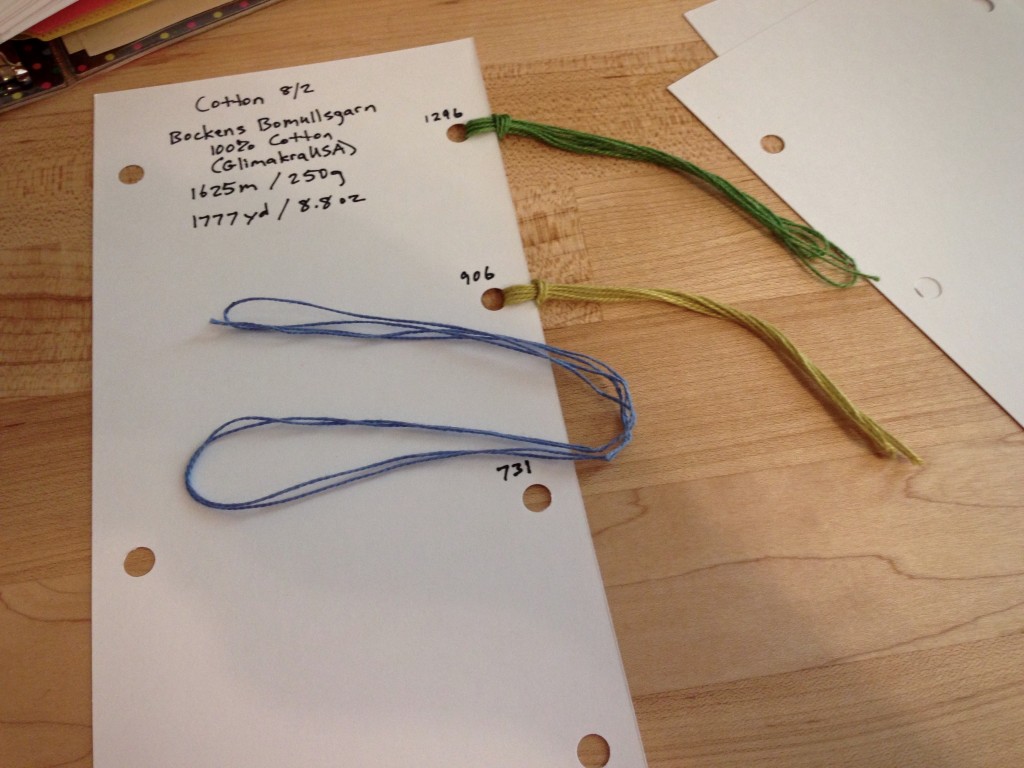 7. Insert yarn card into notebook. On the back of the card write the date the yarn is added. Include information about how the yarn is to be used, and the intended sett. (Later, if your plans change, or you determine the sett needs adjusting, come back and make notes here to reflect that.) Insert the card in the Yarn Record Book. I arrange fibers in alphabetical order, e.g., alpaca, cotton, linen, wool; and, within each fiber, by size of yarn from finest to coarsest.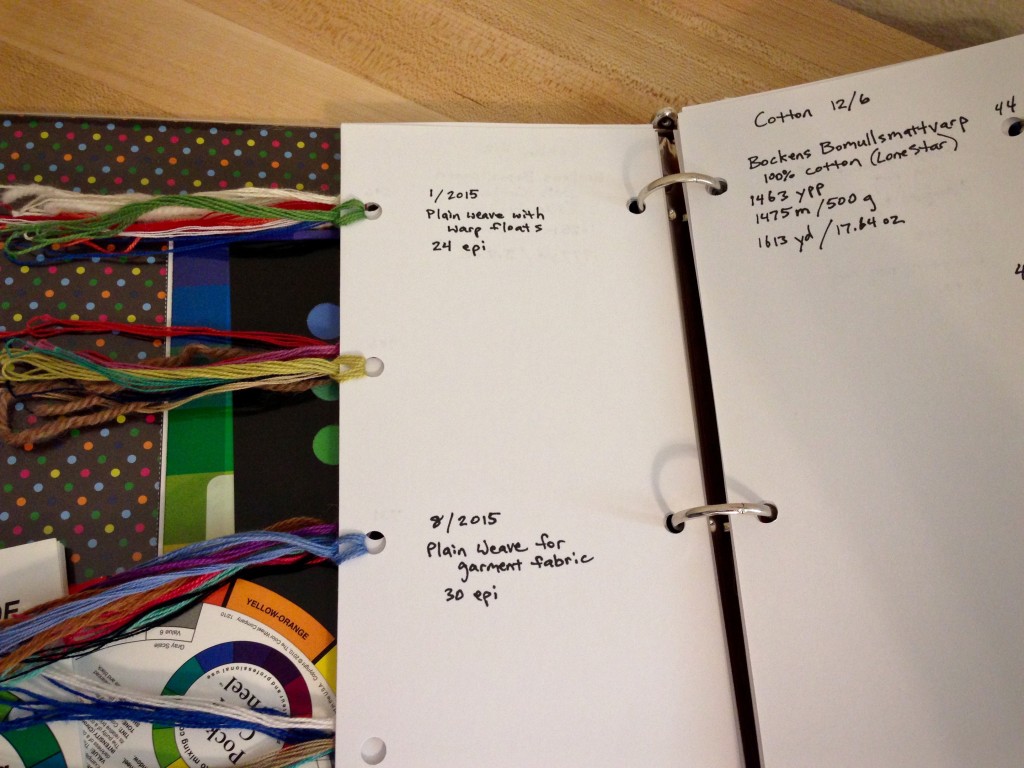 8. Add color cards. Put purchased yarn sample color cards in pocket pages at the end of the notebook.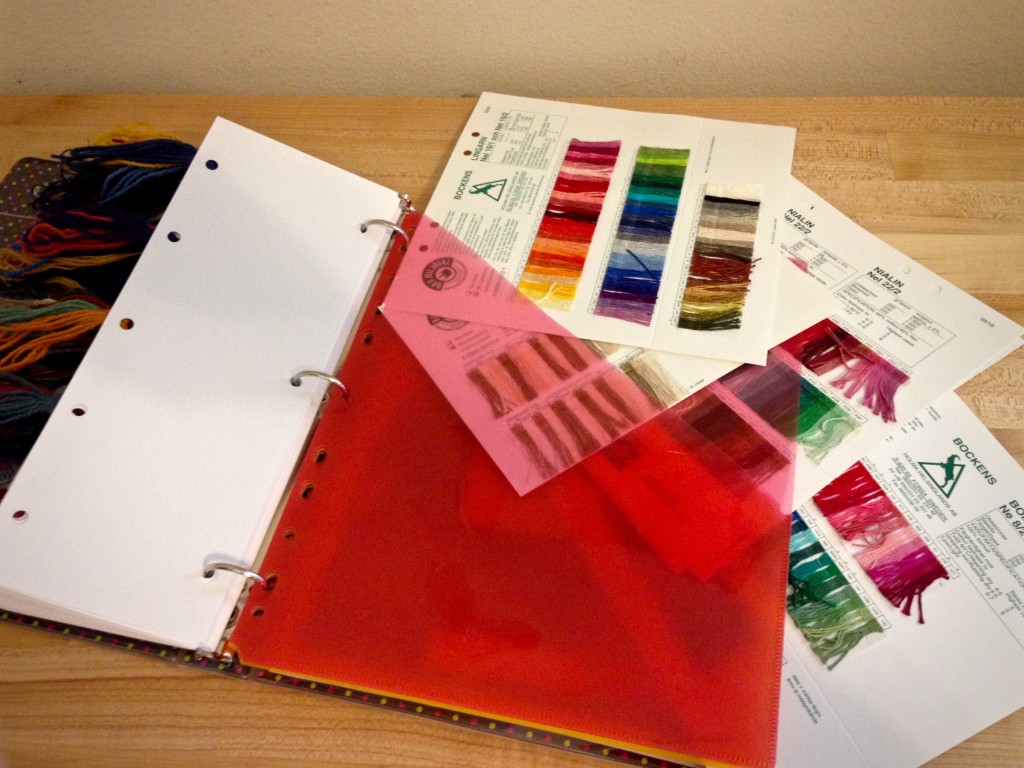 9. Expand. When you accumulate so many types and colors of threads and yarns that your notebook is overflowing, get a bigger notebook!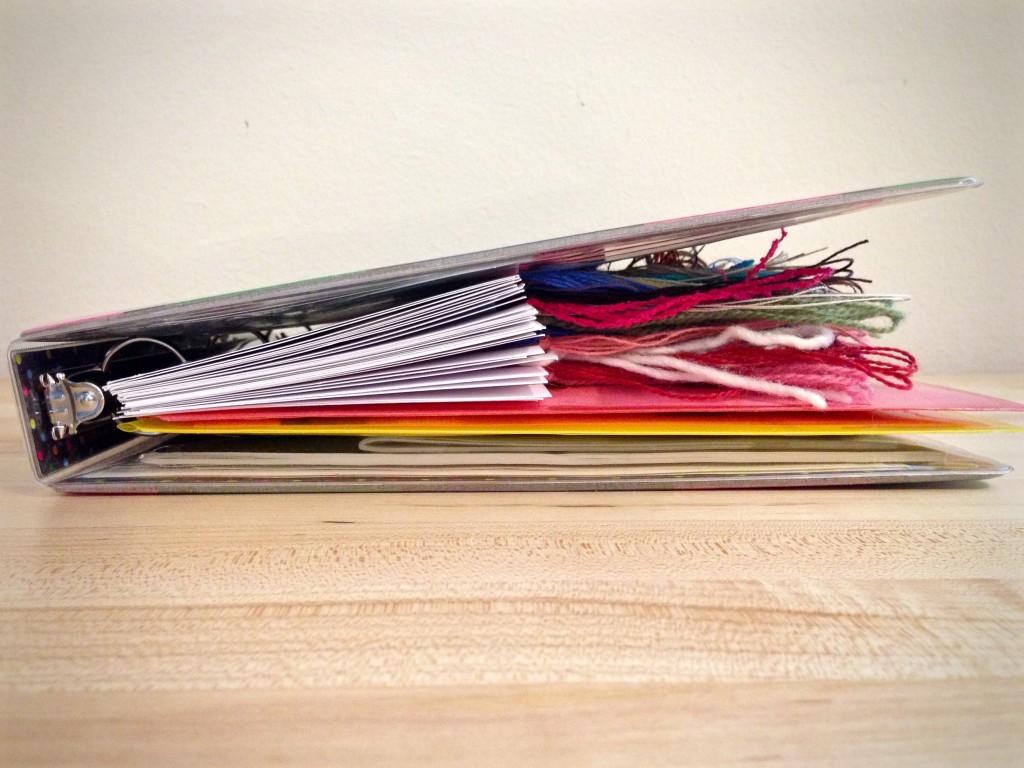 May you make progress in putting things in order.
Happy Organizing,
Karen
---
I normally pin a measuring ribbon to the cloth being woven, moving the pins as I advance the warp. This rug is different. I am using a graph paper sketch; and beside each block on the sketch I have written the number of inches to weave. The tape measure that hangs at the end of my weaving bench makes it easy to follow the plan, measuring frequently as I go. This requires mindfulness as I weave, paying attention to the pattern.
I have the end in mind, and this may turn out to be my favorite rag rug ever! (Have I said that before?) It is true that my favorite thing to weave is usually that which is currently on the loom…
The Maker of heaven and earth is mindful of you. Cherishes you as his favorite. I know that seems incredible; but as a weaver, I understand it. When you create, you care about the process and the results. As the ones created, we find ourselves in his story. The living Creator God invites us to himself. So, we come to his studio to meet the Mastermind behind the marvelous creations.
May your hands find favorite things to make.
Happy Weaving,
Karen
---
I have three short sample pieces from rug warps, where I had experimented with colors and design. I am making these samples useful by turning them into pillow covers. To complete them, I made pillow inserts to fit inside.
To get the most loft out of the polyester fiberfill, I run my fingers through clumps of it, pulling and easing it apart. I stuff these airy clouds into the pillow insert forms that I have sewn and then serge the edge of the insert closed. The durable and hearty rag rug pillow covers are pretty, but they are flimsy and floppy until the cloud-soft pillow forms are placed inside.
Like the pillow covers, your strongest asset is invisible. When we adorn our inner person with gentleness and a quiet spirit it brings clarity and courage to our outward demeanor. You would not fill the pillow cover with rocks, would you? Having cloud-soft humility instead of hard-headed stubbornness enables us to face any difficulty without becoming fearful or resentful. The beauty of your unique design is put in its best light by the loft of the pillow inside.
May you respond to difficulty with a gentle and quiet spirit.
(These three pillows are the newest additions to the Warped for Good Etsy Shop!)
Quietly,
Karen
---