I am adding about thirty more skeins to my yarn supply to get the colors I need for a new tapestry. At this rate, maybe I will have every single color of Borgs 6/2 Tuna and 6/1 Fårö wool on my shelves some day. That's wishful thinking… But I do have what I need for now to make the butterflies for this special pictorial tapestry.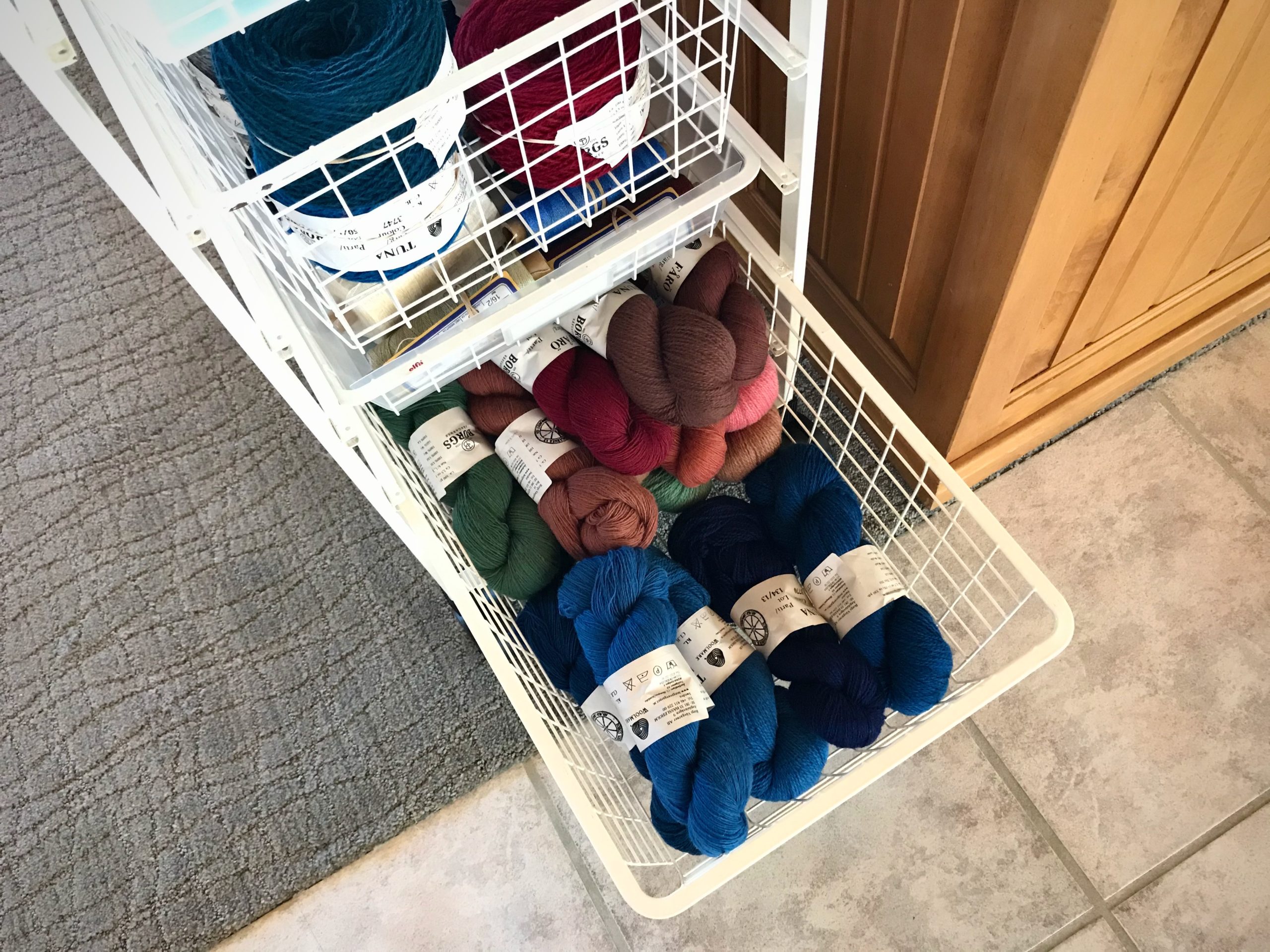 All these new skeins of yarn need to be wound into balls using my Swedish umbrella swift and a ball winder. In the past, I have used a manual ball winder. That means a lot of handle turning, but eventually all the yarn is wound into balls.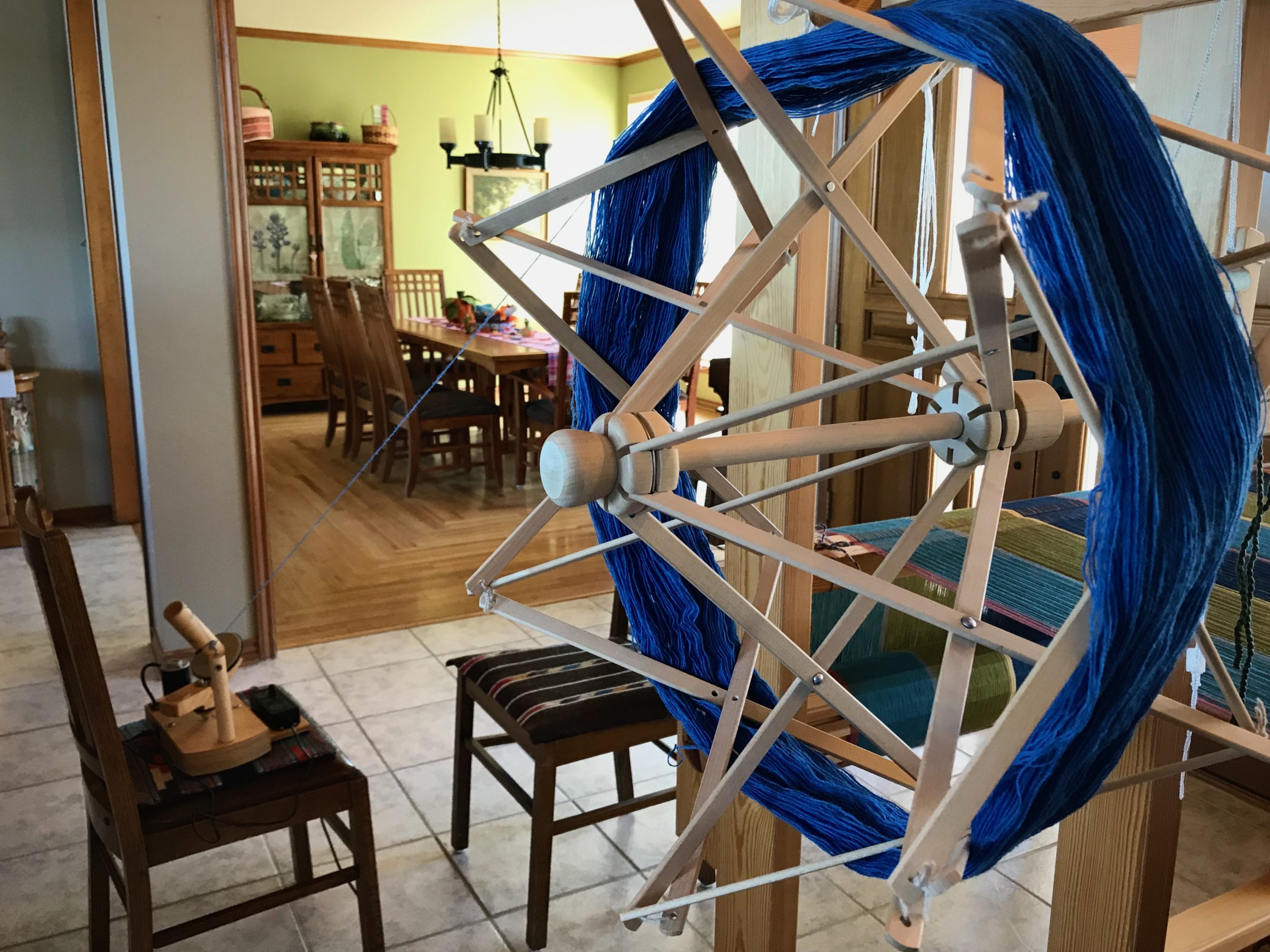 This time is different. I found a new time-saving and arm-saving tool. It's an electric ball winder, made by Fiber Artist Supply Company. I put the skein on the swift, cut the ties, secure the loose end of yarn to the ball winder, and then turn it on, gradually increasing the speed. In less than two minutes, I have another beautiful ball of yarn to use for making tapestry butterflies.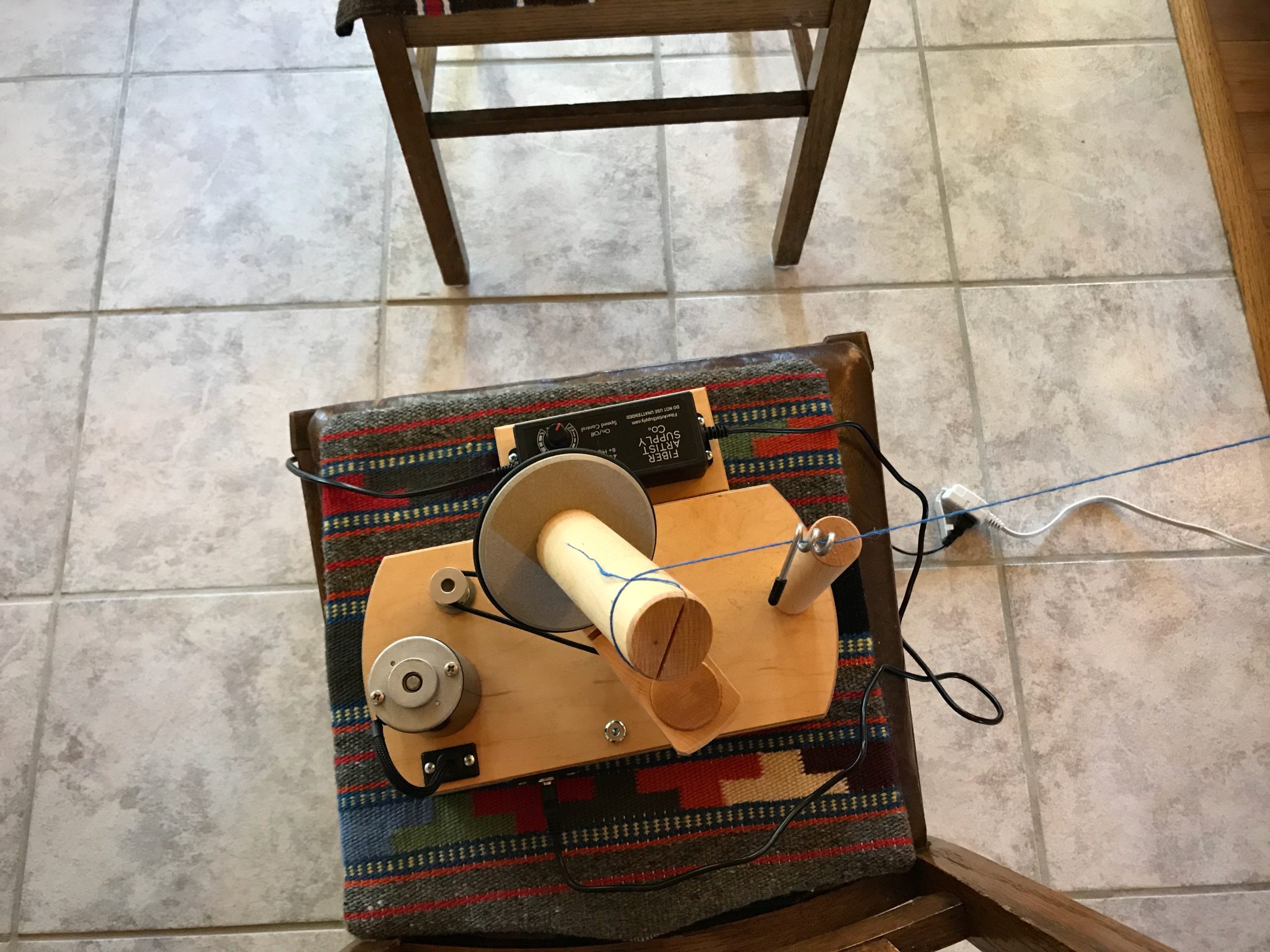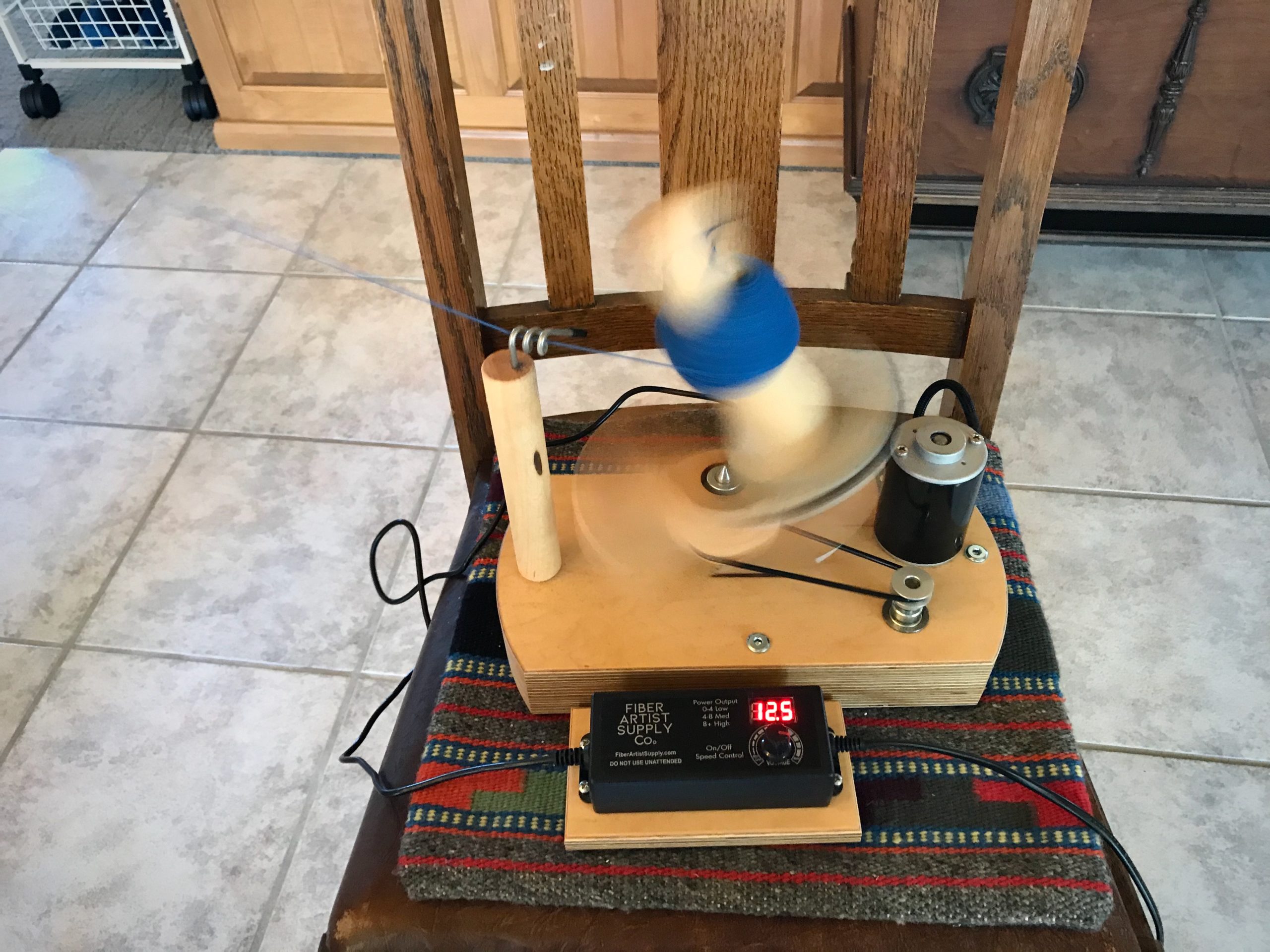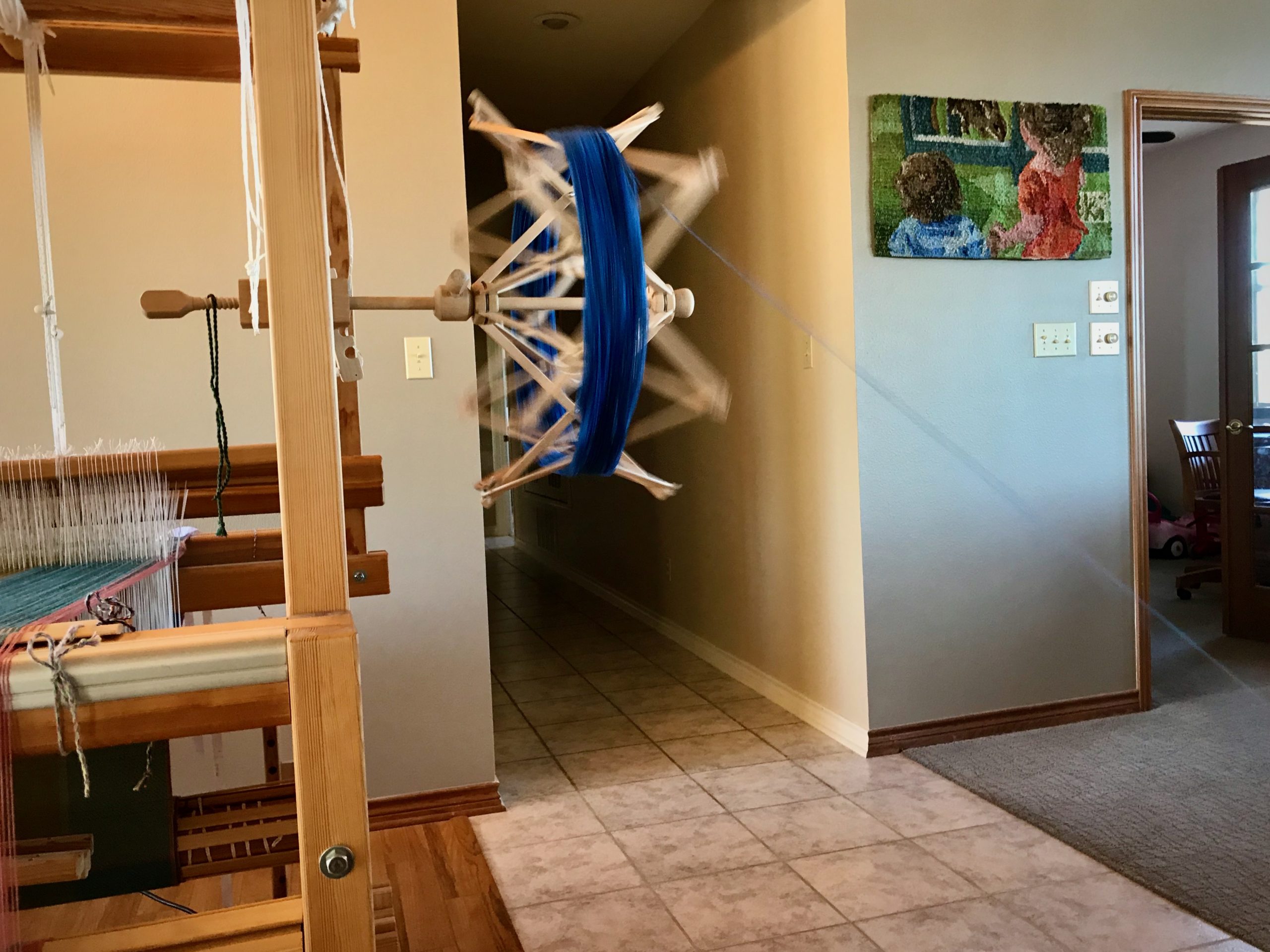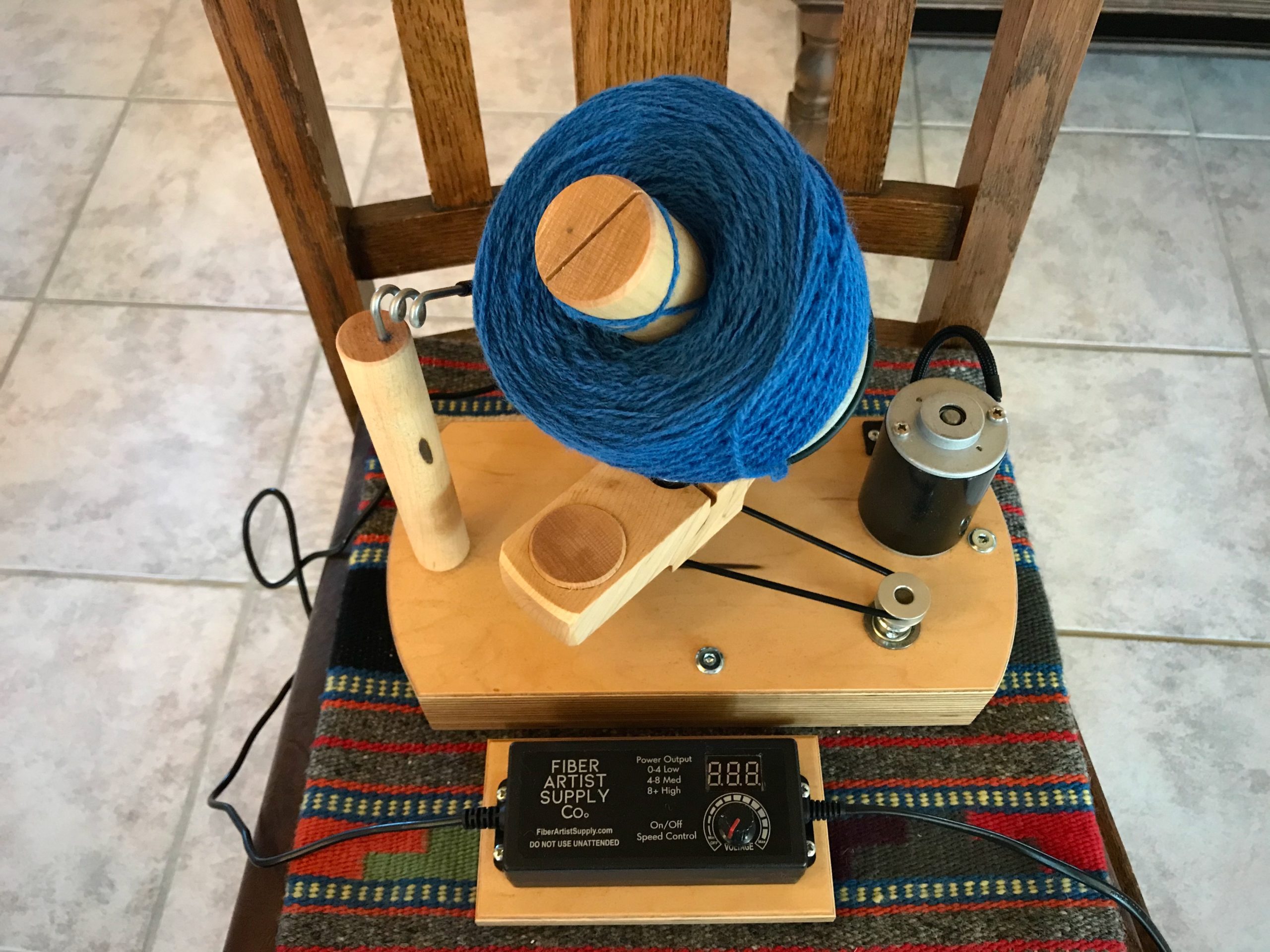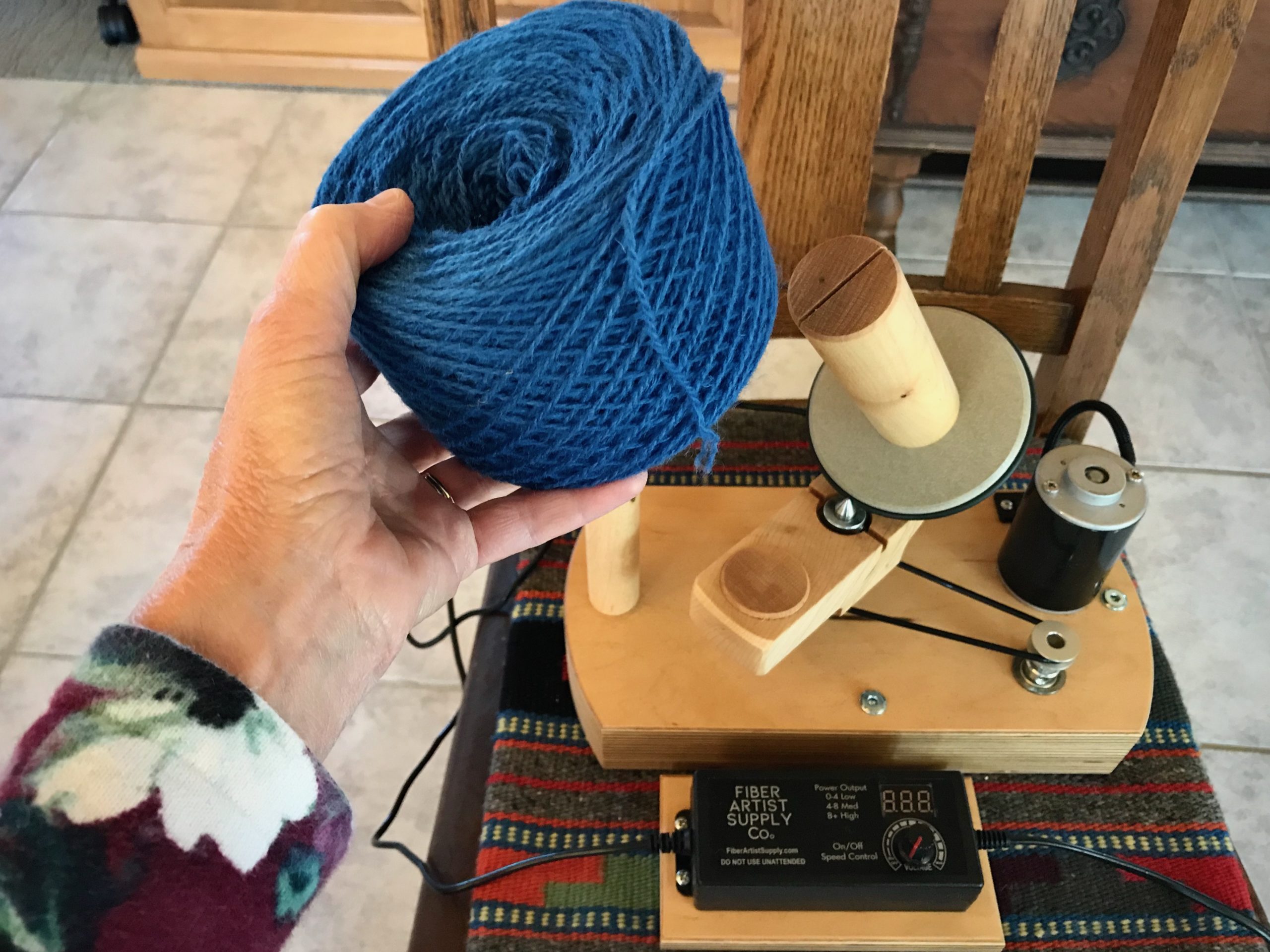 May your tools give you more time for weaving.
Making it easier,
Karen
---
Suddenly, I am able to see the tapestry on the loom from a distant vantage point. Aha! I can see that the left shoulder of Lucia is nicely defined, and that her shoulder appears to be in front of the turquoise rabbit hutch. What I am not able to discern up close becomes crystal clear from a distance. I have an unusual tool in the basket at my loom bench that gives me this advantage. Binoculars! I use them whenever I want to get a better sense of the overall context, color, and definition of what I am weaving in the tapestry. By peering through the WRONG side of the binoculars I am able to view the tapestry as if from a great distance. It is just the help I need to keep pursuing this mystery of weaving wool butterflies on a linen warp to make a recognizable, memorable image.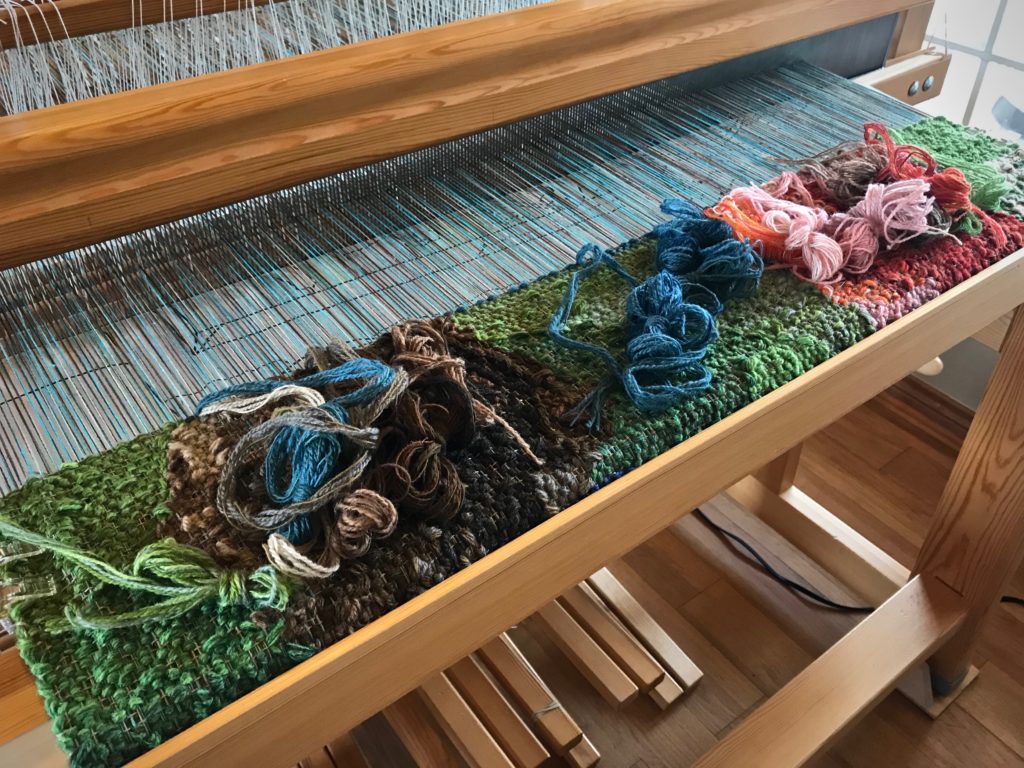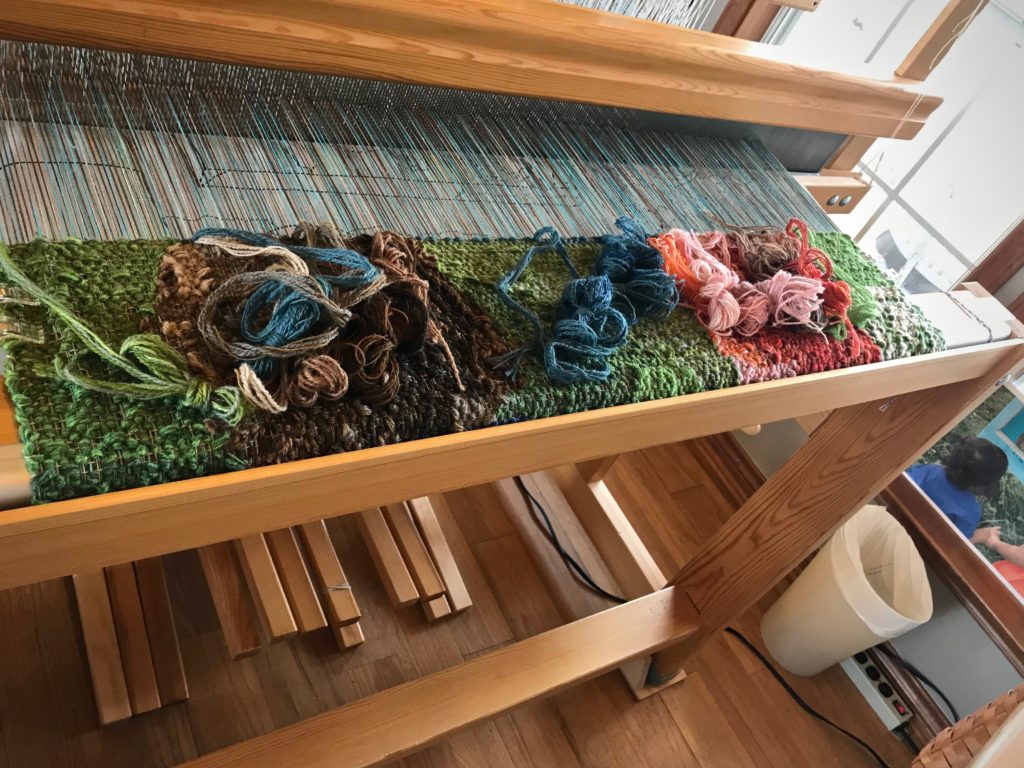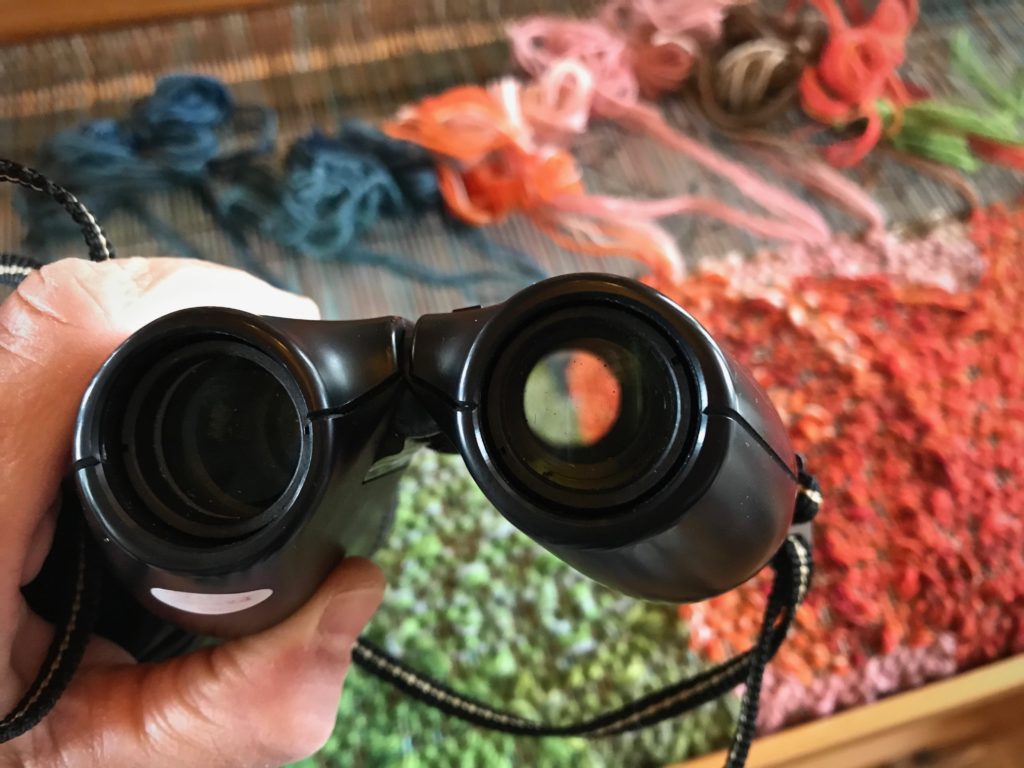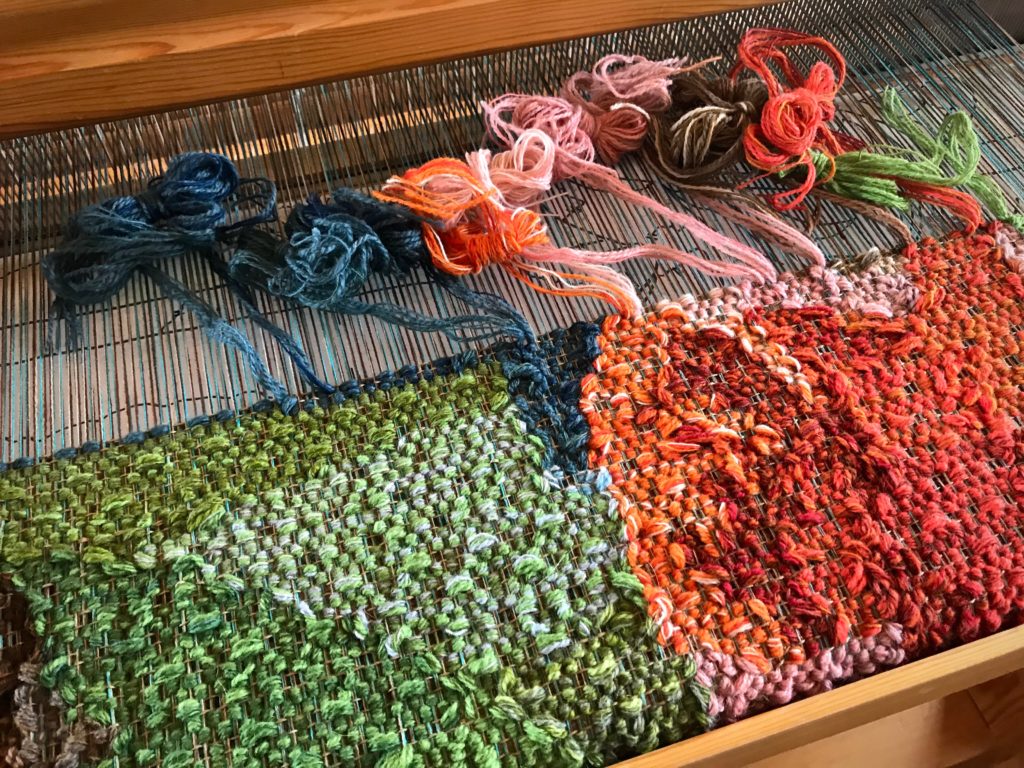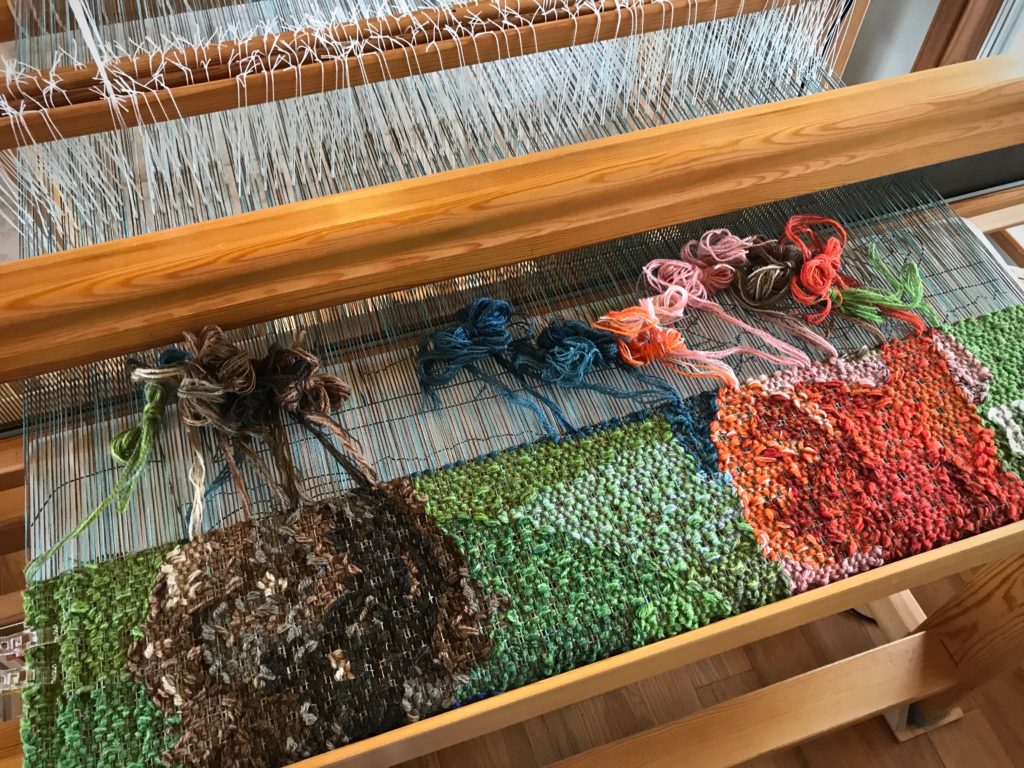 May you gain the perspective you need.
Blessings,
Karen
---
Making a cartoon for a lizard tapestry this size is quite a process. First, I enlarge the photograph. Then, I trace the outlines of the details onto a sheet of clear acetate. Next, to make the cartoon, I trace the bold Sharpie lines of the acetate image onto interfacing material meant for pattern making. But next time, it will be different.
I don't plan to use this interfacing material again for a cartoon. It is not stiff enough. As the tapestry progresses it becomes more and more difficult to keep the cartoon from puckering and creasing in places. A better option would have been stiffer buckram, like I used for my transparencies. (See – Quiet Friday: Painting with Yarn and Animated Images.) But I am not able to find buckram in sufficient width.
After I finished weaving the lizard portion of the tapestry, I decided to experiment. I removed the interfacing cartoon and switched to the acetate sheet instead. There's no puckering with this one! It is much easier to line up the cartoon with the weaving. It has drawbacks, though. Noisy! When I beat in the weft it makes thunderstorm sound effects. (Not so great for our temporary apartment life.) It's also harder to see the cartoon lines. And the magnets I use to hold the cartoon slip out of place too easily.
Next time... White paper, like the gorgeous tapestry cartoon I have seen in Joanne Hall's studio. That's what I'll use. Next time…
May you learn from your experiments.
All the best,
Karen
---