Knowing I would be away from my floor looms for a while, I put a narrow cottolin warp on my little Emilia rigid heddle loom to take with me. Mug rugs—perfect for travel weaving, to use bits of time here and there. I had some bulky wool yarn and a few rag rug fabric strips to take for weft. In a burst of hopeful inspiration, I grabbed a bag of Tuna/Fårö wool butterflies, leftover from my Lizard tapestry (see Quiet Friday: Lizard Tapestry) a couple years ago, and tossed it in my travel bag as we were going out the door.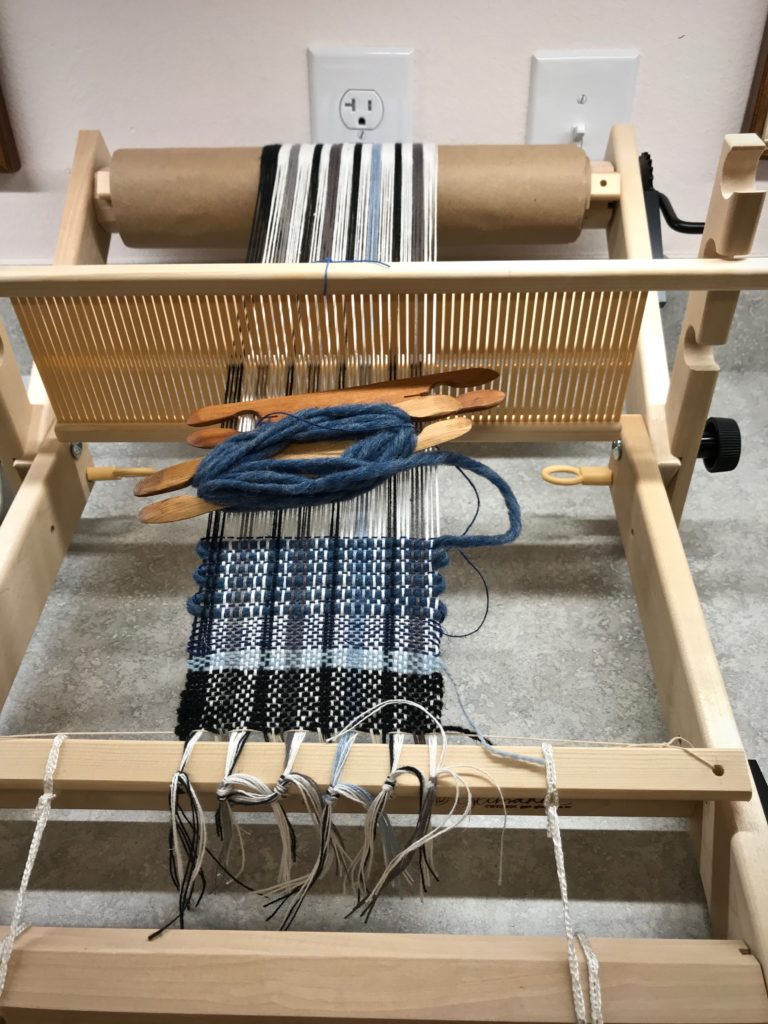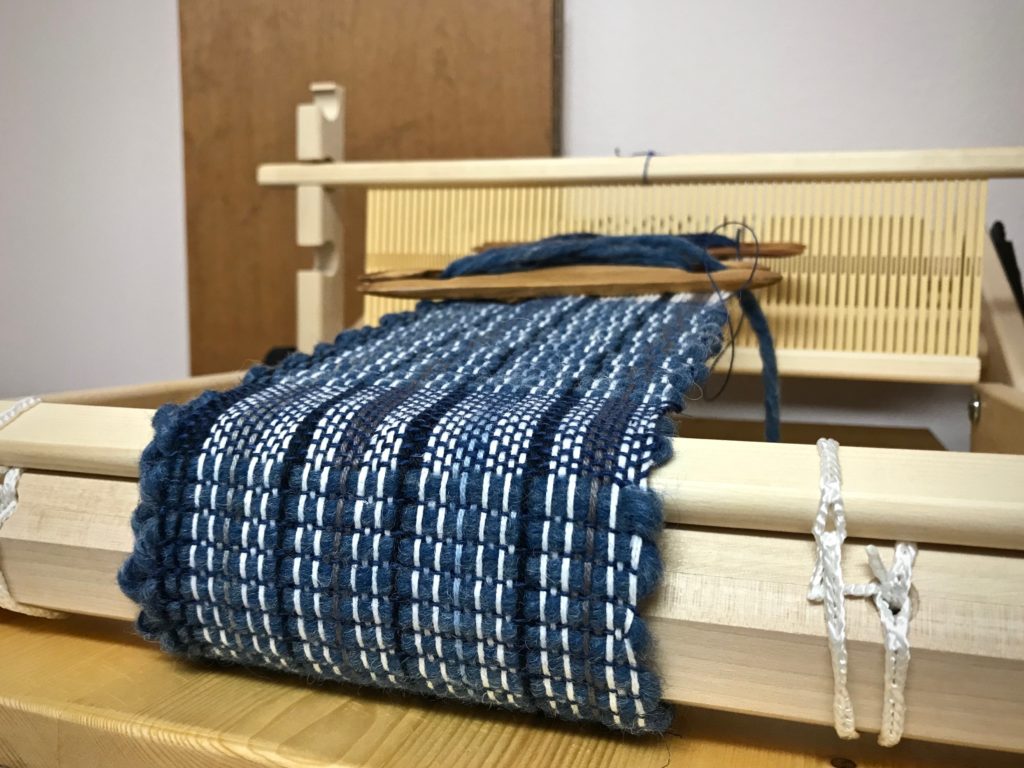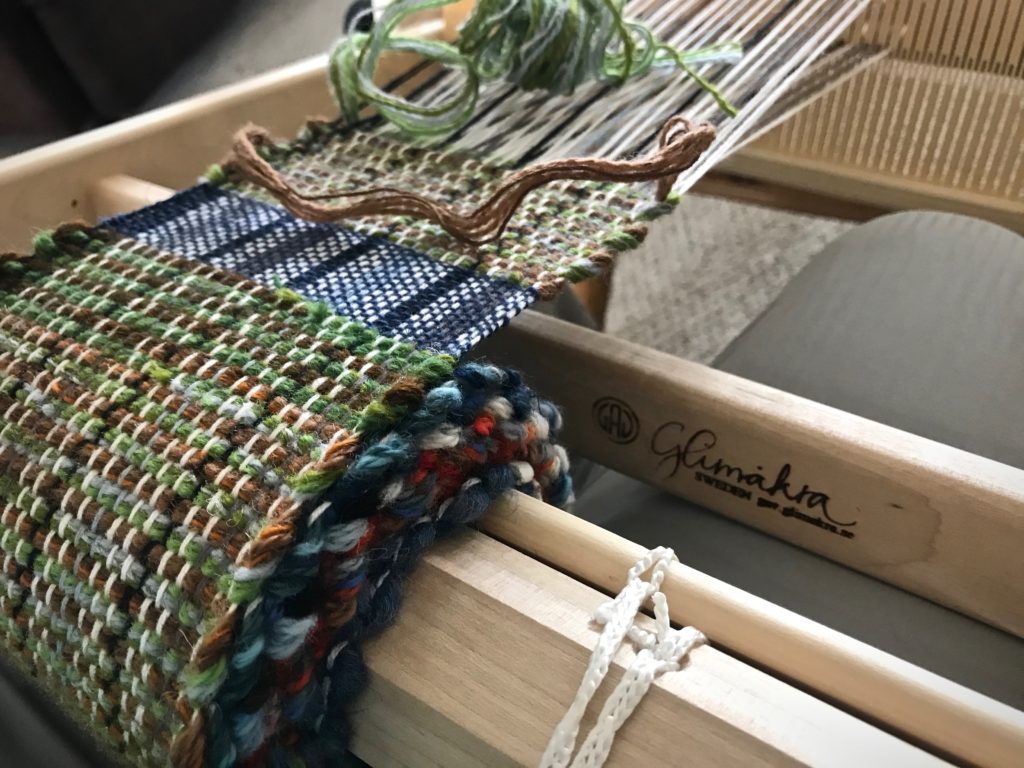 Those colorful wool butterflies turned out to be my favorite element! They not only gave me colors to play with, they also provided variety, the spice of weaving. The forgotten Lizard butterflies will now be remembered as useful and pretty textiles.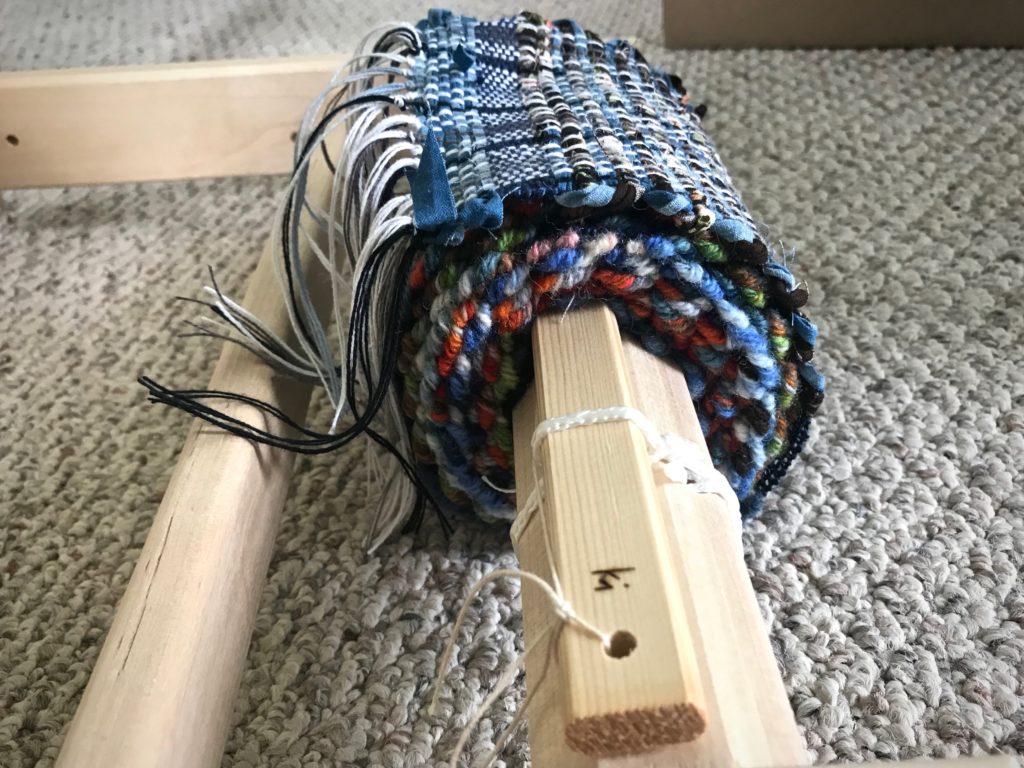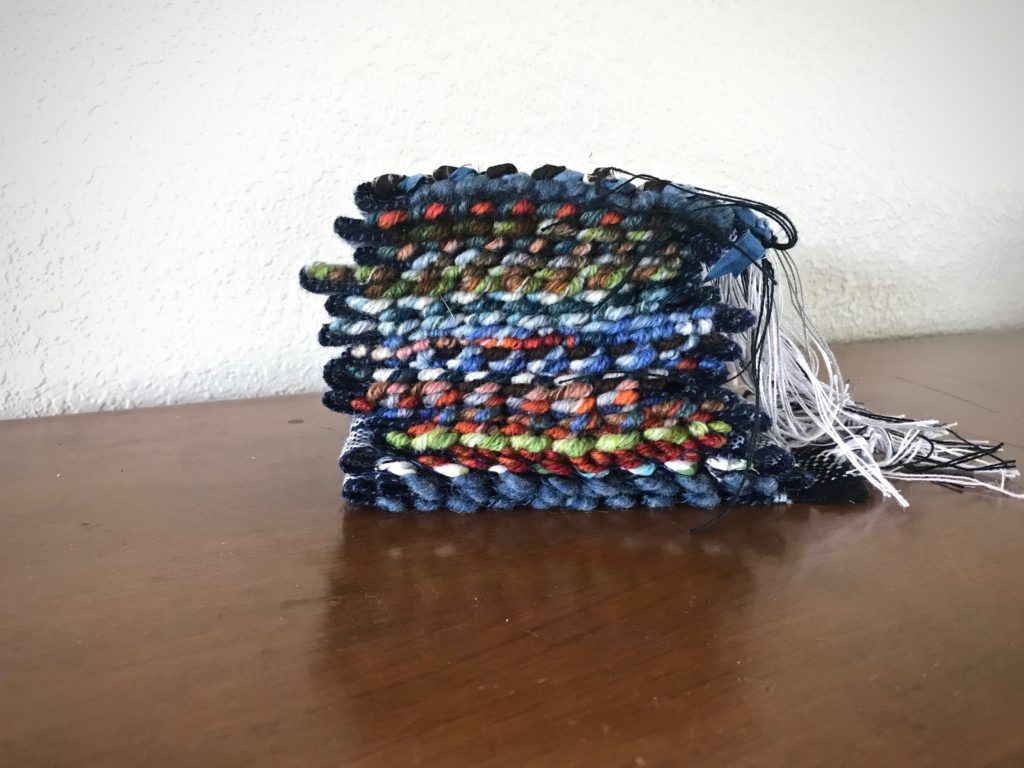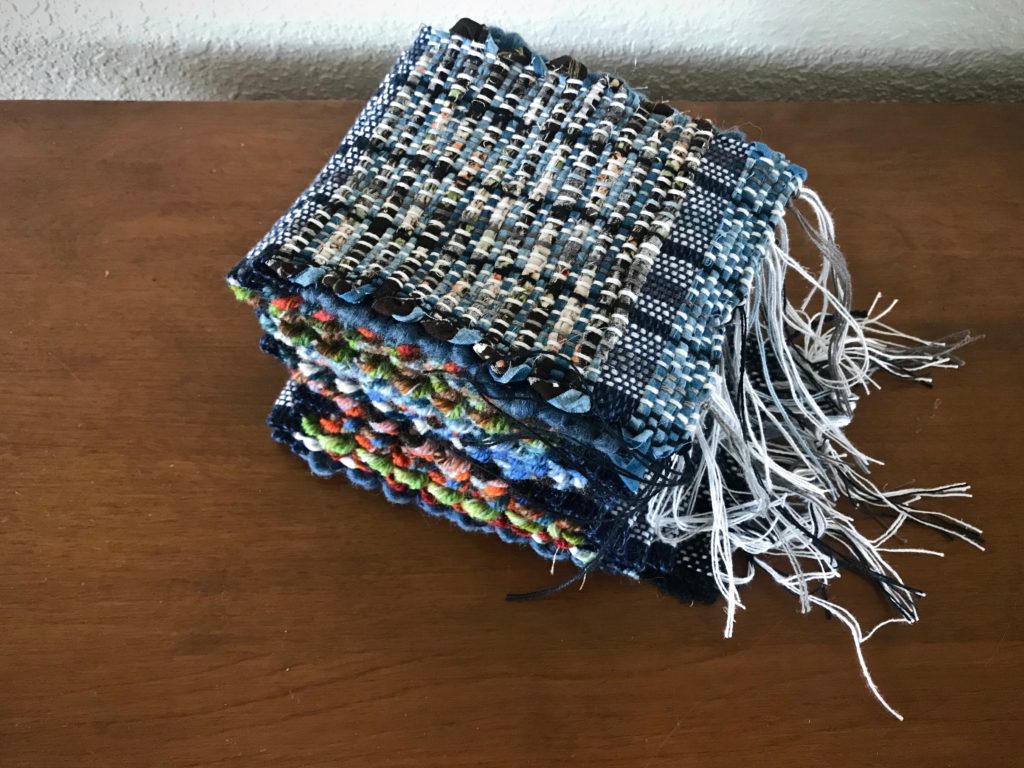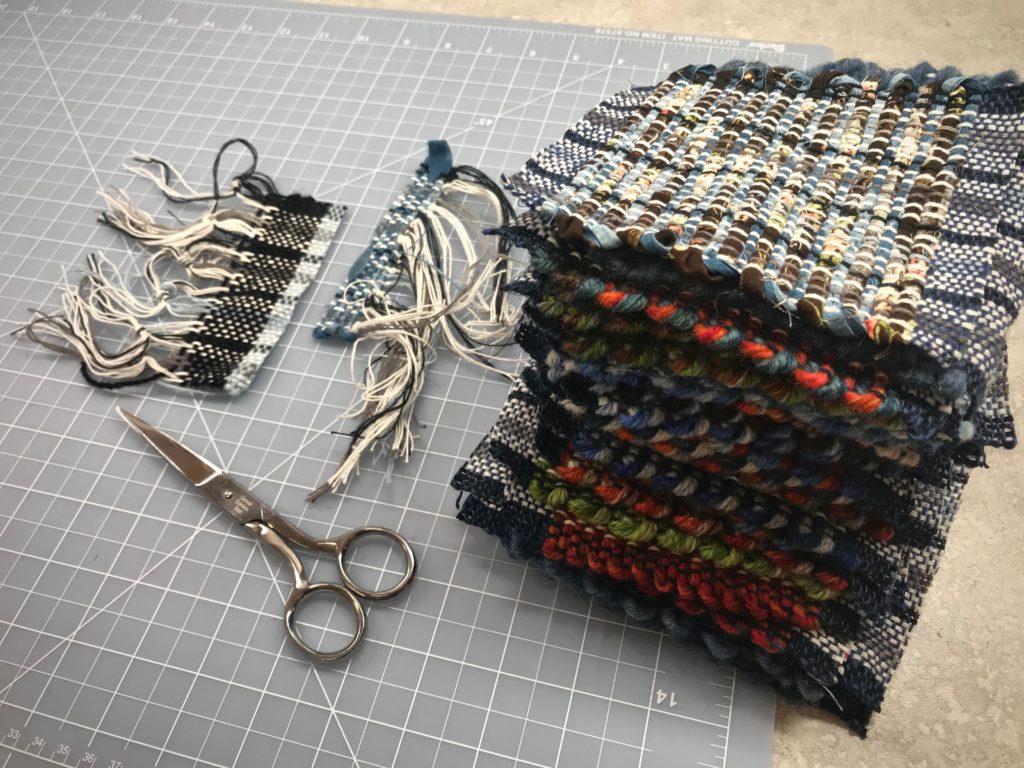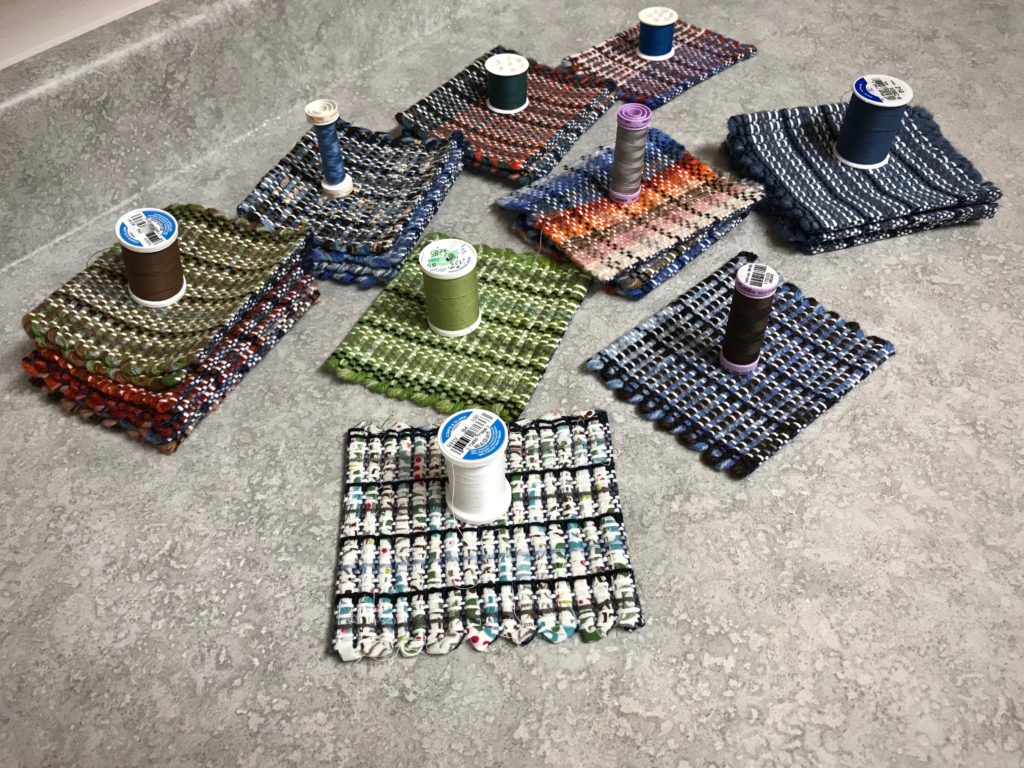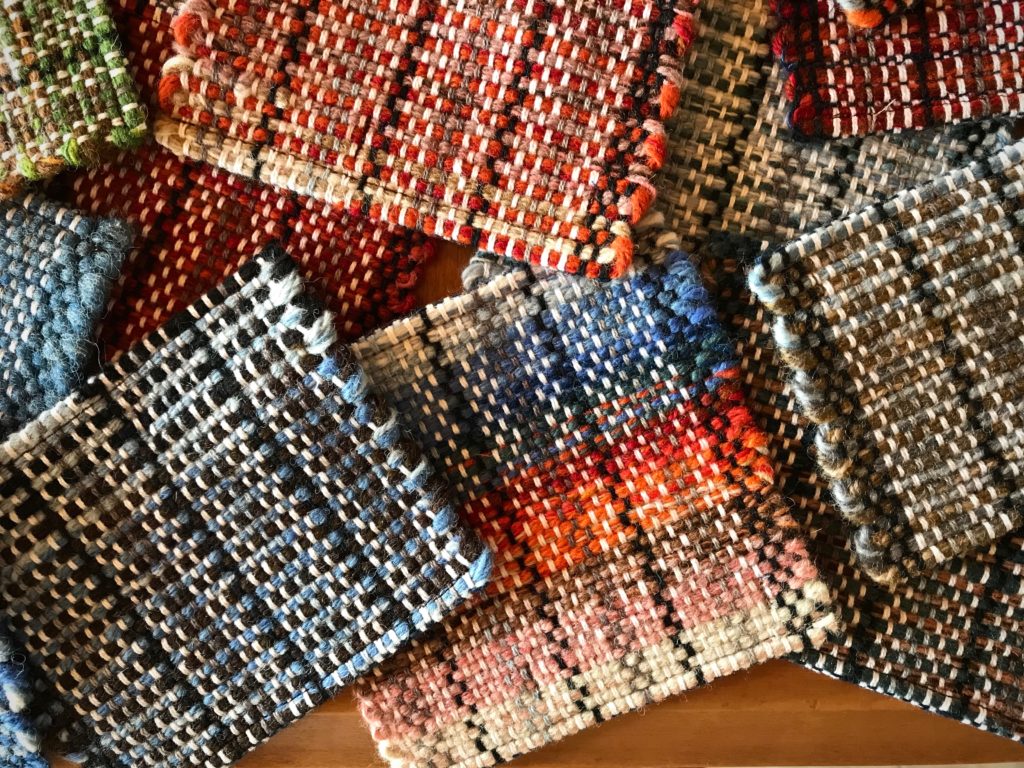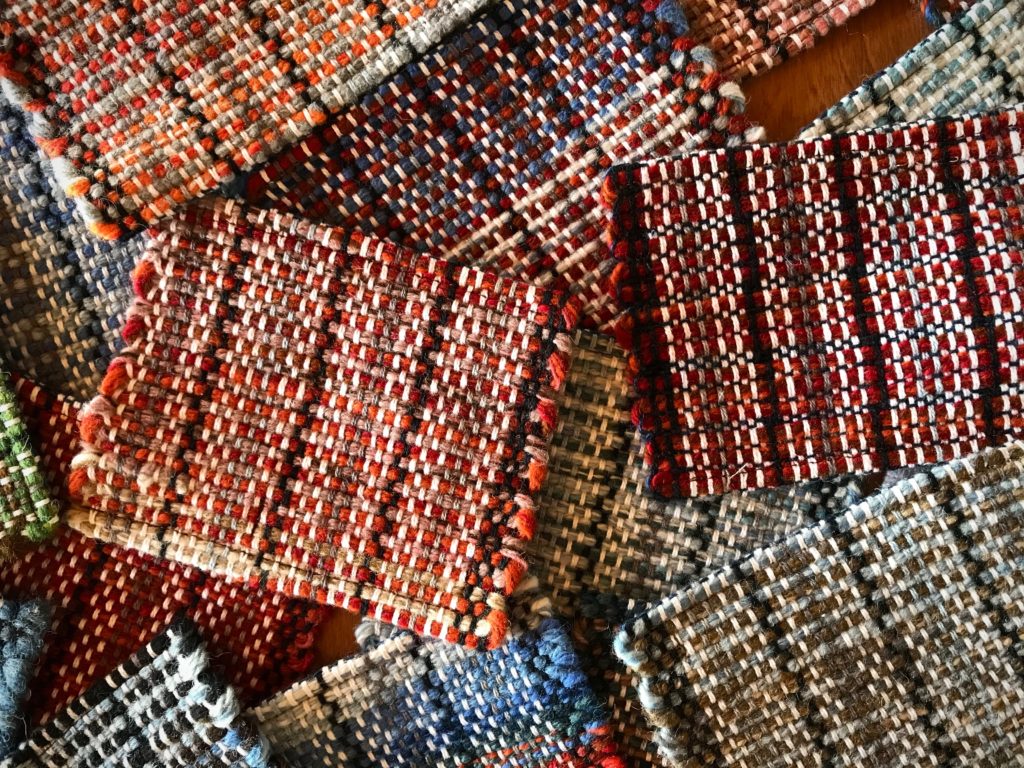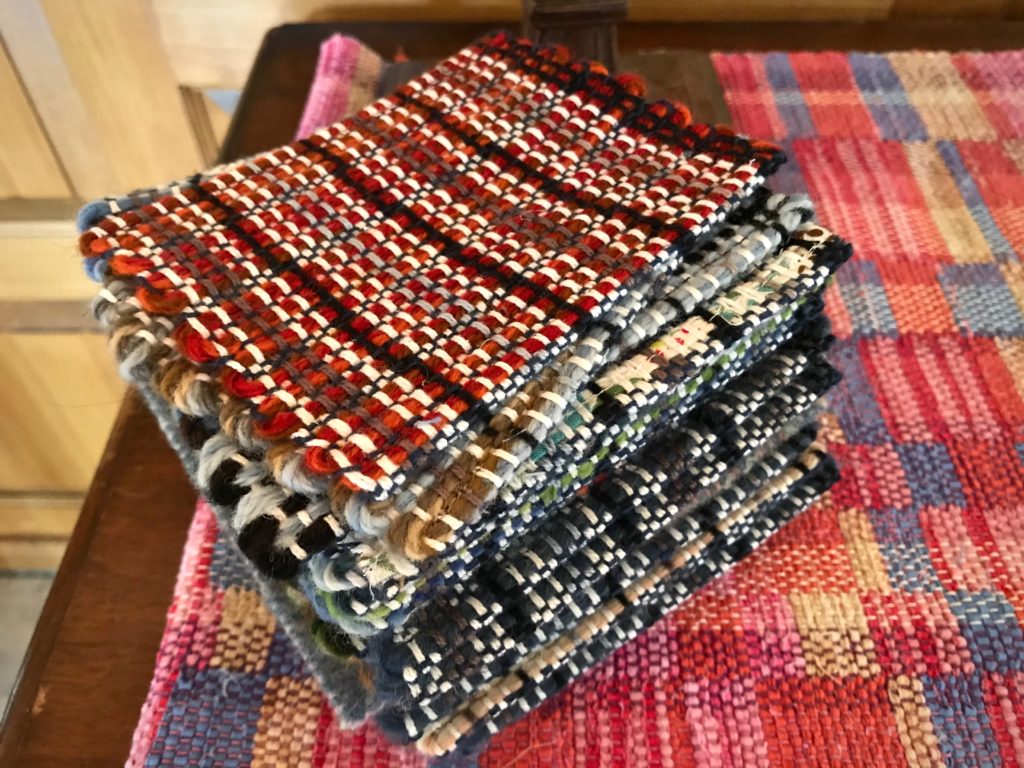 How do you want to be remembered? Like my tapestry-specific butterflies put away on a shelf, our carefully-crafted words will soon be forgotten. Actions speak longer than words. Our deeds of faithful love will outlive us. Our actions that reveal the kindness of our Savior will stand the test of time. And that is a good way to be remembered.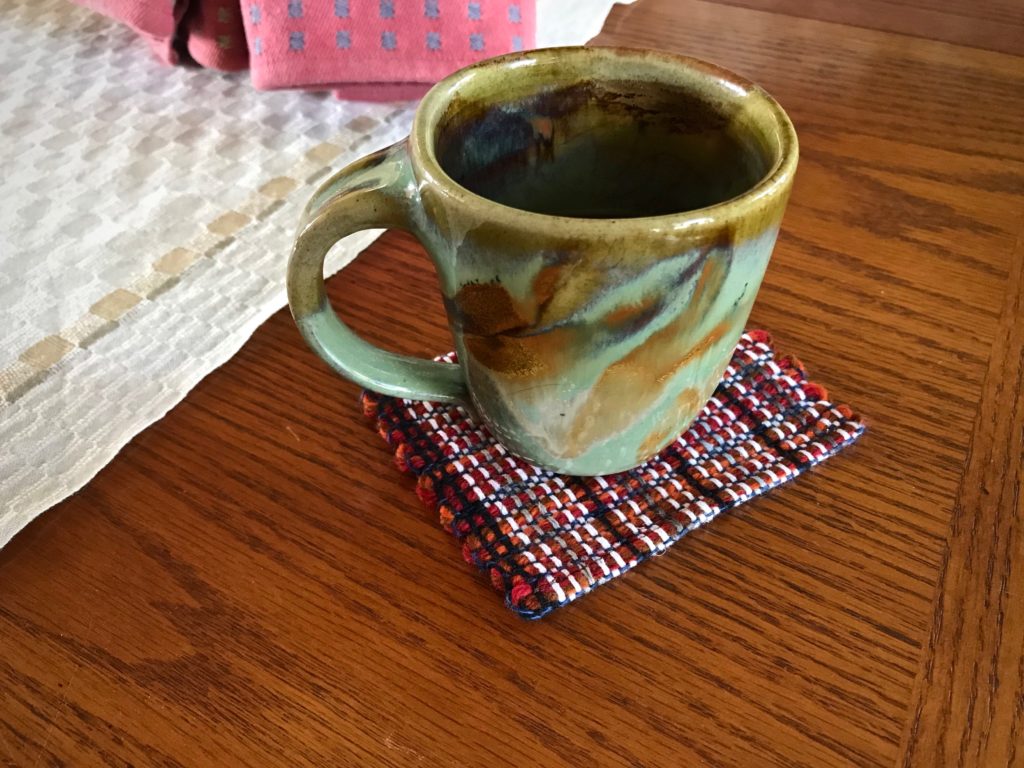 May you be remembered for your deeds of faithful love.
Happy Weaving,
Karen
---
It is exciting when Maverick walks by. Although he never comes in my drawloom studio, he does stop for a moment to look my way. You'll see him in the slideshow video below. But what happens inside the studio is even more exciting, especially when it's time for cutting off!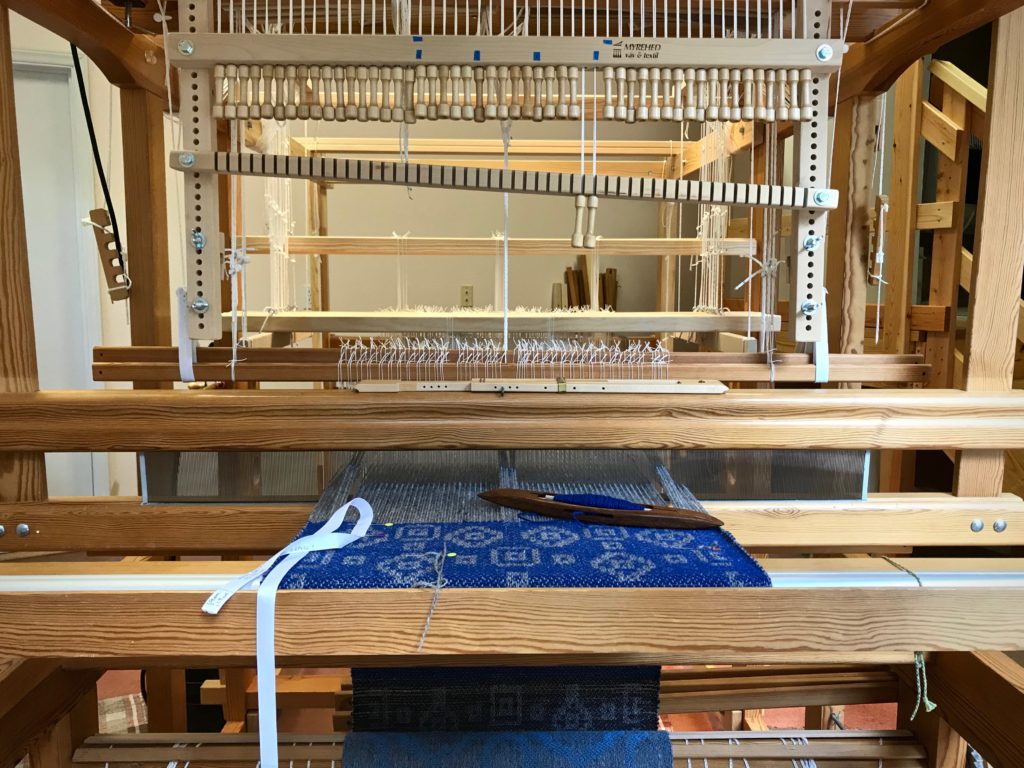 This is Tuna wool, so I expect some shrinkage, but how much? I take careful measurements before and after wet finishing. Besides the main piece of fabric that I'm using for a garment, I have two sample pieces. I can experiment with the samples before wet finishing my garment fabric.
Here are my findings:
Sample 1. Hand wash and air dry.
10% shrinkage in width; 13% shrinkage in length.
Sample 2. Machine wash (3 minutes agitation on a gentle cycle, with a short spin) and machine dry (low setting) till damp, finish with air drying.
13% shrinkage in width; 14% shrinkage in length.
~How to do the shrinkage calculations~
First measurement (on the loom) minus the second measurement (after washing and drying) equals the difference. The difference divided by the first measurement equals the percentage difference.
For example, 50 cm – 43.5 cm = 6.5; 6.5 / 50 = 0.13; 13% shrinkage.
The first sample fabric is softer than the unwashed fabric, but not as soft as I'd like. The second sample fabric is beautifully soft, like a nice warm sweater. So, with confidence, I wet finish the garment fabric—with great results. It's perfect for the fall/winter vest that I'll soon be wearing, made from this fabric!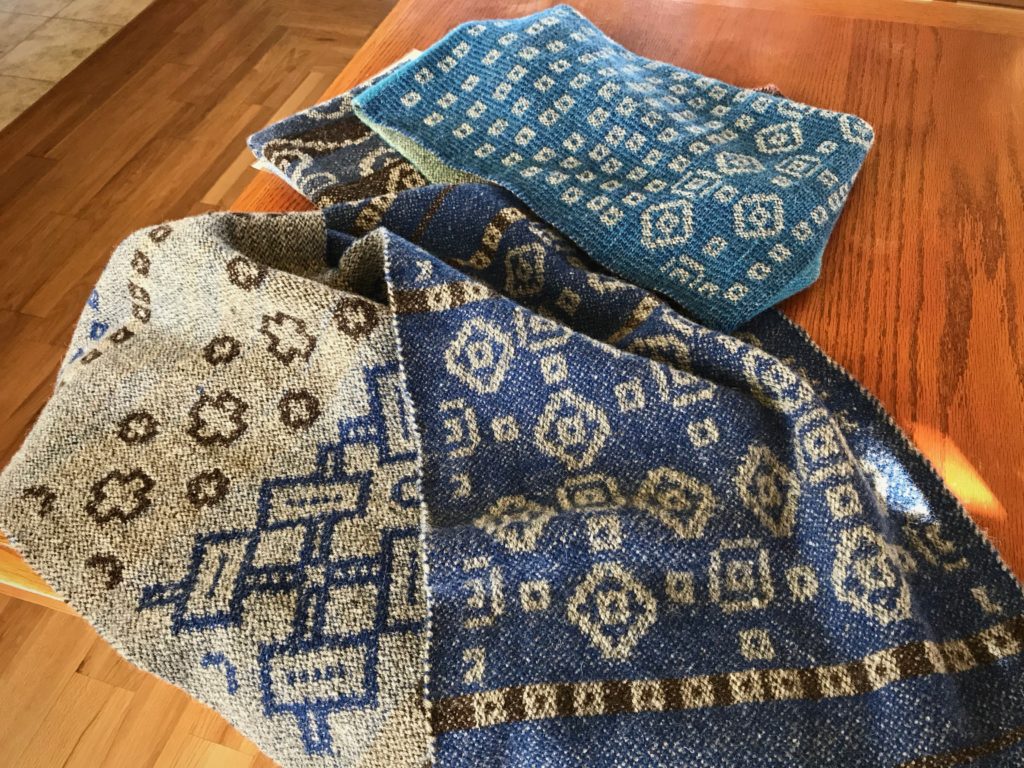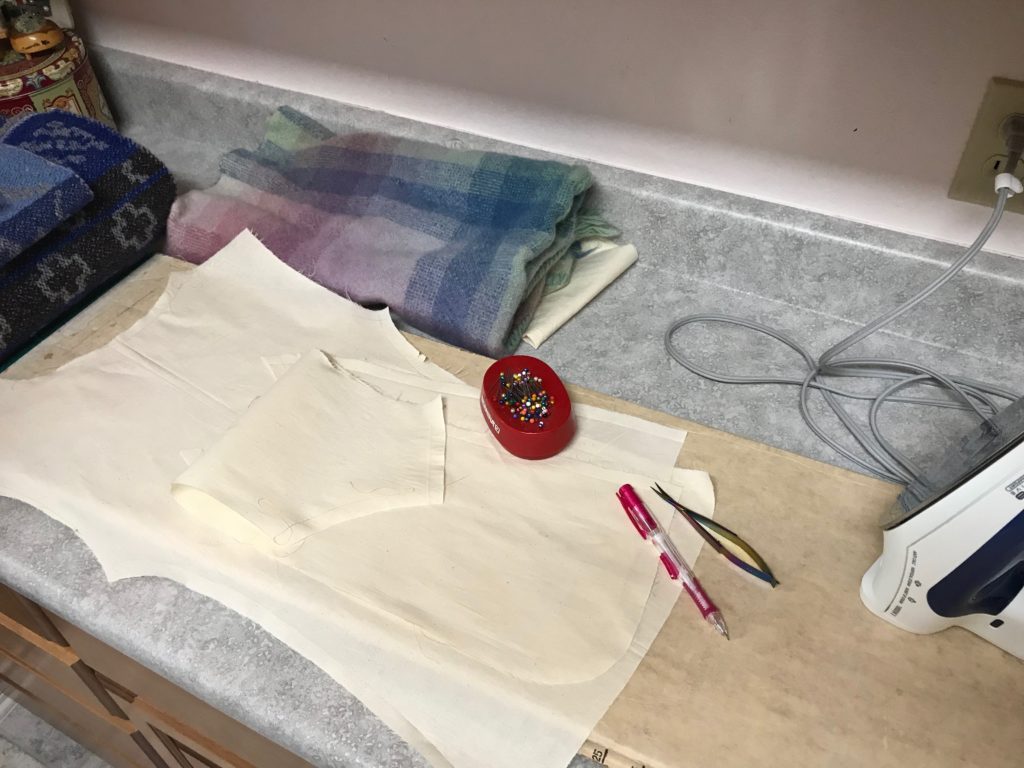 Enjoy this photo show of the drawloom process.
May you enjoy the process you're in.
Happy Weaving,
Karen
---
Is there such a thing as too many handbags, pocketbooks, tote bags, and purses? Of course not. Naturally, my favorite handbags are made from handwoven fabric. Linings made from remnants, handwoven bands used for shoulder straps, hidden zippers, and, of course pockets–these are the details that other people will seldom notice. Yet these are the details that make me smile every time I use one of these bags.
…You know that box of handwoven bits and pieces? Those weavings from the end of the warp, and the "scraps" from various projects? Hmm… looks like I might need to make another handbag or two.
Here is my collection of handwoven handbags, divided into a few categories. Plus, a short video just for the fun of it!
Travel Finds
Project Carriers
Special Use
Daily Use Favorites
May you carry your handiwork with you.
Happy weaving,
Karen
---