Everything starts with an idea. And some of those ideas become tangible expressions of dreams come true. Who knew that a simple idea in 2012 would lead to a seven-year exploration of weaving through The Big Book of Weaving? (See Weaving through The Big Book.) Who knew that weaving on a drawloom in 2016 at Homestead Fiber Crafts would plant the idea of weaving on a drawloom of my own? (see Quiet Friday: Day at the Drawloom.) And who knew that an idea in 2013 to write about my weaving journey, calling it Warped for Good, would bring friends like you to come and enjoy the journey with me? For these things and so much more, I am truly grateful.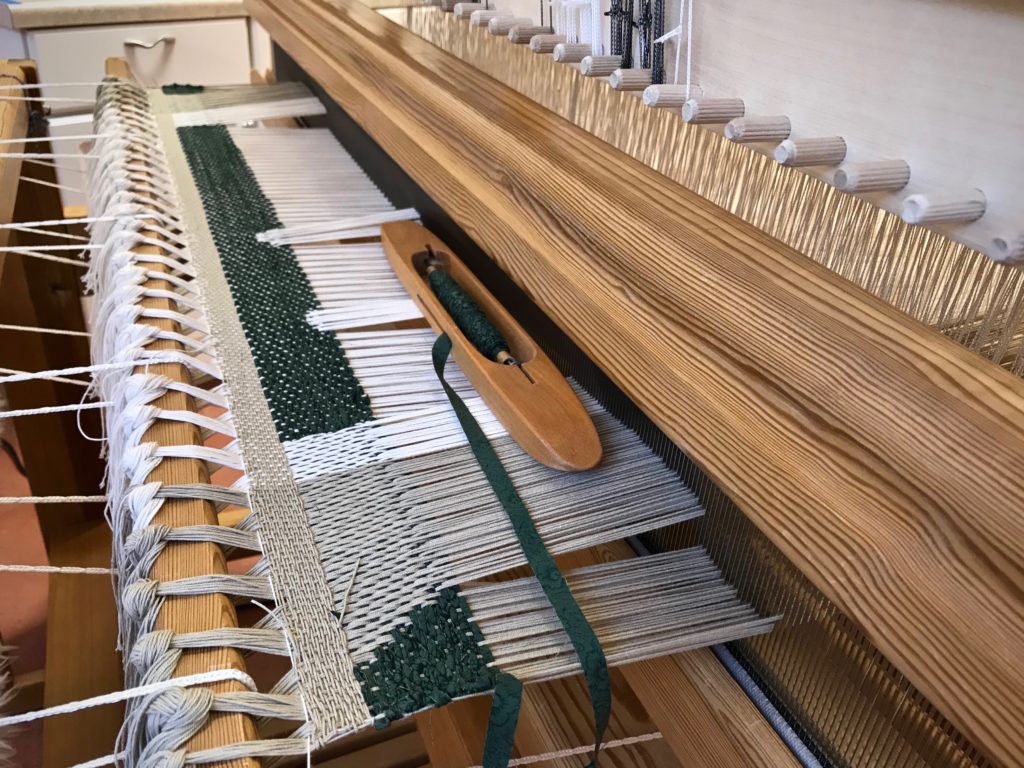 Your ideas are priceless. That's because you are priceless. You were made in God's image, with the ability to imagine wonderful intricacies through creative thinking. In fact, you began as God's idea. As we walk with him, we become the tangible expression of his dream come true.
Grab a cup of coffee or tea and sit here with me to reminisce over the past weaving year.
May this year bring your best ideas ever.
For you,
Karen
---
I love making bands! I started weaving bands in the 1980's on my inkle loom; and more recently, I have been weaving bands on my Glimåkra two-treadle band loom, like these bands. Now, I am also learning to weave bands with a small rigid heddle. (The pattern for this Sámi band is from this book – not an affiliate link.)  There are rudiments of weaving that form a basis for understanding and developing skills. In the arena of faith, convictions are the rudiments that form a basis for learning and growing.
Keep warp ends in order
Maintain even warp tension
Pay attention to selvedges
Stay consistent with weft density
Follow a written draft, or a pattern passed down, or one committed to memory
Understanding these and other basics will give you a good foundation for any type of weaving, large or small. If I keep these essentials in mind as I practice, I have every hope that I will end up with something worthwhile.
Convictions of the heart form the basis for learning how to live in a meaningful way. When these convictions arise out of faith in our master weaver, they are accompanied with unfailing, unwavering, and unending hope. And hope assures that the journey is worthwhile.
May hope be your lifelong companion.
Reviewing the basics,
Karen
---