Everything starts with an idea. And some of those ideas become tangible expressions of dreams come true. Who knew that a simple idea in 2012 would lead to a seven-year exploration of weaving through The Big Book of Weaving? (See Weaving through The Big Book.) Who knew that weaving on a drawloom in 2016 at Homestead Fiber Crafts would plant the idea of weaving on a drawloom of my own? (see Quiet Friday: Day at the Drawloom.) And who knew that an idea in 2013 to write about my weaving journey, calling it Warped for Good, would bring friends like you to come and enjoy the journey with me? For these things and so much more, I am truly grateful.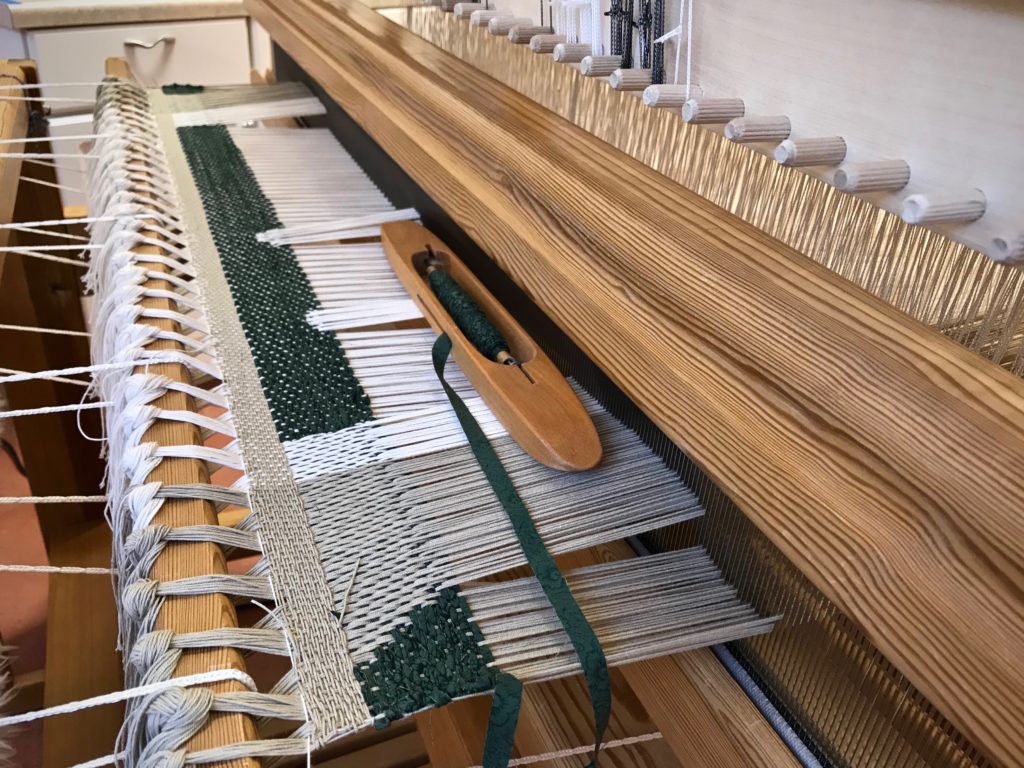 Your ideas are priceless. That's because you are priceless. You were made in God's image, with the ability to imagine wonderful intricacies through creative thinking. In fact, you began as God's idea. As we walk with him, we become the tangible expression of his dream come true.
Grab a cup of coffee or tea and sit here with me to reminisce over the past weaving year.
May this year bring your best ideas ever.
For you,
Karen
---
Transition. Changes. Adventure into the unknown. That describes 2018 for Steve and me. When I review my weaving history for the year, everything on the loom is attached to a memory. Like an old song that awakens our thoughts to past experiences, the Lizard tapestry certainly sparks in me revived memories of our transition season and the moving of looms. See Quiet Friday: Tapestry in Transition.
I began 2018 with a plan to weave coordinated fabrics for our Texas hill country home—towels, upholstery for bar stools, and placemats, explained in this post: Harmonized Weaving for the New Year. Accomplished! I also committed to weaving a gift for each of my three daughters (daughter and two son's wives), as described in this post: Weaving a Gift. Accomplished two out of three! The final gift is nearing halfway on the loom right now.
2019 is a continuation of transition, changes, and adventure, as we tiptoe into this retirement chapter. A drawloom is in the forecast, as well as some travel tapestry weaving, and more rag rugs, towels, scarves, and throws. And anything else we can think up. It's going to be a good year! Thank you for coming along. I'm grateful to have you as a friend.
May you have much to look forward to.
Blessings to you,
Karen
---
I have a grand idea for this new year! Put all three looms to work simultaneously to weave a coordinated set of textiles for the Texas hill country house. My Glimåkra Ideal loom and the little hand-built loom are bare and ready. Imagine the action! I'll take you along as I wind warps, dress looms, and weave the harmonized threads. While I wait for ordered yarn, I am weaving the linen satin dräll towels that remain on the Glimåkra Standard loom. Soon, this loom will be bare and ready, too.
Before embarking on a new year of weaving adventures, though, I want to fully stop and count my blessings. And YOU are one of those amazing blessings. Thank you from my heart for being friends who share in this journey with me.
Take a look back with me through 2017!

Grateful for you,
Karen
---