Pulling the draw handles for each four-thread unit of weaving is like doing counted cross stitch on the loom. I enjoyed cross stitch in the 1980's and I am enjoying this drawloom version now. Very much. I started this Heart-Shaped Baskets table runner on Valentine's Day—a fun way to celebrate the day!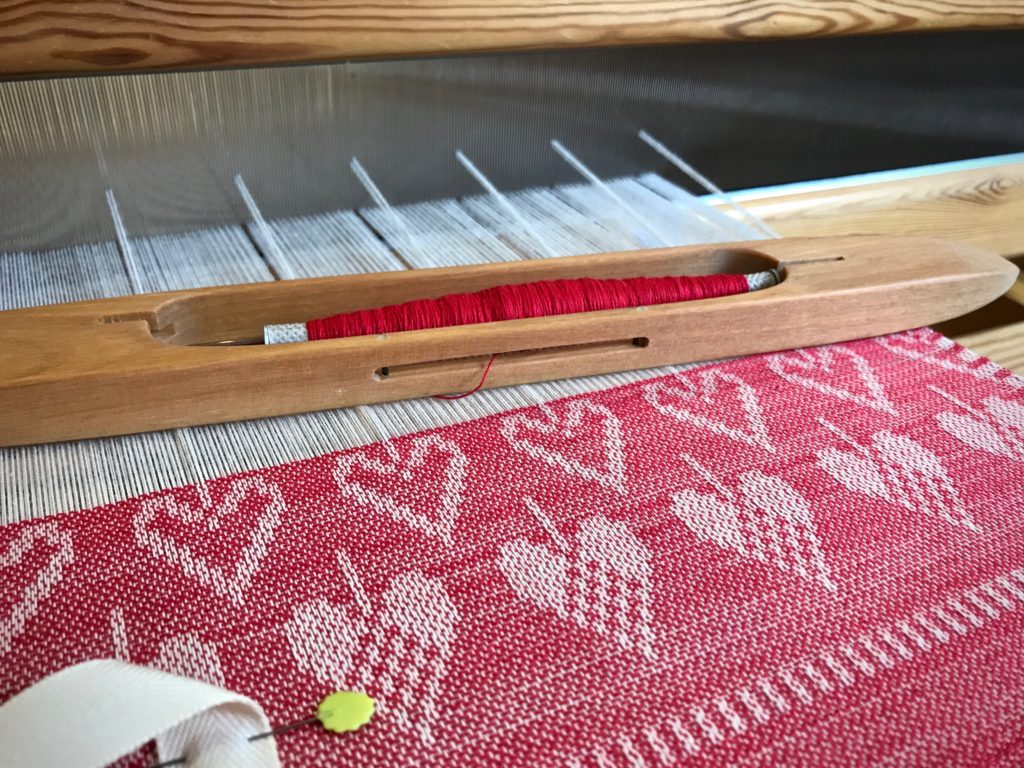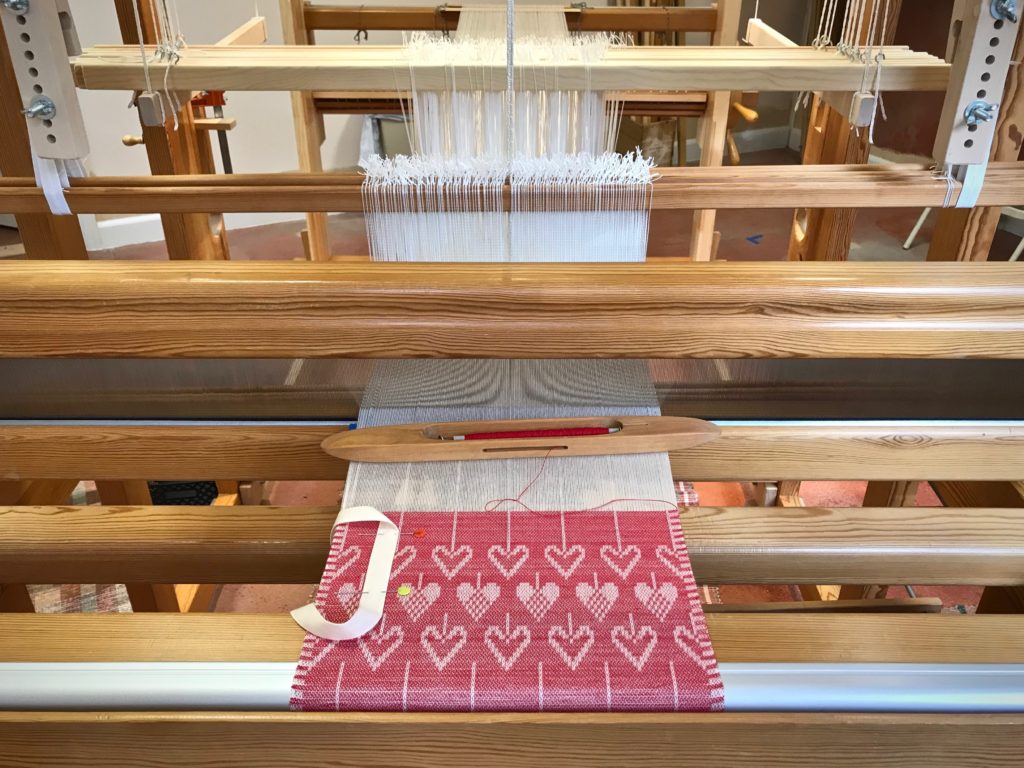 Like weaving on any floor loom, I want to have consistency in my beat and in my selvedges. Inconsistencies in these basics can detract from the drawloom imagery of the final cloth. The main thing is to keep paying attention. And keep joyfully pulling those draw handles to create more hearts of love.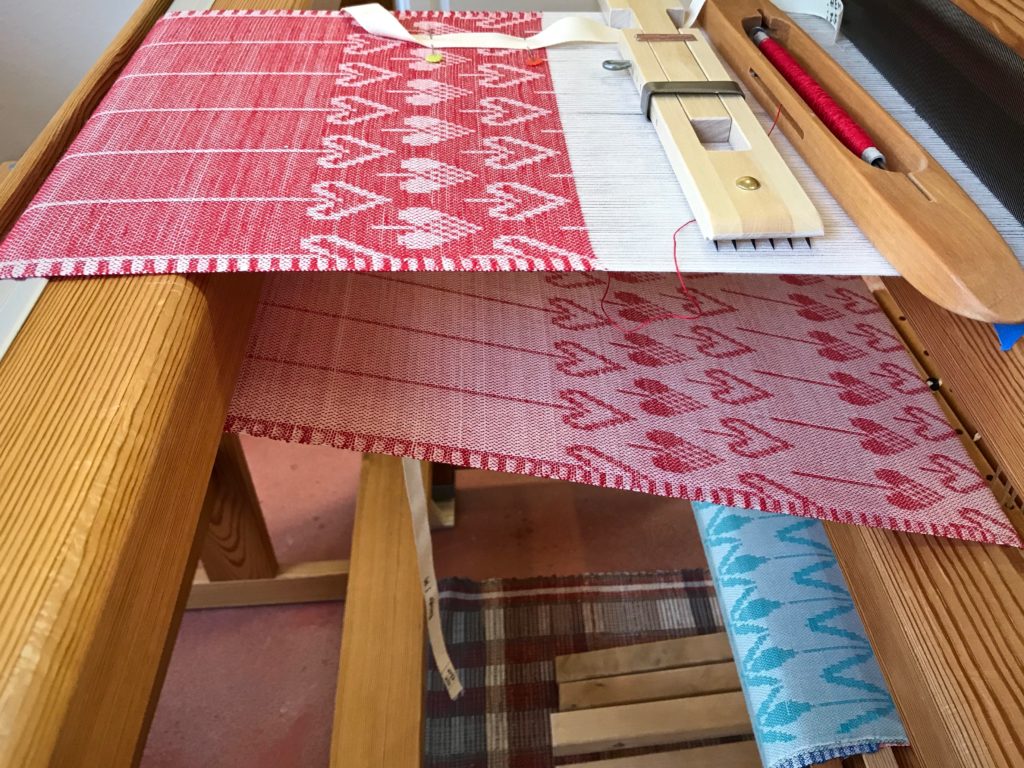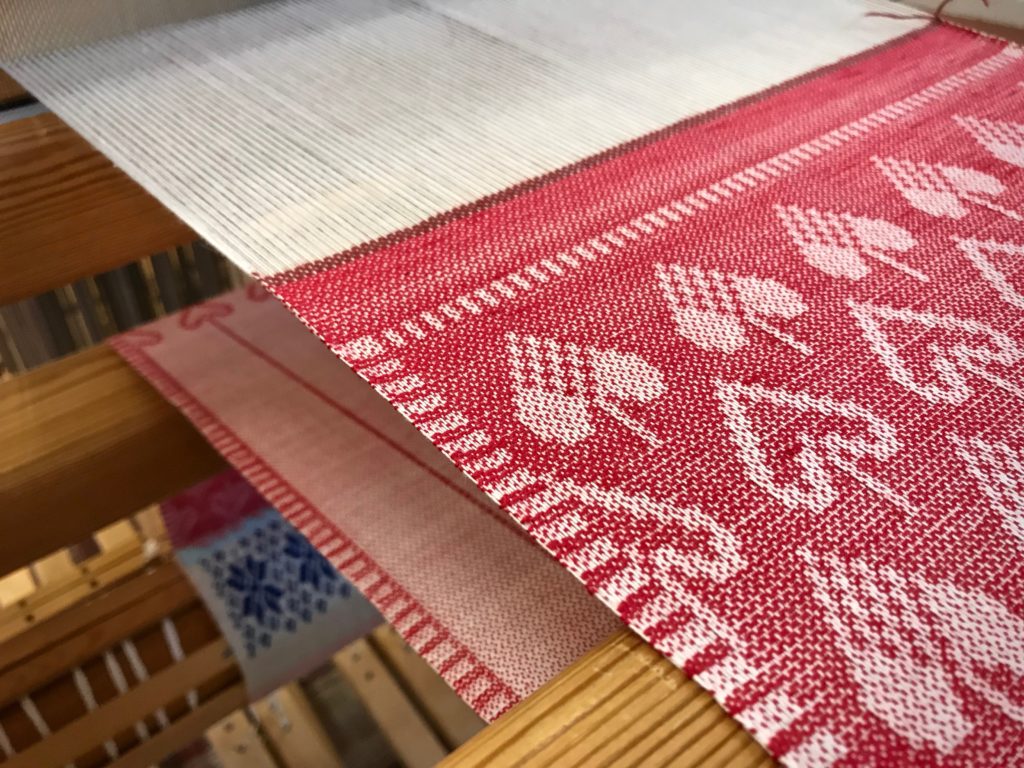 Grace is a gift of favor, not an earned reward. Forgiveness is the giving of grace. And gratitude results from receiving grace. Grace makes us graceful. Giving and receiving grace with consistency is what we'd like to see in ourselves. That's when the love of God, in whose image we've been made, is most clearly seen in us. So we practice what we know to do. And pay attention. And keep joyfully weaving a heart of love, by God's grace.
May you be grace – full.
Gratefully yours,
Karen
---
Kuvikas and taqueté. There are always new things to try. I'm back to eight shafts. This Glimåkra loom is highly adaptable. It is no problem to set up the loom for a new project. You may have guessed that I like to switch it up. Four shafts or eight shafts, two treadles or ten. And, change the tie-up, too. I don't mind. With this project, I am going to change the treadle tie-up again at the midway point, switching from kuvikas to taqueté.
If you know and practice the basics, it's not frightening to try new weave structures. Every new experience builds on what I've learned before. I can trust the system of weaving that I've been taught, and that I practice with every project. It makes sense.
Don't be afraid. The Lord not only teaches us his ways–his system, but offers us his strength while we learn. I can trust him for that. Trust replaces fear. I don't have to find my own way, or guess. The system works. It makes sense. I learn to weave, and live, one step at a time, with freedom to enjoy the process.
May you rise above your fears.
All the best,
Karen
---
I love making bands! I started weaving bands in the 1980's on my inkle loom; and more recently, I have been weaving bands on my Glimåkra two-treadle band loom, like these bands. Now, I am also learning to weave bands with a small rigid heddle. (The pattern for this Sámi band is from this book – not an affiliate link.)  There are rudiments of weaving that form a basis for understanding and developing skills. In the arena of faith, convictions are the rudiments that form a basis for learning and growing.
Keep warp ends in order
Maintain even warp tension
Pay attention to selvedges
Stay consistent with weft density
Follow a written draft, or a pattern passed down, or one committed to memory
Understanding these and other basics will give you a good foundation for any type of weaving, large or small. If I keep these essentials in mind as I practice, I have every hope that I will end up with something worthwhile.
Convictions of the heart form the basis for learning how to live in a meaningful way. When these convictions arise out of faith in our master weaver, they are accompanied with unfailing, unwavering, and unending hope. And hope assures that the journey is worthwhile.
May hope be your lifelong companion.
Reviewing the basics,
Karen
---