My weaving history includes very fine threads all the way to heavy-duty rug warps. As a result, I have acquired a wide selection of reeds over time. All five of my looms have beaters that will accommodate any length or height of reed. When I plan a project, one of the first things I consider is whether I have the size reed that is needed. To keep my reeds organized, I need two things. One, a simple method to manage the reeds I have, tracking the reeds as they go in and out of use. Two, a place to store all the reeds, arranged in order by dents per cm and dents per inch.
Reed Organization
I keep a list in my Notes app on my phone with the sizes and lengths of reeds that I have. If a reed is in use, I note which loom. If a reed will be needed for a planned project, I also note that. As soon as I remove a reed from the beater at the end of a project, I put the reed away and update my Reed Inventory list.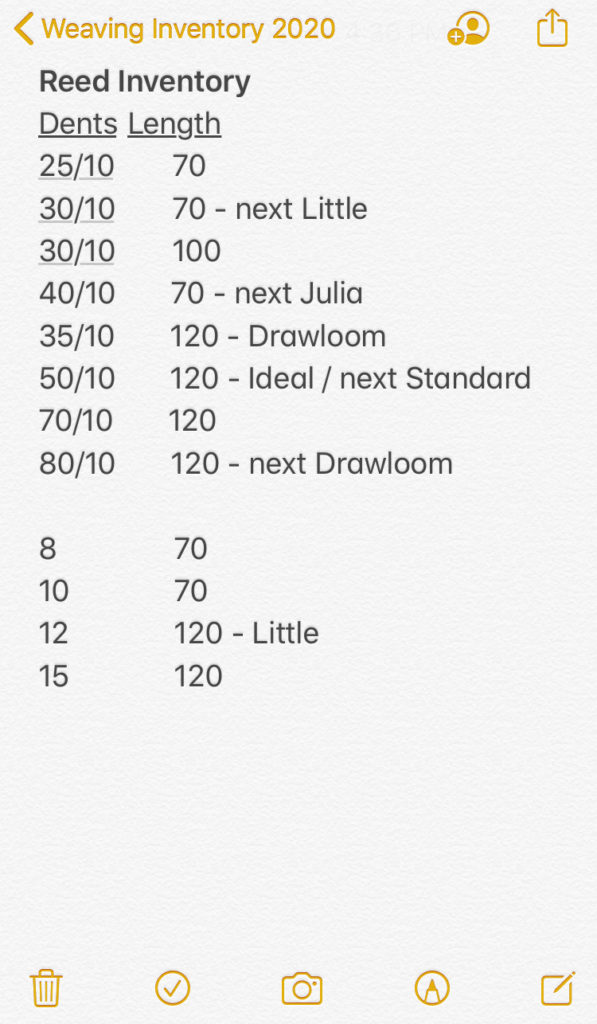 Steve created a storage solution for my reeds. The holder goes along the back wall of my drawloom studio for about six feet. Here are the details, using nominal board sizes. The reeds sit on a 1" x 6" board at the base, which is supported against the wall by a 1" x 4" board. The base, with a 1" x 2" lip, sits about 12" off the ground. The reed dividers are 3/8" x 5 3/4" dowels that are sunk into a 1" x 3" board that is attached to the wall, which sets the dowels about 27" above the base.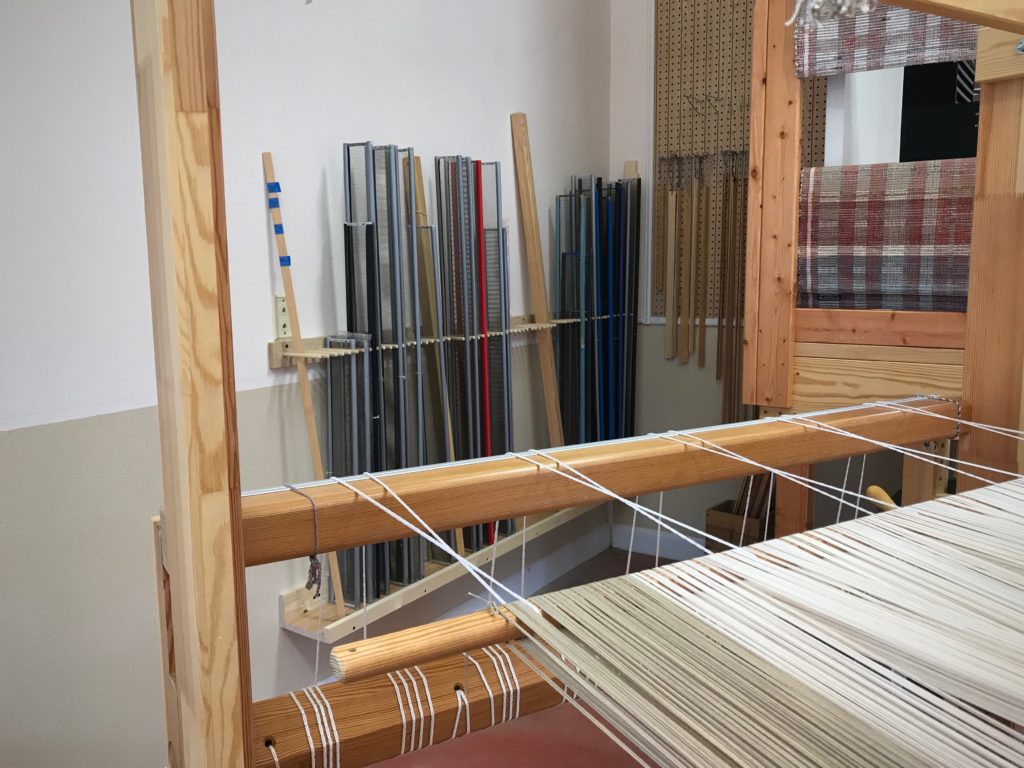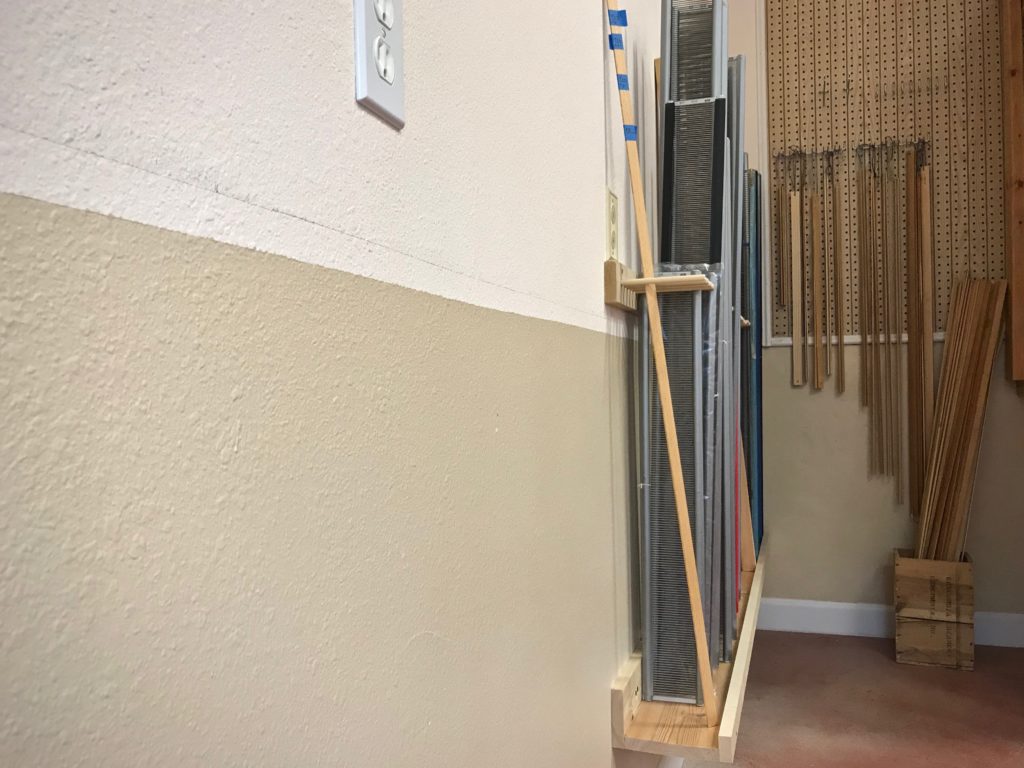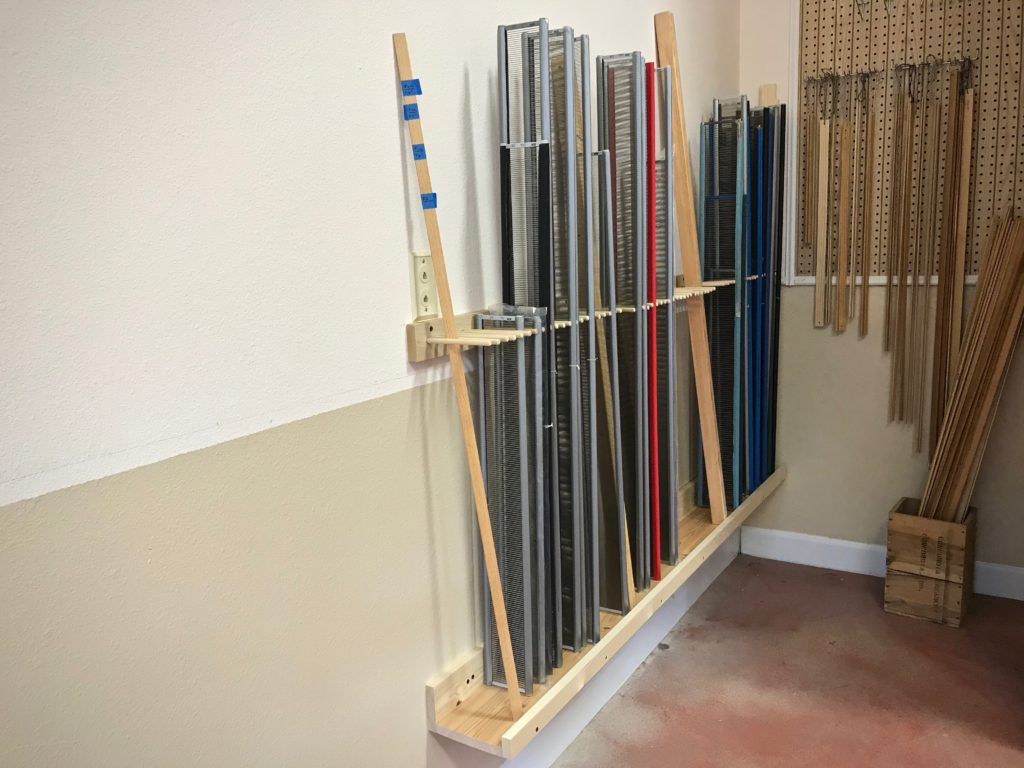 If you would like a PDF copy of Steve's diagram that shows all the dimensions, click HERE to send me an email request.
May you have a place for everything, and everything in it's place.
Yours,
Karen
---
Our transition to Texas hill country is finalized this week! The looms and I will be residing in the same house again. Let the weaving resume! One loom is dressed and waiting for me. Tied on above, and tied up below. Ready to weave!
The warp is tied on to the front tie-on bar in 1-inch bundles, with 1/2-inch bundles at the selvedges. And then, I add the leveling string which makes it look neat and tidy and READY.
The upper and lower lamms are positioned, and the treadle cords are added and secured. It's fascinating how simple and basic the whole system is. And how something this simple and basic can be the framework for boundless creative expression.
If we think of prayer as something that gets us out of a crisis, or words to say in order to get what we want from God, we miss the whole point of prayer. And we face disappointment. Prayer always works. The work is not our clever words, nor the checking off of our wish list. Prayer is the framework of deep trust that stands ready for the Lord's boundless creative expression. We pray because we trust him. Christmas—the birth of Christ—shows us that God always steps in at the right time.
May your framework be sure.
Advent greetings,
Karen
---
Kuvikas and taqueté. There are always new things to try. I'm back to eight shafts. This Glimåkra loom is highly adaptable. It is no problem to set up the loom for a new project. You may have guessed that I like to switch it up. Four shafts or eight shafts, two treadles or ten. And, change the tie-up, too. I don't mind. With this project, I am going to change the treadle tie-up again at the midway point, switching from kuvikas to taqueté.
If you know and practice the basics, it's not frightening to try new weave structures. Every new experience builds on what I've learned before. I can trust the system of weaving that I've been taught, and that I practice with every project. It makes sense.
Don't be afraid. The Lord not only teaches us his ways–his system, but offers us his strength while we learn. I can trust him for that. Trust replaces fear. I don't have to find my own way, or guess. The system works. It makes sense. I learn to weave, and live, one step at a time, with freedom to enjoy the process.
May you rise above your fears.
All the best,
Karen
---