The reel spins 'round, 'round, 'round one way, and then 'round, 'round, 'round back the other way. Rhythmic, mesmerizing, and strangely soothing. Counting, as I wind two ends at a time, I find myself whispering "2, 4, 6, 8, 10, 12, …." The warping reel is one of my favorite pieces of equipment. This warp has seven colors of 22/2 Cottolin for bath towels which are to accompany the hand towels I recently made. I am winding this in four bouts, and there are different color changes in each bout.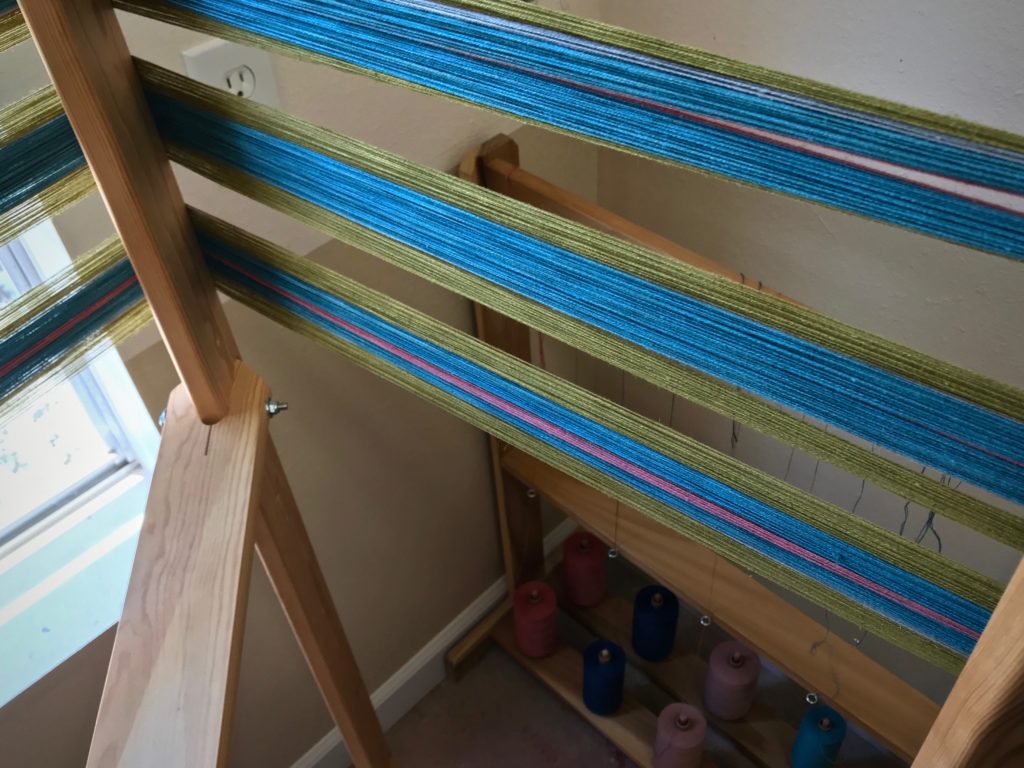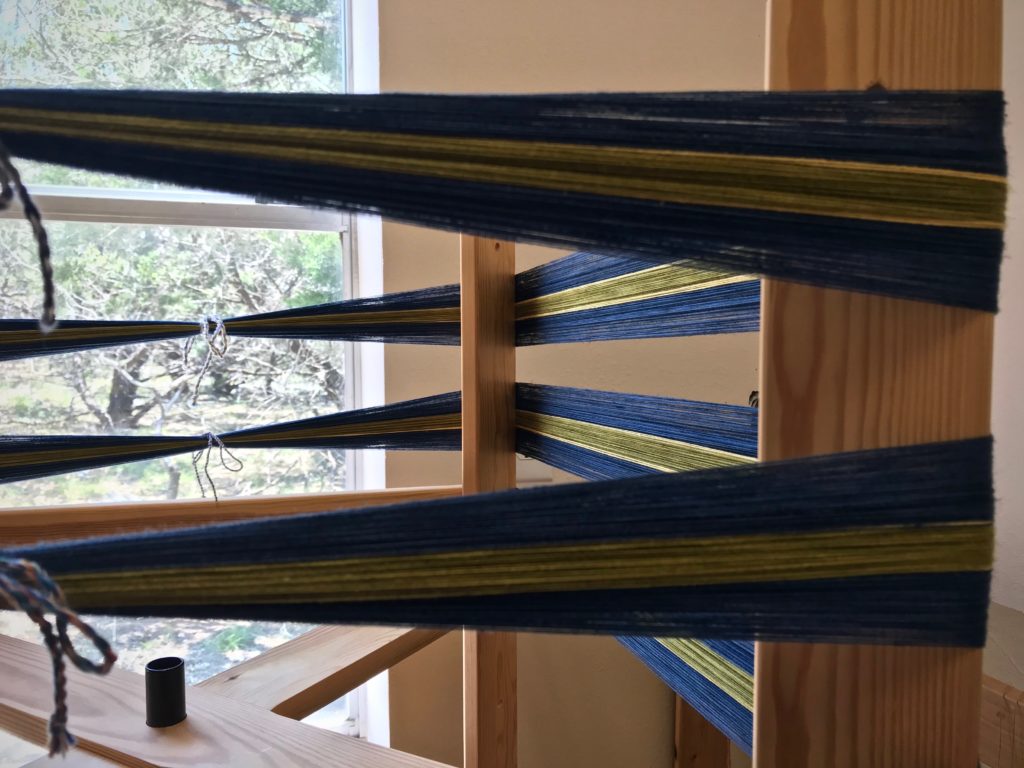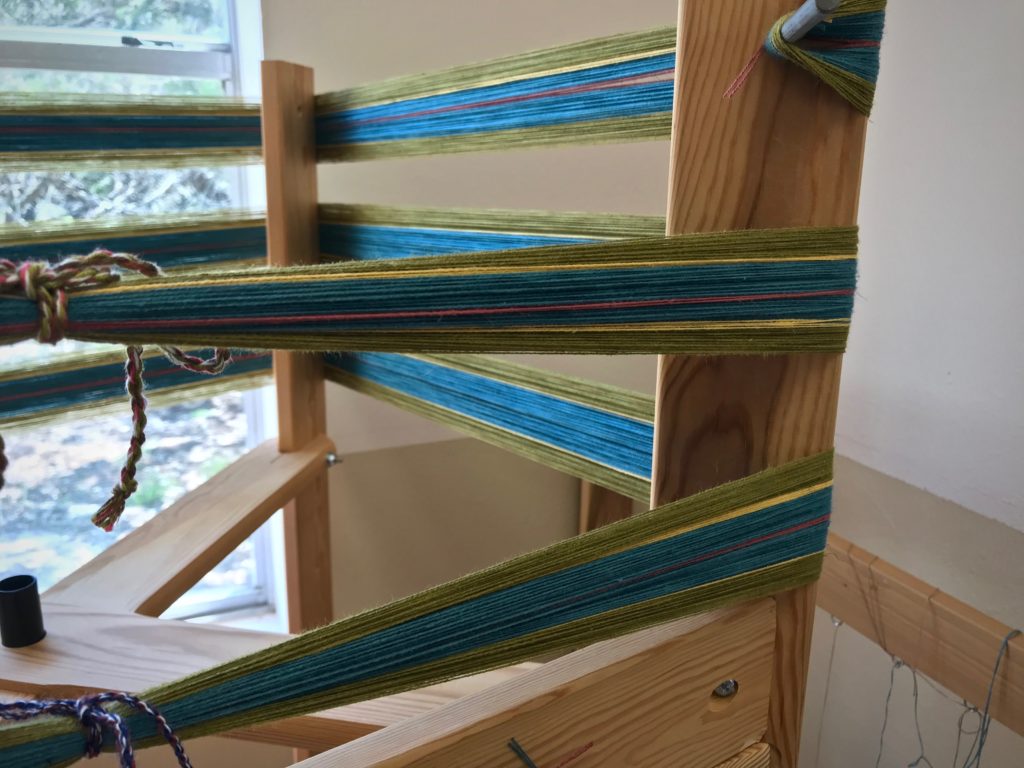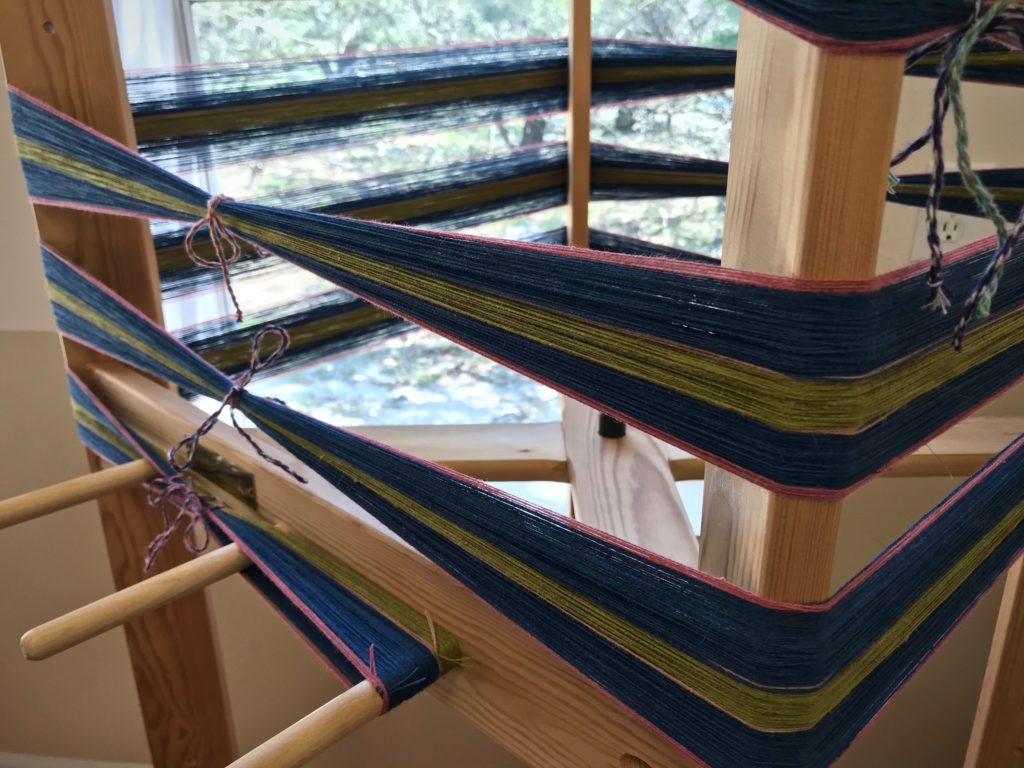 I marvel at the combination of thread colors as I chain each bout off the reel. The warp chains look beautiful. They always do. Warp chains are dreams in the making, where anything is possible. Haven't you dreamt of handwoven bath towels?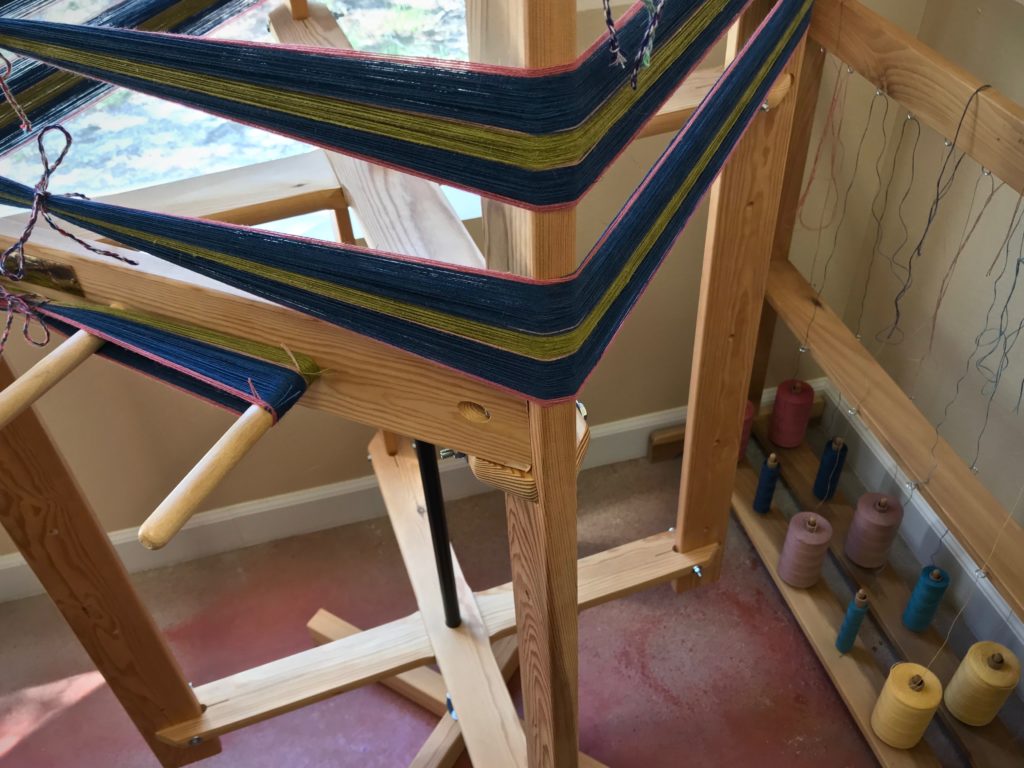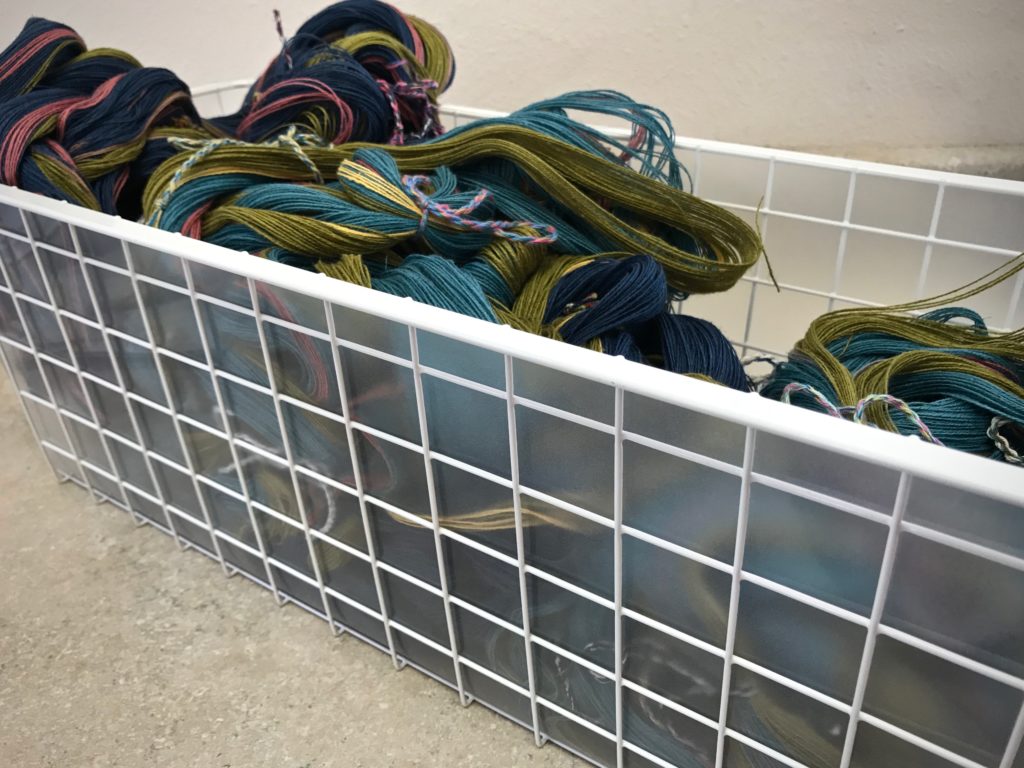 When we listen closely, we can hear the inaudible. Our hearts can hear the softest whisper. "2, 4, 6, 8, 10, 12, …" Even the hairs on our head are numbered by the Grand Weaver who planned our existence. Our days are numbered, as well. And when our heart is listening, we can hear the quiet whisper of the Lord Jesus, "Are you weary and burdened? Come to me, and I will give you rest."
May you listen for the softest whisper.
Gently,
Karen
---
Here's a secret: Two threads are better than one. To measure a warp, I always, without exception, wind the warp with two or more threads together. A warp that is wound with a single thread is prone to tangle as threads twist around each other. A warp wound with pairs of threads won't do that.
I am particular about this warp. It's linen, so consistency matters. Tangles would disrupt the even tension the linen needs. I have dräll in five-shaft satin in mind as I take each careful step to dress the loom. I expanded the loom to ten shafts to be able to weave this! Expect happy weaving, to be sure, but imagine how pleasant it will be to hold this dreamed-of cloth in my hand. That future cloth gives meaning to my present efforts at the loom.
There must be meaning beyond this life for us to find meaning in this life. The end of the weaving is the beginning of the life of the cloth. There is purposeful preparation by the Grand Weaver, with a precisely measured warp. The back-and-forth shuttle is like the ticking of a clock, or the passing of years. The end is the beginning. Can you imagine the splendid setting the Grand Weaver has in mind for his hand-woven cloth?
May you keep the end in mind.
Yours,
Karen
---
The black and white towels I made last year were a big hit, and I wanted a repeat of that. So, when I started planning this unbleached cotton towel warp several weeks ago, I fully intended to make the border stripes black. It would be a stunning effect. I even ordered the black thread. But this week when I put my tubes of cotton thread on the table, I ended up saying no to the black. Even though that's what I was sure I wanted. As a result, I don't have the striking black accent; but I do have the soothing charm of beige and brass. (Thank you for your wonderful input on the color combinations in Pretty Fine Threads! I loved hearing your thoughts.)
I want to have what I want. I want to do what I've planned. I don't like to tell myself no. But that's exactly what Christ asks of those who want to follow Him. Say no to yourself. He's not offering the easy way out. But when I let go of what I want, I come to find the gift of grace that has been prepared for me. And that's when I realize that my loss was actually my gain.
May you know when to say no.
All the best,
Karen
---