This is a huge project. Four shades of blue from dark to light span the nearly one-and-a-half-meter-long rug. I have reached the final color-transition section. I am eagerly awaiting the day this rug will be rolled out!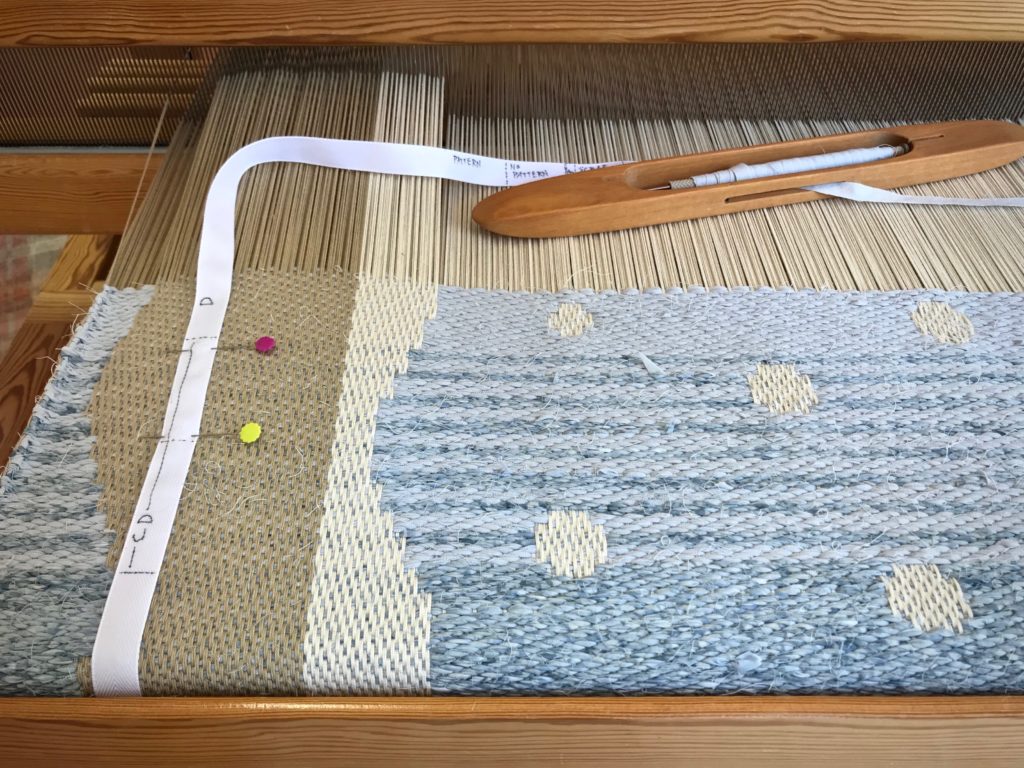 My measuring ribbon shows me where to make the color changes. I alternate two weft colors (C and D) through the transition area to blend the hues. All the while, I stop after every half-unit of four picks to manage the draw cords. A graphed chart tells me exactly which of the 164 draw cords to pull or release. In this way the graphic designs are woven into the rug, row by row. I weave in quiet, allowing me to put full attention on each move.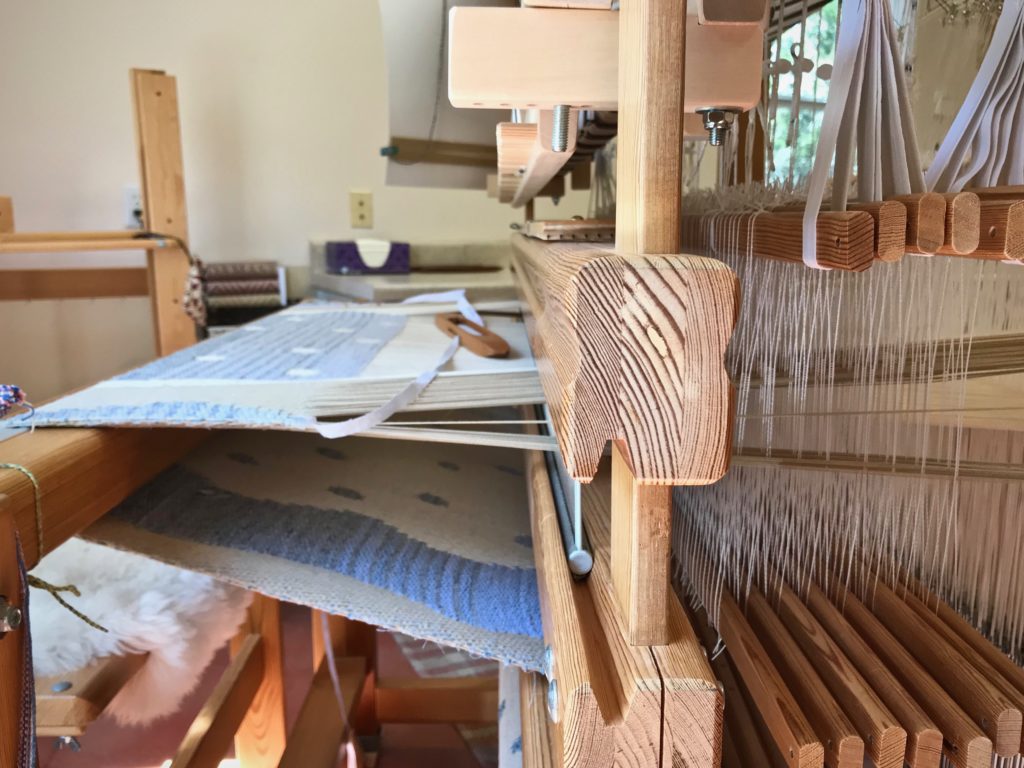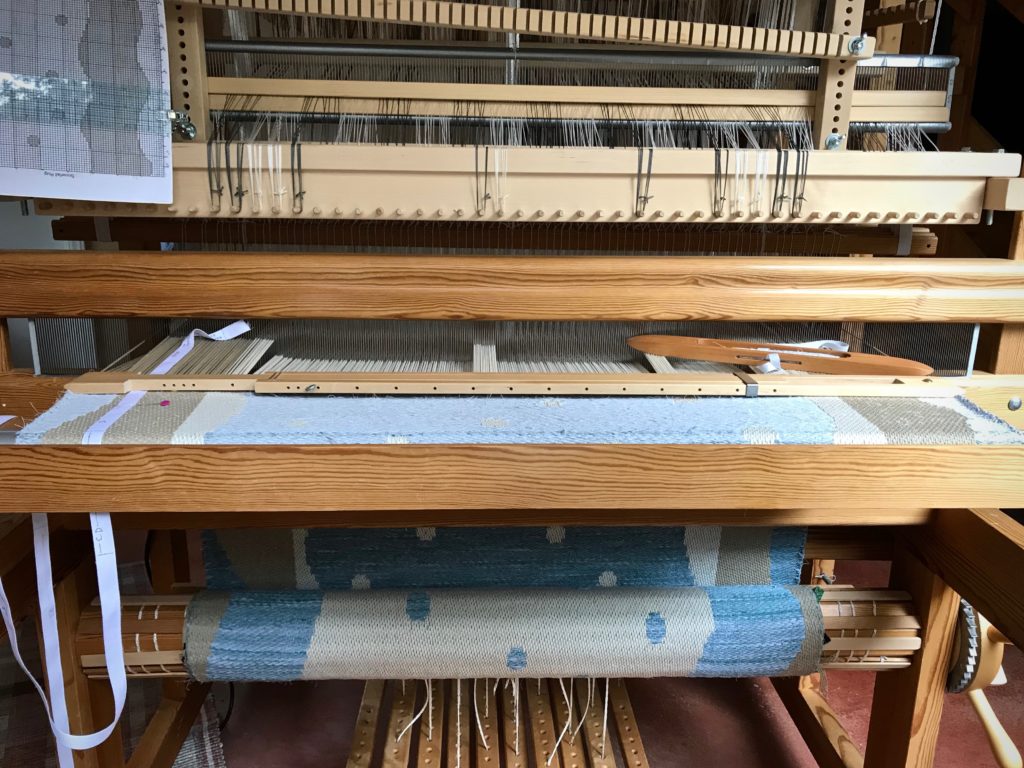 We need hope in these unsettling times. Jesus invites us to admit our fears and failures, and put our trust in him, and follow him. And this is the message Jesus gives his followers: I am always with you. The Lord gives strength and courage. As our Grand Weaver, he has his full attention on us. So be strong and take courage.
May you have hope that lasts.
Love,
Karen
---
It was six weeks ago that I began winding the warp for these towels. The thread for my next Glimåkra Standard project is due to arrive tomorrow. Just like I like it—revolving door weaving. I have no doubt that this set of towels will become family favorites. They are a feast for the eyes, and a tactile delight for the hands. Seeing the color on the reverse side takes my breath away. This whole experience has been the weaving satisfaction that I've come to cherish!
I did face difficulties near the end of the warp. The shed started deteriorating with some of the shafts, but I was determined to finish off the last towel to its full length. That meant coaxing the low profile shuttle through for a few inches. Consequently, I did have more errant floats to repair than usual. But, isn't it wonderful that we can fix just about anything in this weaving adventure?
I made a warp from thread on leftover quills to weave up some hanging tabs on my band loom for three of the towels. And I found a linen piece in my "band stash" that is perfect for the red and white towel.
Enjoy the slideshow that I made for you with details of the process.
May you weave some family favorites.
Happy Weaving,
Karen
---
"That red would make a very cheerful towel." She was right! It is very cheerful. When someone whose weaving expertise I admire mentions a color, I want to use that color instead of the one I originally planned. This towel, with its red-and-white cheerfulness, is a testament to the positive influence of another person. The towel also makes me think of valentines. Perfect timing for this week. Do you remember giving innocent sentiments of love to classmates in elementary school on Valentine's Day?
Give. Now, we offer each other genuine expressions of love, not limited to one day of the year. When you give love you are giving something of great value—a part of yourself. God loved all of us by giving his dearly loved son. That's the love that holds us and keeps us. His love influences us for the better. He so loved us, and so we love.
May the day of love come every day for you.
Love,
Karen
---
---
---