These towels make me think of my father. He was a brilliant architect. As an architect's daughter, I learned to appreciate the interaction of structure, design, and color. This fabric has it all! These towels are also an expression of joy, a prominent aspect of my dad's personality. If you could create a tangible article of jubilation, this would be it.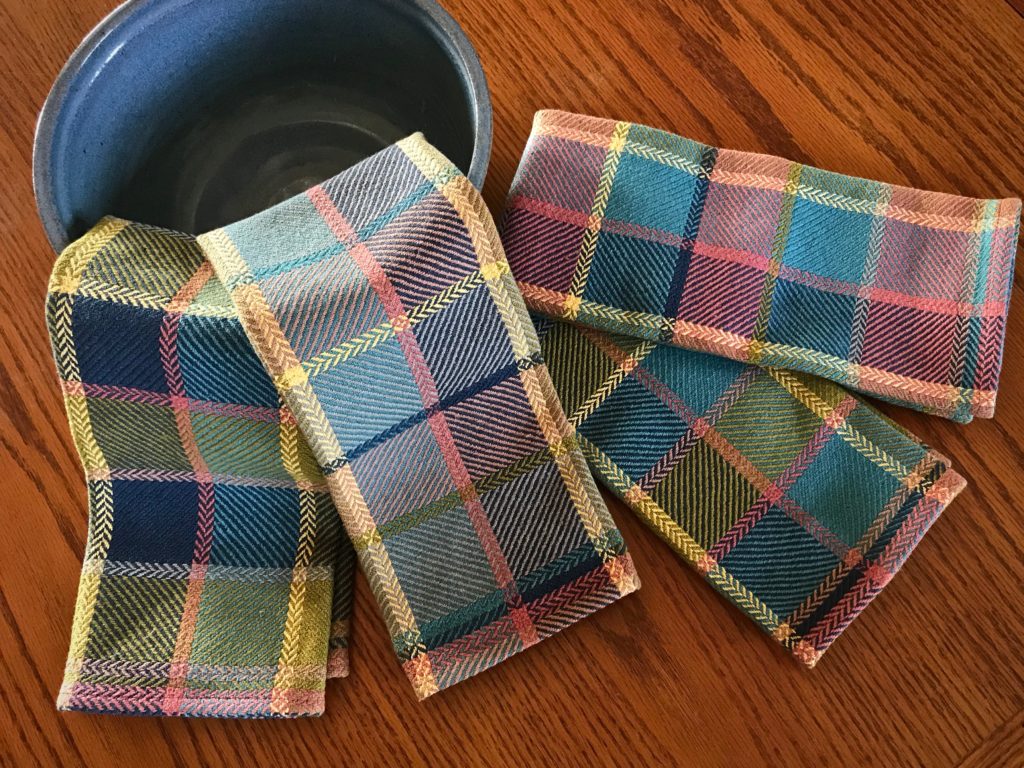 After weaving three towels, I eliminated the floating selvedges. Which one of the four towels do you think was woven without floating selvedges? Leave your answer in the comments. (1 – 4, with the towel on top as #1.)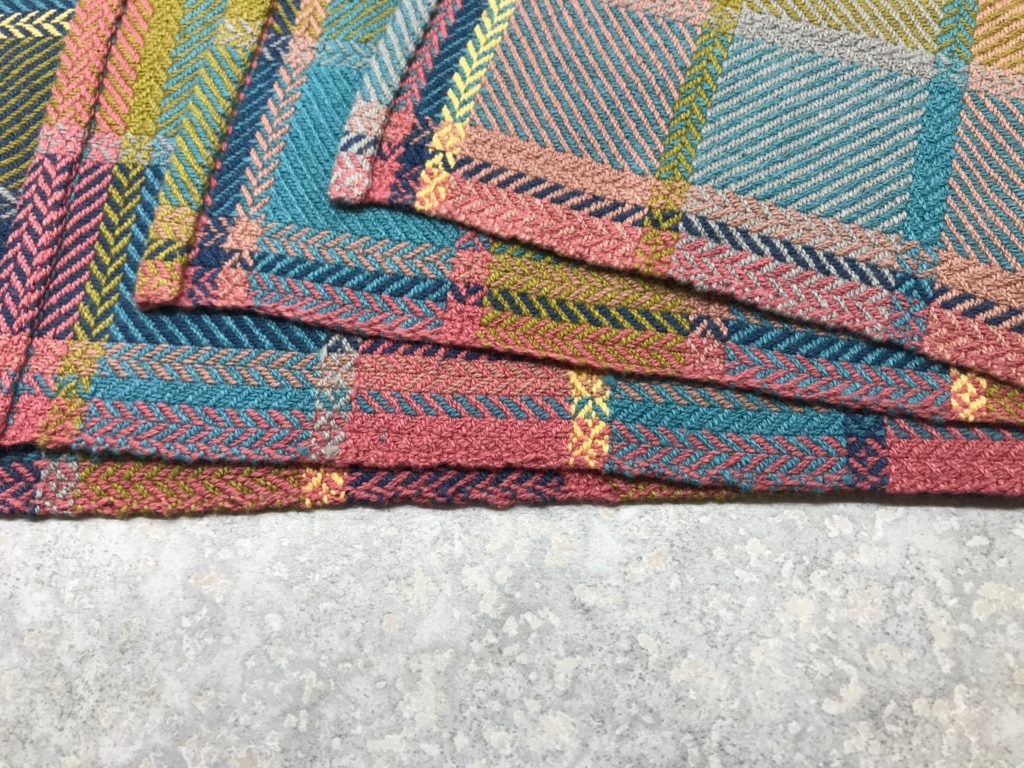 Here's a short slideshow video that shows the process from start to finish:
Jubilation bath towels are up next on the Glimåkra Standard!
May your jubilation rub off on your family and friends.
Happy Weaving,
Karen
---
How do you come up with a design for standout hand towels? Sometimes it's nice to start with someone else's ideas. There is a gorgeous wool throw, designed by Anna Svenstedt, in Favorite Scandinavian Projects To Weave: 45 Stylish Designs for the Modern Home, by Tina Ignell. This Colorful Throw—Reverse Twill makes a perfect template for designing eye-catching hand towels.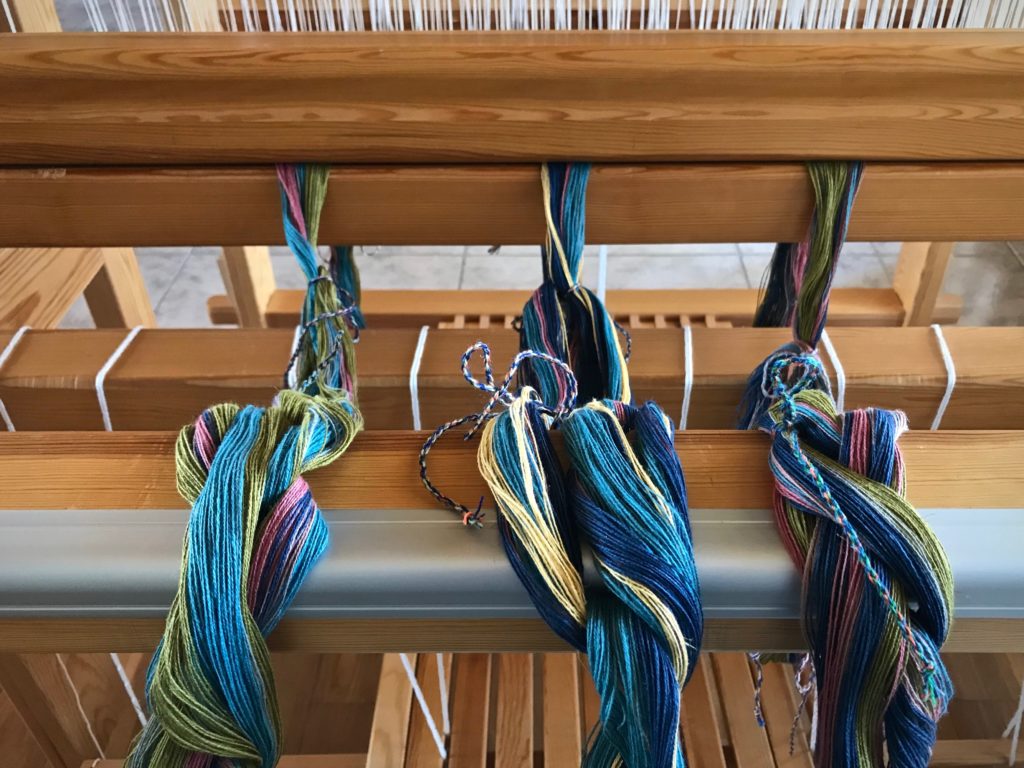 Decisions:
Fiber – 22/2 cottolin for warp and weft
Finished size of towel – 39.5 cm x 63 cm (15.5" x 24.5")
Number of towels – 2 pairs of towels = 4 total
Spacing of warp stripes – add two more narrow stripes at each selvedge to balance the pattern
These decisions enable me to prepare a project plan, make calculations, and write a new weaving draft.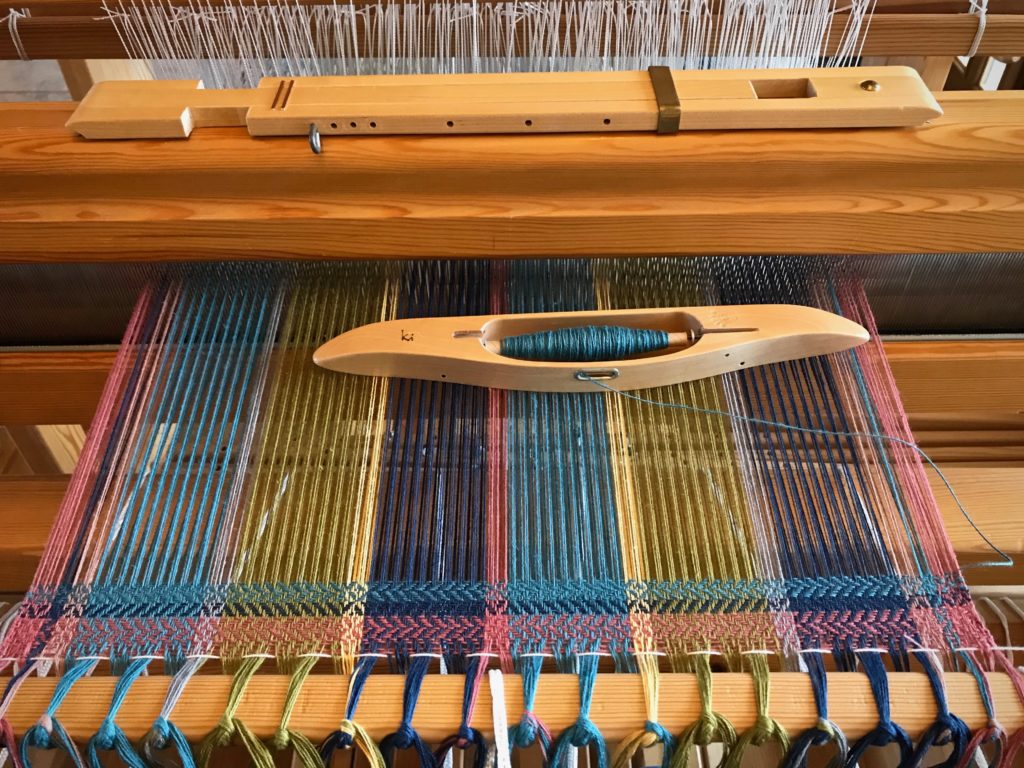 When the loom is dressed, the design process continues as I begin weaving a sample section. This is where I decide what weft colors to use, the spacing of weft stripes, and specific treadling patterns. I add these notes to my project sheet, which I keep at the loom as my weaving roadmap.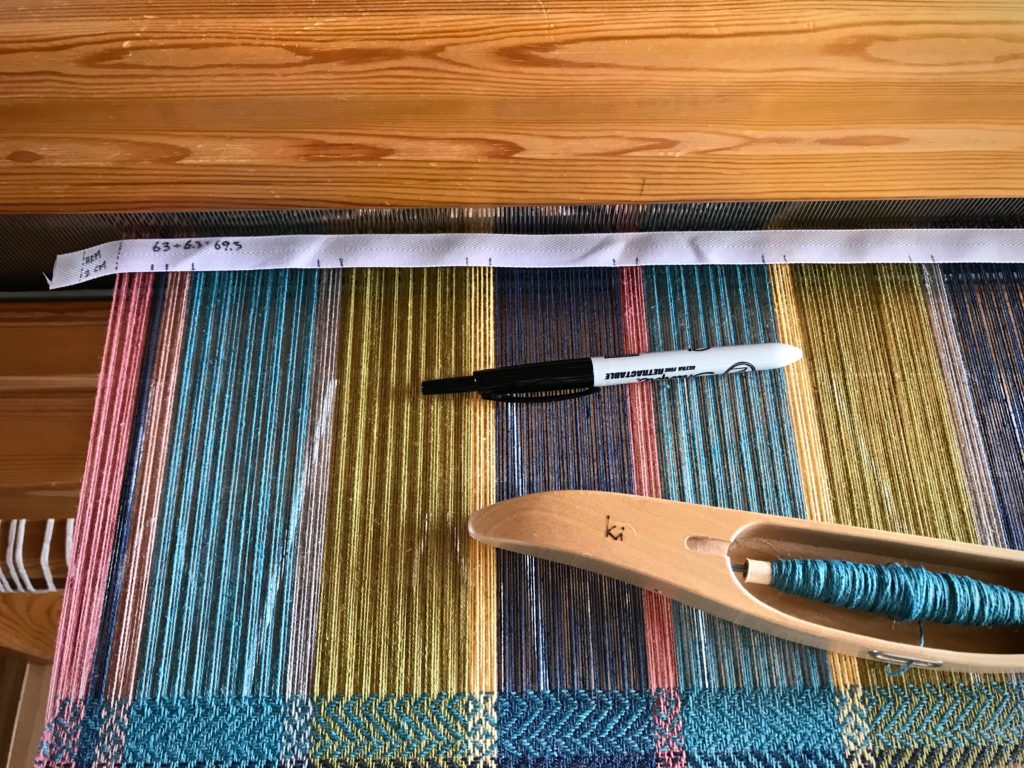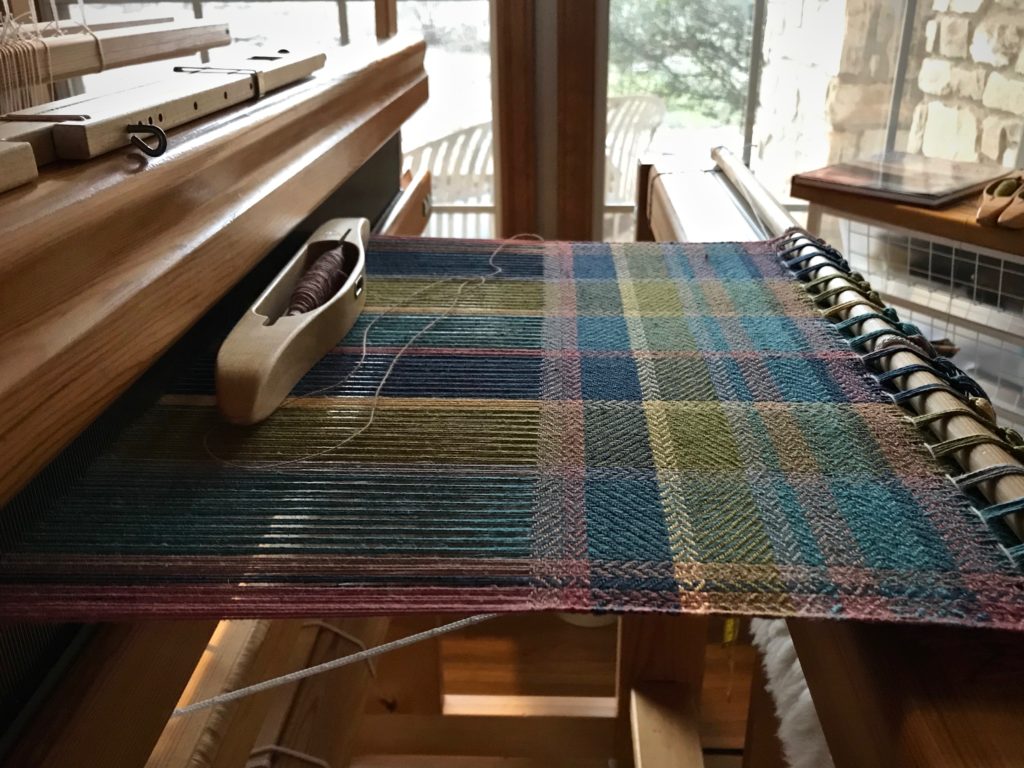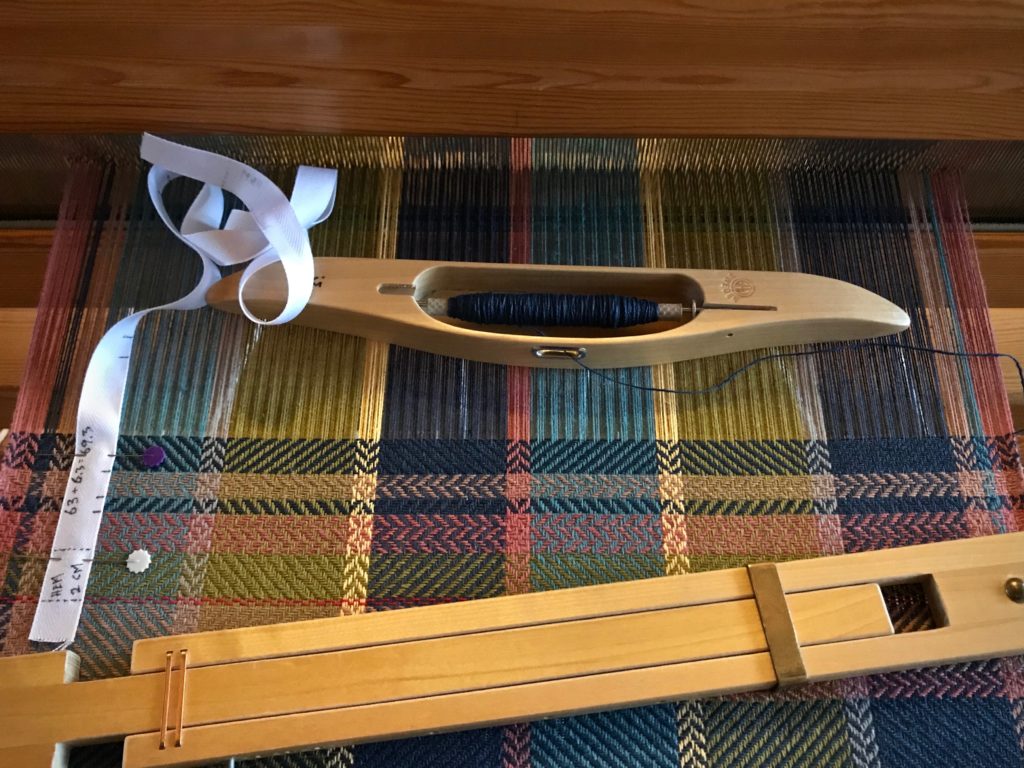 These hand towels are a preview. If they turn out as hoped, I may have to make some bath towels to match.
May your designs stand out.
Happy Weaving,
Karen
---
Does the weft color influence the cloth as it intersects the warp threads? Of course! The distinctive textural quality of this 3-shaft twill with warp floats is enhanced by the colors. In this case, the weft follows the same arrangement as the colors across the warp, making an interesting plaid. What does your influence look like?
Before weaving, the untouched warp colors look well-defined and clean. Introducing the weft, however, changes everything. How can you predict how the weft colors will interact with the warp? Hold tubes of thread next to each other, or wrap different colors on an index card, or even combine threads by twisting them together in your hand. Yet, when the threads become enmeshed in woven cloth, as weft interlaces warp, a new color is revealed.
You and I have strategic influence. How we choose to use that influence makes a difference. As you intersect with people, you bring a unique thread into the picture. The results may be surprising at times, not what others expect. But you are the only you. You have a creator-given purpose. Let your influence make a positive difference. Who knows whether you have not come to these present circumstances for such a time as this?
May you be an influence for good.
(To follow the color planning and sampling for these towels, click HERE and HERE.)
You are loved,
Karen
---