How do you come up with a design for standout hand towels? Sometimes it's nice to start with someone else's ideas. There is a gorgeous wool throw, designed by Anna Svenstedt, in Favorite Scandinavian Projects To Weave: 45 Stylish Designs for the Modern Home, by Tina Ignell. This Colorful Throw—Reverse Twill makes a perfect template for designing eye-catching hand towels.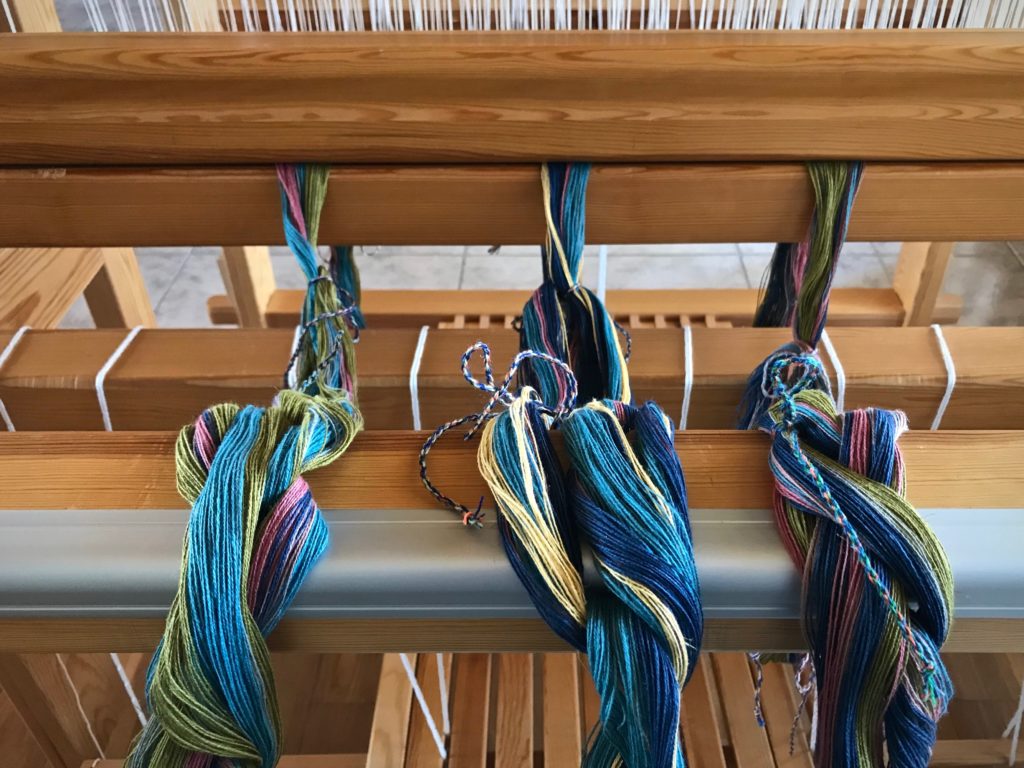 Decisions:
Fiber – 22/2 cottolin for warp and weft
Finished size of towel – 39.5 cm x 63 cm (15.5" x 24.5")
Number of towels – 2 pairs of towels = 4 total
Spacing of warp stripes – add two more narrow stripes at each selvedge to balance the pattern
These decisions enable me to prepare a project plan, make calculations, and write a new weaving draft.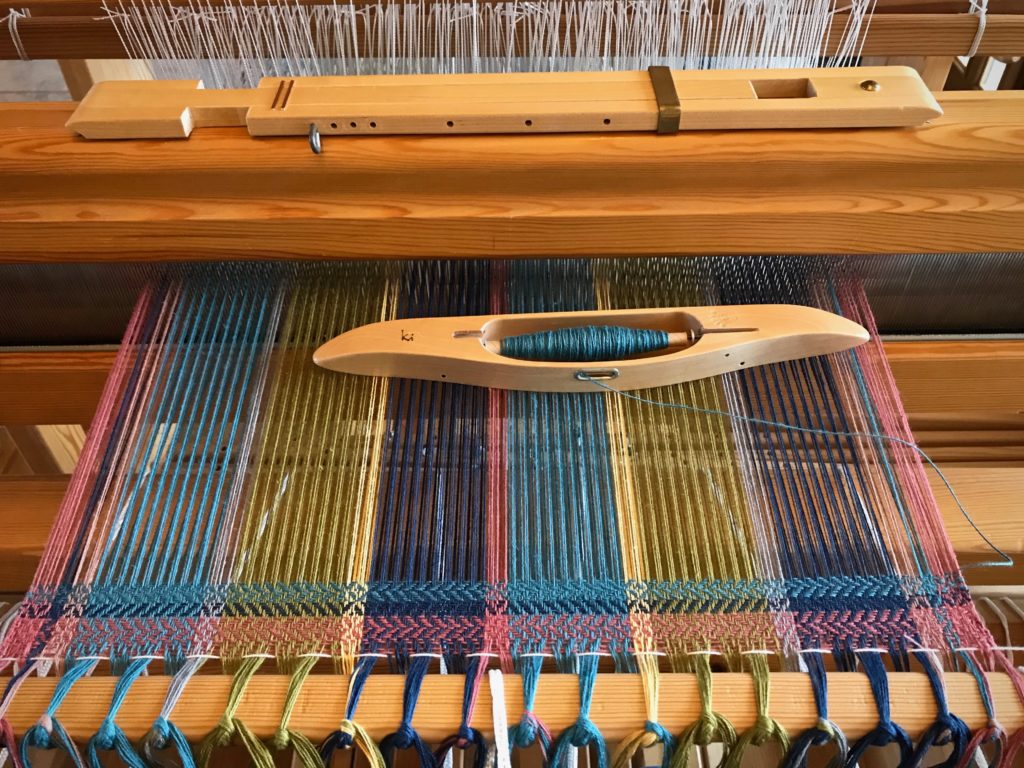 When the loom is dressed, the design process continues as I begin weaving a sample section. This is where I decide what weft colors to use, the spacing of weft stripes, and specific treadling patterns. I add these notes to my project sheet, which I keep at the loom as my weaving roadmap.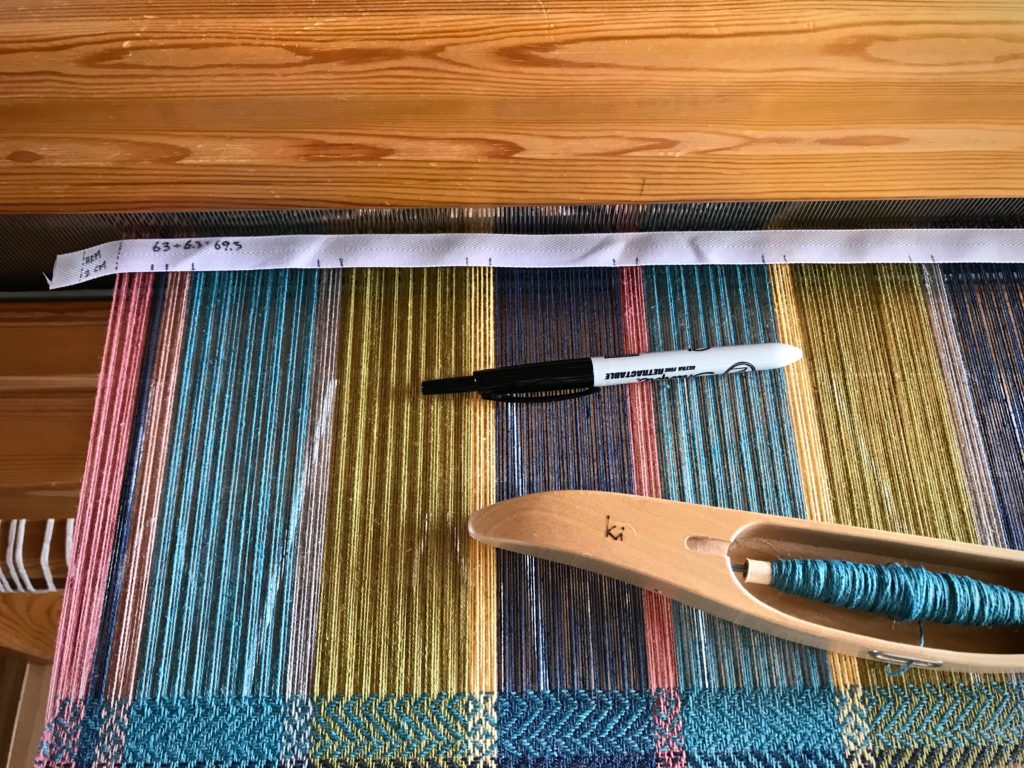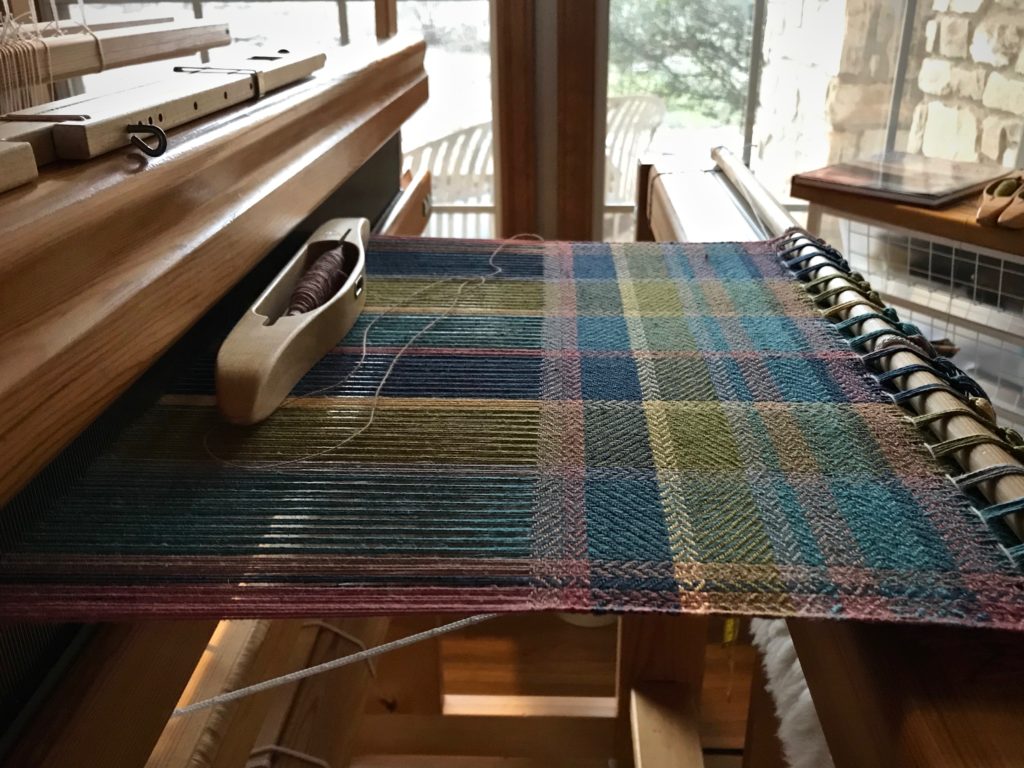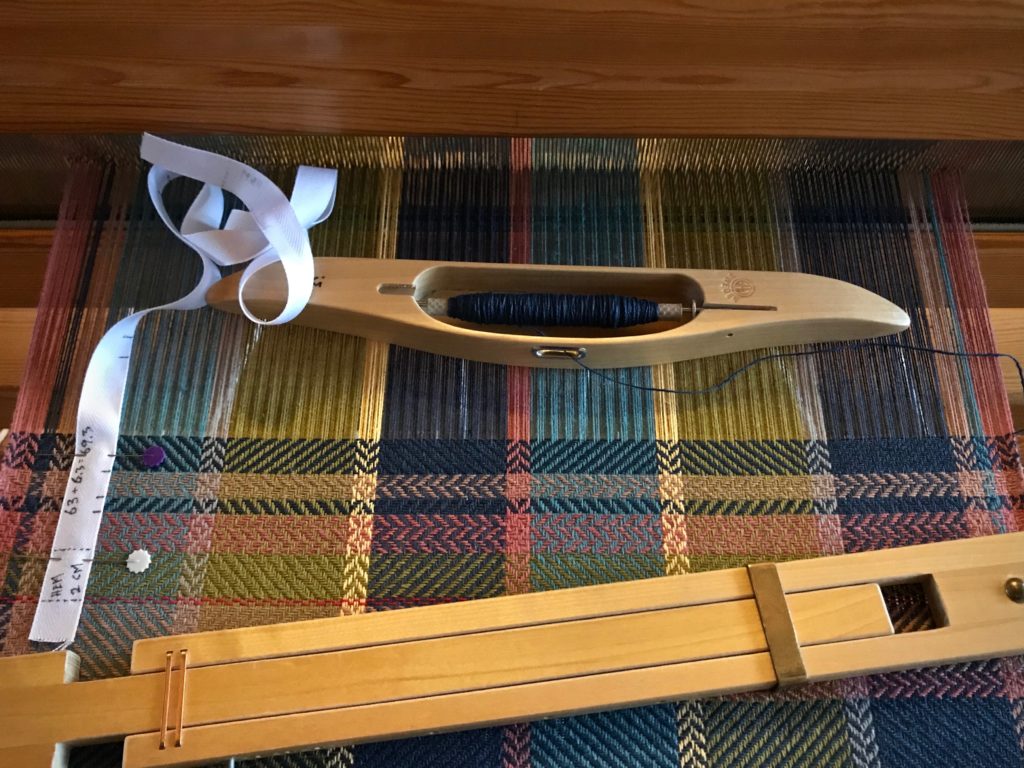 These hand towels are a preview. If they turn out as hoped, I may have to make some bath towels to match.
May your designs stand out.
Happy Weaving,
Karen
---
It is exciting when Maverick walks by. Although he never comes in my drawloom studio, he does stop for a moment to look my way. You'll see him in the slideshow video below. But what happens inside the studio is even more exciting, especially when it's time for cutting off!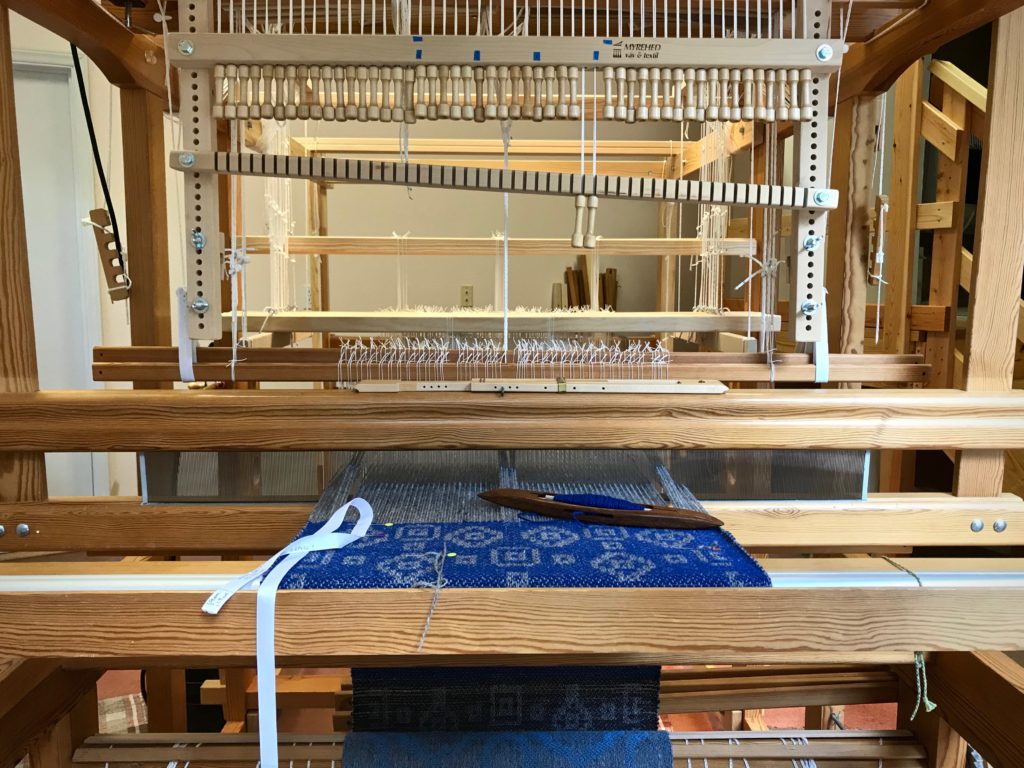 This is Tuna wool, so I expect some shrinkage, but how much? I take careful measurements before and after wet finishing. Besides the main piece of fabric that I'm using for a garment, I have two sample pieces. I can experiment with the samples before wet finishing my garment fabric.
Here are my findings:
Sample 1. Hand wash and air dry.
10% shrinkage in width; 13% shrinkage in length.
Sample 2. Machine wash (3 minutes agitation on a gentle cycle, with a short spin) and machine dry (low setting) till damp, finish with air drying.
13% shrinkage in width; 14% shrinkage in length.
~How to do the shrinkage calculations~
First measurement (on the loom) minus the second measurement (after washing and drying) equals the difference. The difference divided by the first measurement equals the percentage difference.
For example, 50 cm – 43.5 cm = 6.5; 6.5 / 50 = 0.13; 13% shrinkage.
The first sample fabric is softer than the unwashed fabric, but not as soft as I'd like. The second sample fabric is beautifully soft, like a nice warm sweater. So, with confidence, I wet finish the garment fabric—with great results. It's perfect for the fall/winter vest that I'll soon be wearing, made from this fabric!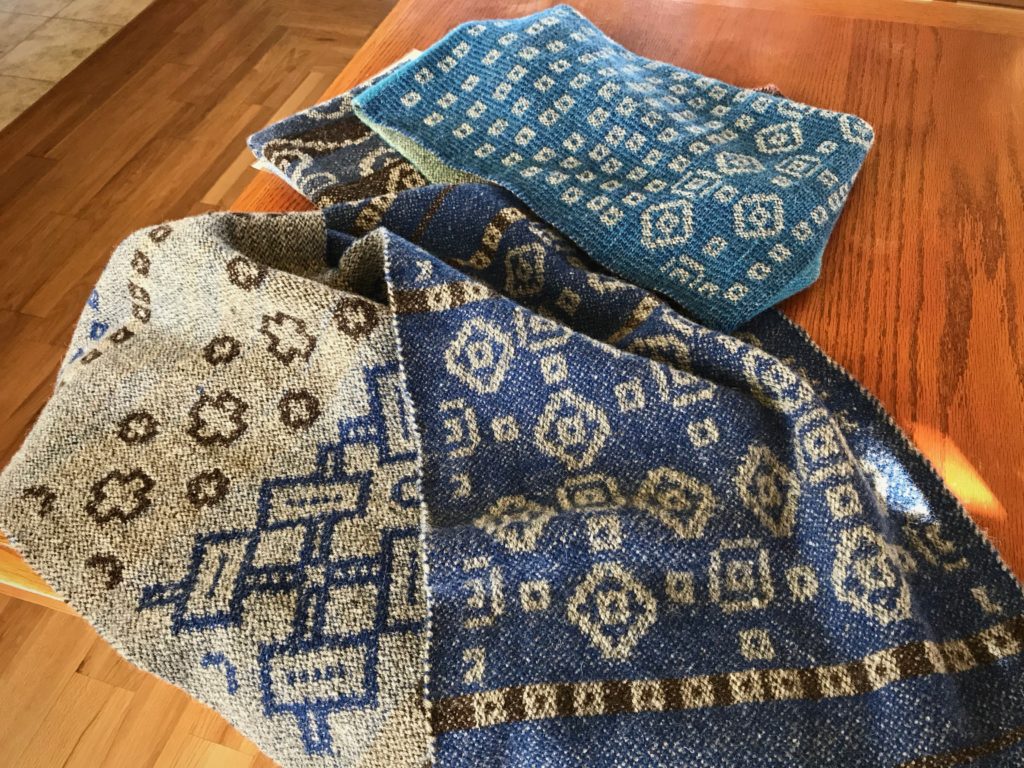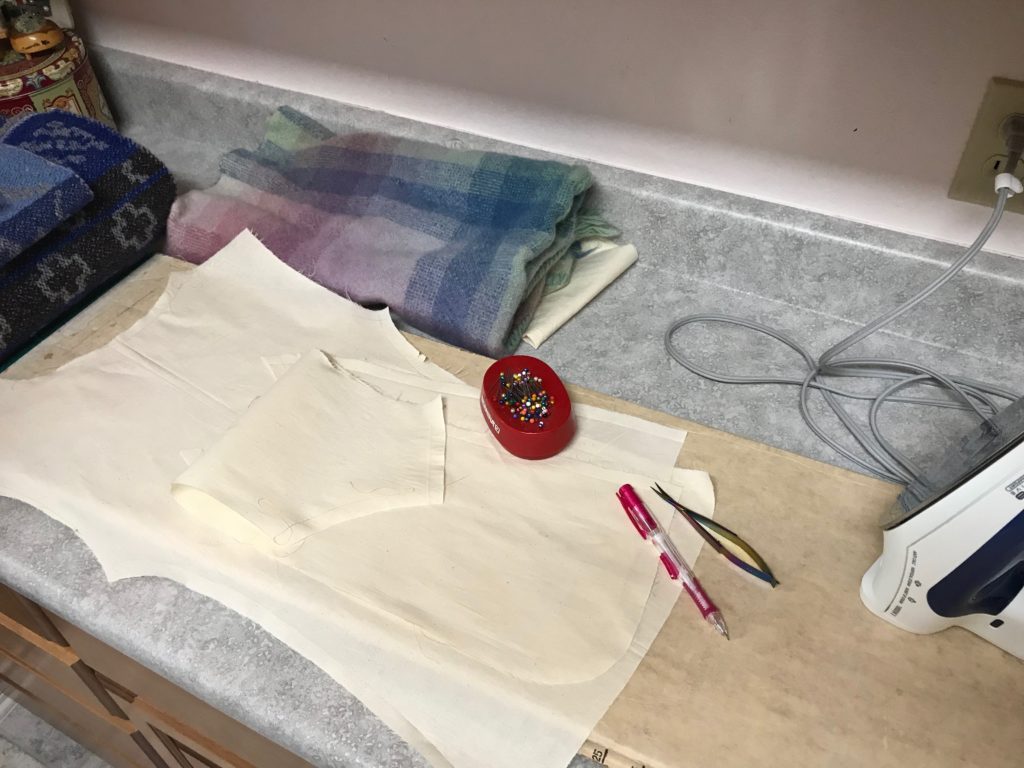 Enjoy this photo show of the drawloom process.
May you enjoy the process you're in.
Happy Weaving,
Karen
---
I love mixing new technology with the old, passed-down tradition of handweaving. My iPhone has become a regular accessory in my daily routines. Since my iPhone is usually in my back pocket, the ease of using apps as weaving tools makes a lot of sense. (These apps are useful, even if you are not a weaver.)
Here are my favorite apps for weaving and how I use them:
Things gives me a simple way to organize my daily activities and responsibilities. I especially like the way I can break down a weaving project into parts or steps.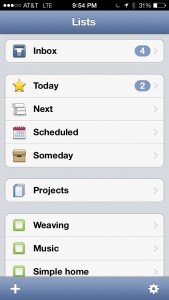 Kitchen Calculator makes conversions between metric and imperial units super easy. I use it to convert weight units and length units of thread and yarn.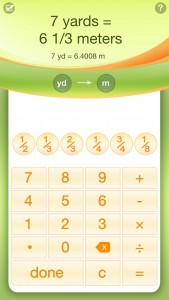 WolframAlpha is my go-to app for more complicated calculations, such as when I want to convert two numbers in an equation. Some websites list yarn in grams/yards, which makes no sense to me. This app does the heavy-lifting math so my brain can save itself for more creative work.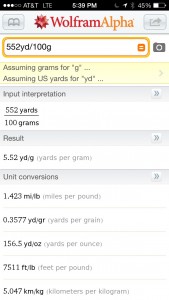 My Library keeps a list of all the books in my weaving library. This certainly helps keep me from duplicating purchases. The books are organized by category in the app, so I have them arranged the same way on my bookshelf, making it easy to find a particular book.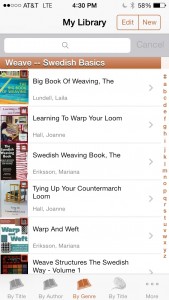 OfficeTime – Time and Expense Tracking makes it easy to track the time for every phase of a weaving project. I can also set a dollar amount per hour, so I can see the cost of labor at a glance.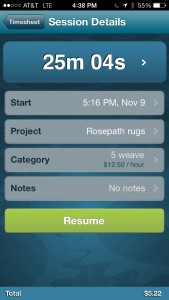 Google Translate helps me make sense of my stack of Swedish weaving books. I type Swedish words and it translates back to me in English. Usually the translation is not quite right, but close enough that I can understand what it means.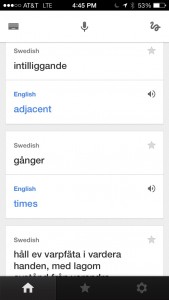 Have you found apps that are useful for weaving? Please tell about them in the comments!
May you reach a new level of efficiency that makes room for even more creativity.
Thankful,
Karen
---