How do you come up with a design for standout hand towels? Sometimes it's nice to start with someone else's ideas. There is a gorgeous wool throw, designed by Anna Svenstedt, in Favorite Scandinavian Projects To Weave: 45 Stylish Designs for the Modern Home, by Tina Ignell. This Colorful Throw—Reverse Twill makes a perfect template for designing eye-catching hand towels.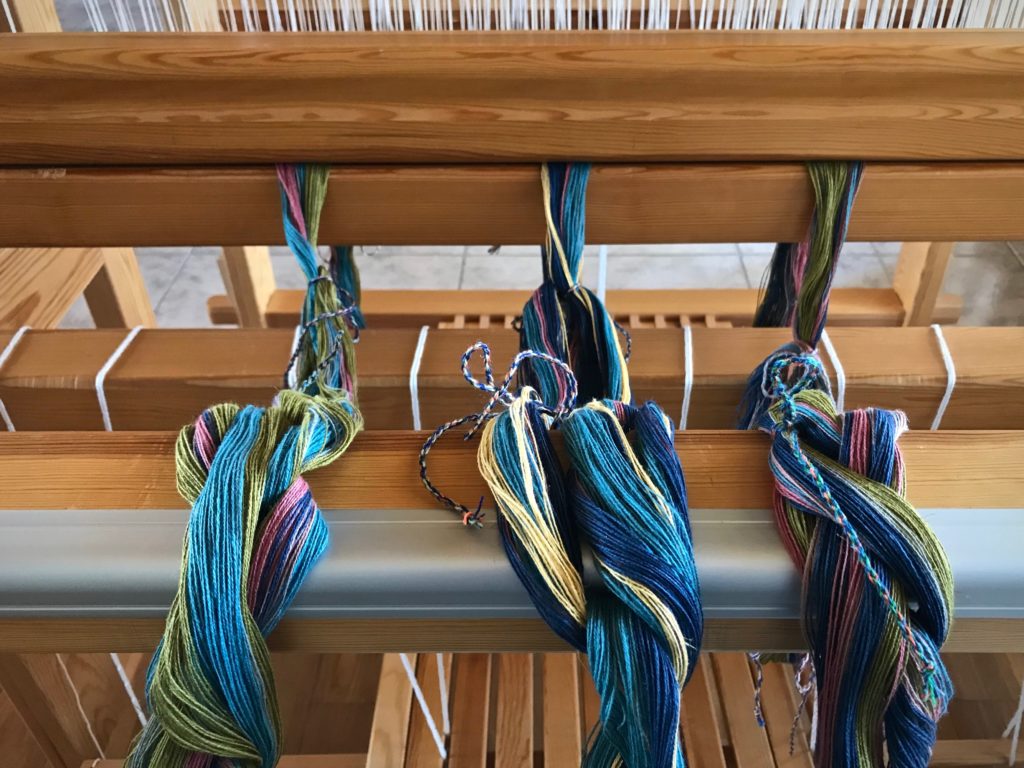 Decisions:
Fiber – 22/2 cottolin for warp and weft
Finished size of towel – 39.5 cm x 63 cm (15.5" x 24.5")
Number of towels – 2 pairs of towels = 4 total
Spacing of warp stripes – add two more narrow stripes at each selvedge to balance the pattern
These decisions enable me to prepare a project plan, make calculations, and write a new weaving draft.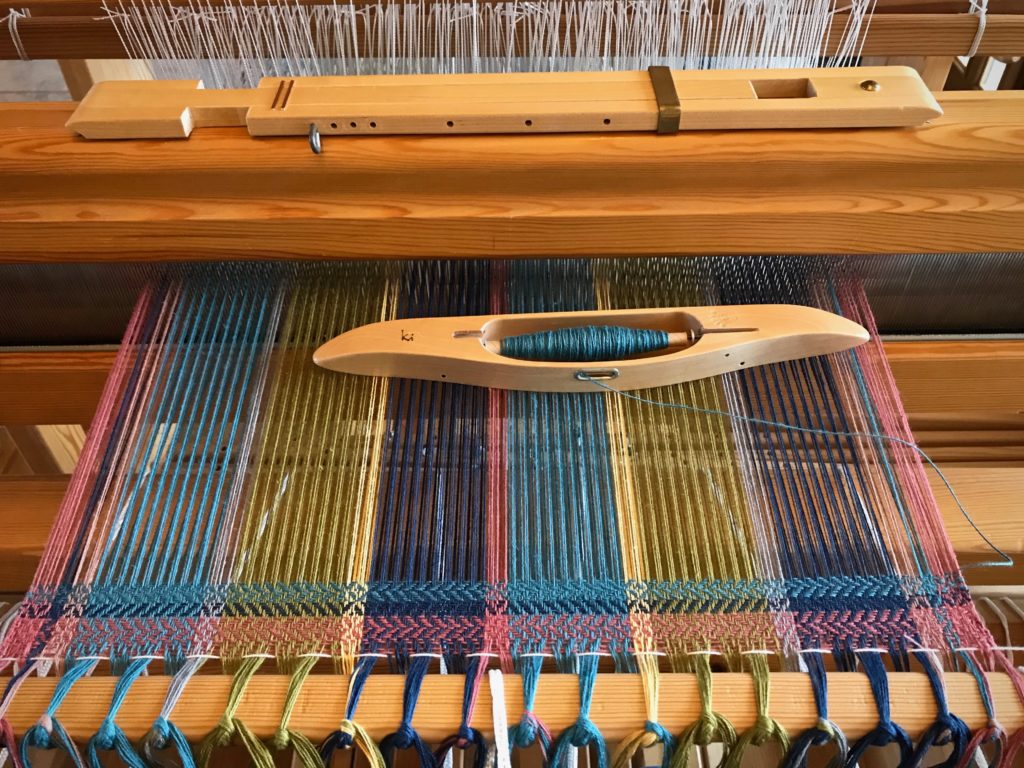 When the loom is dressed, the design process continues as I begin weaving a sample section. This is where I decide what weft colors to use, the spacing of weft stripes, and specific treadling patterns. I add these notes to my project sheet, which I keep at the loom as my weaving roadmap.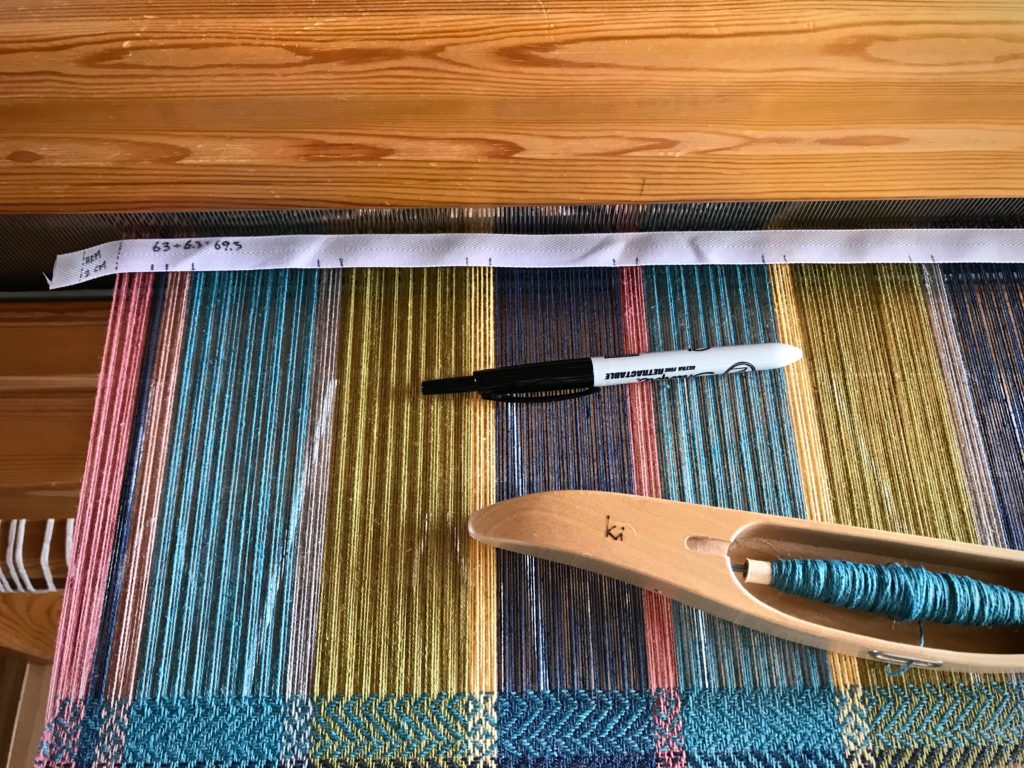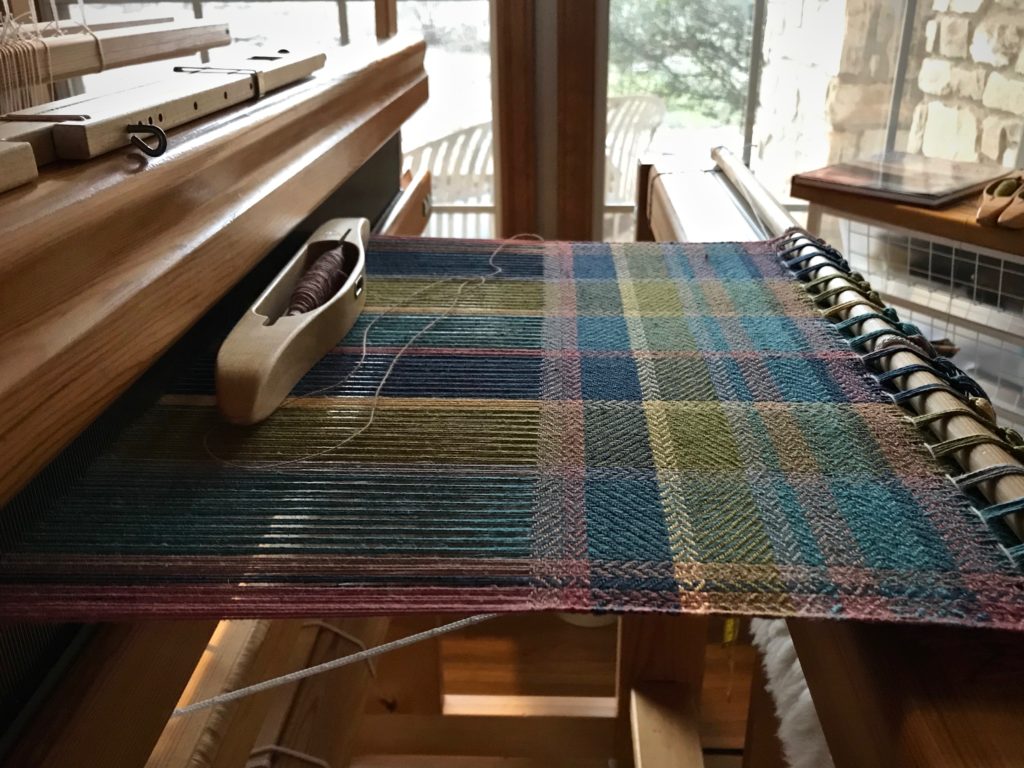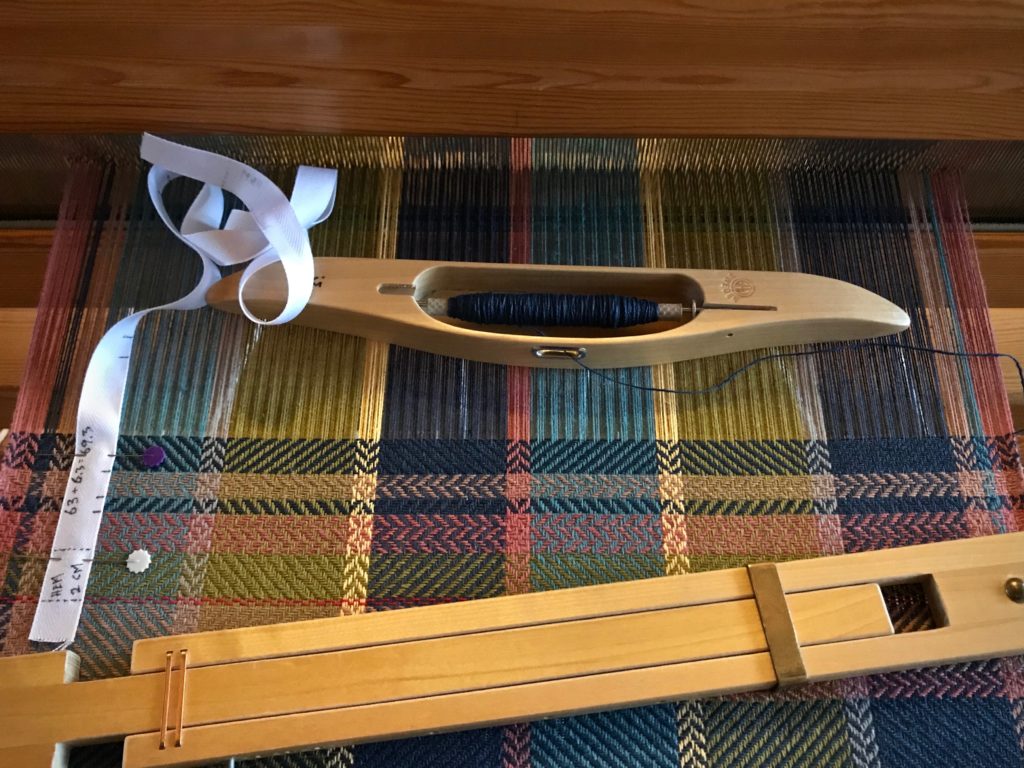 These hand towels are a preview. If they turn out as hoped, I may have to make some bath towels to match.
May your designs stand out.
Happy Weaving,
Karen
---
---
---
I am in Germany this week, but before I left home I started the blue wool blanket. Twelve shafts and twelve treadles is challenge enough. Double weave with a sett of 5 EPC (12 EPI) per layer in 6/2 Tuna wool adds to the challenge. This wool stubbornly clings to itself in this sett. I don't care to fight defiant wool to get a clean shed on every treadle! I could re-sley to a coarser sett. But I want to keep the sett as is, as written for this project in The Big Book of Weaving, by Laila Lundell. Cowboy Magic to the rescue! I discovered this horse mane detangler when I wove a mohair throw a few years ago. It rinses out nicely in the wet finishing. It worked magic for me at that time. Now, with a small amount of slick detangler on my fingers I can tame these blue wool fibers. Voila! No more fighting to get a clean shed.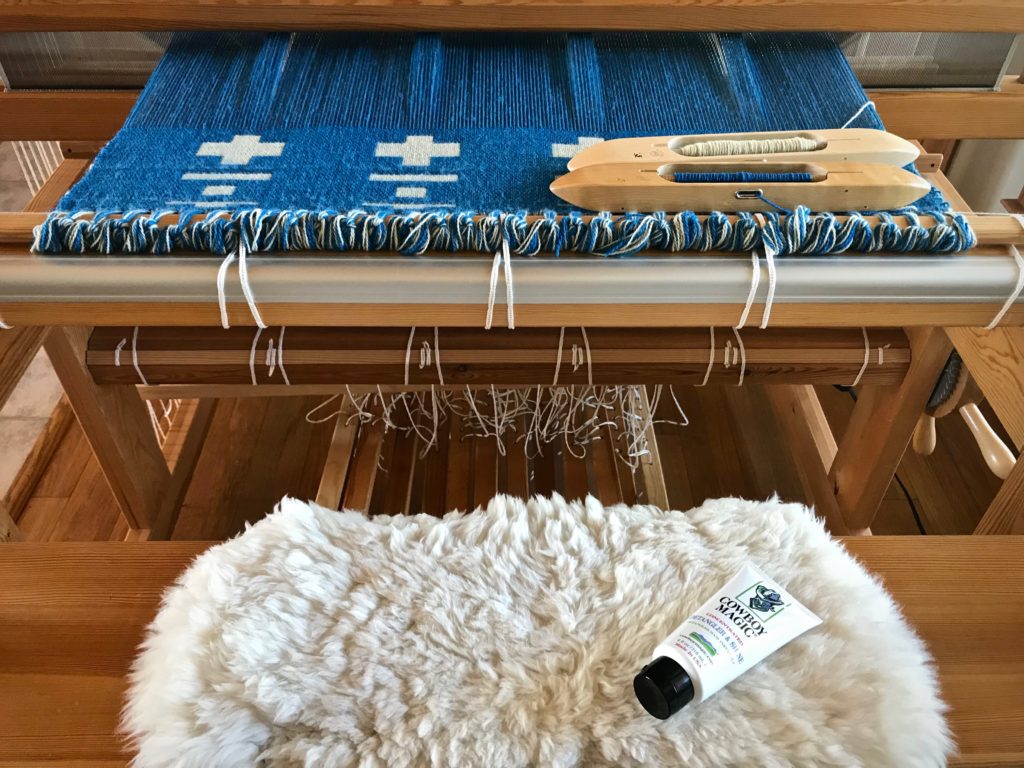 Now I have something to look forward to when I get home.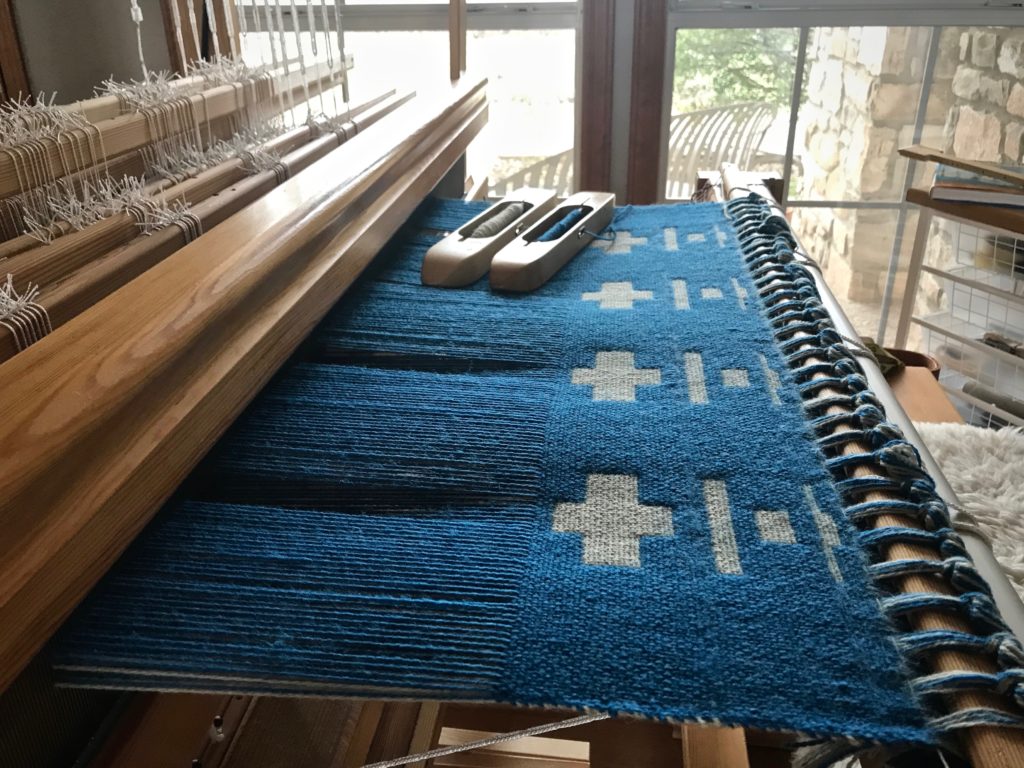 May you eliminate unnecessary fighting.
Weave Happy,
Karen
---
Eventually, I would like to have a metric reed (or two) in every possible size. Until then, I will be happy with what I have, while I gradually add to my supply, as needed, one reed at a time.
I prefer metric reeds (dents per 10 centimeters) over imperial reeds (dents per inch). For one thing, the math is easier for project planning. And because there are smaller increments between sizes, there are more sett choices with metric reeds. It could be my imagination, but it often seems that the metric reed yields a Goldilocks "just right" sett.
My selection of reeds vary in length, from 70 cm (27″) to 120 cm (47″), to fit the weaving widths of my looms. But Glimåkra countermarch looms have beaters that are open on the sides, so I can use any length reed in any loom.
My all-around favorite reeds are those made by Glimåkra because they are lightweight and easy to handle, …and they come in metric sizes. (Of course, you need to choose reeds that work with your loom.)
I put together a reed conversion chart so that we can see our options at a glance. You never know when a new project will "require" a new metric reed!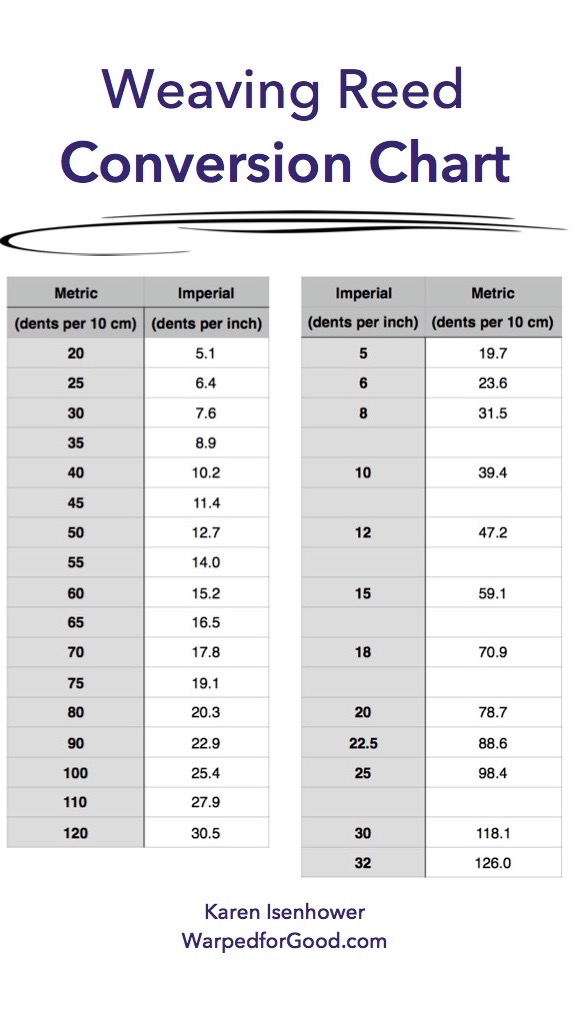 May your next project have a Goldilocks "just right" sett.
Happy weaving,
Karen
---