---
---
I am in Germany this week, but before I left home I started the blue wool blanket. Twelve shafts and twelve treadles is challenge enough. Double weave with a sett of 5 EPC (12 EPI) per layer in 6/2 Tuna wool adds to the challenge. This wool stubbornly clings to itself in this sett. I don't care to fight defiant wool to get a clean shed on every treadle! I could re-sley to a coarser sett. But I want to keep the sett as is, as written for this project in The Big Book of Weaving, by Laila Lundell. Cowboy Magic to the rescue! I discovered this horse mane detangler when I wove a mohair throw a few years ago. It rinses out nicely in the wet finishing. It worked magic for me at that time. Now, with a small amount of slick detangler on my fingers I can tame these blue wool fibers. Voila! No more fighting to get a clean shed.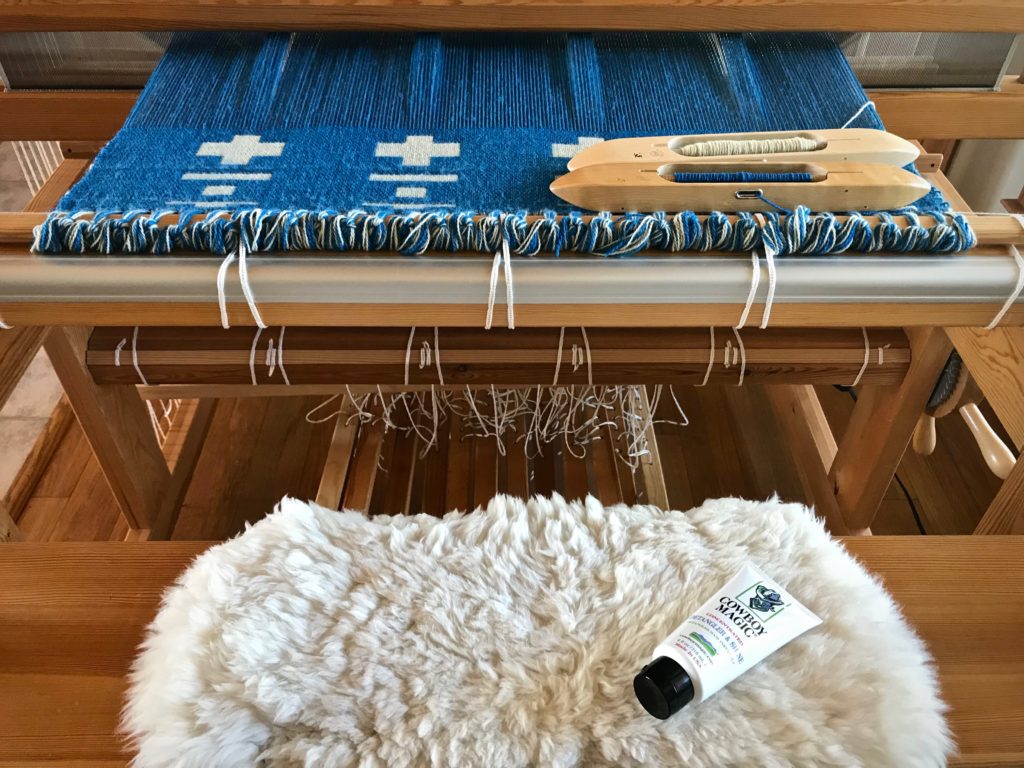 Now I have something to look forward to when I get home.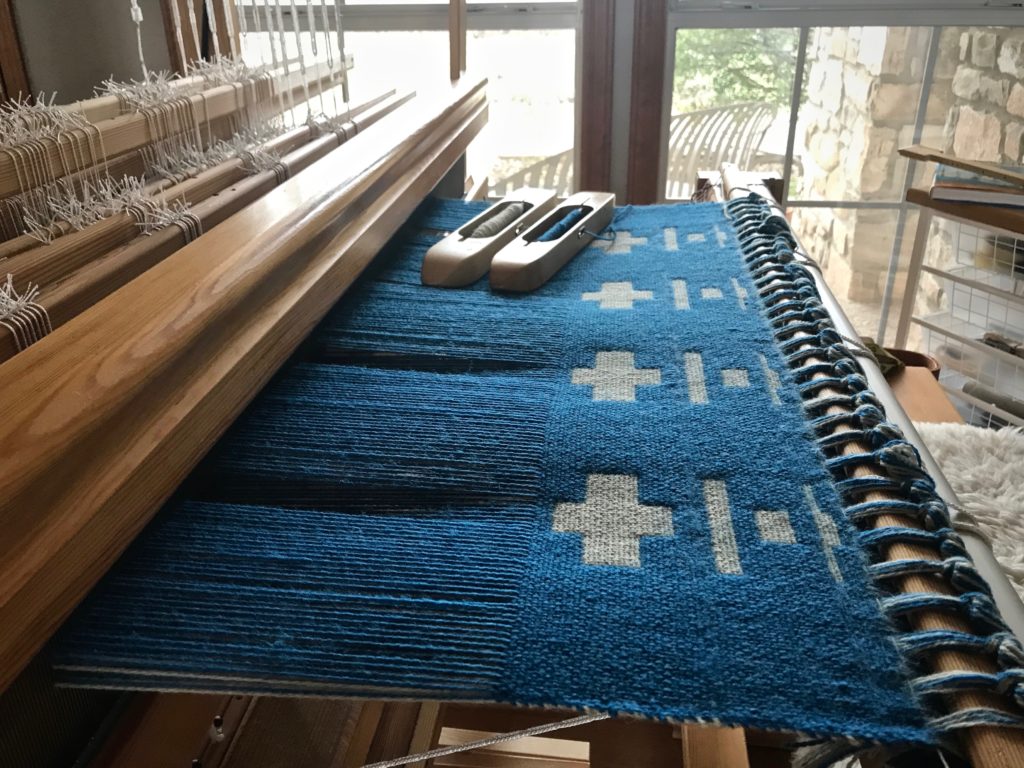 May you eliminate unnecessary fighting.
Weave Happy,
Karen
---
Troubles. What troubles? All is forgotten now that the shuttle is ready to soar. After my threading misadventure and correction, I'm ready to weave! But first… The treadle tie-ups need adjustments. And then, after weaving a couple inches, a few more adjustments. Now the shed is nearly perfect on every treadle. Ready, set, wait a minute… Sample. Which shuttle goes where to lock in the weft? How many picks make a square? Is my beat consistent?
After completing the sample, I am now weaving the wide dark plum beginning border of the double weave throw. In a few inches I will be enjoying the colorful blocks that we have all been waiting for. Building blocks. Success, setbacks, adjustments, and practice, all build a foundation of weaving experience.
Build. If I'm not careful, my attention goes to the building up of myself. Yet, love focuses on others to build them up. It's through a process of success, setbacks, adjustments, and practice that love flourishes. When your strong desire is to see the colorful blocks of the weave, you press through until you see it. Love is even stronger than that. Our example is Christ. His love makes the pattern of love possible in us.
May you build on what you learn.
Happy weaving,
Karen
---
At the final inches of weavable warp, my regular boat shuttle will not fit through the shed. I wove the first half of this final rug thinking I had more than enough warp left to complete a symmetrical design.
Drama at the end. I still need to weave the ending warp thread header. Time to pull out my secret weapon—a low-profile shuttle. No worries or fretting. The slim shuttle deftly (with a little prodding) weaves the eight picks of the warp thread header that concludes this final rug. Whew.
When we face adversity, and our usual coping methods are not working, we feel the pressure and anxiety. It's time to activate our secret weapon—a gentle and quiet spirit. Gentleness and quietness are beautiful embellishments to the hidden person of the heart. This humble spirit enables you to glide through the tightest situations. Best of all, those last picks you carefully weave will keep the lovely rag rug you've been working on from unraveling.
May your heart glow with gratitude.
Happy Giving of Thanks!
Karen
---