---
My first drawloom warp used ten pattern shafts, which was plenty. I have now installed the cords and draw handles for all fifty pattern shafts, so the sky's the limit! (See Process Review: First Drawloom Warp)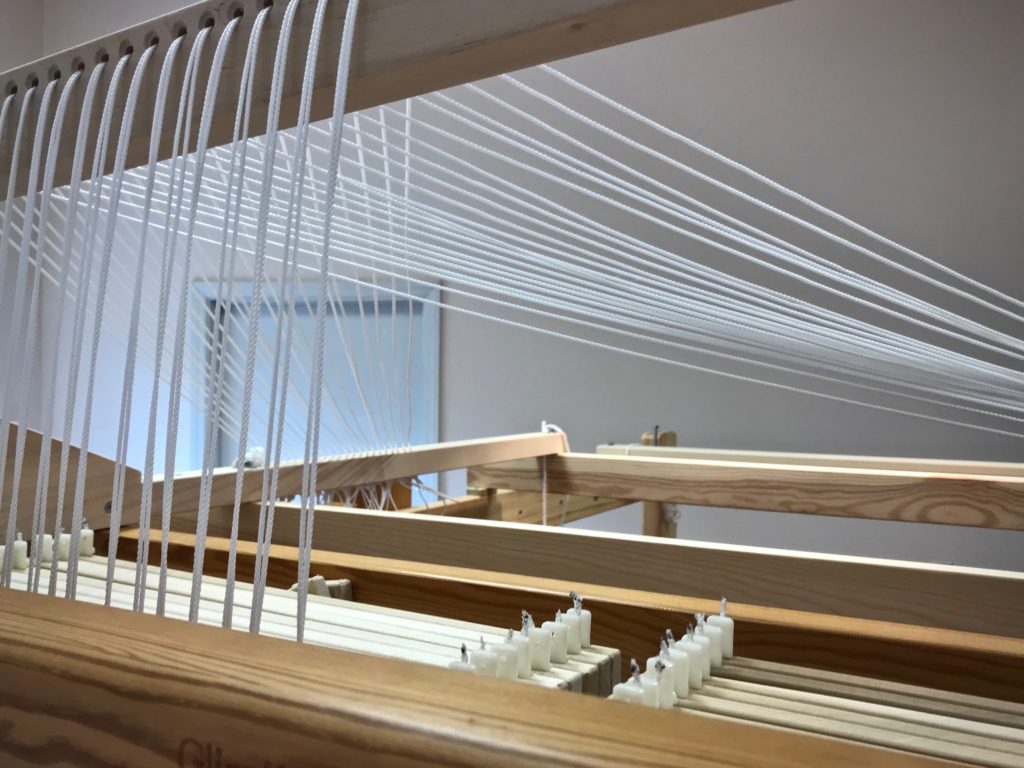 Adding all these draw cords and handles is a big job. It involves a cord threader and scissors and time—reaching, going back and forth, measuring, cutting, tying. Over and over. It's not hard, but it seems endless. Yet for some strange reason this job is entirely enjoyable. I feel like an architect and builder, a dreamer and investor. It's incredible to step back and see the structure that this effort has produced. And this is merely the set up. Can you imagine the weaving prospects?!
This is how we build good structures in our lives. Intentional, persistent, focused. Listen well. Over and over. The way we speak makes a difference in the way we listen. When we speak with grace, seasoned for the hearer, we ready ourselves to listen. Our cord threader is our unselfish attentiveness to pull someone else's thoughts and questions toward our understanding. With this beautiful structure we are ready for anything. Accomplished through the grace of God, the sky's the limit!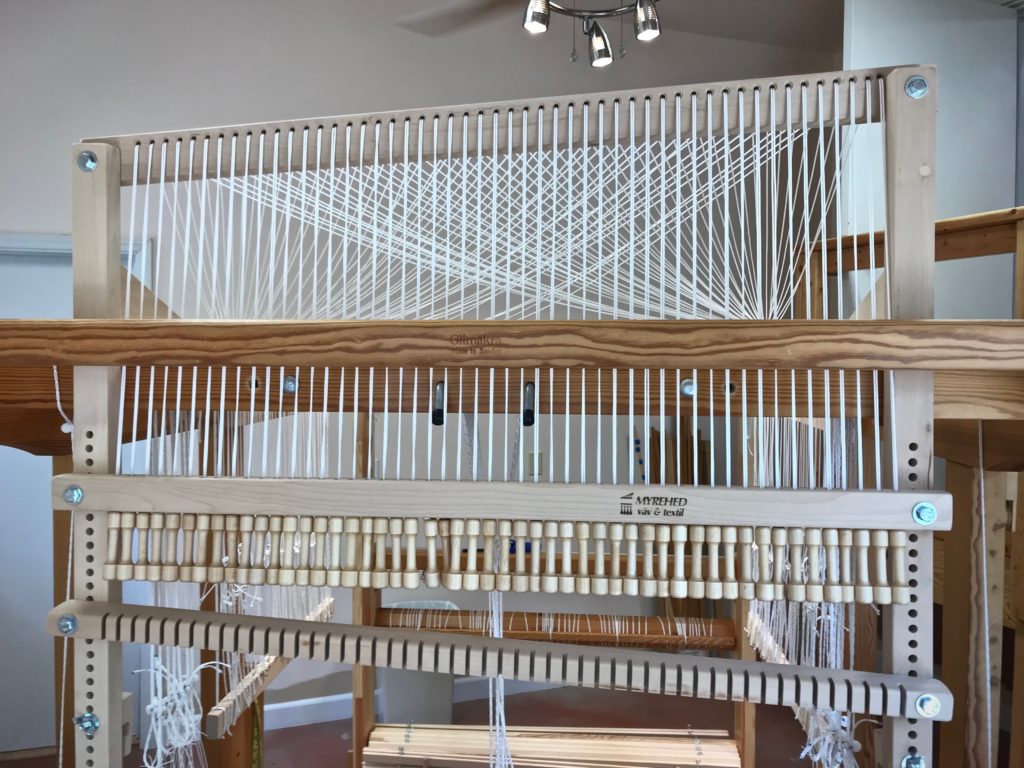 May your words be seasoned with grace.
Getting ready,
Karen
---
Before starting, I sketched out several versions of the finished blanket, showing different sizes and arrangements of the rectangle blocks. My favorite version is one with a random look. This twelve-shaft double weave has three blocks. Block 1 is a solid color across the warp. Block 2 has a narrow, vertical contrasting rectangle. Block 3 has a wide, horizontal contrasting rectangle. The warp threading determines the width of the rectangles. But the height of the rectangles is determined by the treadling pattern. I decided to use a Fibonacci sequence of numbers in random order to guide my treadling options as I weave.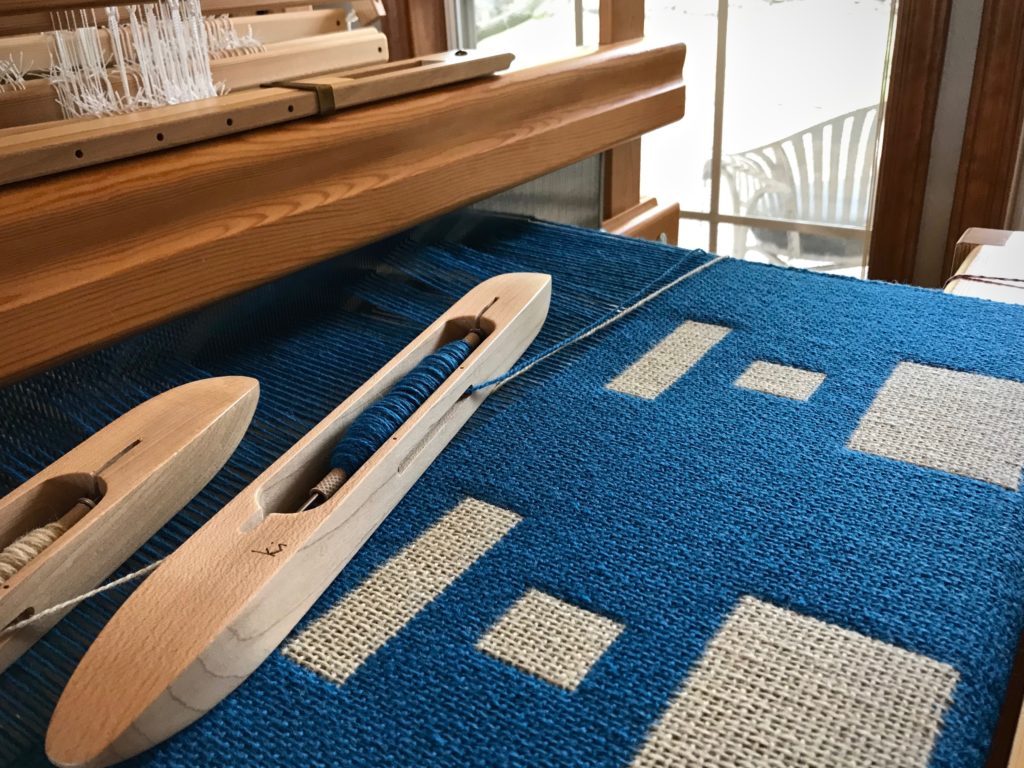 Low-Tech Random Fibonacci Sequence
1 Determine the desired range of the Fibonacci sequence. 1, 2, 3, 5, 8, 13
2 Determine the number of repeat options for each block (one repeat is 4 picks per double-weave layer).
Block 1, solid color – 2 repeats every time
Block 2, narrow rectangle – 2, 3, 5, 8, or 13 repeats
Block 3, wide rectangle – 1, 2, 3, or 5 repeats
3 Write each number of the sequence on individual squares of paper. Make three sets of these numbers. 1, 2, 3, 5, 8, 13
4 Fold each paper square in half and place in a container at the loom. Mix thoroughly.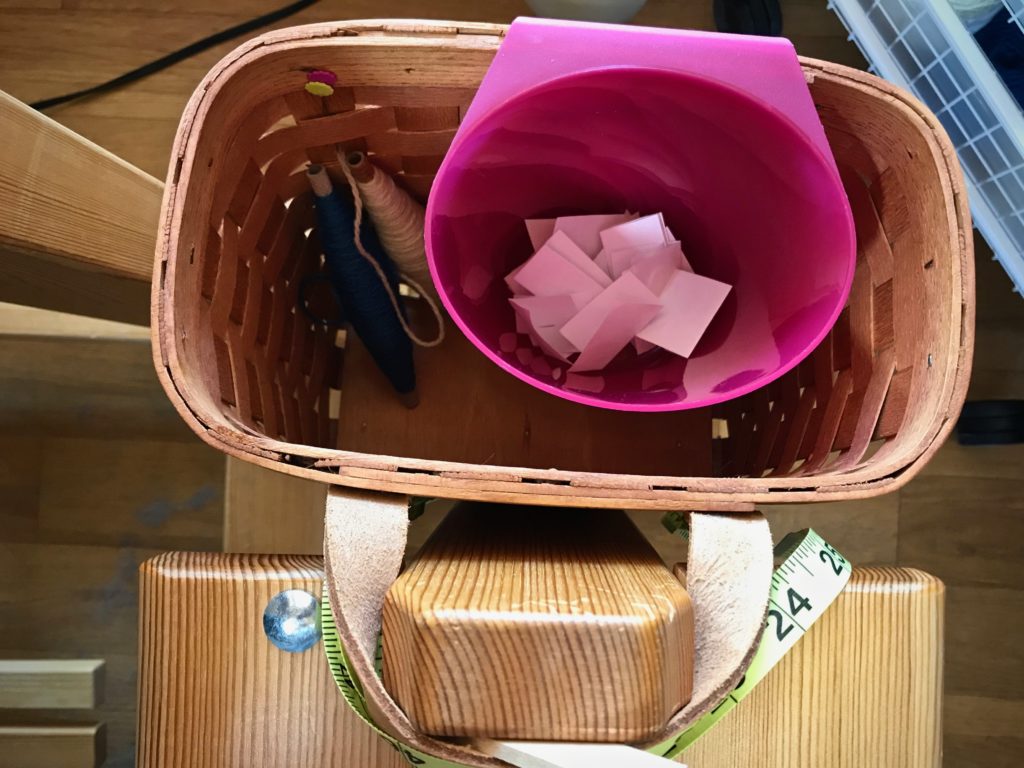 5 Randomly select a paper square to reveal the number of repeats for the next narrow or wide rectangle block.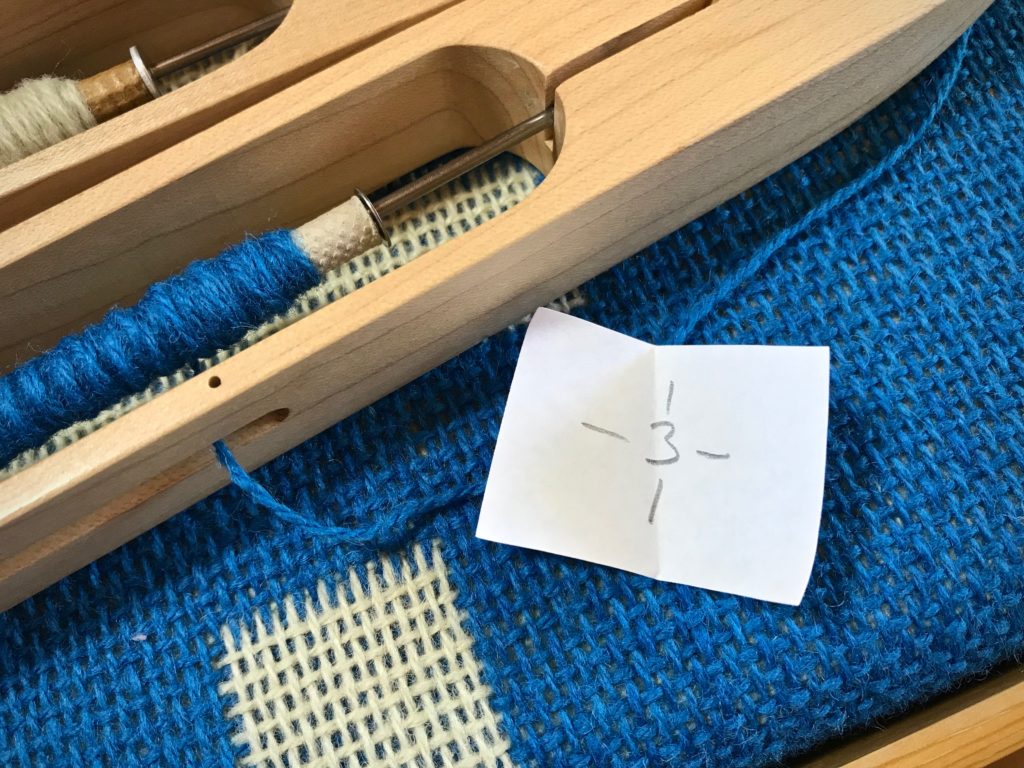 For this blanket I have a woven hem and border, and then two repeats of Block 1 (solid color) between alternating Block 2 (narrow) and Block 3 (wide) rectangles of varying heights.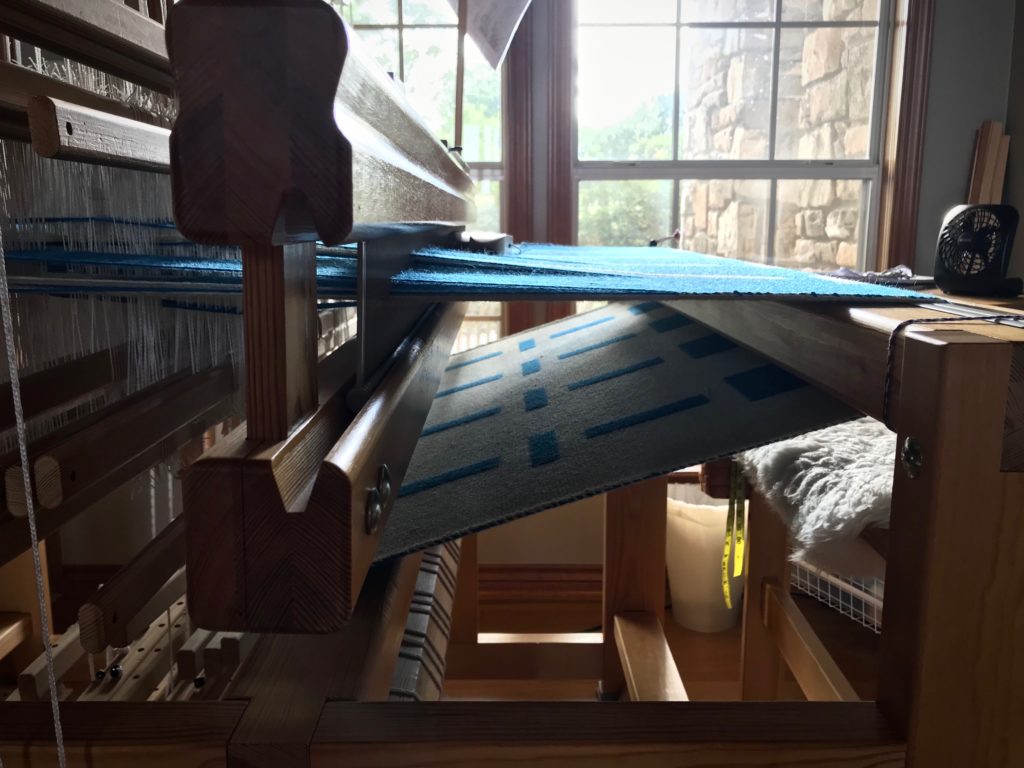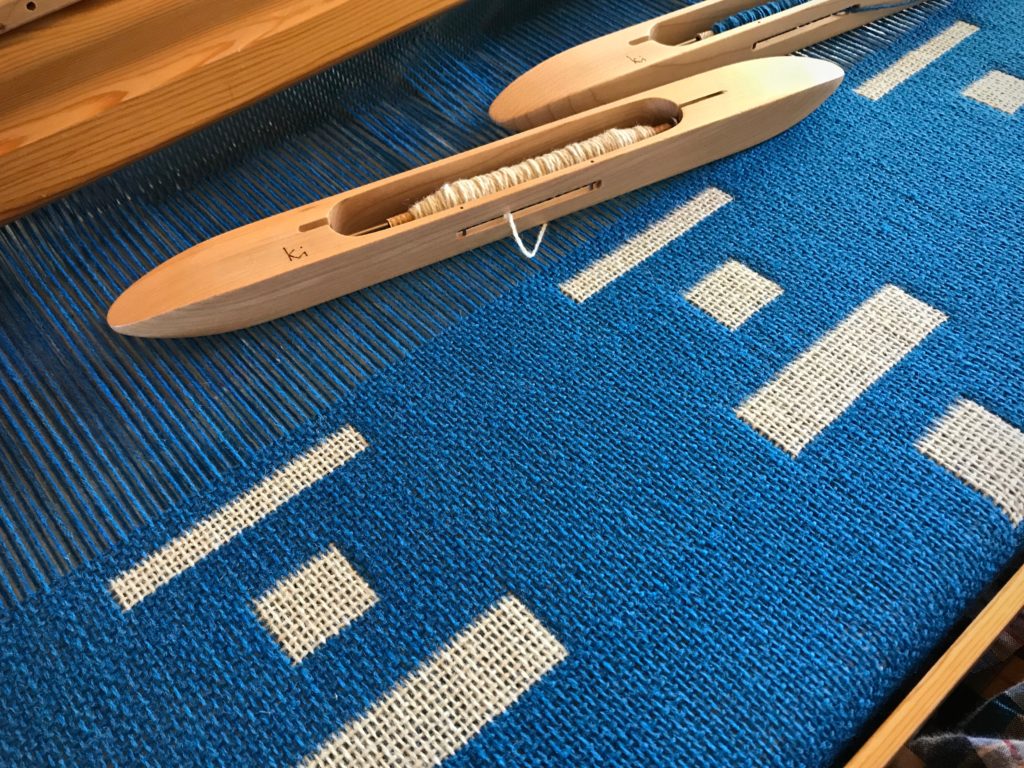 Surprise is built in which makes it hard to leave the loom. "Just one more block," I tell myself…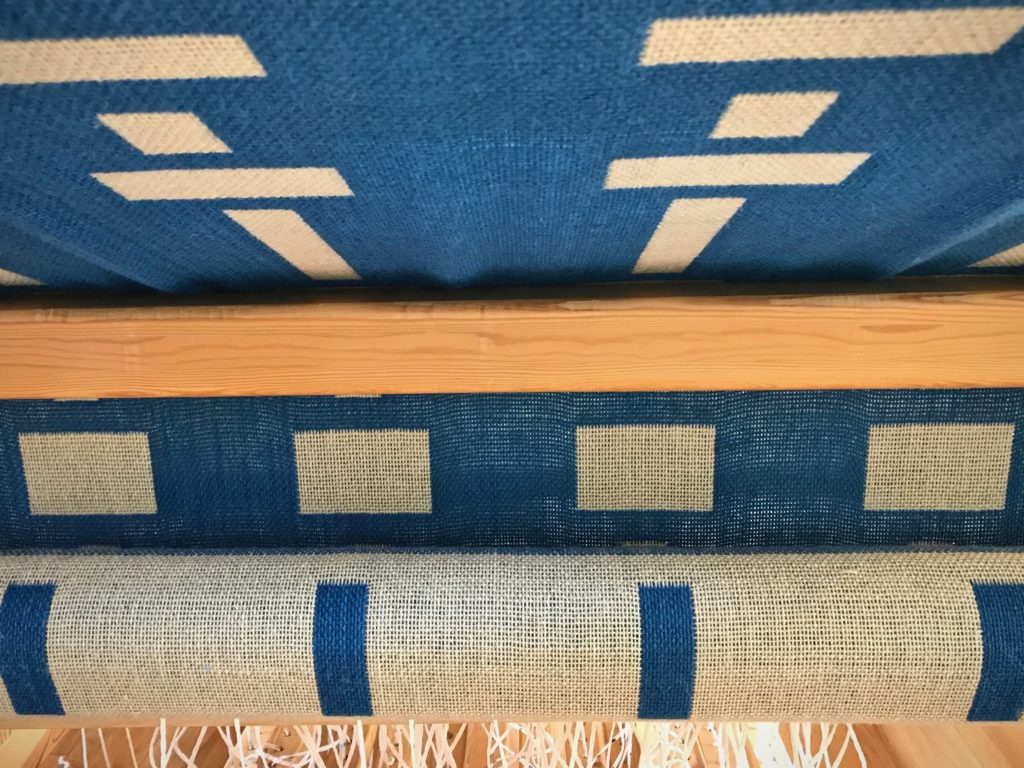 May you be greeted by random (happy) surprises.
Happy Weaving,
Karen
---
Inspired by some of Joanne Hall's exquisite large tapestries, I have been taking steps to learn her techniques. This fascinating style that is unique to Joanne enables her to weave large tapestries at a comfortable pace. My Lizard tapestry last year was a step in this direction. (See Quiet Friday: Lizard Tapestry.) One thing that the lizard taught me is how much more I need to learn. So, you can imagine my delight in having the opportunity to take a Pictorial Tapestry Weaving workshop taught by Joanne Hall last week! (Contemporary Handweavers of Texas Conference in Fort Worth was the setting.)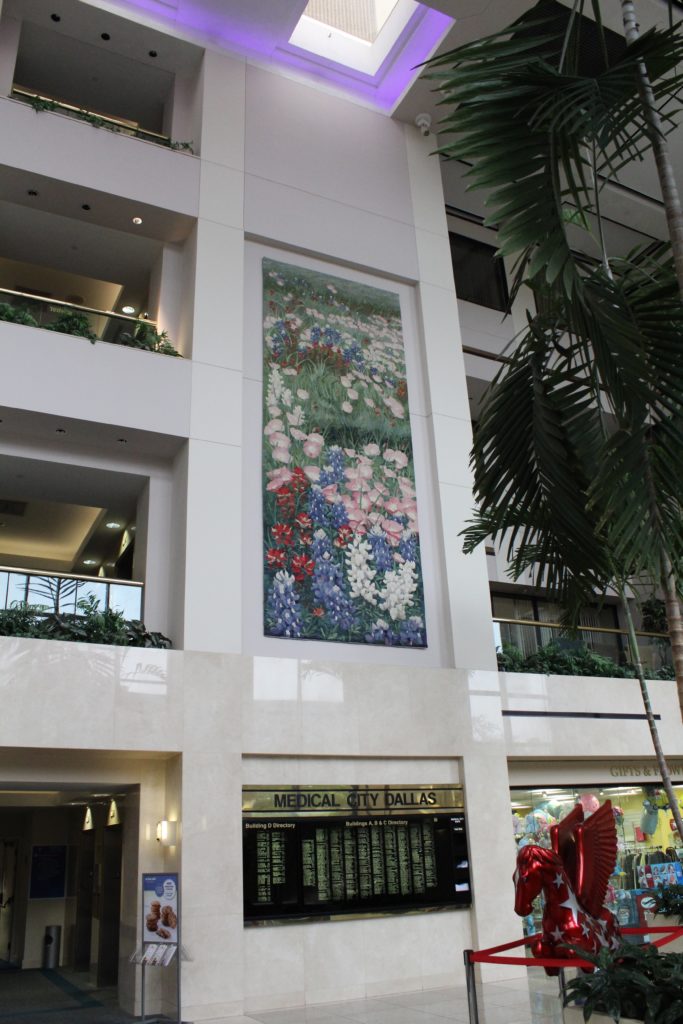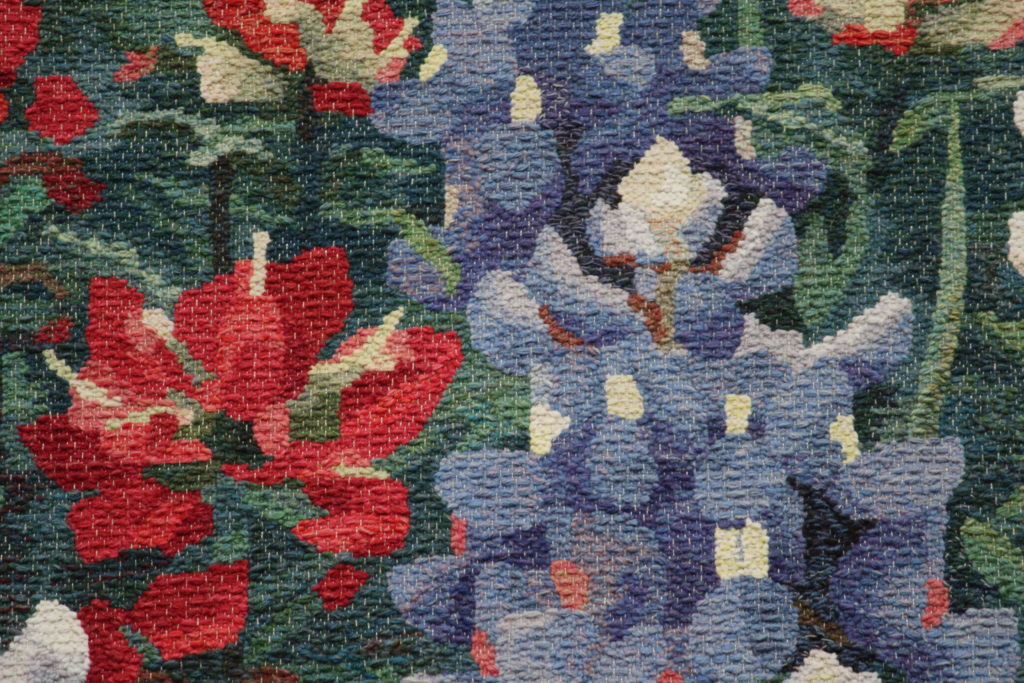 Things to remember: Don't beat hard. Bubble the weft more. Color theory is invaluable for adding depth and intensity. Simplify the cartoon. And countless more bits of insight and instruction! I am invigorated in my pursuit to develop these tapestry skills. Expect to see a tapestry on my 120cm Glimåkra Standard in coming days.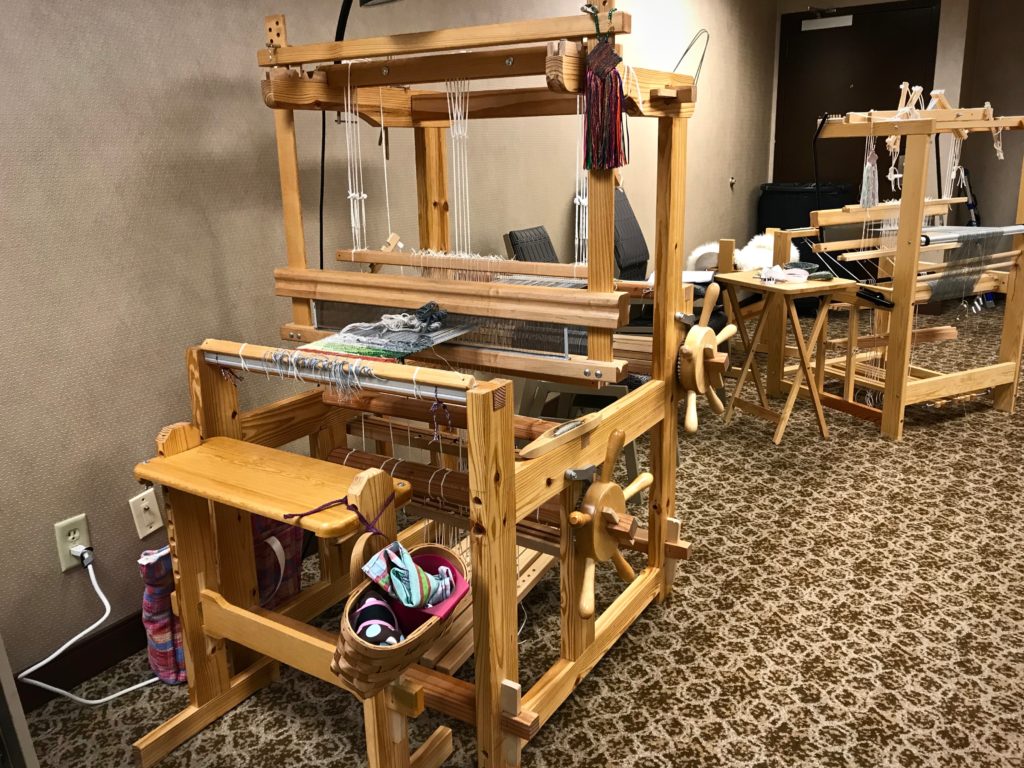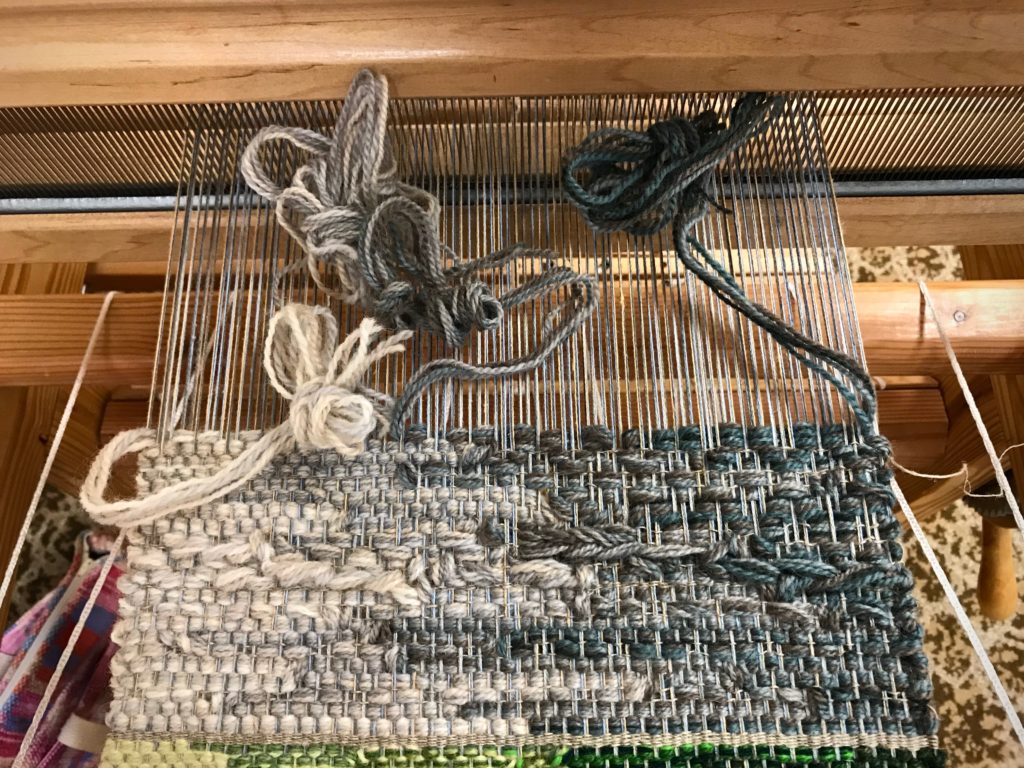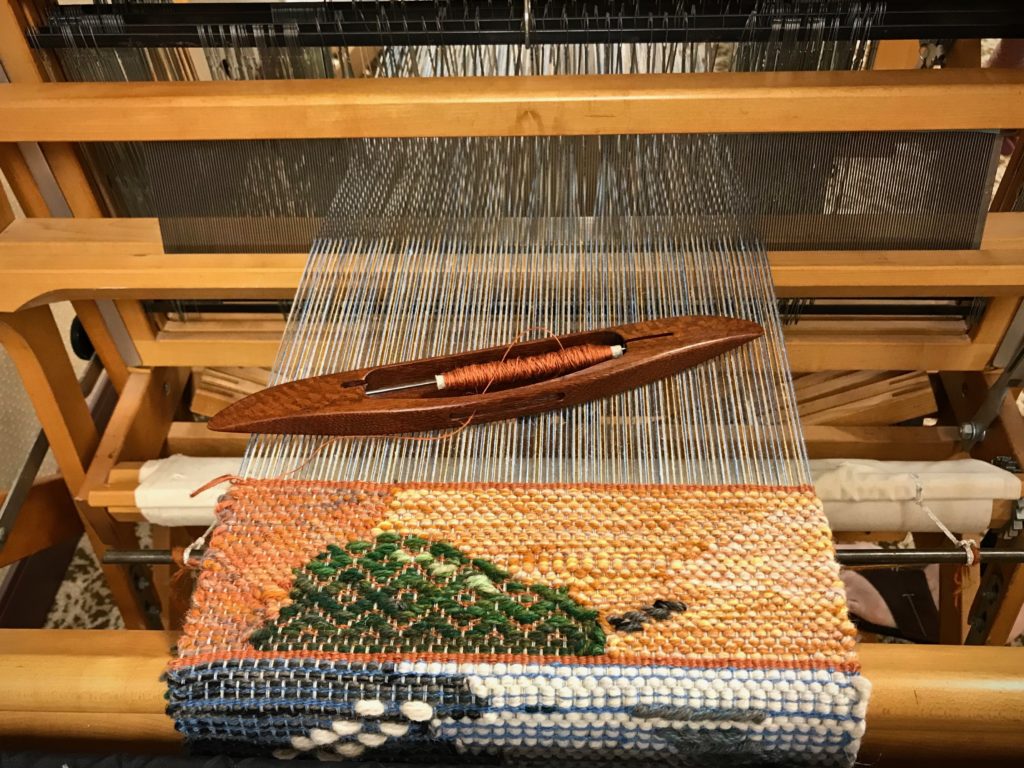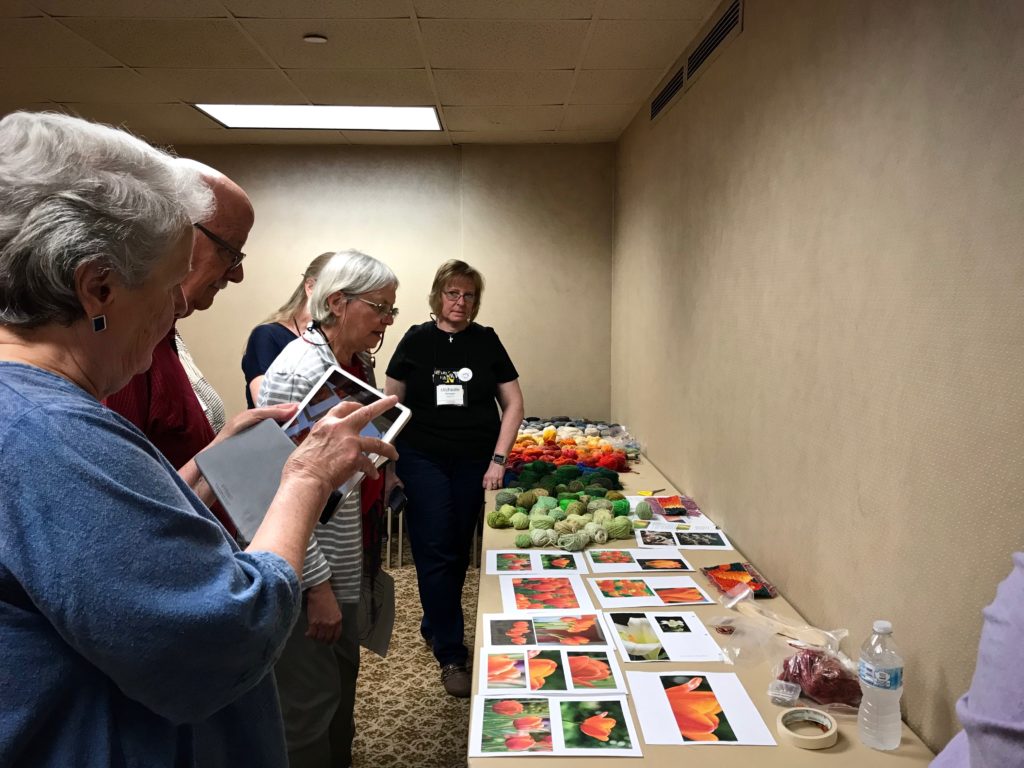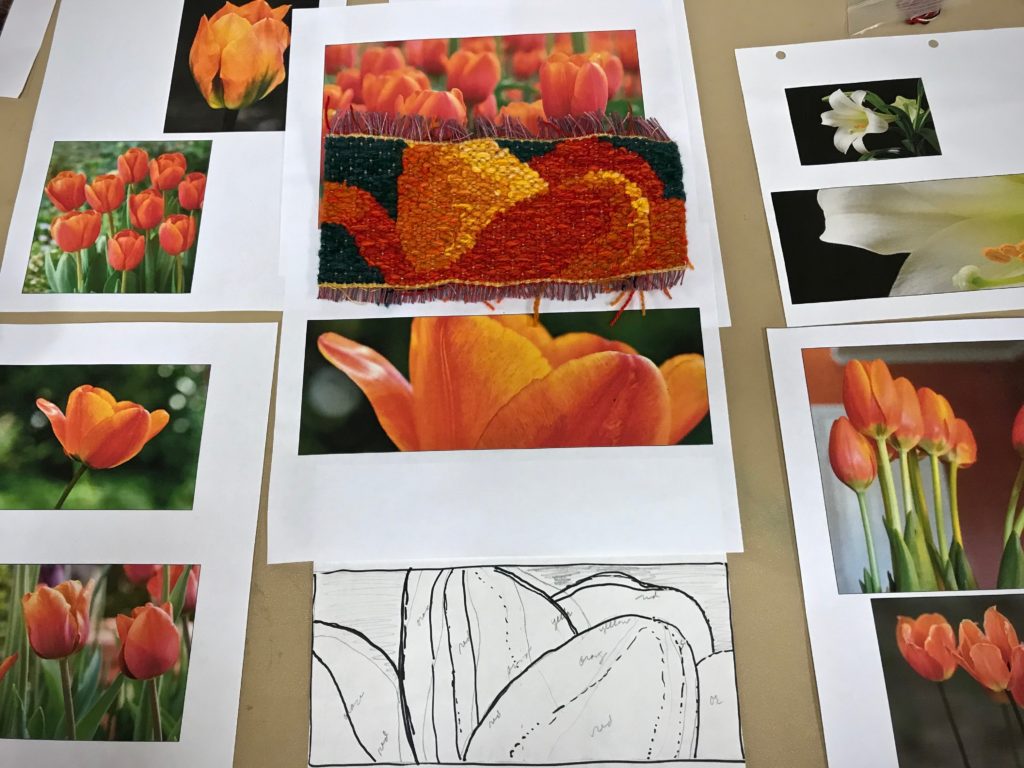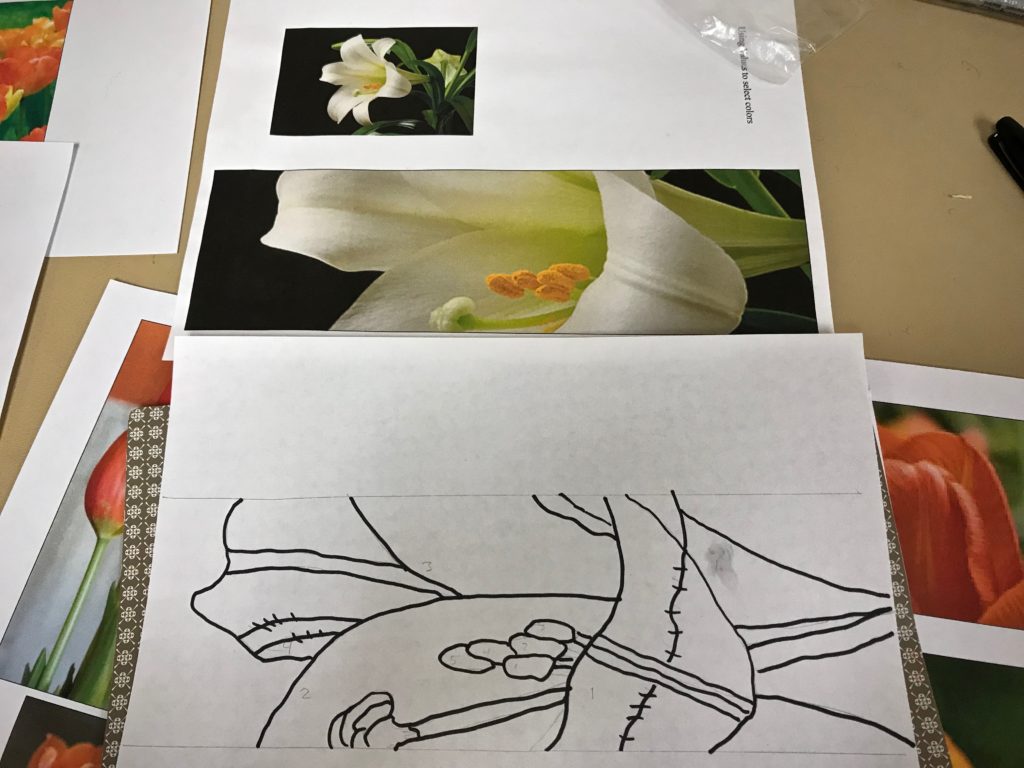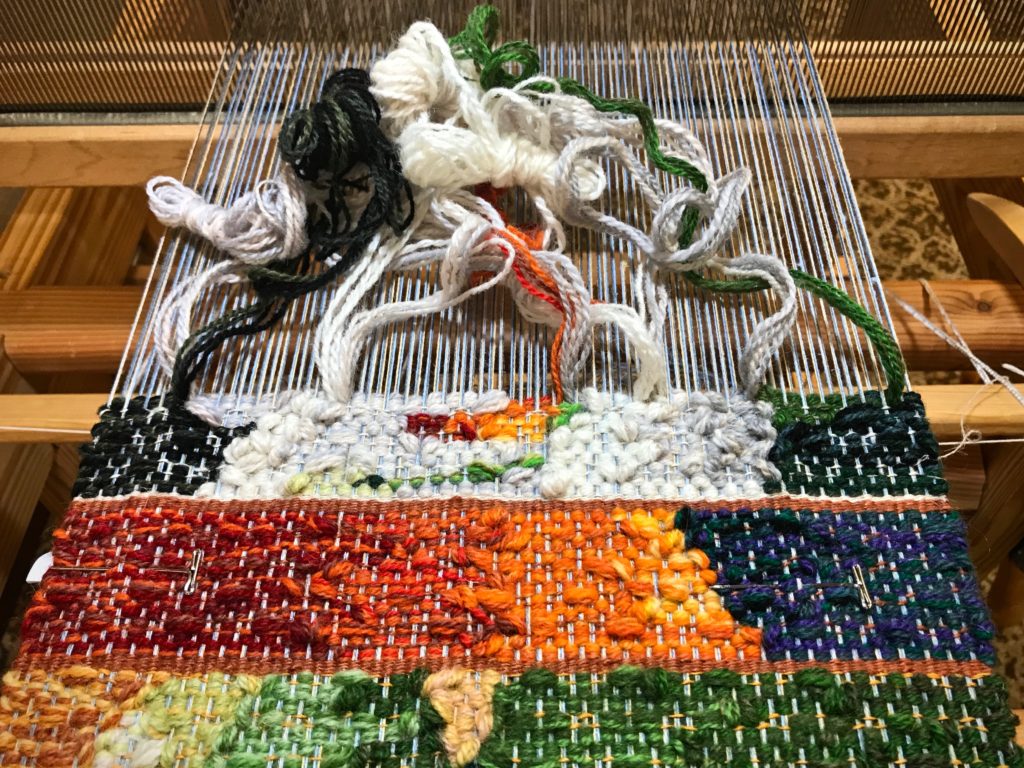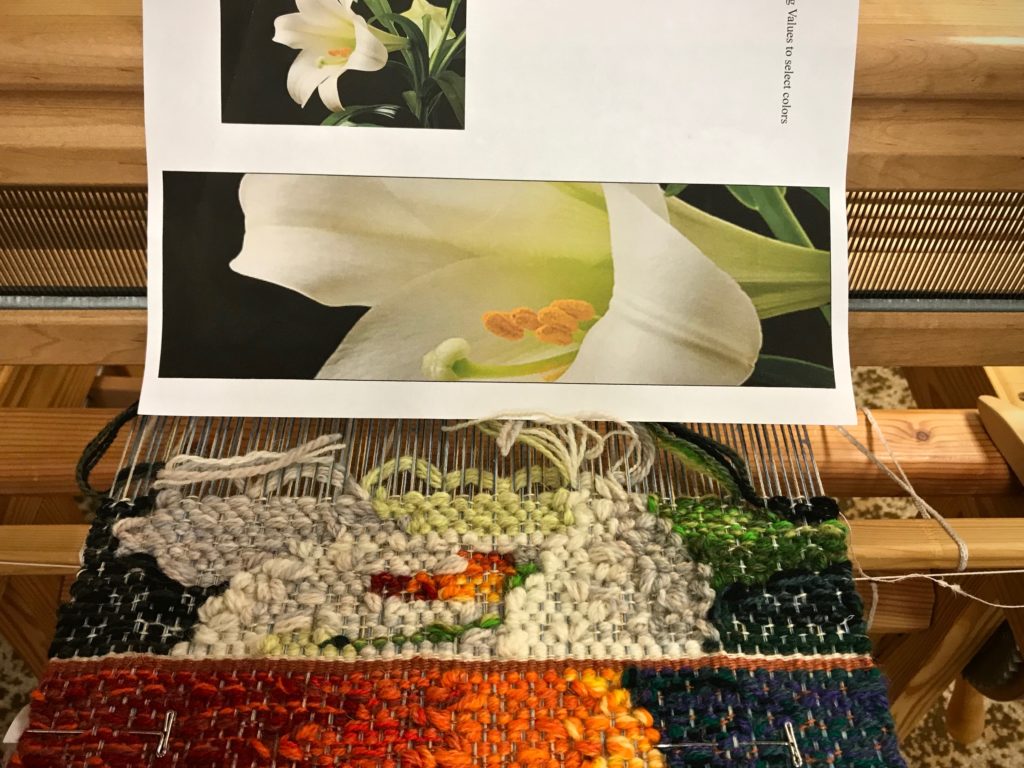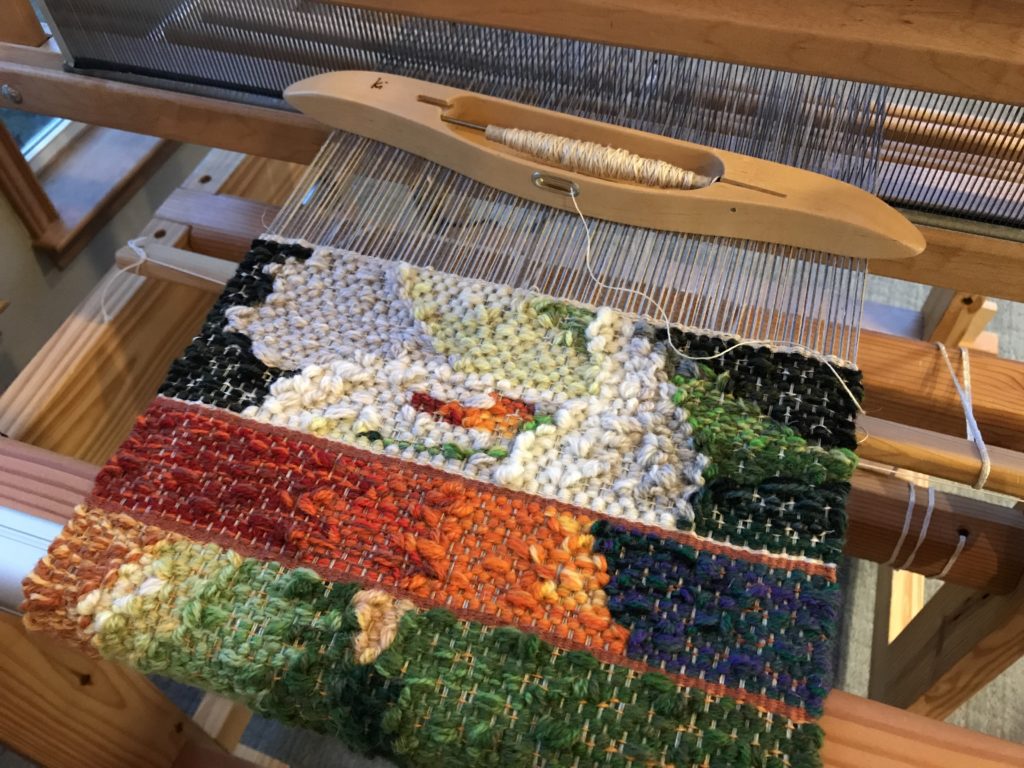 I find myself pondering how experiences fall into place in our lives. There are times when the stepping stones seem to be set out before us, showing the way, when we don't know exactly where we are going. The Lord knows where I am going. He knows me. And he kindly sets out the next steps. Perhaps he smiles as he sees our delight when we figure out that we are the bundles of yarn in his tapestry.
May your joy in learning never cease.
Happy Weaving,
Karen
---